If you've been looking to generate an extra income online & happened to come across the My Home Job Search website then it might seem like the answer to your prayers, but don't be too quick to sign up.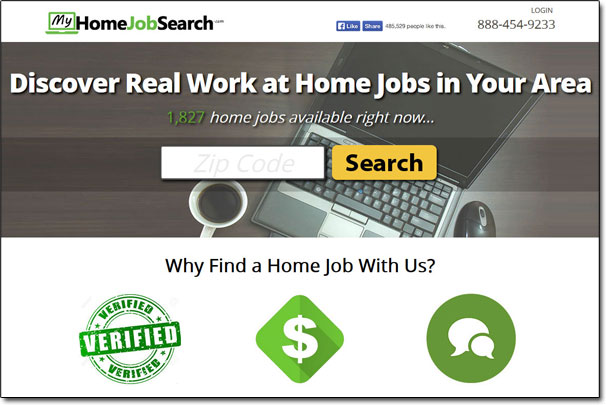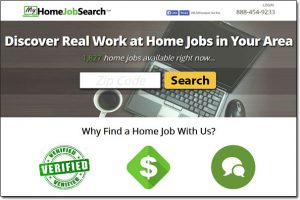 Whilst at a glance the My Home Job Search website might seem legit, I've been getting many emails from people who claim they've been taken for a ride by this company.
Several of them have even claimed they believe that My Home Job Search is literally nothing but a complete utter scam – which is why I've decided to take a look into it myself to find out once & for all what it's all about.
Meaning if you've come across the My Home Job Search website & you're looking to find out if you can really make money through their so-called guaranteed work from home positions then you've landed in exactly the right place to find out.
I'll be taking an in-depth look into this company, figuring out just what's going on & determining whether or not it's something you should be getting involved with or staying away from.
What Is My Home Job Search?   |   Is My Home Job Search a Scam?   |   You've Got To Pay To Be Scammed   |   My Final Verdict   |   A Better Alternative
What Is My Home Job Search?
My Home Job Search claims to be the go-to place for anybody who is looking for a work from home position. They claim to guarantee you a position with a legitimate employer who will pay up to $56 per hour even if you have no previous work experience at all.
Obviously, these are some extremely bold claims which make me very sceptical about this company right from the off. You know the good old fashion "if it sounds too good to be true, it probably is"… Well, that certainly comes into mind here!
So one thing I want to make clear is that unlike many of the other "make money" systems out there this particular one has nothing to do with affiliate marketing (a genuine way to make money online) or trading (a risky but genuine way to make money).
This particular company claims to be guaranteeing you genuine jobs where you will be paid fixed amounts in return for your time.
Now, there are genuine companies who operate in this manner online but generally because these positions are so high in demand (as you can imagine) they either require very strict entry procedures or pay very little in return for your efforts.
Meaning as you can imagine a company that claims to offer guaranteed positions with no entry criteria & such high payouts (with a fee to join) seems very suspicious indeed.
Is My Home Job Search a Scam?
Aside from the bold claims, there were a few other worrying things that caught my attention – one of them being the fake like counter at the top of the page.
You're led to believe that over 400,000 people have "liked" this company which may lead you into thinking that it's genuine, however after trying to access the Facebook page via this button I immediately discovered that it was merely a Photoshopped image (as you can see highlighted in the screenshot below):

I then decided to run a Google search on the phone number that was listed at the top of the page & that brought up a worrying complaint which you can see a screenshot of below: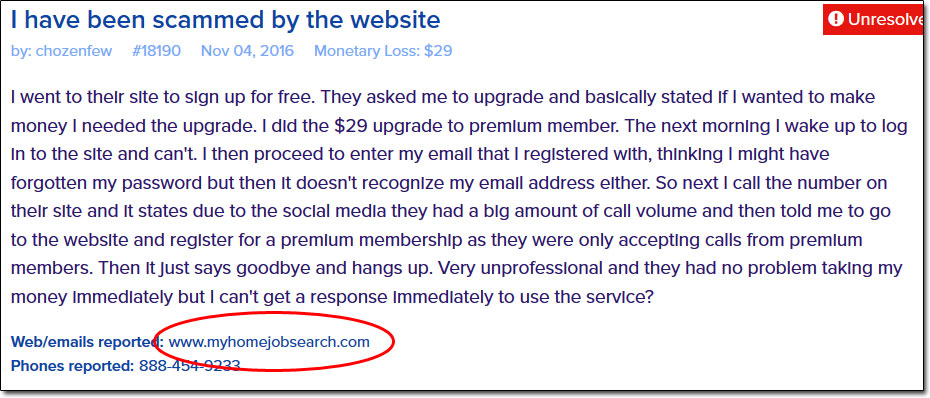 The user basically states that they were pushed into purchasing a premium membership for $29 & then found that after they made the purchase their access to the website was completely revoked leaving them out of pocket with no "guaranteed job"… Very worrying!
I decided to enter a false ZIP code (since I live in the UK) and proceed through the registration process myself to see what the deal was.
Here's What I Found…
Once you enter your ZIP code you are taken through a series of initial steps & it's clear to me that these steps are simply designed to get you hyped up. They talk about how much you can earn, how easy it is & all the rest of it…
Then once you have completed the initial steps you are given access to a members area – so there is at least a small bit of substance to this program & this kind of gave me a last little bit of hope that maybe there was something genuine here after all…
Unfortunately, this hope was short-lived as it quickly became clear what this system is all about.
Basically, once you get access to the member's area you are given a list of "jobs" to get started with. Initially, you'll see a list of things like paid survey sites & cashback websites – some of which are genuine.
When you complete the offers on these websites you'll be rewarded in points which can later be redeemed in cash or gift vouchers. It's worth mentioning that these are all very low paying & that even if you were to complete offers at all of the companies listed you would probably struggle to earn even just $5 per day.
However, these jobs are listed as the "introductory" jobs – and you are promised more money as you to progress onto the other jobs that they have lined up for you. The big problem though is that these supposedly "high paying" jobs are not legit!
Each & every one of them is blatantly a scam – which was easy for me to see before I've already reviewed most of them here.
So ultimately they are providing you with a few genuine paid survey jobs & the like to build your trust, then once they have gained your trust they are pushing you into scammy programs (which they are affiliated with) where they will go on to part you with your hard-earned cash.
They even have a phone number where you can supposedly arrange a call with a "job specialist", but this is clearly just another tactic of pushing you towards these scams as the so-called "job specialist" only puts more pressure on you to sign up to them.
You Might Also Like:
You've Got To Pay To Be Scammed
As mentioned above almost 95% of the jobs found inside of the My Home Jobs Now members area are scams & it's clear that the owner of this company is getting paid commissions for getting people to buy into them.
However, if that wasn't bad enough on it's the own the fact that you have to pay a fee of $29 for the luxury of being recommended these scam systems is absolutely ludicrous. It's a double whammy!
My Final Verdict
There's absolutely no chance I'm going to be recommending My Home Jobs Now to you as it's clear to me they are not interested in helping people find paid work at home positions at all, they are only interested in parting people with their hard-earned cash.
For that reason, it's safe to say that My Home Jobs Now will be getting a big thumbs down from me.
If however, you came to read this review after already joining & have already parted with your cash then don't panic as all may not be lost. I have put together a guide that may help you retrieve your money & you can access it by clicking here. The guide was originally published to help people get their money back from binary options scams but the same process applies in this situation too.
Anyway, hopefully, you haven't fallen victim to it just yet & hopefully, my review here has helped you avoid it. Of course, if you still have any questions or comments about this particular then don't hesitate to leave them below – as always I'll do my best to respond as quickly as possible.
A Better Alternative
The sad truth is that unfortunately most of the programs promising to help you make money online are scams. I can say that confidently after exposing over 500+ of them here on this blog.
But the good news is that even though most of them are indeed scams, there are actually some very good programs in amongst them - some programs that can truly help you to earn money.
And out of all of the legit programs I've seen, the one I would recommend the most to anybody looking to get started online is Commission Academy. In my own opinion, that's the best place to start.
At Commission Academy, you'll be provided with everything you need (including the training & tools) to begin earning real money by promoting products or services for companies like Amazon online.
The best part is that there's literally no limit on the amount you can earn with it & the process is pretty simple which means that it's absolutely perfect for people that don't have much experience.
Some wealthy affiliates even earn as much as 5-figures per month... Or more!

I mean don't get me wrong, that kind of money won't just fall into your lap without doing any work... But the harder you're willing to work at it, the more you stand to earn with it.
So if you're looking to get started but don't know which route you should go down or which program you should join (and don't want to waste money on bogus things that don't actually work), then I'd highly recommend checking out Commission Academy first. You can learn more about it here.