In this review I'll be exposing the One Click Pay Day scam system, which in case you didn't already know is something that claims to be "a weird hack that can siphon money into your account", but in reality, it seems to do exactly the opposite.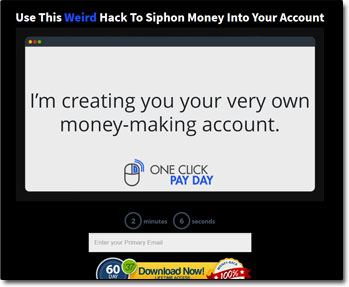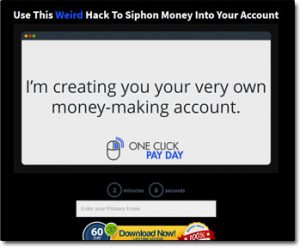 So if you've come across the One Click Pay Day system & have been thinking about trying it out you can rest assured that you've landed in the right place to find out everything you need to know about it.
I'm going to be exposing exactly how it really works (or should I say doesn't work) and show you why I believe this system is no different to any of the other scams that I've reviewed here before.
What Is One Click Pay Day?   |   How One Click Pay Day Works   |   The Reality   |   Is One Click Pay Day a Scam?   |   A Better Alternative
What Is One Click Pay Day?
The One Click Pay Day system (located at oneclickpayday.biz) is something that claims to leverage a weird hack to be able to siphon money into your account (their words not mine).
Upon visiting the website you're presented with a video, and whilst you watch the video you're told that somebody behind the scenes is creating you a money-making account.
Then shortly after you're told that your "money-making account" has been set up & that they've now started funnelling commissions through to it so you should keep watching the video as they'll show you how much you've made at the end.
So let me start out by telling you that this is a complete gimmick – nobody is creating or funnelling anything as you watch the video, it's just a ploy that they've come up with to try & get you to keep watching the video so they can go all-out on pitching you the system.
I've seen similar gimmicks used on other scam websites, like that of the Freedom Cash System which claims they'll give you $500 if you watch their video right to the end (but don't). It's a very common trait of a scam.
Seeing this type of thing on the One Click Pay Day website immediately makes me very sceptical, and rightly so as after doing some research I found out that the One Click Pay Day system was nothing but a scam looking to part you with your hard-earned cash.
How One Click Pay Day Really Works…
Cathy Evans, the supposed founder of the One Click Pay Day system claims that after purchasing the system for $37 you'll get your own done-for-you money making website which will see you earning commissions whilst you sit back & relax.
Unfortunately, despite all the hype dished out by Cathy that's not quite how it actually works. You see whilst it is indeed possible to make money online you cannot just get a "copy of a money-making website" and start making the same money for yourself.
Heck if you could my life would be so much easier – and so would so many other peoples, in fact, if that's how it actually worked then I don't even think there would be anybody left in a real job LOL.
But no, having a website is just the start of making money online – then you need to work on updating your website & promoting it to people if you want to actually make money. This is something that the One Click Pay Day system doesn't do.
So yes, whilst they might hold true on their promise of giving you a copy of a website – that's all they're going to do, but it's certainly not going to make you any money.
Don't get me wrong you can make money (and lot's of it) from a website but a system like the One Click Pay Day system will not help you do it, you'd need proper legitimate training like this training here (which is actually free).
And One Click Pay Day failing to deliver on their promises is only the start of the scam because after paying the $37 you'll find that there are countless amounts of upsells through which the creator of the system tries to squeeze even more money out of you by claiming these added extras can make you more & quicker money (but again these are just more bogus products).
Overall you could see yourself spending hundreds of dollars & the only thing that you'll be left with is a bogus copy of a "money-making website" which in reality isn't going to make you any money at all. Even if you were an expert it would be hard to make money with their website because it is such poor quality.
The Reality
To me, it's clear that the One Click Pay Day system has been designed with one thing & one thing only in mind which is to make the creator of it as wealthy as possible and that will be done at your expense.
I've actually seen very similar systems launch in the past & it wouldn't surprise me if they were actually launched by the same person. It's clear that whoever is behind this system doesn't care about you or your success & only cares about making himself (or herself) as wealthy as possible.
In fact, this person doesn't care about you at all because it seems that he (or she) is targeting people in desperate financial situations – people who don't have money to spare to start out with so it's just sickening to think that he or she is looking to part these people with even more money & leave them even worse off.
Unfortunately, though the internet is filled with a plethora of these types of things & more & more keep launching every day which is why I work tirelessly to try and expose as many of these scams as I can here on my blog.
You Might Also Like:
Is One Click Pay Day a Scam?
There's no way I could possibly recommend this system to you because it's obvious to me that the One Click Pay Day scam rumours are completely true. This system is set out to part you with your cash & it's as simple as that.
After buying in for $37 (or $27 if you try & exit) you'll be left with a bogus copied website and duff training on how to promote it – you'd struggle to make a penny let alone anything near the income they claim you'll make throughout the video.
The One Click Pay Day system has been set up to make the creator wealthy & no doubt in a couple of weeks it will be closed down & relaunched under a different name to escape the negative reviews & part even more people with their hard-earned cash.
Sadly most people won't even bother looking for a One Click Pay Day review they'll just buy in without a second thought & that's what the creators of these systems prey on but thankfully you came here & hopefully managed to dodge it.
The only promising thing I noticed is that the program is being sold through ClickBetter which is a company that is generally good for honouring refund requests, so if you've been scammed you may be able to get your money back (hopefully).
A Better Alternative
The sad truth is that unfortunately most of the programs promising to help you make money online are scams. I can say that confidently after exposing over 500+ of them here on this blog.
But the good news is that even though most of them are indeed scams, there are actually some very good programs in amongst them - some programs that can truly help you to earn money.
And out of all of the legit programs I've seen, the one I would recommend the most to anybody looking to get started online is Commission Academy. In my own opinion, that's the best place to start.
At Commission Academy, you'll be provided with everything you need (including the training & tools) to begin earning real money by promoting products or services for companies like Amazon online.
The best part is that there's literally no limit on the amount you can earn with it & the process is pretty simple which means that it's absolutely perfect for people that don't have much experience.
Some wealthy affiliates even earn as much as 5-figures per month... Or more!


I mean don't get me wrong, that kind of money won't just fall into your lap without doing any work... But the harder you're willing to work at it, the more you stand to earn with it.
So if you're looking to get started but don't know which route you should go down or which program you should join (and don't want to waste money on bogus things that don't actually work), then I'd highly recommend checking out Commission Academy first. You can learn more about it here.