Be The Boss Network is a website which claims to contain all of the best work from home opportunities & you're led to believe that all of the opportunities listed on their website have been verified to be legit & are easy to get started with…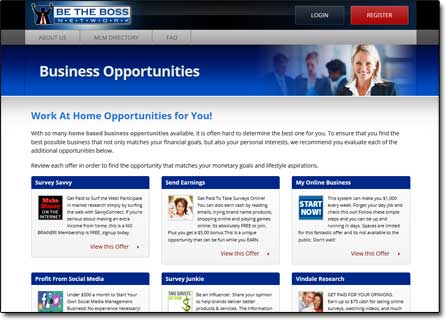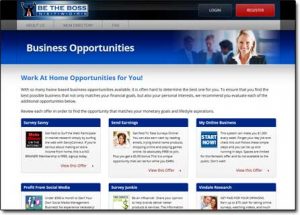 Essentially it's portrayed as the go-to place for anybody looking to start working from home… But is it really legit or is Be The Boss Network a scam itself that will actually just end up conning you instead?
I can tell you right from the off that not everything is quite as it seems but thankfully you've landed in the right place because in this review I'm going to uncover the truth & show you how it all actually works.
What Is Be The Boss Network?   |   How Does Be The Boss Network Work?   |   Is Be The Boss Network a Scam?   |   A Better Alternative
What Is Be The Boss Network?
Be The Boss Network makes out as if it's some sort of professional & trusted directory for work from home opportunities & it claims to have one of the largest online databases of multi-level-marketing programs too.
The site provides a facility for business owners to list their opportunities & it allows the visitors or "income seekers" as they're called to browse the opportunities and choose one that suits their needs.
You can filter/sort the opportunities based on the associated start-up cost & the star reviews of the company which is actually pretty neat – and Be The Boss Network claims that each company listed has been verified to be legitimate.
But right from the off, I can tell you that this is where the website falls down as literally one of the first opportunities I come across through Be The Boss Network was My Online Business (as shown below) which is a known scam that I've already exposed.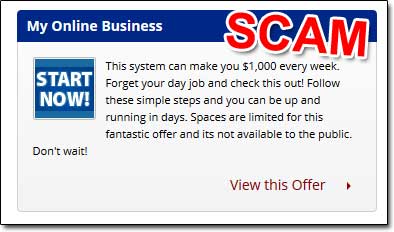 You're told that you can "forget your job" and that you can start earning $1,000's per day in as little as just 3 days from getting started but obviously as you can probably guess that's all just total BS.
So whilst there are indeed some legitimate programs on the site it's clear that it can't fully be trusted.
Putting that aside for now though let's take a closer look into exactly how it all works…
How Does Be The Boss Network Work?
As a business owner you can create an account at Be The Boss Network & publish a listing for free. So if you own your own MLM company or business opportunity then you can have it published in the directory without having to pay a dime.
To do so you'll simply have to submit your company's name, office address, contact phone number, website & the total amount of money on average that it will cost a new person to get started.
Once you do that the listing will go live into the directory – supposedly after a review from the administration team, but looking at the current listings it doesn't really seem like there's any actual reviewing going on at all…
Now the important thing to note as a business owner is that once your business has been submitted the visitors will be able to leave reviews & as the owner you have no control over the reviews… So if they want to say bad stuff they can, and they will.
Another downside as a business owner is that when your listing first goes active & has 0 reviews the default star rating given is 2.5 stars so this could badly reflect on your business because people could assume it's been downvoted. That's the impression it gives off anyway as shown below:

If you want to you can upgrade your listing to a "Featured" listing which costs money. Featured listings are displayed on the very first page users come to when they click on the "MLM Directory" link at the top of the site & some are also displayed across the bottom of the homepage.
As you can imagine the cost of this varies depending on the amount of exposure you wish to get. Higher placed listings cost more money – with the homepage slots ultimately costing the most.
Now moving onto the next bit…
From An "Income Seekers" Perspective…
As somebody looking to make extra money from home you can browse the Be The Boss Network's MLM Directory free of charge without having to sign up, however your experience probably won't be all that great.
I mean don't get me wrong it looks like the intention has been decent, because the website has a fairly good structure… But it seems that it hasn't really took off as anticipated & as a result there are a few problems.
Before I get onto those let me firstly explain the process…
So as an "income seeker" you can click the MLM Directory & from here you'll be immediately presented with the "Featured" opportunities which the business owners have paid to advertise. Currently it includes the big names like Herbalife & Motor Club of America.
From there you can then either browse opportunities by alphabetical order or you can run a search at the top if there's something specific you're looking for.
The positive here is that it's easy to quickly see the start-up cost involved with the company's & the ratings that other members have given it. You can also sort the listings by these too.
If you click on any individual listing it will take you to a page where you can get more details about the company, read the reviews that other visitors have written & get the information about joining (if you're interested in doing that).
But now for the downsides, which in my opinion outweigh the positives…
As mentioned previously in this review some of the opportunities listed are flat-out scams
The start-up costs for some companies are inaccurate & are much lower than the true cost
There are not many reviews at all so the review system is kind of pointless at present
Many of the companies listed are no longer active – instead of being removed their description simply reads "THIS OPPORTUNITY IS NO LONGER IN BUSINESS".
And that brings me onto…
You Might Also Like:
Is Be The Boss Network a Scam?
Well Be The Boss Network itself isn't really a scam since it just provides the facility for business owners to list their businesses & for opportunity seekers to browse through them… But some of the so-called "opportunities" are most definitely scams like the My Online Business program that I mentioned towards the start of this review.
I also don't really like the fact that Be The Boss Network claims to make sure all of the opportunities are legit when clearly they don't – and I guess actually that them stating that kinda does make them involved in the scam because they're ultimately the ones tricking you into signing up with these companies by making you think they're legit.
So I don't know what to call Be The Boss Network to be honest but I know one thing for sure & that is the fact that I won't be recommending it because in my opinion it's just way too sketchy & none of the opportunities there right now as far as I'm concerned are all that great. They're all multi-level-marketing programs and to be honest multi-level-marketing sucks.
If you really want to get started with a good, legitimate & proven opportunity then just go sign up with Commission Academy. That's one of my all-time top recommended programs & if you're willing to learn & take action you'll definitely find success there for sure.
But overall I just hope that my review here has given you a better insight into Be The Boss Network & I hope it's provided you with everything you wanted to know. If you do still happen to have any further questions though then don't hesitate to leave them below & I'll get back to you as soon as I can.
A Better Alternative
The sad truth is that unfortunately most of the programs promising to help you make money online are scams. I can say that confidently after exposing over 500+ of them here on this blog.
But the good news is that even though most of them are indeed scams, there are actually some very good programs in amongst them - some programs that can truly help you to earn money.
And out of all of the legit programs I've seen, the one I would recommend the most to anybody looking to get started online is Commission Academy. In my own opinion, that's the best place to start.
At Commission Academy, you'll be provided with everything you need (including the training & tools) to begin earning real money by promoting products or services for companies like Amazon online.
The best part is that there's literally no limit on the amount you can earn with it & the process is pretty simple which means that it's absolutely perfect for people that don't have much experience.
Some wealthy affiliates even earn as much as 5-figures per month... Or more!

I mean don't get me wrong, that kind of money won't just fall into your lap without doing any work... But the harder you're willing to work at it, the more you stand to earn with it.
So if you're looking to get started but don't know which route you should go down or which program you should join (and don't want to waste money on bogus things that don't actually work), then I'd highly recommend checking out Commission Academy first. You can learn more about it here.