The Bonus Bitcoin faucet claims to provide you with a way to earn free Bitcoins online, you're led to believe that you can simply just sign up, claim your Bitcoins & have them sent straight through to your CoinPot account.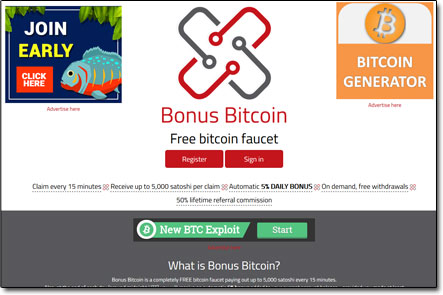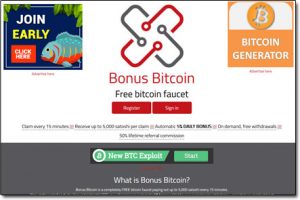 But I think you'll agree that it sounds pretty crazy when a site says they'll give you free Bitcoins so what's the true story here?
Is it actually legit or Is Bonus Bitcoin a scam?… And where is all this so-called free money supposed to be coming from?
Thankfully you've landed in the right place to get the answers to those questions because I've done the digging & this review I'm going to be uncovering everything you need to know, including whether or not you can really make money with this so-called Bitcoin faucet.
What Is Bonus Bitcoin?   |   How Does Bonus Bitcoin Work?   |   Pros & Cons   |   Is Bonus Bitcoin a Scam?   |   A Better Alternative
What Is Bonus Bitcoin?
Bonus Bitcoin is a site that allegedly provides you with a way to earn Bitcoins for free and as a result, they call themselves a "Bitcoin faucet". Now initially you might be thinking that Bonus Bitcoin is a scam since their promises sound a little too good to be true, but surprisingly it's actually a legitimate website – though it's not quite as great as it's made out to be & you'll see why shortly.
The concept is that you can simply sign up to the Bonus Bitcoin website & make a claim for your free Bitcoins every 15 minutes. They currently state that you'll be able to receive up to 5,000 satoshi per claim which at the moment equates to around $0.42 USD.
And since the claims can only be made once every 15 minutes this means that the maximum earning potential from free claims through this site would be around $1.68 per hour (without any bonuses being included).
I'll admit to saying that realistically, for not having to do anything at all that's actually not too bad… But it is important to note that they do say "up to" 5,000 satoshi per claim so the chances are you'll typically end up with much less.
But hey-ho free money is free money, right?
There are also some bonuses & things available too which I'll run over in a second but firstly you're probably wondering where is all the money actually coming from? How can they afford to just give free Bitcoins away? There has to be something in it for them…
Let's take a look…
How Does The Bonus Bitcoin Faucet Work?
Primarily the Bonus Bitcoin faucet works off advertising – that's why in order to be able to participate in the program you need to have your ad-blockers disabled. They're making money from advertisers who are paying to have ads displayed on the site.
You'll see after disabling your ad-blockers that there are a LOT of advertisements on the site. So the advertisers are paying for this, then the creators of Bonus Bitcoin are taking a cut for themselves & finally they're passing the rest down to the members (aka you)…
It seems to be working at the moment as I checked & members are saying that they have successfully received payments, but I have one concern… I'm worried about what will happen when the site grows so large that the advertisement revenue can't keep up with the number of members.
Maybe they have something in place for that I don't know, but I just personally don't see how this could be sustainable as the member base grows. That's why you generally don't see many sites offering free money like this…
Anyway, on top of being able to earn through free claims every 15 minutes, there are also some other ways you can earn & some bonuses offered out too…
You will get a 5% daily bonus if you made at least 1 faucet claim the previous day.
You can earn 50% of the earnings accrued by anybody you refer
You can multiply your earnings by playing games (they contain adverts too)
You can collect more satoshi by completing offers & surveys
Overall though despite all the different ways to earn & the bonuses that are provided you are not really going to see any sort of substantial income through this site. The truth is that you will be paid very little in return for your time.
You might not mind this, but personally I believe there are better ways to use your time to make money online.
Which brings me onto…
You Might Also Like:
The Pros & Cons of Bonus Bitcoin
Well as far as I'm concerned Bonus Bitcoin is a legitimate website – I've followed the money trail & it doesn't seem like there is anything untoward going on, the business model seems fairly sound.
However despite it being legit, there are a few problems that I picked up on with this site & as a result, you might not really want to join – but I'll leave that to you to make up your own mind, instead, I'll just list the pros & cons below…
Starting with the PROS:
The site provides you with a free way to earn Bitcoins
The site has a good referral scheme, 50% commission is pretty high
You can withdraw your earnings instantly to your CoinPot account
Now onto the CONS:
Realistically you are getting paid very little in return for your time
I suspect the site may not be sustainable as the member base grows
The site is full of advertisements which gets annoying
From my brief time on the site I discovered that some of the advertisements lead you to scams
Is Bonus Bitcoin a Scam?
No, I'm confident to say that Bonus Bitcoin isn't a scam. As far as I can see they provide a legitimate way to earn free Bitcoins online however what I will say is you are not going to earn much through this site.
I guess you can't really grumble at the opportunity of being able to earn Bitcoins for free but the reality is here that you're going to be giving up a lot of your time & not getting much money back in return.
So despite this opportunity being legit, I'm not really going to recommend you rush into signing up simply because I feel that there are better ways to make money out there instead.
The other problem I have is that I just can't see how this could possibly be sustainable in the long run. I mean sure, it may be working now – but what happens when the member base grows? I don't see how they could keep making enough money from the advertisers to be able to pay all the members.
Anyway overall, as I mentioned this opportunity is legit but I am not really going to be recommending it to you & hopefully you can see why. If you do happen to have any further comments or questions though feel free to leave them below.
A Better Alternative
The sad truth is that unfortunately most of the programs promising to help you make money online are scams. I can say that confidently after exposing over 500+ of them here on this blog.
But the good news is that even though most of them are indeed scams, there are actually some very good programs in amongst them - some programs that can truly help you to earn money.
And out of all of the legit programs I've seen, the one I would recommend the most to anybody looking to get started online is Commission Academy. In my own opinion, that's the best place to start.
At Commission Academy, you'll be provided with everything you need (including the training & tools) to begin earning real money by promoting products or services for companies like Amazon online.
The best part is that there's literally no limit on the amount you can earn with it & the process is pretty simple which means that it's absolutely perfect for people that don't have much experience.
Some wealthy affiliates even earn as much as 5-figures per month... Or more!

I mean don't get me wrong, that kind of money won't just fall into your lap without doing any work... But the harder you're willing to work at it, the more you stand to earn with it.
So if you're looking to get started but don't know which route you should go down or which program you should join (and don't want to waste money on bogus things that don't actually work), then I'd highly recommend checking out Commission Academy first. You can learn more about it here.