Welcome to my review of the Cash Code system. This system claims to be something that can provide you with a limitless amount of cash on complete auto-pilot. Now I'm sure you'll agree that sounds fantastic, but the question is does it actually work or is it just another scam? We'll soon find out the answer to that question as I take a closer look in this review…
One important thing I want to mention before I get started with my review is the fact that I'm not an affiliate of this system. Basically this means that you can rest assured in the fact that what you'll be reading here will be a 100% honest review, not some hyped up BS put together to simply try & sell you the system to earn myself a commission like most of the other so called "reviews" out there.
I also want to alert you to the fact that this IS a so called "free" binary options system. The reason I want to make that clear right from the start is because these systems have built up a pretty bad reputation over the past few months by making false promises & taking peoples money. I'm going to give this system a fair review but I'll be honest I don't have high hopes for it based on the others that have came before it. As always I'll only ever recommend a system if it's absolutely proven to work.
What Is Cash Code?   |   Why It Disappointed Me   |   How Does Cash Code Work?   |   No-Refund Policy   |   Is Cash Code a Scam?   |   A Better Alternative
Cash Code Review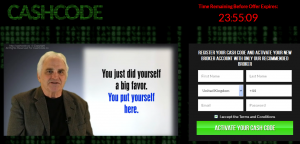 The video on the Cash Code website makes some pretty bold claims, with one of them being that the system can make you a millionaire in just 60 days from now without doing any work whatsoever. Remember the old saying "if it sounds too good to be true, it probably is"? Well that certainly springs to mind right now.
Unfortunately other than making bold claims & sharing so called "testimonials" the video isn't really helpful at all in regards to explaining how the system is supposed to actually work. Instead in order to find out more about the system you're asked to enter your name & email. For the purpose of this review I decided to go ahead & do just that.
Why I Quickly Became Disappointed

After submitting my name & email I was taken straight to another page where I was shown yet another video. In this video I was told that in order to gain access to the Cash Code system I'd need to sign up with their recommended broker and deposit at least $250 into my account. Firstly this isn't exactly what I'd describe as "free", and secondly this is a major red flag as it's exactly the same as how the other (dodgy) binary systems operate.
There's a timer at the top right hand side of the page to try and rush you through the signup process but I decided to stop right there and do some research instead. It turned out that my suspicions were correct & that this system isn't actually any different to another of the other binary systems that have came before it. This Cash Code system it's merely another dodgy binary system put together to do nothing more than part you with your money.
How Does Cash Code Work?
Despite what you're told in the video this system hasn't been designed & developed by an expert trader at all. Instead it's been created by an internet marketer who to be honest probably doesn't even have a clue about binary options trading.
The internet marketer behind this system has affiliated himself with a broker, which means he gets paid a commission for each new member that he gets to sign up & make a deposit (a pretty huge commission too). The trouble is though that most people understand how risky binary options trading is which means they're unlikely to sign up & deposit any money because they know that the chances are they'll lose it.
This is a nightmare for the internet marketer because he wants those big commissions but he just cant' seem to get anybody to sign up…. And that's when the Cash Code system was born.
You see the marketer behind this system was clever, and he realized that if he could just convince people that they'd be able to make a profit from their trades then they'd be much more likely to deposit, meaning he'd be able to earn himself those big commissions. This Cash Code system is therefore nothing more than a whole load of hype that's been put together to simply try and convince you that you'll be able to make money – you'll only find out that it doesn't quite work as promised AFTER you've made your deposit, but by then it's too late.
You Might Also Like:
A No-Refund Policy
The main problem with these binary systems is that the brokers are very reluctant to give out any refunds – so you may as well wave goodbye to any cash that you deposit because the chances of you seeing it again are very slim. Some of them do offer refunds but require you to make a certain amount of trades before you become eligible, and by this point you'll have most likely lost your money through trading anyway so you're still no better off.
Therefore if you think you can deposit money 'just to try it' then withdraw what you have remaining in your account, think again.
Is Cash Code a Scam?
I'd definitely advise you to avoid this system, unless you're looking for a way to LOSE money that is. This system is no different to any of the other binary systems that have came before it, just like those it's just full of hype & false promises that it wont deliver on.
The only people that will make any money from this system are the creators and the affiliates promoting it.
Now I'll assume that you probably stumbled across the Cash Code system because you were looking for a way to make money online, well if you were then let me tell you binary options is certainly not the answer. People make it look so easy online but the truth is despite what they say very few people make any money at all from binary options trading, most of them lose it (very quickly too).
If you take only 1 thing away from this post then let it be the fact that binary options trading is bad news. If you're looking for a genuine way to build a scalable income online then you need to look into an internet marketing system instead, those are where the real money is to be made. That's just my 2 cents.
I hope you enjoyed reading my review & most importantly I hope that I was able to prevent you from parting with your cash. If you'd like to leave a comment then feel free to do so below, it would be much appreciated as I love to hear my readers thoughts!
A Better Alternative
The sad truth is that unfortunately most of the programs promising to help you make money online are scams. I can say that confidently after exposing over 500+ of them here on this blog.
But the good news is that even though most of them are indeed scams, there are actually some very good programs in amongst them - some programs that can truly help you to earn money.
And out of all of the legit programs I've seen, the one I would recommend the most to anybody looking to get started online is Commission Academy. In my own opinion, that's the best place to start.
At Commission Academy, you'll be provided with everything you need (including the training & tools) to begin earning real money by promoting products or services for companies like Amazon online.
The best part is that there's literally no limit on the amount you can earn with it & the process is pretty simple which means that it's absolutely perfect for people that don't have much experience.
Some wealthy affiliates even earn as much as 5-figures per month... Or more!

I mean don't get me wrong, that kind of money won't just fall into your lap without doing any work... But the harder you're willing to work at it, the more you stand to earn with it.
So if you're looking to get started but don't know which route you should go down or which program you should join (and don't want to waste money on bogus things that don't actually work), then I'd highly recommend checking out Commission Academy first. You can learn more about it here.