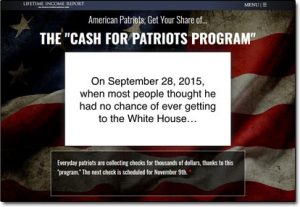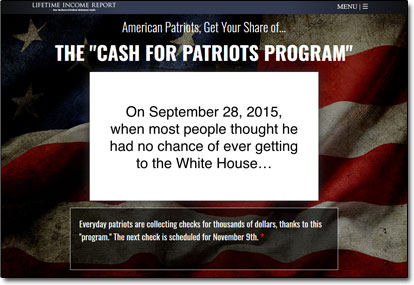 There are already dozens of Cash for Patriots Program reviews on the internet but the problem is that most of these reviewers want you to actually buy the Cash For Patriots Program. These reviewers try their best to distract you from the illusive claims and testimonials.
We have investigated this offer and are ready to help you with our trusted third-party Cash For Patriots Program review. They try to convince you that this program is backed by the US Government. To make you believe in what they say, these people talk about a recent tax reform under the Trump administration.
Could you really make $7,980 with the help of the Cash For Patriots Program? We will reveal the truth in this review. We are going to show you exactly what the Cash For Patriots Program is and what these people are actually doing.
First though I'll point out that if you are not interested in these so-called US Government initiatives & just want to head straight to something legitimate then you can check out my number 1 recommendation via the link below:
Go here to see my no.1 recommendation for making money online
(This 100% free training shares my exact strategy for making 5-figures per month)
Click Here To See My #1 Recommendation For Making Money
Or keep on reading for my full review of the Cash For Patriots Program…
What Exactly Is The Cash for Patriots Program?
Well, to begin with, the Cash For Patriots Program is yet another scheme that claims to have the backing of the US Government. They refer to the recently introduced tax reform by the Trump administration. They also call it the Patriot Checks.
The Cash For Patriots Program says the following on its website:

This page welcomes you with a promotional video telling you about this possible income-generating opportunity. The video begins with the claim that the Trump administration quietly announced a plan to distribute $2.6 trillion among the US Citizens…
The presenter claims that Cash For Patriots Program is still not widely known but those who know have already enrolled and earning their share from this mighty sum of $2.6 trillion. For example, the presenter mentions somebody who made $6,010 from this little-known opportunity: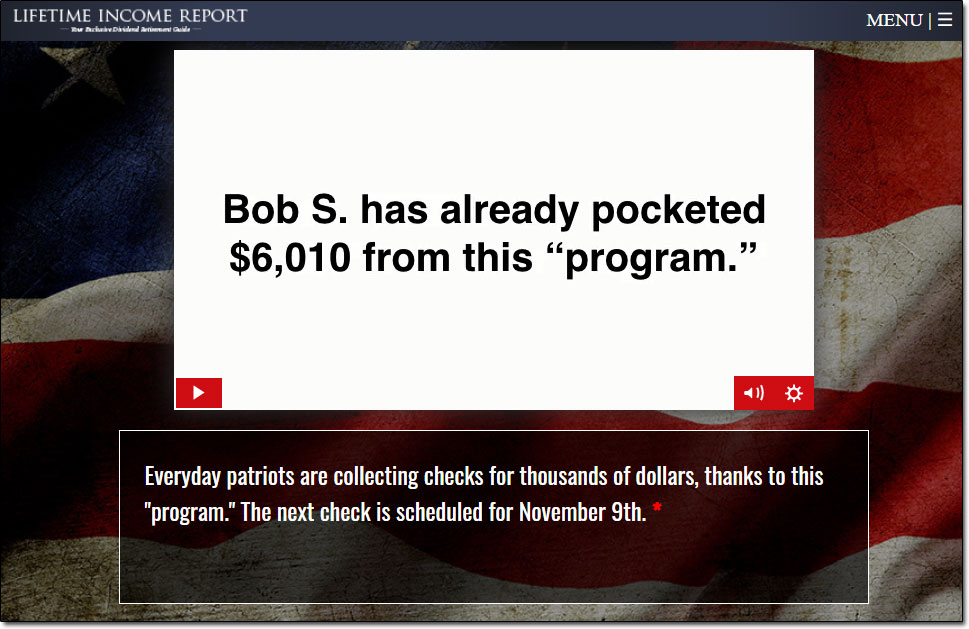 In addition, they claim that there are no strict requirements to be eligible for these checks. They say it is different from the social security program. It doesn't need too many verifications. The presenter in the video as well as the affiliates of this program claim in their Cash For Patriots Program reviews that this program is privately funded.
You might be thinking if the $2.6 trillion is for all US Citizens then why am I not getting it? Well, they tell you that there is a method to apply for Cash For Patriots Program and that they are ready to reveal the secret method along with the best advice to make the best investments.
Zach Scheidt is the man behind this online promotion, a famous investor who knows the art of generating profit from the money you have. He is also working with the Agora Financial.
Subscription Fee To Join Cash For Patriots Program
The following is the screenshot of the subscription page where different packages are highlighted with different prices. And they also use the marketing technique by displaying the countdown to encourage them to make a quick decision. This is the first sign of a potential scam!
From $49 to $99, there are different prices for different plans. And they are showing the discounted price for the Platinum package and we found no reason why it is cheaper than the Gold plan. Funny, isn't it?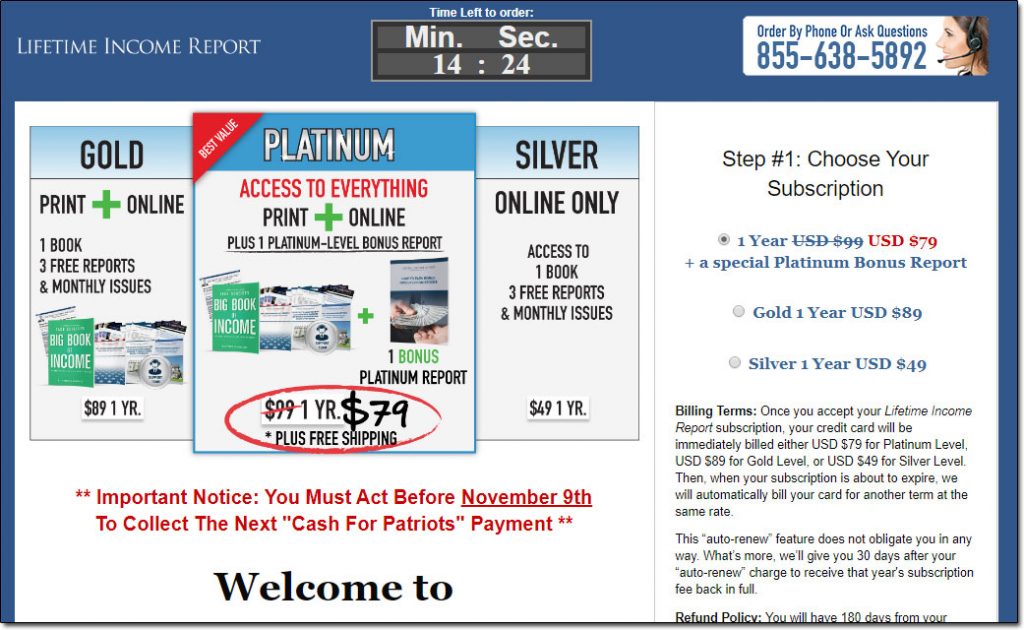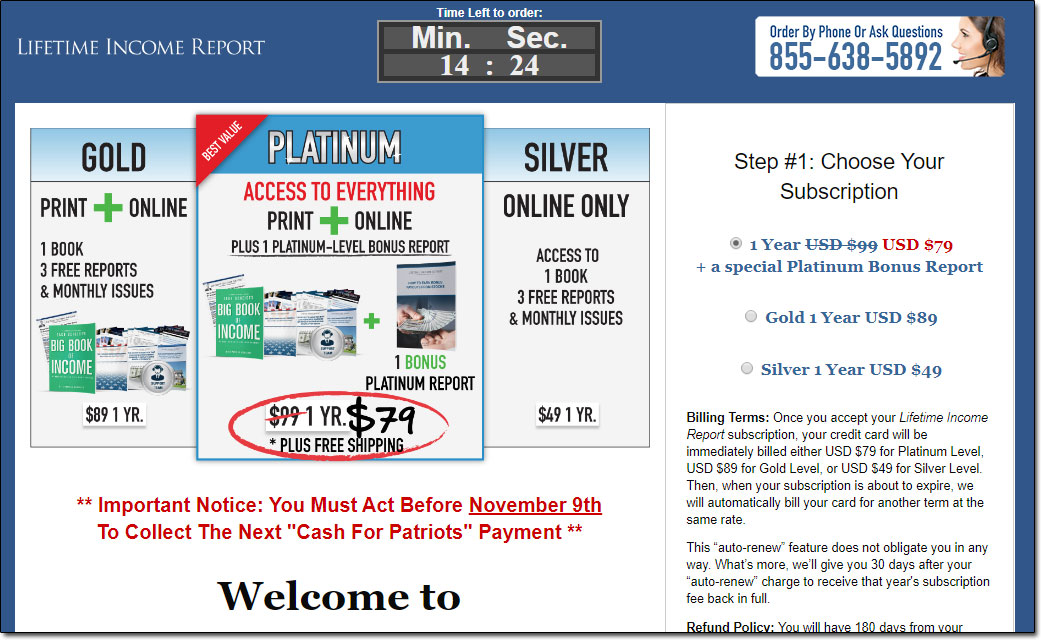 How Does The Cash For Patriots Program Work?
First things first, this is not a program backed by the US Government. Zach will never come out to publicly claim this thing. The video is completely elusive and misdirecting.
Please be careful of the positive Cash For Patriots Program reviews because they also are partners in crime. The presenter is using Trump's name to bring in credibility. The whole 45-minute video is a bluff…
Then on the webpage, the presenter tells you that following his instructions virtually guarantees the collection of the checks. Now, what does this "virtually" mean in this expression? This is a paradoxical expression because both words contradict each other…
And further, they claim that most of the people never heard of these checks because the US Media is busy criticizing Trump and nobody likes to talk about anything good he has done. Strange – not even Trump mentioned this program in any of his speeches.
Do they use something to silence the mic whenever he wants to talk about this program?
After buying any of the plans that Cash For Patriots Program has on offer, you'll actually get nothing but a report letter on monthly basis. The letter would contain information about investment opportunities…
This is strange, you didn't even have the check and they are talking about investing the money. This is something gamblers used to do. They invest $100 on a dinner just anticipating that they could win a $100 bet.
Which brings me onto…
My Verdict – Is The Cash For Patriots Program a Scam?
In concluding this Cash For Patriots Program scam review we are comfortable to announce that this program is 100% a scam. The information is misleading, the claims are flat lies, and they are serving you with the tips to invest the money that you will never actually get.
Somewhere in Asia, they use the phrase "show one hand and slap with the other". They are doing the same. The presenter is showing you something else and once you gift them your hard-earned money, they will slap you hard by sending you complete trash.
It therefore comes without saying that this program should be avoided because if you end up purchasing it you are just going to be disappointed with what you receive & you could potentially go on to lose a lot of money based off the the Agora Financial complaints.
But if you are still interested in finding a way to make extra money then don't worry because whilst the Cash For Patriots Program itself may not be legit there are indeed still many other legit ways you can make good money online.
Of course though nobody is just going to hand a check to you for doing nothing, but if you are prepared to put in some work to make it happen then there is definitely the potential to make good money, and one of the best ways to do it in my opinion is with something called affiliate marketing.
Affiliate marketing simply involves you promoting products or services online & getting paid commissions in return. It's something that many people nowadays are doing & thanks to the likes of step-by-step training programs such as Wealthy Affiliate it's actually very easy to get started with.
So if you are indeed still looking for a way to make money legitimately I'd highly recommend you check out Wealthy Affiliate… Or you could alternatively check out one of the other ways from my top picks page here.
Whatever you decide to do though I just sincerely hope my review of the Cash For Patriots Program here has given you a good insight into what you can expect & more importantly I hope it has helped you to save some money. Feel free to leave any questions or comments below if you happen to have any.🙂