Let me guess – somebody has reached out to you and told you that the Cash Tracking System will provide you with a great & easy way to make lot's of money online… Am I right?
The chances are I am because it's been getting promoted by a LOT of people recently, but is it actually legit? Or is the Cash Tracking System a scam that'll just end up costing you money rather than helping you make it?
Luckily you've landed in the right place to find out as I've took a closer look into it & I can tell you right from the off that it's not quite what it seems. So if you've been thinking about joining be sure to read this honest review before you do. 🙂
What Exactly Is The Cash Tracking System?
The Cash Tracking System claims to be the "most powerful cash-generating system on the internet" & you're told that by joining the site you will be taking a major step towards achieving financial freedom.

But in truth it's nothing more than a cash-gifting scheme.
I'll explain exactly how it all works in just a moment, but firstly I'd like to bring to your attention the suspiciously secretive nature of the site – something that is typically associated with a get-rich-quick scam.
I mean for example, the whole website only contains a few pages with very limited information… And the only way you can actually access those pages is by being invited somebody who's already inside the system.
And if you do happen to get invited by somebody you still can't just go ahead & sign up like you would be able to on a normal site – instead you have to be provided with a password, even just to register.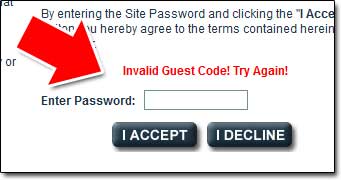 Then there's the fact that the creators themselves hide their identities too. There's absolutely no mention of who's behind it, there's no contact details & you're given no idea as to where the whole operation is based.
So what's going on? Why is everything so secret? Don't worry, you'll soon realize when I explain how it all works below…
How Does The Cash Tracking System Work?
Basically like I mentioned above the whole Cash Tracking System is just a cash gifting scheme, which means there's no real product or value – it's just a case of members recruiting others & passing money between each other.
So for example the creator sets the website up, then he shares it with someone. He tells them what a great opportunity it could provide them with, but of course in order for them to get access they have to pay a fee.
The fee that they pay would then get paid directly to the creator & then after signing up they'd find out that the "opportunity" to make money simply involves recruiting others into the system & getting them to also invest.
This time though when those members invest, the person who recruited them would be getting paid the money.
And this goes on & on…
So basically the whole thing involves selling people in on a "duff" opportunity & earning cash at their expense. I mean yeah, you could technically make money with this sort of thing but in my opinion it's hardly legit.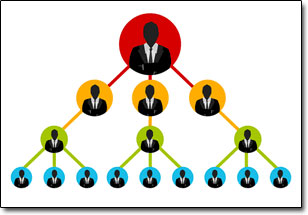 Technically you could call it a pyramid scheme which is totally illegal.
Plus there's a "trick" that could potentially result in you losing around $3,500…
The Trick That Could Cost You $3,500…
These types of cash gifting schemes typically use a scarcity trick to get you to invest more & more money. So basically they make it seem like the whole thing is cheap to get started with & that you can make a lot of money… But it's not quite so simple.
After joining and handing over the small amount of money to do so (which I don't recommend) you'll then find out that in order to access those big commissions that were talked about you have to upgrade further.
This is because you are only eligible to earn commissions on the level you are personally purchased up to.
So for example if you invest only $50, you will only be able to earn up to $50 in commissions per member… Even if the member you recruited was to invest the full $3,500 for the highest level.
Naturally you will therefore want to upgrade to the highest level ASAP so that you stand to make the full commissions from each member, because of course you would not want to "pass up" on any commissions.
But this is known as a scarcity tactic since there isn't any guarantee of any money actually coming to you.
You could invest the full $3,500 to join at the highest level but there is no guarantee that anybody you recruit will invest the initial $50, let alone the $3,500… And if they don't then you lose your money.
There's no refund with this sort of thing because your cash is getting paid directly to another member.
Basically it's all very sketchy to say the least.
How Much Does It Cost?
Okay so I briefly touched on some of the amounts above, but you might still be wondering exactly what sort of money you are going to be required to invest to participate with this system so let me explain…
In order to access the Cash Tracking System members are you must pay a recurring subscription fee of $34.95 per month.
For your first month though there will be an additional fee of $25 which is required to setup what they call your "Presentation Center website". Without this you cannot promote the Cash Tracking System so if you wish to join then the fee is basically mandatory.
So to summarize, just getting access alone will cost you $59.95 for your first month then $34.95 every month after…
However that still doesn't put you in a position to make money. Instead if you want to then proceed to make money you will have to make what they call a "pledge payment" to the person that referred you.
The minimum pledge payment you can make is $500, and it goes up to $3,500 – the amount you choose is based off what I said previously in this review… So you will be pushed into paying $3,500.
Either way though the minimum start-up cost is $559.95 then $34.95 each month thereafter. That's expensive for sure!
What's worse is that you're not even really getting access to anything worthwhile for your money. I mean sure you get access to a members area with a little bit of training but it's nothing spectacular.
Heck you could sign up to a legitimate & proven money making program like Wealthy Affiliate instead for free & there you'd get all the proper training & tools you need to get started as well. There's literally no need to waste your time with a bogus system like the Cash Tracking System, at least not in my opinion anyway.
Which brings me onto…
My Verdict – Is The Cash Tracking System a Scam?
Well I'm not going to go as far as to call it a flat-out scam because realistically there is the potential to make money with it, it's just highly unlikely that you actually will & there's clearly no value offered via the program either.
In reality rather than make lot's of money with the Cash Tracking System like you're led to believe you will you'll probably just end up losing your money instead because it's primarily been designed to make it's creator wealthy, not you.
And like I said above there's absolutely no reason you should waste your time with an expensive & useless program like this when you can join a proven & legitimate program like Wealthy Affiliate for free.
So overall it's safe to say that I'll be giving the Cash Tracking System a big thumbs down because I feel that if you end up joining it you'll just find yourself disappointed & will likely end up losing money.
Hopefully though you came here & read this review first – and hopefully it helped you save your cash. If you do still happen to have any further questions or comments about it though then don't hesitate to leave them below & as always I'll do my best to get back to you as quickly as possible. 🙂