This morning I logged onto my PC & noticed a comment in the chat section of Commission Academy stating that MOBE had potentially been shut down by the FTC. I've blurred out the names for privacy reasons, but you can see a snapshot of that chat below: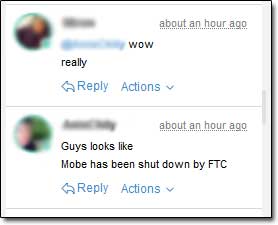 Now I'm personally not, and never have been a member of MOBE (for reasons that I'll explain in a moment) but naturally with it being one of the most well known companies running in the make-money-online space I was quick to investigate further to see what was actually going on…
Anyway, the first thing I did was head straight to the "mobe.com" website & to my surprise I was just presented with a domain parking page as shown below: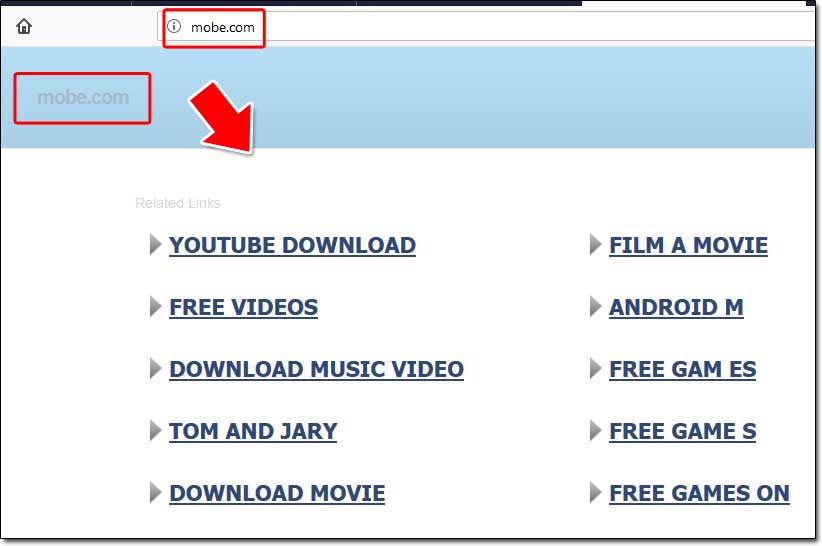 No technical error notice, no maintenance notice, or anything like that… Just the default page that's put together by the domain registrar which is usually displayed when you purchase a domain but don't link it up to any web hosting.
Strange right? But hey-ho mistakes happen… The first thing that crossed my mind was that maybe they just messed up – after all just because their website has gone down it doesn't necessarily mean it's been shut down by the FTC…
However things got a little stranger…
I used the website IsItDownRightNow & as shown below it told me that the MOBE website had actually been down for a total (so far) of 2 days & 8 hours: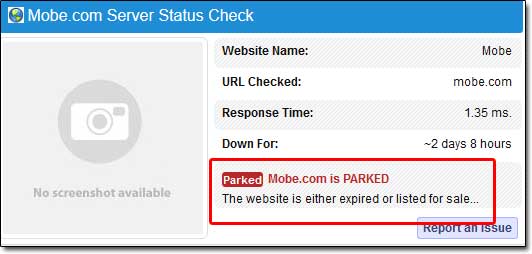 The reason I say that's strange is because MOBE acquires all of it's customers online, so had the website have gone down due to a mistake or technical error you'd think they'd be on top of fixing it pretty fast.
For it to be down for a whole 2 days is pretty concerning.
And what's even more worrying is that it's not just the main website "mobe.com" that's gone offline either – even the owner Matt Lloyd's personal sites promoting MOBE have gone offline too & now display a page exactly the same as the main site.
Check for yourself if you like, "askmattlloyd.com" & "mattlloydsblog.com" are now down too – along with nearly all of the other "funnel sites" such as The Turnkey Business System & the Ultimate Retirement Breakthrough.
So it seems something is definitely going on…
But Has MOBE Been Shut Down By The FTC?
Well at the moment that's pure speculation – as far as I can see the FTC haven't publicly announced anything (like they did when they closed Digital Altitude which was a similar scheme), however due to the nature of the business the disappearance of all the websites has led many to jump to the conclusion that the FTC have indeed shut it down.
When asked about it, MOBE themselves have come out on Facebook & told users that the team are working on a technical problem, and claimed that the said technical problem is the reason behind the disappearance of the sites (as shown below):

Again I've blurred the name/picture out for privacy reasons.
What I'll point out here though is that despite the MOBE Facebook page being previously active, there have been no posts to it since the date the MOBE websites went down… So that's either super coincidental or there is really is something other than a "technical error" going on.
Personally I'm leaning towards the latter – especially since two top earners named Michael Williams and Michael Giannulis have allegedly left the company & stressed in an email that sent to their downline that they "are no longer affiliated with MOBE at all".
This comes after the pair recently celebrated earning millions of dollars with MOBE.
But Why Would The FTC Shut Down MOBE?
I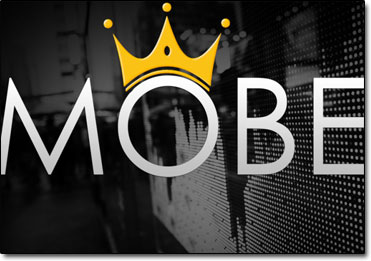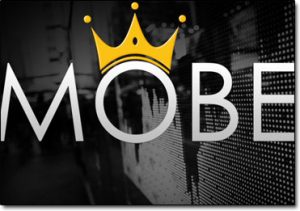 f you're a new member of MOBE (or were looking into joining prior to it going offline) & you've come across my post here then you might be wondering why people think the FTC would potentially want to shut MOBE down…
Well basically MOBE is what's known in the online marketing industry as a high-ticket network marketing program, and whilst it's been around for several years it's always been surrounded by a lot of controversy.
The reason for that is because the way it operates is very similar to that of a pyramid scheme – and the only thing that separated it from being officially classed as a pyramid scheme was the fact that it technically sold products.
However whilst MOBE & it's affiliates claimed that the products were valuable to the consumers, the argument of many was that the products were merely a "cover-up" and that the real reason people were investing in them was simply to make money by reselling them onto others (rather than investing in them because they genuinely wanted the product).
You see that's essentially how the whole thing worked. You signed up to MOBE for the opportunity to make money but later found out through the training that the opportunity to earn money simply consisted of selling the same opportunity onto other people…
I mean don't get me wrong, MOBE claimed you didn't have to do that, and that you could indeed promote other programs (which is true – you could) but of course they made it seemed that promoting MOBE itself was the easier, more profitable option… So you were quite heavily pushed into doing just that.
The problem however was that in order to be able to earn commissions by reselling the MOBE program to other people you had to actually firstly purchase the products yourself. If you didn't purchase them then you wouldn't earn anything – instead the commissions would get passed up to the next person who was qualified to receive them in your upline.
This meant that there was quite a lot of pressure on spending money & investing on the basis that you were going to get something back… Unfortunately though most people found out the hard way that it wasn't so easy to make sales, and after investing (potentially as much as $50k or more) they failed to make anything back.
That's why in my MOBE review, despite classing it as "technically legit" I made the decision not to recommend it, because as far as I was concerned you were much more likely to lose money than actually make it.
But anyway I'll get back on track with the topic at hand because this post isn't to say whether MOBE is or isn't legit – the intention is merely to highlight what's going on with all of it's websites going down & the potential of it being closed by the FTC.
So What Happens Now?
Well at the moment there is no real confirmation as to what is happening with MOBE – maybe it has been forced to close by the FTC, maybe it hasn't & maybe it is really just a technical error…
However the one thing that is clear at the moment is the fact that all of the websites are indeed still down, meaning if you are a member of MOBE & you are actively promoting it then you may wish to cease doing that & send your traffic somewhere instead.
It seems pretty pointless sending traffic to a defunct page that's all…
So what can you do? How can you carry on making money with your traffic now that MOBE is down? Well one idea would be to check out Wealthy Affiliate as it's there that you'll learn how you can promote several different affiliate programs to diversify your income online.
That way if ever anything happens to one of the affiliate programs that you're working with you'll always have a bunch of others to fall back on.
Or alternatively you could check out my list of ways to make money online to try something different altogether if you haven't actually started generating traffic yet & were just a new member to the MOBE program.
Either way though in my opinion if MOBE has been shut down by the FTC then it's potentially a blessing in disguise as hopefully it will enable people to step back & realize that there are so many great alternatives out there – alternatives that won't push you towards having to spend as much as $50k (or more) like you did at MOBE in order to see the full potential out of the opportunity.
I mean don't get me wrong if you were actively part of the MOBE opportunity & were generating an income from it or had spent money in the hope of doing exactly that then I sure feel for you. It's always saddening when something like this happens to something you truly believed in but sadly more often than not it's just a case of a hard lesson learned.
But regarding the whole ordeal I'll be sure to keep this post updated as & when I hear more. Like I say nothing is actually confirmed yet & at the moment it's just pure speculation that MOBE has been shut down by the FTC… But do keep & eye on this post & I'll let you know the score when more information is released. ?
Update 10/06/2018
More evidence has come to light & it's looking like the rumours of MOBE being shut down by the FTC are indeed true. There's still been no official statement from any of the high-ups at MOBE but according to one of their social media admins the reason they are seemingly remaining quiet is potentially because the FTC have also restricted them speaking out as well.
Again without an official statement it still has to be taken as hearsay, but everything so far is definitely gearing towards the rumours being true. According to one source some of the top-earners have even tried to organize some sort of crowd-funding plan to cover Matt Lloyd's legal costs in the hope of sorting it all out & reviving MOBE…
But I'd personally advise staying away from any such plan though as it's unlikely to prove successful, instead it'll probably just see you losing even more money. The reason I say that is because if the FTC have indeed forced MOBE to close with immediate effect then they wouldn't have just done it on a whim, they'd have made darn sure they have sufficient grounds to do it on.
I have to say though it's pretty concerning that the top-earners are reaching out for funding in such a way… I mean, if they were earning the millions they claimed then why can't they band together themselves to see the case through? Do they not have true faith it will win? Or have they not being making the money they claimed?
It's all very strange, and it's very sudden – but either way it sure isn't looking good…
Again I'll keep you updated as any further news arises. ?
Update #2 10/06/2018
Still no official word from MOBE, but the post shown below was recently published to Matt Lloyds Facebook page. Again I've blurred out the name/image for privacy reasons, but the person who's published it allegedly manages MOBE's social media accounts.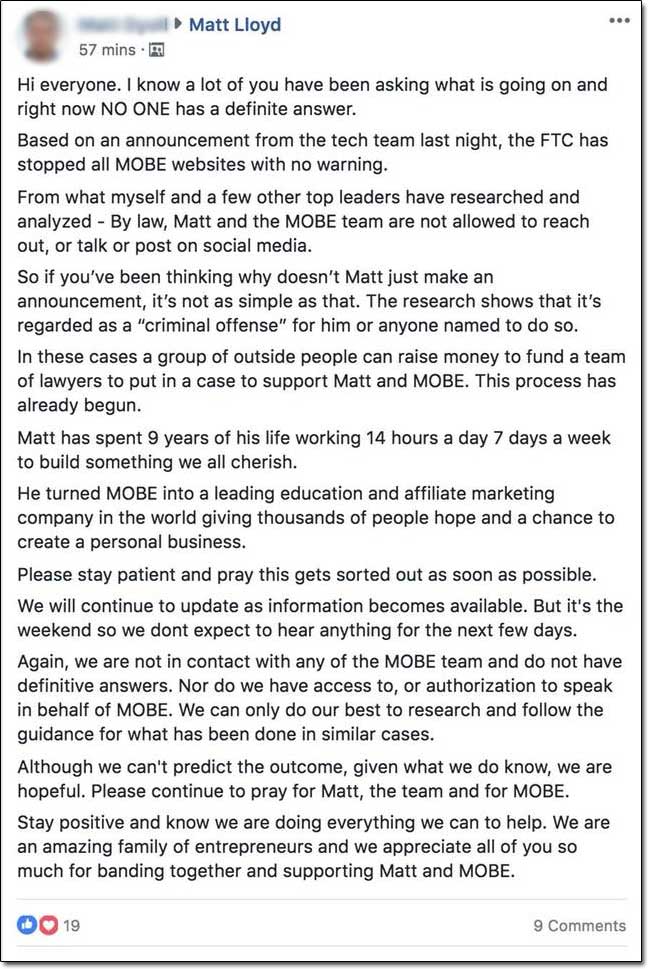 Interesting to say the least… Lets see how it unfolds over the course of the week as by then (if the timeline is anything like that of the Digital Altitude case) the FTC will likely make a public announcement.
Update 12/06/2018
It's confirmed, the rumours are true & MOBE has indeed been forced to cease it's business operations by the FTC. Matt Lloyd is also allegedly in hiding, which potentially explains why he's been keeping such a low profile since all this mess kicked off. You can read more about it in my new post by clicking here.