Digital Altitude, also known as the Aspire system is an online marketing "training" program that's been put together by a guy named Michael Force & it claims its members can generate as much as 6 figures online within just 90 days of getting started.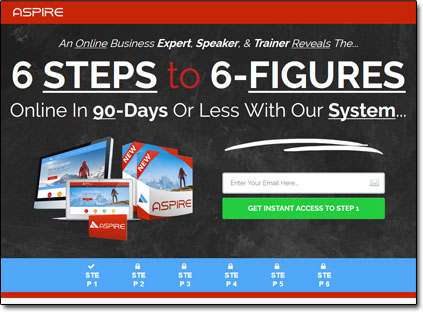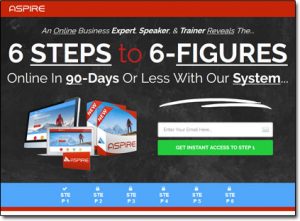 But obviously, I think you'll agree that that's a pretty bold claim to make, so what's the deal here?
Is it actually legit? Or is Digital Altitude a scam that'll just see you parted you with your cash like many of the other systems I've exposed promising similar results?
Thankfully you've landed in the right place to find out because I've done the digging & in this Digital Altitude review I'm going to be uncovering everything there is you need to know about it, including whether or not you can really make money with it & how it all works.
What Is Digital Altitude?   |   How Does Digital Altitude Work?   |   The True Costs Uncovered   |   Is Digital Altitude a Scam?   |   A Better Alternative
What Is Digital Altitude?
As I briefly touched on above Digital Altitude is an online marketing "training" program, though this particular program claims to be like no other, this one reckons it's so good that it could see you earning your first 6 figures online in as little as just 90 days – even if you have absolutely no experience.

It's been put together by a guy named Michael Force who's allegedly an ex-marine, though chances are you already know all about Michael because that's how you're pitched into the Digital Altitude program – through Michael's story.
He claims that he started life out as a marine (spending 4 years in service) but then afterwards moved into a cushy corporate job. Apparently, things were going well in his job but for some reason (which he doesn't state) he decided to quit it & pursue building an income online instead.
Now if you think he's going to tell you that he became a millionaire overnight, think again. He says it actually took him several years of struggle & frustration before he finally "cracked the code", but claims that when he did, this is when he managed to go from zero to over 6 figures in just 90 days.
And now he claims that he turned the "secret" he discovered into a "proven system" and that he's giving you access to it through the Digital Altitude platform… So essentially you're led to believe that you can simply sign up to Digital Altitude & get the shortcut to success to start making money right away, or at least that's the theory anyway…
The key takeaways are that Michael claims it's all very simple and that most importantly everything is "done-for-you" so you can get started right away…
Sounds like a great deal right?
Well sadly the reality isn't so great, and not only that but there are several "catches" with this program that you definitely need to be aware of before you even think about joining (I'll run over them in a moment)…
How do I know? I signed up & tried it out – I have seen first hand how it all really works & I can tell you that it's certainly not all it's cracked up to be…
Let me explain in more detail & point out those "catches" that you need to be aware of…
How Does Digital Altitude Work?
Despite all of Digital Altitude's seemingly wonderful claims, after signing up & going through the so-called "training" I felt in my opinion that the program resembled much more of a pyramid scheme than a revolutionary business system.
That's because it quickly became clear to me the whole concept with Digital Altitude was for you to sign up, invest money & then promote the exact same program (or opportunity) onto other people to get them to do the same so that you could earn yourself commissions in return at their expense.
Revolutionary "done-for-you" business? I don't think so. It actually just reminds me of an expensive high-ticket network marketing business opportunity (as they call it) named MOBE which works in a similar way… Another program I chose not to recommend.
Anyway, so that you can build your own opinion here's an overview of the process inside the "system"…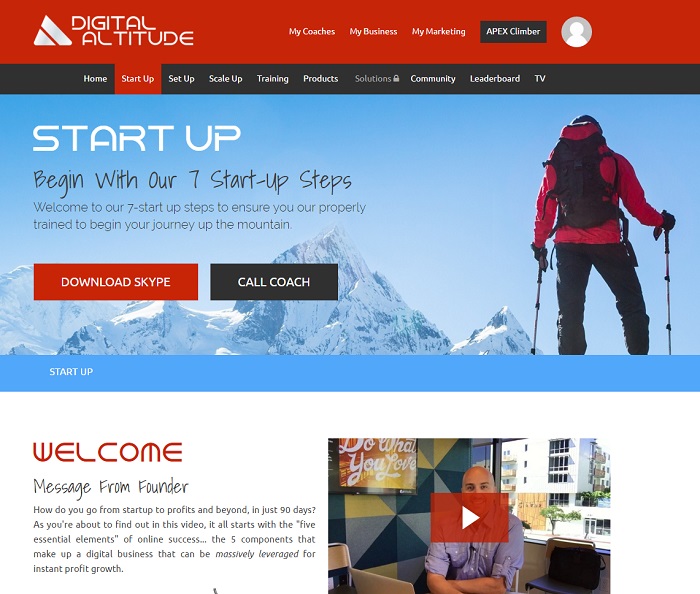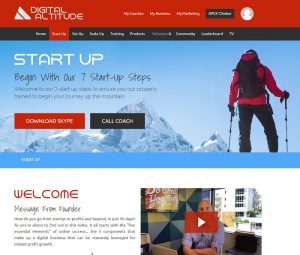 Basically, after signing up & handing over around $49 to do so I was given access – but it was immediately clear that I was not given access to everything as several components inside were inaccessible & shown covered with padlocks.
It later turned out that in return for my $49 I was only actually given access to the very basic package which in reality consisted of nothing much more than just a few introductory videos with Michael welcoming me inside.
From here it was clear that in order to continue with the program I was going to have to spend more money…
So I waited a few days for my "scheduled 1-on-1 coaching call" to find out more, and when that day finally arrived I soon also realized that my coach wasn't really much of a coach. Instead, the person on the other end of the phone acted more like a salesperson urging me to upgrade to the higher-priced plans so that I could apparently get the most out of the system.
One thing I did get from this call was how the business actually worked. He made it clear that in order to make money with Digital Altitude I was going to be required to get other people to buy in, just like I did, and I would be making a commission at their expense.
He claimed however that at the level I was subscribed to (the $49/mo "Aspire Walker" level) I wasn't really in a position to make good commissions. He said that if I referred somebody & they signed up because I was only at the $49/mo level this is the only level I'd be able to earn commissions on…
So all those high-ticket $1,000+ commissions Michael talked about in the sales video would be out of my reach… Unless of course, I upgraded to one of the higher packages, the first of which started at around $2,000 (the RISE package) & rose all the way up to around $50,000 (for the APEX package).
The True Costs Uncovered
You might think that once you've invested at those levels that that would be it and that you wouldn't have to spend any more money – but oh no, that's far from the case because alongside those "one-off" packages they also had monthly recurring ones.
The cheapest was the Aspire Walker package which costs $49/month – however, at this level, you only have the ability to earn commissions from the members you personally refer.
The next level was the Aspire Hiker package which cost $67/month – this one apparently enabled me to earn from 2 levels of referrals (so I get a percentage from the people I personally refer, and the people they refer too). It apparently also increased my commission rates too…
And finally, there was the Aspire Climber package which cost $127/month – this is the level where you were basically forced to be at because as the coach put it "without this you would be leaving commissions on the table". This one enabled you to earn from 3 tiers of referrals, and again supposedly increased your commission rates a little bit more too.
Seems Like They Just Want To Squeeze You Dry!
I've come across a few of these high-ticket network marketing thingy-thingamajigs in the past & they all seem to share one thing in common – the fact that everything seems to be centred around "big commissions".
The problem with that is that whilst big commissions are nice, what you have to realize is that these "commissions" are coming from real people's spending! So big commissions mean bigger investments.
In certain circumstances, this may not be bad – you know, where the investor is actually getting something worthwhile in return for their cash… But here with Digital Altitude, it seems like the only thing you are getting is the "opportunity" to earn more money.
It's like they just want to squeeze you dry of as much cash as possible so that the people above you can earn some hefty commissions at your expense. You could potentially be spending over $50,000 & signing up to a $127/monthly subscription before you even get started with this program… That's insane!
And you'd sure expect some high-quality training in return for your cash right? But nope, even the training seems mediocre too. As far as I could see there was no real "how-to" style training, instead, it was more going over what you "should" do but not really going into any great detail on how to actually do it.
Take Michael's "secret to six figures" training for example… Basically, this was an hour or so long video which just talked about the importance of generating bigger commissions & how bigger commissions could help you generate six figures quicker… Well dur!
It's safe to say I wasn't impressed.
You Might Also Like:
Is Digital Altitude a Scam?
Well, I think it would be wrong of me to call it a scam as such since there is the potential opportunity to actually make money here, however, what I will say is that it's extremely misleading.
You're led to believe that you can make money quickly & easily and that you can learn all about building an online business but to be honest none of those claims really hold true… And surprise surprise there is certainly no mention of the heavy investment involved.
I also don't like the heavy sales tactics employed by the so-called "business coaches" – in fact, I don't really like the whole business model altogether. As I said earlier I feel that in my opinion at least, the whole thing kinda resembles a typical pyramid scheme.
You sign up, you're pressured to invest more & more money, then you find out that the way you make money is actually just by getting other people to do the exact same thing. You've got to sell them the opportunity to make money but the likelihood is that you probably won't even be making money yourself.
And the fact that you've got to invest around $50,000 & sign up to a monthly subscription of $127 before you can even get the "full potential" out of the program is just insane, especially since you don't seem to actually get anything in return for your money other than the "opportunity" to unlock higher commissions (and maybe some additional "training").
There is no way you should ever have to spend this kind of money to get started online – not unless you've come up with an idea & you're having a company build you a bespoke website from scratch. If you're just wanting to learn online marketing then there are several legitimate programs, such as Commission Academy for example which you can actually access for free.
So overall it's safe to say that I am not going to be recommending this program because I feel that it's far too risky, especially for newbies who might end up investing & never even managing to recoup the money they invest. There are plenty of alternative legitimate ways that you can build an income online & therefore I am going to advise that you give this Digital Altitude a wide berth… I'm pretty confident that if you join you'll only find yourself disappointed.
Anyway, hopefully, this review provided you with the insight that you were looking for & hopefully it helped you save some cash. If you do happen to have any further comments or questions though don't hesitate to leave them below.
A Better Alternative
The sad truth is that unfortunately most of the programs promising to help you make money online are scams. I can say that confidently after exposing over 500+ of them here on this blog.
But the good news is that even though most of them are indeed scams, there are actually some very good programs in amongst them - some programs that can truly help you to earn money.
And out of all of the legit programs I've seen, the one I would recommend the most to anybody looking to get started online is Commission Academy. In my own opinion, that's the best place to start.
At Commission Academy, you'll be provided with everything you need (including the training & tools) to begin earning real money by promoting products or services for companies like Amazon online.
The best part is that there's literally no limit on the amount you can earn with it & the process is pretty simple which means that it's absolutely perfect for people that don't have much experience.
Some wealthy affiliates even earn as much as 5-figures per month... Or more!


I mean don't get me wrong, that kind of money won't just fall into your lap without doing any work... But the harder you're willing to work at it, the more you stand to earn with it.
So if you're looking to get started but don't know which route you should go down or which program you should join (and don't want to waste money on bogus things that don't actually work), then I'd highly recommend checking out Commission Academy first. You can learn more about it here.