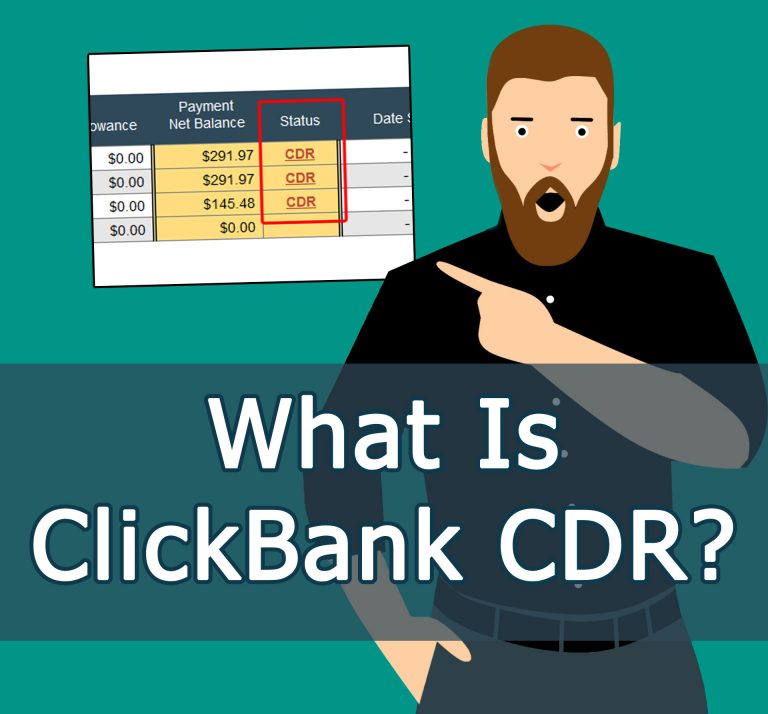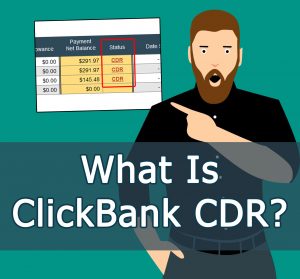 Have you begun promoting products from the ClickBank marketplace, successfully earned commissions, got excited about receiving a payout but then found yourself faced with the ClickBank CDR payment status?
Don't worry, you're not alone. Lately, I've received LOTS of questions from new affiliates asking what the CDR (Customer Distribution Requirement) payment status means & how they can fix it to get begin getting paid.
So I figured I'd take the time out to put this post together today explaining everything you need to know & most importantly explaining the solution that will enable you to start receiving your ClickBank paychecks 💪.
What Does ClickBank CDR Mean?   |   What Is The Customer Distribution Requirement?   |   How To Meet The CDR Requirement   |   The Bottom Line
What Does ClickBank CDR Mean?
If you look at your ClickBank payment status & see the letters CDR then it means that your account hasn't yet met what ClickBank refer to as their Customer Distribution Requirement.
In short, this means your account is currently ineligible to receive payouts.
And this can be pretty darn frustrating, especially if you were expecting your payment to arrive & only discovered the CDR thing after looking to see why your payment never showed up.
But there is a genuine reason for the CDR being put in place & primarily, it's to prevent 2 main things.
The first thing it is set out to prevent (or at least deter) is the purchase of products through your own affiliate links.
You see, many ClickBank purchasers came to realize that they could get a discount by simply signing up as an affiliate of ClickBank & then making the purchases through their own affiliate link.
They'd get the product they purchased, then they'd get the commission for the purchase as well, meaning that ultimately they'd have received a discount from their purchase (once the commission gets paid).
But the Customer Distribution Requirement (CDR) puts a stop to that.
And the second thing it is designed to prevent is the process of product vendors purchasing their own products simply to try to manipulate the "Gravity" of their product to get it boosted in the marketplace.
You see, if a product has a higher Gravity rating then more affiliates will be inclined to promote it. This resulted in many vendors trying to manipulate their Gravity score by purchasing their own products.
But now, with the CDR in place, they won't receive the commissions from those sales which means that it would actually cost them more money to try to purchase their own products.
So it's safe to say that the ClickBank CDR is pretty effective in "securing the marketplace", which ultimately is a good thing.
But as an affiliate looking to earn commissions, it can certainly still feel pretty bad (and annoying)… So what do we have to do actually meet the requirement & get paid?
Let's take a look…
What Is The Customer Distribution Requirement?
The Customer Distribution Requirement means that your ClickBank affiliate payment will be withheld until you have generated a minimum of 5 sales with purchasers using at least two of the following payment methods:
American Express
Carte Bleue
Diners Club
Discover
Maestro
MasterCard
PayPal
Visa
This means that if 4 people purchase products via your links using an American Express card & 1 person purchases a product via your link using a Visa card, you will meet the Customer Distribution Requirement & qualify for payment.
But…
If you make 100 sales & they all pay using a Visa card, then you will NOT meet the CDR & instead your payment will remain held by ClickBank until you refer another customer that uses a different card.
The good news is that's pretty unlikely to happen. Usually, you'll qualify for the CDR within your first 5 sales or definitely within your first 10 sales as its common for customers to use different payment methods.
But, as with anything, there is a way to legitimately "cheat" the requirement (and get paid sooner) which I'll explain below.
You Might Also Like:
How To Meet The CDR Requirement
The first, the obvious (and my recommended) way to meet the CDR requirement is to simply work harder on your promotions.
Don't try to game the system, instead, just focus on making more sales. That way, not only will you qualify for the CDR requirement but you'll also be actively growing your business at the same time.
And that should definitely be your primary goal.
But let's say something has happened, you've stopped your affiliate promotions for whatever reason but you have a ton of money inside of ClickBank & you don't want it to be eaten away by the dormancy fee…
What do you do?
Well, the simple solution is to just get a few friends to purchase some low-priced items via your affiliate links. Say, some $3 eBooks or something for example.
As soon as they do that, you'll meet the CDR & you'll be able to get your money.
And by simply getting your friends to buy things via your links there'll be no repercussions as you're not really doing anything wrong. You're promotion products as normal, it just so happens to be your friends that purchased them.
But there is ONE time you shouldn't do this method… And that's if you're doing it with malicious intent to meet the CDR & then begin to try to game the ClickBank platform in some way.
If that's what you're doing, then stop because whilst what you're doing may seem "harmless" to you, it's that type of behaviour that's damaging to all of the other honest affiliates trying to build a legitimate business.
Not cool.
The Bottom Line
The ClickBank CDR payment status may initially seem pretty annoying but it's there for good reason & realistically, if you're an active affiliate then it should be pretty easy to meet the requirement.
And as mentioned in the previous section, there's a pretty easy way that you can "guarantee" yourself to meet the Customer Distribution Requirement within a short period of time.
But personally, I'd recommend just sticking with the method of working harder on your affiliate promotions… And if you'd like to learn how to promote more effectively, you can always check out my free course.
But whatever you decide to do, I just hope that my article here has helped you better understand what the ClickBank CDR is, why it's in place & how you can easily meet the requirement to get paid.
And if you still happen to have any questions or comments, then don't hesitate to leave them below.