Earlier this morning I received an email from a visitor querying the legitimacy of a Forex trading account on Instagram & so naturally, I decided to take a look into it & post my findings here on the website for everybody to see.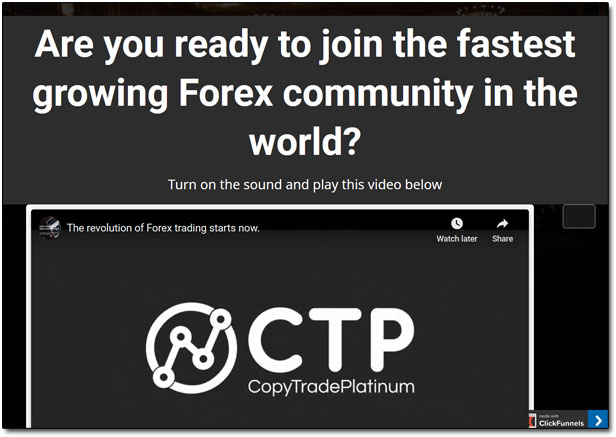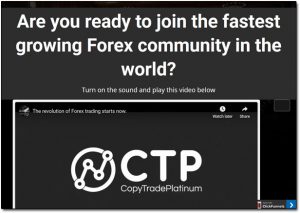 The account in question goes by the name of "ctp_fx" on Instagram which appears to be short for Copy Trade Profit FX and at the time of writing this Copy Trade Profit FX review the account has over a whopping 116k followers.
But a large follower base doesn't necessarily mean it's legit. In fact, many of the Forex scams that I've exposed in the past have actually had much larger follower bases than that. Some Instagram Forex scam accounts even had millions of followers.
So what's the deal with this latest account, ctp_fx? Is Copy Trade Profit FX a scam? Or is it actually a legitimate trading account that'll genuinely help you make money?
All will be revealed here in my review. 🙂
What Is Copy Trade Profit FX?   |   How Does Copy Trade Profit FX Work?   |   The Red Flags   |   Is Copy Trade Profit FX a Scam?   |   A Better Alternative
What Is Copy Trade Profit FX?
Copy Trade Profit FX is an Instagram account & Forex trading program that essentially claims to be able to provide you with a way to simply copy trades & generate profits, as the name suggests.
Everything is made to seem really simple & every member is led to believe that they will be able to generate substantial profits, with the Instagram account boasting lots of luxurious photos.
However, there is a stark warning in the account's bio:

So, is it really as easy the people behind the Copy Trade Profit FX make it out to be?
And if it is, then why isn't everybody doing this?
If people can simply "copy trades" and generate thousands with ease as the account suggests they can, then why on earth are people still stuck working at jobs that they dislike?
The answer is because, quite clearly, it's not quite as clear-cut as they make out.
In reality, the truth is that if you decide to make investments & follow the advice offered by the unlicensed Copy Trade Platinum FX program, you will be much more likely to LOSE money than you will be to make it.
That's right – Copy Trade Platinum is unlicensed, meaning it's operating illegally. You should NEVER invest any money via an unregulated firm because if you do, you'll have no protection if things go wrong.
Here's what the FCA has to say about Platinum FX signals:

Not good.
But regardless, let's continue with the Copy Trade Profit FX review to see what's really going on…
You Might Also Like:
How Does Copy Trade Profit FX Work?
Essentially, the people behind Copy Trade Profit FX (who remain anonymous) simply sell Forex signals packages – and that's how they make their money to live their "luxurious lifestyle".
The packages they offer are as follows:
Premium – £49.99/month
VIP – £75/month (or £299 for 12 months)
However, whilst 3 packages are offered, the push is to get you to immediately purchase the £299 package. After all, why pay £75 for 1 month when you can get 12 for £299?
They make the £299 package seem the "obvious choice", and so that is the package most wannabe-investors will purchase.
From there, if you purchase a package (which I don't recommend), you'll be provided with Forex signals via Whatsapp (an extremely suspicious way to provide signals).
In order to make use of these signals, you'll then be instructed to sign up with a broker & the people behind Copy Trade Profit FX will push you towards depositing with a specific broker.
The reason for that is because despite them failing to mention it, they're actually affiliated with the broker in question, which means when you make that deposit, they get paid a commission.
Now here's the important part…
I checked out the specifics of the affiliate partnership between Copy Trade Platinum FX & the broker that they're working with & discovered this in the broker's affiliate terms:
Always bear in mind that the clients have to trade, not just deposit, as well as withdraw as infrequently as possible.
In short, that means the more money you LOSE, the more money Copy Trade Platinum make. So ultimately it is not in their interests for you to win, as they claim it is.
It's now quite easy to see why they don't hold a license.
The Red Flags
For anybody that's thinking about getting involved with Copy Trade Platinum FX, stop, and take a look at the red flags.
Firstly, the whole operation is unlicensed, meaning that it's operating illegally. This also means that you are not backed by any regulatory protection whatsoever if you do get involved.
Secondly, the website displays no ownership information & signals are sent via Whatsapp messaging which is extremely unusual & suspicious. The people behind the program have gone to great lengths to hide their true identities.
And lastly, the program encourages you to deposit via a broker that the people behind it are affiliated with – and the program pays the people behind it commissions based on how much you lose. It's not in their interests for you to make money.
Is Copy Trade Profit FX a Scam?
Yes, Copy Trade Profit FX is quite clearly yet another Forex trading scam. I mean sure, in return for your money they may well provide signals as promised – but based on their affiliate relationships with the broker, their interests will not lie in helping you to make money.
On top of that, as mentioned throughout this Copy Trade Profit FX review already, they're operating without a license. That fact alone should stop you from investing.
Furthermore, there are not many legitimate investment operations that boast claims like the one quoted below on their website:
We have travelled to 24 countries this year alone and stayed in the best hotels in the world
The entire thing is nothing more than a con & the people behind it are simply profiting by selling the dream to youngsters & wannabe-traders via Instagram.
The reality is that yes, you can make money online (and you can make very good money too) but trading is & always has been an extremely risky way to do it.
As a result, I've always advised against it & instead if you really want to earn money online without the risk I would suggest you take a look at something like affiliate marketing.
Affiliate marketing puts you in control & it is something that anybody can do with next to no start-up cost whatsoever. It's the exact same way I generate my own income online.
But alongside that, there are also several other safer ways to make money online which you can feel free to check out on my top picks page right here before you go.
Either way, whatever you decide to do, I just sincerely hope that my Copy Trade Profit FX review here has given you a good insight into how the whole thing really works & what you can expect from it.
If you happen to have any further questions or comments then, of course, don't hesitate to leave them below. 🙂
A Better Alternative
The sad truth is that unfortunately most of the programs promising to help you make money online are scams. I can say that confidently after exposing over 500+ of them here on this blog.
But the good news is that even though most of them are indeed scams, there are actually some very good programs in amongst them - some programs that can truly help you to earn money.
And out of all of the legit programs I've seen, the one I would recommend the most to anybody looking to get started online is Commission Academy. In my own opinion, that's the best place to start.
At Commission Academy, you'll be provided with everything you need (including the training & tools) to begin earning real money by promoting products or services for companies like Amazon online.
The best part is that there's literally no limit on the amount you can earn with it & the process is pretty simple which means that it's absolutely perfect for people that don't have much experience.
Some wealthy affiliates even earn as much as 5-figures per month... Or more!

I mean don't get me wrong, that kind of money won't just fall into your lap without doing any work... But the harder you're willing to work at it, the more you stand to earn with it.
So if you're looking to get started but don't know which route you should go down or which program you should join (and don't want to waste money on bogus things that don't actually work), then I'd highly recommend checking out Commission Academy first. You can learn more about it here.