Today I just came across a system named Copy My Websites which claims to be able to make you profits of $1,000 per by copying a "free weird trick".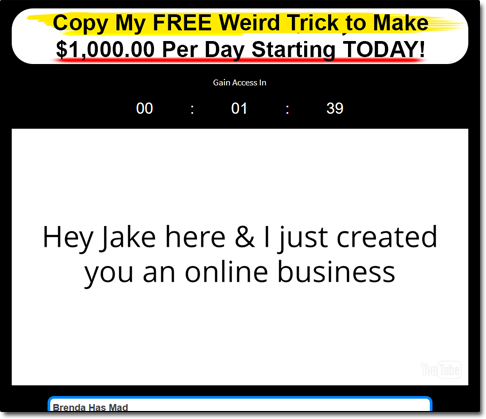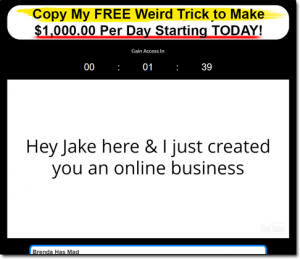 Firstly, I'd like to say that the trick is not free as just slightly below that statement you'll see a registration button which clearly shows that this system costs $37.
So if you too have come across this system & you're looking to find out what it's all about and whether or not it's worth the $37 price tag then you're in the right place.
In this in-depth Copy My Websites review I'm going to uncovering the truth about this system so that you can find out if it actually works & if it really can make you any money.
How Does Copy My Websites Work?   |   The Typical Purchaser Doesn't Make Money   |   The Truth   |   Is Copy My Websites a Scam?   |   A Better Alternative
Rest Assured I'm Not Affiliated With Copy My Websites
Before I dive into this review I want to make it absolutely clear that I am not affiliated with the Copy My Websites system.
The reason I want to make that clear right from the start is so that you can rest assured you are getting truthful information about this system. You see many of the reviews online are biased because they're written by affiliates who are getting paid to get you to sign up.
Here in this review, I will simply be delivering the hard TRUTH, whether it be good or bad.
How Does Copy My Websites Work?
When you land on the Copy My Websites homepage, Jake, who is supposedly the creator of the system claims in his video presentation that he has just created you an online business & that it's already making money.
I actually laughed when I heard that because at first, I thought it was a joke, but after continuing watching the video it seems he was actually being serious.

To be honest, I couldn't believe what I was hearing – the claims being made by this system are absolutely absurd.
I mean sure, the easiest way to become successful is to copy somebody who's already successful, but you cannot do it with the click of a mouse LOL.
Even if he did copy his websites & give them to you, that's the easy part of building an online business – but just copying websites alone won't make you any money.
To become successful online you need TRAFFIC (visitors coming to your page). Anybody can set up or "copy" a website, traffic is the hard part.
Funnily enough Jake doesn't go into any details whatsoever about how he plans on helping you get traffic, and he actually doesn't go into any details about the websites he's supposedly copied over for you either.
He just makes several attempts to try & force you into clicking the button below the video & parting with $37 to gain access to his "system".
The Typical Purchaser Does Not Make Any Money
Whilst I was listening (and laughing) at the video I decided to take a look around the website itself to see if there was any more information available as to what you would actually be provided with if you parted with $37.
Take a look at what I found:

Yes, that's a disclaimer stating that the typical purchaser DOES NOT make any money using this system!
So let's take a look at the lies so far…
Lie #1: The text at the top of the website states that the system is free, yet the button below clearly states that it costs $37.
Lie #2: The system claims that it can make you $1,000 per day, yet at the bottom of the page you're told that the average purchaser makes NOTHING.
And here's lie #3…
Throughout the video, you're reminded several times that you need to sign up to this system ASAP because the videos going to be taken down at the end of the day.
I find that a little strange though since it's now the 23rd of February & according to YouTube the video has been online since the 23rd of January. LOL.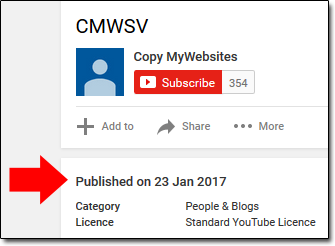 Lies, lies, lies!
How Copy My Websites Really Works
The Copy My Websites system has been built in a very clever way to make money from you without you even knowing.
You see, the product itself is nothing but a piece of junk – but here's the deal, they don't really care whether you buy it or not.
If you buy it, you'll find out first hand that it's a piece of junk & chances are you'll file for a refund – but now they've got your phone number.
If you don't buy it, chances are you were interested in finding out what it was about so you entered your details – same story, they've now got your phone number.
The aim of this system is simply to try and get people's phone numbers because phone numbers can be very valuable to other companies.
Think about it, all of the people who are entering their phone numbers into this system are clearly interested in a way to make money online, which means that the creators of this system could then either bombard them with different offers or sell the numbers on to other companies.
They've gone about getting phone numbers in a very clever way because they're actually leveraging affiliates to promote this system for them. Most of the affiliates will probably think this system is great because no doubt lot's of people will be signing up and paying the $37 to find out what it's about…
But come a couple of weeks or couple of months later no doubt everybody will be filing for refunds because this system simply does not work as promised.
The affiliates will have all the money taken back off them, but the owners of the system will not care because they'll have achieved their goal of obtaining thousands of different phone numbers…
And depending on how many they actually manage to get, this list of phone numbers alone could be worth millions to them.
Is Copy My Websites a Scam?
Absolutely 100%. Copy My Websites is a scam and I do not recommend you enter any of your details into this system either – not even just to find out what it's about.
It's obvious that this system is nothing more than a clear ploy to part you with your details (and possibly your money too) so it is definitely best avoided.
As an experienced online marketer, it was quite obvious to me that this system was not going to be legit right from the very start however I'm worried that this system will draw a lot of newbies in who think it really is possible to profit online simply by copying websites.
Copying websites will NOT make you money. To make money from a website you need visitors, and it's getting visitors that is the hard part.
If you happened to land on this review after coming the across the Copy My Websites system and you're still interested in a way to build a real income online then be sure to check out my Ultimate Guide To Making Money Online – that will provide you with everything you need to know to get started the right way.
I hope this review provided you with a good insight into how the Copy My Websites system really works, and more importantly, I hope it prevented you from parting with your hard-earned cash.
If you have any comments or questions then feel free to leave them below. I always love hearing from my readers & I'm always to happy to help.
P.S. Be sure to share this post with your friends and family so that they too do not end up falling for this dangerous scam.
A Better Alternative
The sad truth is that unfortunately most of the programs promising to help you make money online are scams. I can say that confidently after exposing over 500+ of them here on this blog.
But the good news is that even though most of them are indeed scams, there are actually some very good programs in amongst them - some programs that can truly help you to earn money.
And out of all of the legit programs I've seen, the one I would recommend the most to anybody looking to get started online is Commission Academy. In my own opinion, that's the best place to start.
At Commission Academy, you'll be provided with everything you need (including the training & tools) to begin earning real money by promoting products or services for companies like Amazon online.
The best part is that there's literally no limit on the amount you can earn with it & the process is pretty simple which means that it's absolutely perfect for people that don't have much experience.
Some wealthy affiliates even earn as much as 5-figures per month... Or more!

I mean don't get me wrong, that kind of money won't just fall into your lap without doing any work... But the harder you're willing to work at it, the more you stand to earn with it.
So if you're looking to get started but don't know which route you should go down or which program you should join (and don't want to waste money on bogus things that don't actually work), then I'd highly recommend checking out Commission Academy first. You can learn more about it here.