Yesterday I stumbled across something named the Corona Fever trading app which claimed to have been built to help people generate guaranteed daily profits, all on complete autopilot.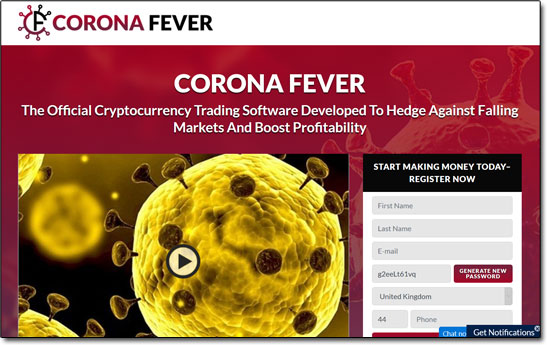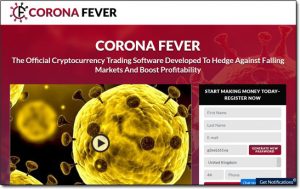 You're basically led to believe that you can just sign up, activate it & that it'll then just begin earning you money without you even having to lift so much as a single finger.
But is it legit?
Or is the Corona Fever trading app a scam?
If that's what you've been trying to figure out then you can rest assured you've landed in the right place because in this Corona Fever review I'm going to be uncovering everything you need to know.
What Is Corona Fever?   |   How Does Corona Fever Work?   |   How Much Does It Cost?   |   Can You Really Make Money With It?   |   Who Is Behind It?   |   Fake Testimonials   |   More Red Flags   |   Is Corona Fever a Scam?   |   A Better Alternative
What Is Corona Fever?
Corona Fever is the name of a new trading app that's just launched which claims it can enable people to generate guaranteed profits from the markets which are falling due to coronavirus.
What's more, is that the app claims it can do all of this on complete autopilot.
So you're led to believe that even if you don't know the first thing about trading you can just simply sign up, make a deposit & then have the system begin generating profits on your behalf.
And the Corona Fever website states that "members stand to earn in excess of $1,300 per day in pure profits".

But if that's true, then why isn't everybody using this?
Why hasn't it been featured on the TV news?
I mean I don't know how you personally came across it, but I myself came across via a spam email that I just so happened to noticed sitting in the junk folder of my emails.
Seems a strange way to find about it if it's legit, right?
Well, the truth is that it's not legit.
The Corona Fever trading app is actually just a disgusting scam that's been created to take advantage of people in these desperate times, and it's absolutely sickening.
How Does Corona Fever Work?
So the idea is that the trading app has been built around a special algorithm that'll enable it to generate guaranteed profits, however, in order to use it you need to first make a deposit with a broker that they recommend.
And this where the scam lies.
You see, the Corona Fever trading app doesn't really work as promised at all.
The entire thing is just a ploy to get you to deposit with the broker because the person who's created the app is affiliated with the broker that is recommended.
This means that if you deposit, the person behind the app gets paid a commission at your expense.
Now you may be thinking that's not too bad because you'll just be able to get your money back from the broker, right?
But the problem is that the broker is also in on it too.
The broker that you're recommended to deposit with is an unlicensed binary options broker & this means that they'll make it as difficult as they can for you to get your money back.
It's all been designed in a way to make it appear to be risk-free but in reality, it's far from it & by making a deposit you're just going to find yourself losing money.
Plus, you may find yourself losing a LOT more than the initial deposit as these types of scams have been known to go as far as to fake your profits in an attempt to trick you into depositing even more.
You see, the trading app that you're given access to isn't really connected to any live markets, it's essentially just a video game.
This means the person who's created the Corona Fever app can easily set it up in a way to make you think that you're profiting when in actual fact you're not.
And unfortunately, that happens a lot.
People end up losing literally as much as tens of thousands to these scams as the people behind them trick them into making multiple large deposits, and the people depositing don't think twice because they think they're actually making money.
When they finally try to make a withdrawal the truth will soon emerge as the request will never get processed. Instead, the broker will just come up with excuses.
The entire thing is a scam.
You Might Also Like:
How Much Does Corona Fever Cost?
In order to "try" the Corona Fever trading app, you have to make a non-refundable deposit of at least $250 with the binary options broker that they recommend to you.
However, whilst $250 is the minimum, as soon as you deposit the broker will begin calling your phone & trying their best to get you to deposit even more by offering matching bonuses.
Deposit $500 more, get a $500 bonus etc, things like that.
The problem though is that if you accept the bonus, then the deposit you make becomes non-refundable as part of the terms, but of course, they fail to mention this in the call.
And the brokers are stupidly persistent – they will literally ring your phone non-stop from a ton of different numbers hounding you to make more deposits.
Can You Really Make Money?
No. Despite what the Corona Fever website claims, you will not find yourself making any money as the entire thing is simply set out to make you lose money instead.
The only people making money will be the person behind the Corona Fever app & the broker that is recommended to you.
They, of course, will be making their money at your expense.
And even with a legitimate broker, binary options trading is still next to impossible to turn a profit with because of the way that it works. The odds are against you.
You see, with binary options trading you never actually "invest" in anything, instead, you just place bets of whether or not you think the value of something will rise or fall over a set period of time.
Initially, this sounds easy, but the periods of time are usually 60 seconds or less meaning it's impossible to make an accurate prediction due to the volatility.
Plus, if you win, you get your money back and a small bonus, but if you lose, the broker takes everything.
It's so bad that in all my years of working online I've literally never come across so much as a single person that has managed to make sustainable profits from binary trading.
In statistical terms, the odds of profiting from binary trading are actually worse than playing the roulette table.
Who Is Behind Corona Fever?
The Corona Fever website has an "About Us" page & on it, you're told that the Corona Fever app has been created by "two brilliant students" but that's about as detailed as it gets.
There is no mention of names, no office address & most importantly no license details.
It's a requirement by law for websites pushing investment products to have & display a license & you should never invest money via a website that doesn't display one.
If you do & you lose your money, you won't be protected.
And if an investment doesn't display a license then the likelihood it's because the website is not legit.
Put it this way, investing money into the Corona Fever software would be just like handing over money to a stranger in the street because you have absolutely no idea who's behind it.
Fake Testimonials
What's very worrying is that the person behind the Corona Fever software has gone to the lengths of stealing people's images & creating fake testimonials to pretend that it works.
Devon T from Montgomery, Alabama, for example, is actually Craig Brown, a reporter for the Daily Mail as shown below: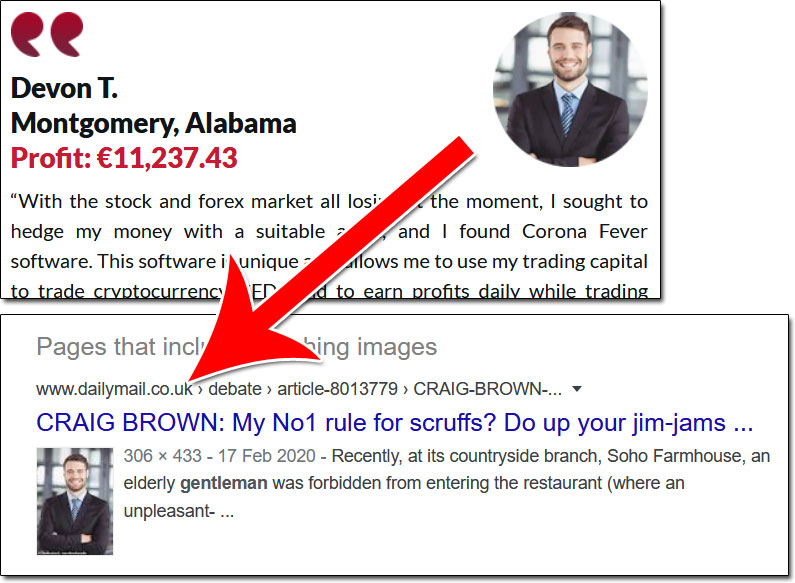 The same goes for the other Corona Fever testimonials too & it's safe to say that there's no way you should trust a system which uses fake testimonials to try to trick you.
Red Flags
Here is a breakdown of the red flags I noticed which suggest Corona Fever is a scam:
Affiliation between the creator & the recommended broker
No details about the person/people behind it
No license information shown (required by law)
Claims made are too good to be true
Fake testimonials used
And I can tell you that the affiliation between the creator & the recommended broker literally proves it's a scam on its own.
The reason being because binary options brokers work differently to normal brokers. They don't add fees to their trades, instead, they earn their money when you lose money.
If you happen to win, then it actually costs the binary options broker money because they have to pay you those winnings out of their own pockets.
This means it's 100% in their best interests for you to lose.
So ask yourself this – why would a binary options broker pay commissions to the creator of a "guaranteed profiting system" for getting you to sign up with them?
The answer is they wouldn't because such a system would be put them straight out of business.
The real reason they're paying the creator of the Corona Fever software commissions is because they know that the software is actually designed to make you lose, not win.
Is Corona Fever a Scam?
Yes, I can tell you with absolute certainty that the Corona Fever trading app software is a complete scam.
The reason I can say that with such confidence is because I've actually exposed many of these types of scams already in the past right here on this website.
The people behind them simply just keep on changing them around a little bit & switching up their names in an attempt to escape the negative reviews & trick more people into joining.
But the bottom line is that if you sign up to Corona Fever & deposit any money then you will just lose it. There's no way that it will really help you to make any money.
The only people making money from it will be the person that has created it & the broker that he (or she) is getting you to sign up to in return for a commission.
So you should definitely avoid it, 100%.
Instead, if you want a legitimate way to earn money online then I would suggest that you check out my top picks page right here for tried, tested & proven methods.
A Better Alternative
The sad truth is that unfortunately most of the programs promising to help you make money online are scams. I can say that confidently after exposing over 500+ of them here on this blog.
But the good news is that even though most of them are indeed scams, there are actually some very good programs in amongst them - some programs that can truly help you to earn money.
And out of all of the legit programs I've seen, the one I would recommend the most to anybody looking to get started online is Commission Academy. In my own opinion, that's the best place to start.
At Commission Academy, you'll be provided with everything you need (including the training & tools) to begin earning real money by promoting products or services for companies like Amazon online.
The best part is that there's literally no limit on the amount you can earn with it & the process is pretty simple which means that it's absolutely perfect for people that don't have much experience.
Some wealthy affiliates even earn as much as 5-figures per month... Or more!


I mean don't get me wrong, that kind of money won't just fall into your lap without doing any work... But the harder you're willing to work at it, the more you stand to earn with it.
So if you're looking to get started but don't know which route you should go down or which program you should join (and don't want to waste money on bogus things that don't actually work), then I'd highly recommend checking out Commission Academy first. You can learn more about it here.