The CryptoProphecy system is a brand new cryptocurrency training program that's allegedly been put together by a lady named Suzi Lewis who appears to be more widely known online by her alias, which is the CryptoGirl.
She claims that her program provides the ultimate roadmap to the future & that by following her training you can make thousands of dollars with ease from cryptocurrency investments online…
But is it actually legit, or is CryptoProphecy a scam that's just set out to part you with your cash as opposed to helping you make it? That's what a lot of people have been asking & thankfully you've landed in the right place to find out as I've took a closer look into it & in this honest review I'll be uncovering the truth about how it all really works. 🙂
What Exactly Is The CryptoProphecy System?
So as I briefly touched on above the CryptoProphecy system is essentially a training program which focuses on teaching you how to make money through cryptocurrency investments.
Primarily it is based around investing in something known as Alt Coins, which as the name suggests are basically alternate coins to the mainstream ones. So rather than investing in the likes of Bitcoin, Ethereum or Ripple you'll be looking at new coins – and even coins that haven't yet launched.
The idea is that you get in early, invest whilst they are low & put yourself in a position to make a ton of cash if they happen to increase. That's why CryptoGirl states in the promo video for the CryptoProphecy system that you can make as much as 1000x times your investment…
But I want to point out here that whilst all that sounds good in theory, sadly as you can imagine it is much more difficult in reality.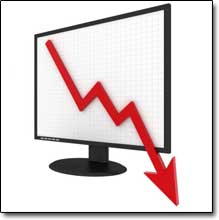 In fact since Bitcoin there have been NO coins to date which have seen such a dramatic rise – and at the time of writing this review the value of most cryptocurrencies has actually been on the decline over the past 8 months or so…
So whilst on the surface cryptocurrency can seem like an easy way to make quick money, in reality you should know that it's not only difficult, but it's also very risky & as a result most people actually lose money, not make it.
Admittedly though if you are dead set on getting into the cryptocurrency marketplace then it probably is wise to follow some training or somebody with expertise as opposed to just going in blind… But is Suzi Lewis' (CryptoGirl's) program the right program for the job?
Well I'll soon reveal that when I show you how it works, but firstly I want to quickly talk about who's behind it… Because after taking a deeper look into it CryptoGirl may actually just be a "front" for the whole thing…
CryptoProphecy – Who's Really Behind It?
So upon landing on the CryptoProphecy website you're provided with a presentation which is brought to you by a lady who self titles herself as CryptoGirl – but at first I'm not gonna lie I assumed she was fake.
After all many of the programs I review are known to use actors in the videos to hide the true identity of the creators because they are flat-out scams, so naturally I did some due diligence on CryptoGirl to see if she was the real deal.
I came across her YouTube channel & it turns out that she was indeed legit as she also had several other videos… But the important thing to note is that in one of her videos she mentioned her name was Suzi Lewis.


The problem though was that there wasn't really much of a background to be found about her. Could we really trust her as the cryptocurrency guru she portrays herself as being? So I continued the due diligence.
I then discovered that the CryptoProphecy had been launched by a company named Champ Entertainment, Inc – and this was an interesting revelation because Champ Entertainment, Inc is owned by a guy named Jamie Lewis, a well-known online marketer.
I visited Jamie Lewis' YouTube channel & lone behold his most recent video (as shown below) was titled "Bitcoin Genius Spits Bars" and it features CryptoGirl, whilst also promoting "her" system.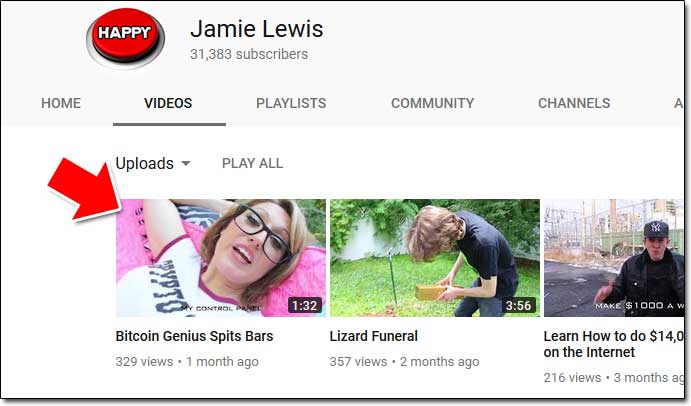 Jamie is well-known for creating hyped up, "viral" style make-money products & in my opinion CryptoProphecy follow suit to his style of promotion… But the good news is that Jamie is also pretty well known for delivering solid value too.
So the fact that the whole thing is connected to Jamie Lewis is actually fairly reassuring – well, at least to some degree anyway. It reassures me that it's not going to be a flat-out scam as such… But does it mean we can rely on the material inside of the program?
That's another question entirely so let's take a look at that now…
How Does CryptoProphecy Work?
So despite looking like it's actually been launched by the internet marketer Jamie Lewis, inside of the CryptoProphecy program CryptoGirl does indeed hold true on her promise & it is her that puts out the content.
So after handing over the $37 fee to get started you will get access to a dashboard which looks somewhat like the photos below:

And from there you'll be able to access the step-by-step training that Suzi's put out which as I mentioned earlier in this review basically teaches you about investing in something called Alt Coins.
She'll show you what you need to do to invest (such as setting up a CoinBase wallet etc) and she'll also share her top picks on hot ICO's. In case you don't know, ICO's are Initial Coin Offerings, which are basically new coins set to release.
The idea is that if you buy into an ICO then the coin is super cheap & then if it rises after launch you stand to make a good profit because of how cheap you bought it.
Like I also said earlier in the review though that often doesn't turn out to be the case. Most coins just completely flop, or take a LONG time to increase in value. Despite thousands of new coins launching there have been very, very few that have turned people a great deal of profit – if any profit at all.
I'm not knocking Suzi's training though, because if you want to get into investing in ICO's then you'll likely find her training helpful… But I just personally don't like the whole concept of trading Alt Coins in general.
I don't really like risk to be honest, which is why I often recommend Wealthy Affiliate – a place where you can learn one of the best risk-free ways to make money (without having to pay to get started).
Prepare For Upsells Too
The CryptoGirl's CryptoProphecy program is sold via a platform named ClickBank which is renowned for selling programs that contain several upsells after the initial buy-in & the CryptoProphecy program is no different.
The good news is that ClickBank itself is a legitimate company & if you do ask for a refund via them they do usually honour it… So in terms of losing your money you should be fairly well protected on that front if it turns out you don't like the program (providing you contact ClickBank directly).
However the not-so-good news is that you will indeed be subjected to upsells after buying into the CryptoProphecy program & these could potentially set you back thousands of dollars.
For example CryptoGirl runs a private coaching program named DialSuzi & 6 months of personal coaching could set you back a whopping $2,997 as shown in the screenshot below: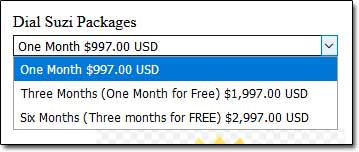 One month on the other hand would set you back a still fairly whopping amount of $997.
But what this highlights to me is that the program is not entirely complete – because if it were, then why would you need that additional 1-on-1 coaching? If the step-by-step training was so great then an additional helping hand (for a fee) shouldn't really be required…
That's just my personal take on it though – but hopefully you can see where I'm coming from with that.
My Verdict – Is CryptoProphecy a Scam?
The CryptoProphecy program is definitely not a scam, it would be totally wrong of me to say that it was. In my opinion it's actually a pretty good program & CryptoGirl is indeed the real deal.
However despite me determining that the program is indeed legit, I personally don't like the method of making money that it's based around – which involves in highly risky cryptocurrency ICO's & Alt Coins.
The fact of the matter is that whilst you could stand to make money, the likelihood is that you probably won't – and instead of making money you could just end up finding yourself losing it.
So for that reason I won't personally be recommending the CryptoProphecy program because I am more in favour of risk free ways to make good money such as affiliate marketing which you can learn more about over at Wealthy Affiliate.
But ultimately it's up to you what you decide to do. If you are dead set on getting into cryptocurrency investing & are not afraid of losing money (and actually have it to lose) then like I say CryptoProphecy is indeed a legitimate training program… But in my personal opinion there are better alternatives available.
Hopefully though this review gave you a good insight into how it all works & helped you make a better decision as to whether or not you feel the program is truly right for you. If you do still happen to have any further questions that you feel I didn't cover then don't hesitate to leave them below & as always I'll get back to you as soon as possible. 🙂