Chuck Nguyen is the guy behind the Earn Easy Commissions system and apparently, he has found a way to generate and earn an amazing income of $100K with his automated system. It really seems too good to be true!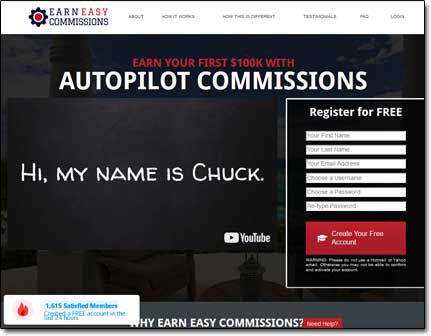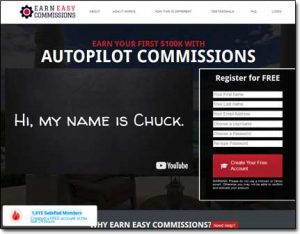 In this Earn Easy Commissions review, I'll dig deeper to reveal whether the claims are true or fake. Passive income is something everybody loves but it is hard to materialize. People often fall prey to lucrative claims and lose money instead of accumulating it in the long run.
First of all, we've to establish if Earn Easy Commissions is a scam or legit way to make money. We need to consider several things before reaching the conclusion so let me walk you through different aspects of this apparently impressive offer. Sometimes, you can start using one of this kind of sites and even when what they have promised is not true, you can still earn a bit of money. Let's see if we can make something from this system.
What Is Easy Earn Commissions?   |   How Does Easy Earn Commissions Work?   |   Is Easy Earn Commissions a Scam?   |   A Better Alternative
What Is Earn Easy Commissions?
I've spent a good number of hours tracking the history of the guy behind this offer. I have checked his Facebook account and he almost has 10K of followers and he has written a book as well. Chuck is actually the tech-geek who uses a unique system, based on a few steps. Chuck himself makes both ends meet by using this system.
How does he do that? Simple! He offers his services, his automated system that does all the work for you, to everyone for free.
Automated System
The automated system will allegedly do everything for you, so you won't have to learn a thing, you won't have to build your website or build a 6-figure online system (or at least that's what you're told). The program supposedly serves its members with a range of resources like done-for-you websites, mentorship & coaching, a community that cares and a strategy.
You don't need to sell products or services, as the only thing you need to do is to share a free system to earn money. What I have found is that basically you are paid whenever a qualified member that comes from a link you shared earlier on, logs in and starts using his account.
But how do you get paid from sharing a free system? Well, that's where the "catch" is… Chuck recommends you get a VIP membership, so you will be able to earn more money than having a free membership. So whilst it's free to get started with, ultimately you'll be pushed towards spending some money.
You will have to do the same as he does, day by day, so you get results. There are a few videos where he shows what to do during what he calls the Zero to $10K journey. What I have found is that at some stage in the videos that you can find in the platform, he tells that you need to focus 80% of your time on free methods to bring leads through your unique referral link and 20% of your time on paid traffic methods. This means that you will be paying for advertisements to promote the platform and attract more leads so you can earn more money, and then you will have to reinvest all your earnings on paid traffic methods.


During the videos and among other things he gives you some advice, you will have coaching tips about personal productivity, business coaching tips, and explanations about how to proceed during the following days. Chuck will push you a bit in several videos to get the VIP membership as he says is not necessary but that way you will earn more commissions.
The rest of the training you get is about how to promote your referral link and get more leads, how simple it is and the sites you need to be registered at.
How Does Earn Easy Commissions Work?
You will have the community support to help you out with your business as they are into the same business and if you earn commissions they can earn as well. You can track your performance and they aim you to do so sharing it day by day with the community.
Perhaps the hardest part of online promotion is to help to lift the number of visitors and to get your leads to register and be qualified so you can earn sour commissions, so don't expect a lot of commissions on the first month or two.
Yes, there are ways to generate traffic to any website! But the problem is, often only the experts can succeed in generating the desired results. SEO experts, for instance, work for days and nights to bring in every single visitor. This is seemingly easier but actually one of the toughest tasks. On the other hand, if somehow you managed to achieve the desired results you can definitely earn some money through it but likely not as much as suggested by Earn Easy Commissions.
Memberships
You can start on a free basis but during the videos that you will find when registering at Earn Easy Commissions, Chuck will let you know that if you don't get the VIP membership you won't be able to earn the amount of money per year that he earns. Only if you get the VIP membership you will be able to do it.
Even when you try to get the VIP membership he has to get in contact with you so he can manually set up your profile as a VIP one. You are not able to see how much you are going to be charged for the membership either – meaning you can assume it's likely going to be pretty darn expensive.
Affiliate Program
Nowadays marketing strategies are changing and now this kind of marketing, affiliate marketing is really working and its practice is growing every day. It looks like it can work but you will have to work hard for several months to start seeing results. Do you remember that they say there is an automated system and that you don't have to do anything, that they would do it for you? FALSE! You will have to work as well, place advertisements, bring leads to your referral link, they have to qualify and you will need to make sure you support them somehow so they will keep working as you did earlier on.
Is Earn Easy Commissions a Scam?
Well, I wouldn't go as far as to call it a scam, but I think it's massively over-hyped & the reality is that making money via the Earn Easy Commissions system will be much harder than you're led to believe it will.
Ultimately whilst claiming to be designed for newbies, in my opinion, it's really been designed for the experts to lure in the newbies & earn commissions at their expense. The truth is that as a newbie you will probably end up spending more money via the program than you will ever actually make back… And I also don't like the fact that it follows a network marketing structure (similar to that of a pyramid scheme).
So overall I am not going to be recommending it to you as I don't really feel it will provide you with a great deal of value & instead if you sign up to it you will probably just be left feeling disappointed.
A much better alternative, in my opinion, is something called Commission Academy – that's a free program which is more geared towards newbies & it's there that you'll get all the proper training & tools you need to find real success.
But anyway yeah, hopefully my review here gave you a good insight into how it all really works & hopefully you can understand why I won't be recommending it. If you do happen to have any further questions or comments about it though then don't hesitate to leave them below & I'll do my best to get back to you as soon as possible.
A Better Alternative
The sad truth is that unfortunately most of the programs promising to help you make money online are scams. I can say that confidently after exposing over 500+ of them here on this blog.
But the good news is that even though most of them are indeed scams, there are actually some very good programs in amongst them - some programs that can truly help you to earn money.
And out of all of the legit programs I've seen, the one I would recommend the most to anybody looking to get started online is Commission Academy. In my own opinion, that's the best place to start.
At Commission Academy, you'll be provided with everything you need (including the training & tools) to begin earning real money by promoting products or services for companies like Amazon online.
The best part is that there's literally no limit on the amount you can earn with it & the process is pretty simple which means that it's absolutely perfect for people that don't have much experience.
Some wealthy affiliates even earn as much as 5-figures per month... Or more!


I mean don't get me wrong, that kind of money won't just fall into your lap without doing any work... But the harder you're willing to work at it, the more you stand to earn with it.
So if you're looking to get started but don't know which route you should go down or which program you should join (and don't want to waste money on bogus things that don't actually work), then I'd highly recommend checking out Commission Academy first. You can learn more about it here.