Emoji Profits is the name of a new program which has been launched by 2 guys named Dan Bradley & Manny Hanif and it essentially promises to provide you with a way to earn hundreds of dollars per day just by using emojis.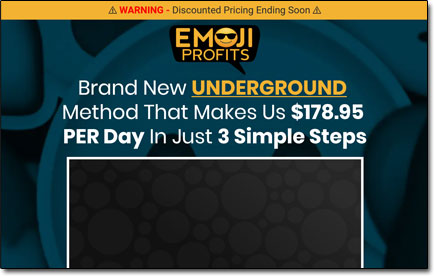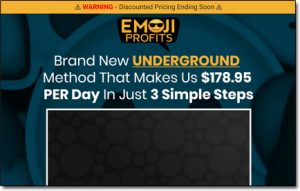 The creators call it an "underground method" & claim that within just 3 simple steps you'll be able to build up a passive income of over $178.95 per day, even if you're brand new to making money online.
According to them, you could even make your first $100 in just 24 hours or less… But is it actually legit or is Emoji Profits a scam that you should avoid?
Well, the good news is that you've landed in exactly the right place to find out as I've personally taken a look into it & in this honest review of Emoji Profits, I'm going to be uncovering everything you need to know (including why it doesn't really work as promised).
What Is Emoji Profits?   |   How Does It Work?   |   What Are The Costs?   |   Is Emoji Profits a Scam?   |   A Better Alternative
What Exactly Is Emoji Profits?
So Emoji Profits is portrayed as being some sort of brand new & "underground" method for making money online which you're told allegedly doesn't require a website, email list, video creation or paid ads.
According to the creators it just requires 3 simple steps which are as follows: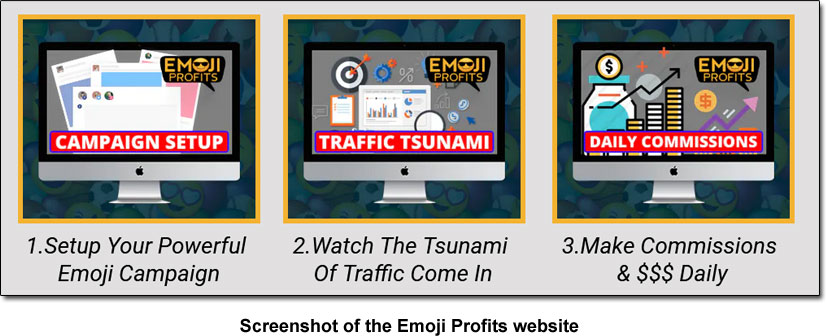 But you'll have probably noticed that those steps are pretty vague and that the Emoji Profits website doesn't really mention anything else about how you're supposed to actually make money with it…
Instead, it just pressures you into handing over your cash to "find out more" which is a huge red-flag as that's a trick commonly associated with get-rich-quick scams.
You see most of the get-rich-quick scams that I expose work in the exact same way. They all promise that they'll provide people with a really easy way to make money, but then they ask them to hand over some of their own cash first to get started…
Of course then when the people hand over their cash, they're just left to find out the hard way that what they were promised doesn't really exist & that in reality they've actually just been conned.
So is Emoji Profits any different? Does it actually provide something valuable on the other side & can you actually earn money using this new program?
Well in short no, not really… In fact, Emoji Profits isn't really much different from any of the other programs I've reviewed in the past like Instant Success Site & Learning Advantage for example – they've basically just put a different spin on things, that's all.
So if you buy into Emoji Profits you'll basically just be left to find out that you've wasted your money – but you don't just have to take my word it when I say that, instead keep on reading & as I explain how it all really works below you'll soon see for yourself why it isn't really any good…
How Does Emoji Profits Work?
The Emoji Profits makes a lot of bold claims by stating that it doesn't involve affiliate marketing, paid ads, tech skills, an email list or anything like that which makes the entire process sound really easy…
However, the truth is that the process is actually MUCH more difficult because the whole thing is based around building an emoji app & then aiming to sell it on for a profit.
Of course, whilst this is "possible" there are a couple of problems with it – especially if you're a "newbie" without tech skills.
The problems are as follows:
You'd need to design (or hire designers to design) emojis
You'd need to hire a tech team to build an app
You'd need to market the app to make it popular
You'd need to find a buyer who'd be willing to pay more than you spent on it
And the biggest problem of all is that even if you manage most of those things & actually build an emoji app, then you'll discover that the competition is absolutely crazy because there are so many people trying the exact same thing.
Just take a look at all of these emoji apps that are currently trending in the app store to highlight that point: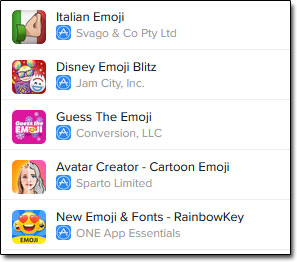 Battling against that competition as a newbie will be almost impossible… So therefore whilst the Emoji Profits method "works" in theory from a technical standpoint, it won't really work in reality.
Instead, the Emoji Profits program will only really be working for Dan Bradley & Manny Hanif, the guys behind it & they'll just be making money from the people that they manage to trick into signing up to it.
So with that in mind, my advice would be to just avoid Emoji Profits & stick with a method that's proven to work for newbies, like affiliate marketing for example (which is the same way I personally make most of my own money online).
With a proper training program like Commission Academy, you can quite easily find solid success with affiliate marketing (providing you're willing to put in the work to make it happen – as of course there's no such thing as a free lunch). 🙂
You Might Also Like:
Plus There's The Cost…
On the surface, you're told that the Emoji Profits program only costs a mere $12.95 & so you might be thinking about trying it out regardless… However the problem is that like with most of these "get-rich-quick" style programs, that's not really the true cost.
Basically the seemingly low fee of $12.95 is just the bait… Then once they've got you on the hook they'll leave you to discover that there are actually multiple other costs in the form of upsells inside.
And whilst these upsells are "optional", the creators of Emoji Profits lead you towards believing that by not purchasing them you'll be drastically reducing your chances of success… Meaning they're not really so optional after all.
Upsell number 1 (the Emoji Profits DFY Package) costs an extra $67, upsell number 2 (the Secret Vault Membership) costs an extra $17/mo & upsell number 3 (the Inner Circle Success Group Coaching) costs a whopping $497.
Yep, you read that right – so in total to get access to everything inside of the program you'd need to spend a whopping $576.95 + $17/mo… And even if you spend all of that money you'll still be unlikely to actually earn anything back.
Which brings me onto…
My Verdict – Is Emoji Profits a Scam?
Well, it's not really a "scam" as such since you do actually get provided with some training in return for your money… But it isn't really going to help you make money as easily as it claims therefore in my opinion whilst it's not a scam, it is still very misleading.
And with that in mind, it's safe to say that I won't be recommending it to you because I believe that if you buy into the Emoji Profits program you'll likely just end up finding yourself spending money as opposed to actually making it.
Instead, it'll just be the creators of the program, Dan Bradley & Manny Hanif that'll be getting wealthy at your expense & at the expense of the others that they manage to trick into joining.
And it's quite clear that they're using trickery because on their sales page they claim they were going to charge a high price for it but decided that they want to help as many people as possible instead, so they set a low price.
Well if that's true, and if you can really easily make $100 in your first 24 hours like they claim then why didn't they just offer it out for free & give you the option to donate some money once you get results?
Obviously the answer is because it doesn't really work as promised.
So instead if you really want to earn money online I would suggest you stick with a legitimate & proven method like affiliate marketing, which is actually the same way I personally make most of my own money online.
Affiliate marketing basically just involves you promoting products or services in return for commissions & it's a fantastic way to earn a good income since there's absolutely no cap on the amount you can earn with it.
The harder you work, the more you can make – and you can even get started with affiliate marketing for free over at Commission Academy.
But whatever you decide to do I just sincerely hope that my review of Emoji Profits here has given you a good insight into how it really works & I hope it's helped you to avoid losing money to it.
And I almost forgot, if affiliate marketing isn't for you then you can always check out all of these other ways to make good money too.
If you still happen to have any further questions or comments though then, of course, don't hesitate to leave them below & I'll get back to you ASAP. 🙂
A Better Alternative
The sad truth is that unfortunately most of the programs promising to help you make money online are scams. I can say that confidently after exposing over 500+ of them here on this blog.
But the good news is that even though most of them are indeed scams, there are actually some very good programs in amongst them - some programs that can truly help you to earn money.
And out of all of the legit programs I've seen, the one I would recommend the most to anybody looking to get started online is Commission Academy. In my own opinion, that's the best place to start.
At Commission Academy, you'll be provided with everything you need (including the training & tools) to begin earning real money by promoting products or services for companies like Amazon online.
The best part is that there's literally no limit on the amount you can earn with it & the process is pretty simple which means that it's absolutely perfect for people that don't have much experience.
Some wealthy affiliates even earn as much as 5-figures per month... Or more!


I mean don't get me wrong, that kind of money won't just fall into your lap without doing any work... But the harder you're willing to work at it, the more you stand to earn with it.
So if you're looking to get started but don't know which route you should go down or which program you should join (and don't want to waste money on bogus things that don't actually work), then I'd highly recommend checking out Commission Academy first. You can learn more about it here.