Have you come across the newly launched Instant Success Site program? Are you wondering if it can really enable you to "bank 100% done-for-you commissions 24/7" like it claims it can or if it's just a scam to avoid?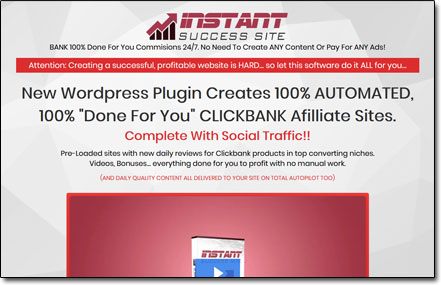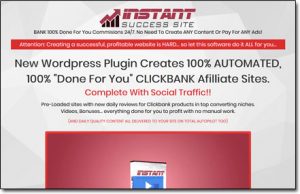 Well, the good news is that you've landed in exactly the right place to find out because in this honest & unbiased Instant Success Site review I'm going to be uncovering everything there is you need to know about this new program – including whether or not it can really help you make money.
So if you've been thinking about buying the Instant Success Site plugin to try it out then I strongly suggest you read this review first because as you'll soon see it's not really as good as it's made out to be (and there are some BIG problems with it).
What Is Instant Success Site?   |   How Does It Work?   |   What Are The Costs?   |   Is Instant Success Site a Scam?   |   A Better Alternative
What Exactly Is Instant Success Site?
Instant Success Site (as the name gives away) essentially portrays itself as being some sort of piece of automated software that'll see you creating successful, profitable websites with just the click of a button.
In fact, the website promoting it literally states that it allegedly creates "100% automated, 100% done-for-you ClickBank affiliate sites, complete with social traffic" as shown in the screenshot I've taken below:

But the problem is that I can immediately tell you that claim isn't true, and the reason I say that is because as it mentions, it's a "plugin" – which means that you must already have a website in order to use it.
So if you don't already have a WordPress website, you'd need to create one.
But if you do have a WordPress website already, or are indeed willing to create one – then can this plugin really turn it into a successful & profitable website that you can earn from without having to do anything?
Well no, not quite – because as you can likely imagine if it did, then everyone would be doing it… And they're not.
The reason they're not is because whilst these shortcuts sound good in theory, in reality, there's always a catch. You can't (and never will be) able to just "click a button & earn money" like these things claim.
As I say if you could, then everybody would be doing it. Nobody would be left working a job, everyone would just be earning money online instead if it was really so easy to earn so much money.
The truth is that yes it is indeed possible to earn good money online but you need to be prepared to put in the work to make it happen. If something is promising you a trick or shortcut (and requires you to hand over money to use it) then you can almost always assume it's trying to scam you.
But of course, I don't just expect you to "take my word for it" when I say that the Instant Success Site plugin doesn't really work as promised, after all, I appreciate that you might have been really hoping that it was going to work for you…
So instead if you keep on reading I'll show you in more detail exactly how it really works & then you can see first-hand for yourself what's actually going on…
How Does Instant Success Site Work?
So in short, like I just mentioned in the previous section of this review – the whole "Instant Success Site" thing is just a WordPress plugin, which means in order to use it you'll need to have your own WordPress website.
The plugin has been created by a guy named Dan Green & it's supposed to be able to help you turn a default WordPress website into an affiliate website that'll earn 24/7 automated commissions from ClickBank.
But that's not true… In fact, you'd be lucky to earn so much as a single penny by using the Instant Success Site plugin.
The reason I say that is because all it does is copy ClickBank product reviews from other websites & then changes the affiliate link in them to go to ClickBank via your own affiliate ID (in order to "steal" the commission).
The problem though is that people write reviews to rank in search engines like Google, and search engines aren't interested in listing duplicated reviews… So yes, the plugin may copy reviews & publish them to your site, but nobody is going to visit it so you're still not going to earn anything.
You could literally have the best website in the world but unless people are visiting it then you're not going to make any money – and that's where all of these hyped-up programs always fall down, they always fail to help people truly get traffic (visitors) to their sites.
But you might have noticed that the Instant Success Site plugin also mentions that it comes "complete with social traffic" and so you might be wondering what the deal is with that… Can't you earn commissions with that?
Well yes, you could – if it were true.
You see the Instant Success Site plugin doesn't really come "complete with social traffic" like it claims. It just automatically shares the reviews to the social media accounts that you connect when you set it up, that's all.
So if you don't already have a big following on social media then you won't get any social traffic at all, despite what they claim.
Here's an overview of the Process
In the simplest terms, here's how the Instant Success Site plugin works:
You install the Instant Success Site plugin
You choose 1 of 5 available niches
You add your ClickBank affiliate ID
You connect your Instagram, Facebook & Pinterest accounts
The plugin copies ClickBank product reviews from other sites, publishes them on your site, changes the affiliate link to contain your ID instead of the original one, then shares it via your connected Instagram, Facebook & Pinterest accounts.
But as I say, the content is not unique so there's NO way it'll get ranked in search engines meaning the only way you'll stand ANY chance of earning is via your social media promotions, and that'll be VERY difficult indeed unless you've got a huge following.
Plus even if you did manage to make a dollar or two from social media, it'll soon dry up because your followers will quickly get very tired of being spammed with copied ClickBank reviews so they'll just unfollow you (or worse, report you & get you banned).
You Might Also Like:
Then There's The Cost…
At the time of writing this Instant Success Site review, there are 2 available pricing plans which are made to seem very low priced. There is one limited version of the plugin available for $17 and then an "unlimited" version available for $19.

Of course though, in reality, nobody is going to opt for the $19 version – it's just a trick to make the $19 seem better than it actually is so that you'll be more likely to buy it.
However $19 is not the true cost because once you hand over your cash (which I don't recommend doing), you'll be left to find out that there are actually 4 additional upsells which add up to around $200.
You don't have to purchase the upsells, but you're basically led to believe that you won't find true success unless you do… So, in reality, you may as well say the Instant Success Site plugin costs ~$219.
The good-ish news though is that the plugin is being sold through the Warrior Plus marketplace & as part of their terms, they allow a 30 day period for you to request a refund, so you should be able to get your money back.
The easiest thing though is to simply not hand over your money in the first place. 🙂
Anyway, there's not really a great deal else to say about this plugin which brings me onto…
My Verdict – Is Instant Success Site a Scam?
Well, I can't really say it's a "scam" as such because you do actually get a working WordPress plugin in return for your money, however, in my opinion, it is extremely misleading because it's not really going to enable you to easily make money like it claims.
Plus like I just mentioned in the previous section it'll also end up costing you a lot more than just $19 too…
So yes, whilst the Instant Success Site plugin is technically "legit" I am still not going to be recommending it because if you buy it I know that it'll just see you spending money rather than actually making it.
Instead, if you truly want to learn how to make a profitable website to earn affiliate commissions from I'd suggest you just stick with my free guide here as that'll show you step-by-step exactly how to do it, the right way.
Or alternatively, you could also check out the Wealthy Affiliate program which will also show you step-by-step how to earn affiliate commissions (and will give you everything you need to get started).
But I'll also point out that whilst affiliate marketing is indeed my all-time favourite way for making money online there are still other alternatives too which you can see on my top picks page here.
Whatever you decide to do though I just hope that my review of Instant Success Site here has given you a good insight into how it really works & I hope it's helped you to save your money.
If you still happen to have any further questions or comments then don't hesitate to leave them below. 🙂
A Better Alternative
The sad truth is that unfortunately most of the programs promising to help you make money online are scams. I can say that confidently after exposing over 500+ of them here on this blog.
But the good news is that even though most of them are indeed scams, there are actually some very good programs in amongst them - some programs that can truly help you to earn money.
And out of all of the legit programs I've seen, the one I would recommend the most to anybody looking to get started online is Commission Academy. In my own opinion, that's the best place to start.
At Commission Academy, you'll be provided with everything you need (including the training & tools) to begin earning real money by promoting products or services for companies like Amazon online.
The best part is that there's literally no limit on the amount you can earn with it & the process is pretty simple which means that it's absolutely perfect for people that don't have much experience.
Some wealthy affiliates even earn as much as 5-figures per month... Or more!

I mean don't get me wrong, that kind of money won't just fall into your lap without doing any work... But the harder you're willing to work at it, the more you stand to earn with it.
So if you're looking to get started but don't know which route you should go down or which program you should join (and don't want to waste money on bogus things that don't actually work), then I'd highly recommend checking out Commission Academy first. You can learn more about it here.