Cryptocurrency and Forex trading have become a promising alternative to typical stock market trading, but the industry is not short of scams and bluffs. Evergreen Profits has emerged recently with the claims that the system can generate awesome results for investors.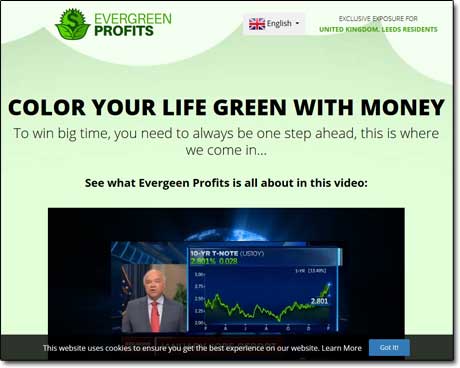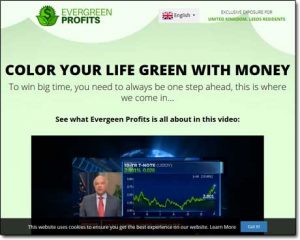 I received a suspicious email promoting the website for it and soon after checking the email I straight away decided to find out how it all worked. Today, I'm here with Evergreen Profits review to explain what exactly is going on.
If you're interested in stock or Forex trading or somebody has inspired you to purchase crypto-coins please, make sure to play safe! There are 100s of scams which will rob you through their maliciously designed programs and advertisements.
Are the Evergreen Profit scam rumours true or just propaganda against the platform? As usual, I'll follow the set pattern by first introducing the website/program being reviewed, followed by how it all works, and conclude my verdict by the end.
What Is Evergreen Profits?   |   How Does Evergreen Profits Work?   |   Is Evergreen Profits a Scam?   |   A Better Alternative
What Is Evergreen Profits?
Like scores of other websites I've reviewed, Evergreen Profits also welcomes you with a presentation video. Before discussing the video I'd like to appreciate the web-design through! It is professional, simple and decent. At just a glance there is no apparent hint of the site being a scam.
Presentation Video
The presentation video begins with questioning the income generation ability of the internet giants – Facebook and Google. According to the video, access to information helps these platform to generate billions. For me and you, things are tough! We've to suffer from the complexity-dilemma. Technology, for instance, blockchain, has pushed back ordinary people and is just facilitating the tech-gurus. This is why we fail to earn money by using technology but a specific segment of the community is making big fortunes.
The video script actually makes you feel deprived of something everybody deserves but for one reason or the other, it's restricted. Evergreen Profits, according to the video, is a program which accesses and processes the information which you can't even imagine to process by yourself. This program allegedly deals with all the complexities and makes things easier and simpler. Why do people suffer while investing in cryptocurrencies? The reason is that there are over 1,500 currencies as I write and this number keeps growing with the passage of each day.
Trading Assistance
In a nutshell, the website is advertising a program which facilitates the users with timely updates, live chats, and future predictions. Basically, this is something common but the problem is that a huge majority don't rely on these programs. Experts rely on intuition whereas the beginners rely on imitating the expert's moves. Let's now have a look to see if this so-called powerful program actually works or it is just another bunch of misleading promotions.
How Does Evergreen Profits Work?
$1,500 per day… Not so much of a wow these days factor any more to be honest! Such claims have lost their worth and people no more fall prey to any of these ridiculously blunt claims. I mean, stock trading or cryptocurrencies aren't always about profit. I don't know why do they fail to mention the risk of losing your money? Perhaps people only like to listen and read about profits. Everybody hates talking or listening about loss and this is why most of us suffer from a loss. Just consider recent crypto-trends and you'll know how steep the downfall was by the end of the year 2107. It is the part of the game.

Is It Really This Easy?
The video promoting it claims that Evergreen Profits is so powerful and intelligent that it doesn't even require you to keep an eye on it. If you like you can just review the proceedings whenever you find the time, 15 minutes a day will be enough (apparently)!
Well, as far as I can remember and even observe today, traders don't even find enough time to scratch their heads! They're always worried about the numbers going up and down, signs turning red and green, and lines mounting the descending the graph. So why on earth don't they use a program like Evergreen Profits? How on earth hasn't this trillion-dollar industry yet developed such a program?
Remember my friends! Stock, Forex, and Crypto are basically the variations of similar activities based on single concept which is prediction. You may predict right or wrong and this whole exercise is no different to that of gambling or betting. Even the tycoons fall flat and it happens frequently.
Extremely Misleading
These days, most of the demo-videos warn you that the time is limited or only a few copies are remaining. This is nothing but a huge bluff. Their prime focus is to register as many people as they can. In addition, the testimonials shown are fake and retouched.
Why Is It Free?
Yes, it is completely free! But why? Once you join this program, you'll be referred to various brokers. Obviously, you'll join the program to invest in trading. When you deposit money, you become a healthy prospect for the people behind this system. This is actually a promotional activity. Brokers will be contacting you with various offers. And Evergreen Profits will be earning money by promoting these unregistered brokers and malicious programs.
Is Evergreen Profits a Scam?
In my opinion, Evergreen Profit is indeed a scam because it is full of false claims, fake information, and misleading content. The program itself fails to prove its legitimacy. It doesn't make sense and I don't even see a single statement which I can trust on. Stay protected, don't be tempted, and always avoid such programs which fail to provide even a single proof in support of their legitimacy.
In reality rather than being designed to help you make money as it claims, it's actually just been designed to make the creators wealthy at your expense. They get paid a commission when you sign up with the broker they recommend you to & from there you are just left to find out the hard way that the system doesn't work as promised.
The worst part is that the brokers are actually in on the scheme too & when you realize that it doesn't work you will likely try to withdraw your funds but the brokers will simply block or ignore your withdrawal request. You should definitely stay away from Evergreen Profits otherwise you'll just end up losing money (and potentially lot's of it).
The truth is there are several legitimate & proven programs out there that you can actually get started with for free, such as Commission Academy. There is no need to waste money on bogus programs like Evergreen Profits which is built upon nothing but false promises.
Anyway hopefully this review gave you the insight into it that you were looking for & hopefully it helped prevent you from parting with your hard-earned cash. If you do have any extra questions about it though then don't hesitate to leave them below… I'll do my best to answer them as quickly as possible.
A Better Alternative
The sad truth is that unfortunately most of the programs promising to help you make money online are scams. I can say that confidently after exposing over 500+ of them here on this blog.
But the good news is that even though most of them are indeed scams, there are actually some very good programs in amongst them - some programs that can truly help you to earn money.
And out of all of the legit programs I've seen, the one I would recommend the most to anybody looking to get started online is Commission Academy. In my own opinion, that's the best place to start.
At Commission Academy, you'll be provided with everything you need (including the training & tools) to begin earning real money by promoting products or services for companies like Amazon online.
The best part is that there's literally no limit on the amount you can earn with it & the process is pretty simple which means that it's absolutely perfect for people that don't have much experience.
Some wealthy affiliates even earn as much as 5-figures per month... Or more!


I mean don't get me wrong, that kind of money won't just fall into your lap without doing any work... But the harder you're willing to work at it, the more you stand to earn with it.
So if you're looking to get started but don't know which route you should go down or which program you should join (and don't want to waste money on bogus things that don't actually work), then I'd highly recommend checking out Commission Academy first. You can learn more about it here.