Virtual assistant jobs have become seriously popular over the past few years and even professional freelancers tend to serve online clients with the VA expertise. Fancy Hands virtual assistant jobs seem to be one of the most popular choices & at a glance, everything seems OK with the website but is it really the case?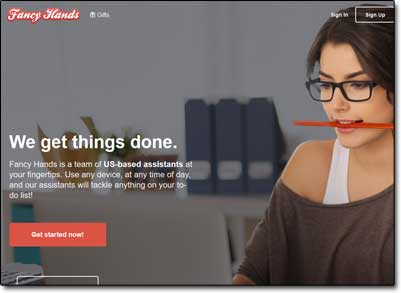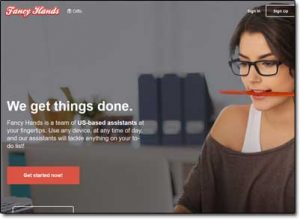 If you have good commination skills, can take calls consistently and listen to the customers patiently, then you may perform well as a virtual assistant but it doesn't mean that you need to join each and every platform available.
The Fancy Hands platform alone may well serve the purpose but who knows? In this Fancy Hands Virtual assistant job review, my aim is to present you with important factors everyone needs to consider.
A huge number of online VA jobs don't really fulfil the expectations of their members so it forces us to check if Fancy Hands is a scam or legitimate site that you can actually earn through. We can only judge it by having a complete overview of the platform. As usual, let's begin with the basics.
What Is Fancy Hands?   |   How Do Fancy Hands Virtual Assistant Jobs Work?   |   Is Fancy Hands Legit?   |   A Better Alternative
What Is Fancy Hands?
Fancy Hands is a decent looking website offering virtual assistants to serve employers across the US. So they generate income through their online services and share the income with their VAs. The concept is fairly simple and logical. Nothing looks malicious so far!
The good thing is that the members (virtual assistants) are free to set their working hours. There is no restriction in this regard so this is what attracts most of the visitors.
What Will You Be Doing In The Virtual Assistant Job?
As per the content on the website, different employers will be uploading their "to-do-list" and the virtual assistants are expected to take responsibility. The nature of the assignments is not clear though. You'll be doing different types of jobs which may include sending bulk emails, communicating with potential clients or filling in the forms with the provided data etc. Some unexpected jobs may involve:
Vacation planning
Searching for the medical schools in a city/state
Collecting contact information from different websites
Typing PDF text into MS Word
The Good News
You have the choice to select the job-list as per your likings. Nobody will force you do something you don't really want to do. You can make your decision after having a look at the requirements. If you are confident, accept the task otherwise move on to the next list. However, take note that you don't have the freedom to back off after committing yourself to a certain to-do-list. So, take time, think twice and then make your decision!
The selection of the assignments is not entirely in your hands because it depends on how many VAs are looking to work on the same order. It could be a case of competition. Obviously, you're there to earn something so you can't waste time looking for the easiest of jobs. You may have to consider a second or third priority.
How Do Fancy Hands Virtual Assistant Jobs Work?
Yes, you're free to choose your working hours! But don't forget the harsh reality that good assignments aren't available all the time. If you want to earn well by doing your favourite jobs then you may have to change or extend your schedule. The availability of jobs may depend on the number of VAs online at a given time. It creates a demand and supply effect. You'll need to analyse these factors and it may take at least a couple of weeks to understand what's going on.
How Can You Become a Fancy Hands Virtual Assistant?
Ideally, you must be a Native English speaker. The use of grammar has to be top-notch and must possess exceptional communication skills. The full eligibility details are not explained on the website though.
What Do Others Have To Say?
Less than $5 an hour is not an attractive offer and this why most of the people are not satisfied with the payout. According to the actual VAs who've worked on this website, the hourly pay is often not more than $3 an hour. Well, justice is not being done if these claims are true!
On the other hand, the problem is that there are so many websites looking for virtual assistants so the pay must be somewhere around $5 per hour. But the fact is that, even in the presence of so many offers, the number of people looking for such jobs is also extremely high. The supply is in surplus so the websites don't have a problem in getting things done at cheaper rates.
The users are also complaining about the issues created from the employers' end as they often seem to criticize the work done by the virtual assistants. Such issues create problems for the VAs and they are coming up with disappointing reviews about the website.
Moreover, there are complaints about the size of the jobs. The website clearly states that no job is going to take more than 20 minutes. The virtual assistants, on the other hand, are of the view that most of the jobs are much bigger in terms of the time required to complete them. Some of the jobs eat up 3 to 4 hours which is highly surprising because you'll be paid for 20 minutes for a task which took you more than 3 hours.
Is Fancy Hands Legit?
Fancy Hands is not a scam but the issues related to the treatment of the virtual assistants is alarming & the pay (if what the members are claiming is true) is shockingly low for the level of work.
I mean don't get me wrong whilst some of the tasks may take longer than promised, at the end of the day they do not require any real degree of skill so I suppose it's good in the sense that the opportunity is open to pretty much everybody… However, that's what also causes the problem of low pay since that means there is a lot of competition on the site & people in more desperate situations are willing to complete tasks for a lower rate.
But overall as far as I'm concerned even at $5/hour the site doesn't really reward you well for your time & I personally believe there are better ways to make money online which will pay you much more fairly.
To date one of the best ways I've come across to generate a full-time income online is something called affiliate marketing & I'd highly recommend it to anybody. It's the same method I personally use to generate most of my own money & it's something you're interested in you can get started with it for free through a place called Commission Academy.
So yeah as I say overall despite me determining that Fancy Hands is legit I won't be recommending it because I don't think it's really worth your time. You'll be putting in a lot of hours for little pay. If however, you do still happen to have any additional questions about it though or any comments you'd like to add then don't hesitate to leave them below & I'll respond back to you as soon as I can.
A Better Alternative
The sad truth is that unfortunately most of the programs promising to help you make money online are scams. I can say that confidently after exposing over 500+ of them here on this blog.
But the good news is that even though most of them are indeed scams, there are actually some very good programs in amongst them - some programs that can truly help you to earn money.
And out of all of the legit programs I've seen, the one I would recommend the most to anybody looking to get started online is Commission Academy. In my own opinion, that's the best place to start.
At Commission Academy, you'll be provided with everything you need (including the training & tools) to begin earning real money by promoting products or services for companies like Amazon online.
The best part is that there's literally no limit on the amount you can earn with it & the process is pretty simple which means that it's absolutely perfect for people that don't have much experience.
Some wealthy affiliates even earn as much as 5-figures per month... Or more!

I mean don't get me wrong, that kind of money won't just fall into your lap without doing any work... But the harder you're willing to work at it, the more you stand to earn with it.
So if you're looking to get started but don't know which route you should go down or which program you should join (and don't want to waste money on bogus things that don't actually work), then I'd highly recommend checking out Commission Academy first. You can learn more about it here.