If you're trying to avoid falling victim to paid opinions or biased Fast Fortune Club reviews, you can rest assured you've finally reached the right place.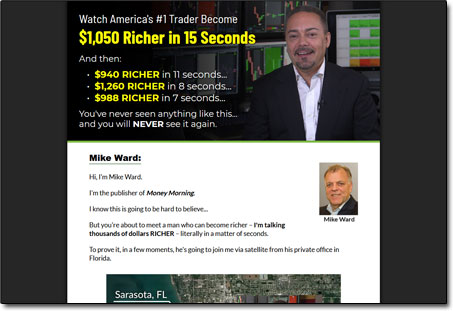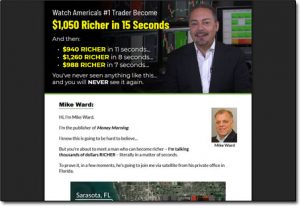 We are not promoting anything but only presenting the true picture of Fast Fortune Club by Tom Gentile – a self-acclaimed trading expert.
How honest is Tom Gentile when advertising his claims? We have investigated this platform and here is our third-party Fast Fortune Club review.
Apparently, judging by the advertisement and claims on the website, Fast Fortune Club doesn't differ much than various other investment opportunities.
Is Fast Fortune Club a scam or are there some solid reasons to subscribe? Our Fast Fortune Club review will make it easy for you to make the right decision.
What Is Fast Fortune Club?   |   How Does Fast Fortune Club Work?   |   Is Fast Fortune Club a Scam?   |   A Better Alternative
What Is Fast Fortune Club?
Fast Fortune Club by Tom Gentile promises to provide access to profit-making opportunities for investors and traders. The objective, as they claim, is to serve the subscribers with valuable investment tips in order to minimize the risk factor.
If we believe in whatever they say on their website, Fast Fortune Club aims at helping the subscribers looking to generate profit from high-risk investments. Most of us follow the famous High-Risk-High-Reward theory and this program is designed to increase the chances of profit from high-risk ventures.
They claim that the members of this club are better able to make the most of the valuable investment tips. These tips are basically the conclusions driven after the analysis of extensive data about previous trends. They also claim that financial experts have come up with this program and have shared their knowledge and expertise to make it successful. The subscribers receive valuable information mainly via newsletter.
Tom Gentile calls himself America's most successful stock trader but upon investigation, we realized that no authentic or reliable source seconds his claim. This is something confusing because we don't find anybody mentioning Tom Gentile's expertise anywhere. The information we get mainly comes from paid review sites and opinions.
All of his last mentions on Forbes, for example, are from way back in 2008 (as shown below) which is very unusual if he truly is the "#1 trading expert"… Usually, high-profile figures like that are covered in Forbes quite regularly:

It's definitely very strange but let's take a look into how it works to find out more…
How Does Fast Fortune Club Work?
Fast Fortune Club offers a number of features to its subscribers. The list begins with the Fast Fortune Club Money Calendar. It is basically the tool that recognizes the contextual pattern of the market that is said to have helped the subscribers looking to predict the market in a better way. After all, trading is all about making the right prediction and lowering the chances of risky falls.
Payday Appointment & Alert from Fast Fortune Club is an integrated system that optimizes the performance of the Money Calendar. It facilitates the subscribers with a timely alert about the possibly high-profit opportunities.
Million Dollar Master Class is basically the trading session to facilitate the members that are looking for better learning resources. This feature is said to have served with secret investment tips used by millionaires.
Quick Start Course at Fast Fortune Club is composed of a seven-part video course. The course focuses on teaching the implementation of reliable investment strategies and tips. The tutorials help the subscribers to learn Binary Options, ETF, and Stocks.
And there are many other features including the Text Notification, Club Network, Progress Report, Podcast, Roundtable, and Annual Summit, etc. These are basically different modes of learning the art of trading. You could subscribe to the offers that are most suitable for you depending on your daily routine and availability of time. Basically, they are offering almost the same thing in different wrappers.
What I am very concerned about here though is the fact that they are teaching binary options trading because I have always strongly advised against binary options trading as it is known to be a terrible industry.
Countries like the USA have actually completely banned binary options trading altogether, and as shown below Forbes too warned about the dangers of it in the past: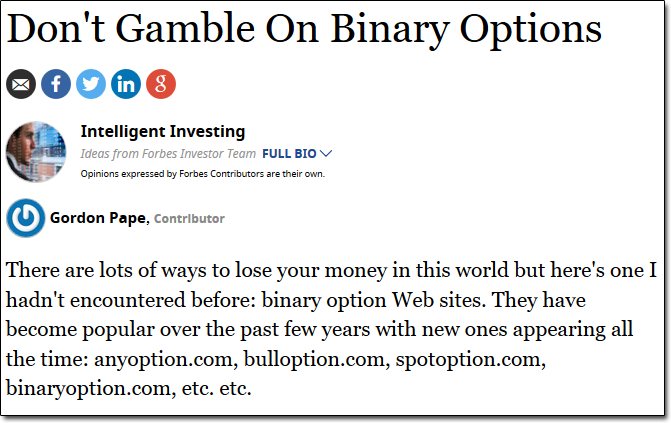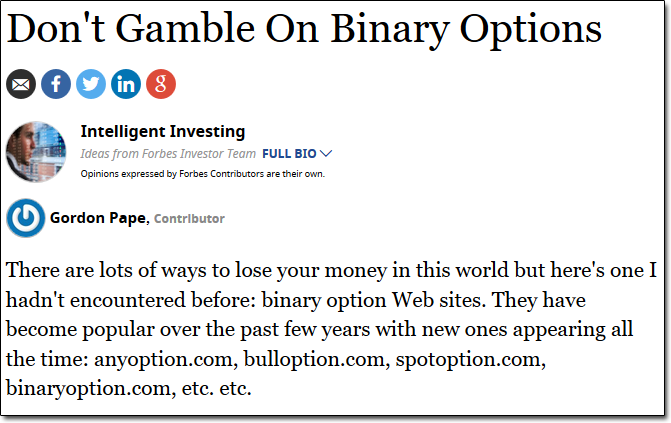 So that is a very big concern for me indeed… You see binary options brokers like IQ Option, for example, are renowned for paying huge commissions to affiliates who refer new customers… Therefore I am thinking maybe they do not actually have your best interests at heart, maybe they Mike Gentile is also an affiliate & is earning commissions for referring customers.
That is just a theory of course, but it's certainly a possibility that should not be ruled out – and with that being said that brings me onto…
Is Fast Fortune Club a Scam?
The purpose of this Fast Fortune Club review is to share with you the facts in as simple a manner as possible. Upon investigation, we realized that the people behind the screen are not ready to disclose much information unless you subscribe to a program…
What we have found is that they have set different prices for different offers. So you have to pay separately for whatever offer you want to avail. In the end, you will realize that there are similar things in the Master Class that are available via Video Tutorials. Their main product is the Money Calendar. Apart from that, in my opinion, nothing is above average.
Fast Fortune Club is not a scam but in my opinion, their claims are definitely hyped. $15,000 profit in a week is not a child's play and it doesn't happen often. The advertisement tries to grab your attention mentioning a profit of $2000 in 10 minutes and so on. We are not convinced at all so we don't recommend Fast Fortune Club if you are anticipating a profit of $15,000 in a week.
And what you also have to take into account is the fact that you may end up joining Fast Fortune Club and just losing money, because as I mentioned towards the beginning of this review the whole thing is based around high-risk trading and very few people actually manage to reap rewards in that area.
Personally I would suggest that you just give trading a wide-berth because it is too risky & as far as I'm concerned there is simply no need to fool around with trading in this day & age when there are so many other legitimate, safe ways to make good money online.
And I'll point out that one of the best methods, in my opinion, is something called affiliate marketing, which is actually the same way I personally make most of my own money online. The income potential is unlimited & unlike trading, there is no risk. It's a case of the more you put in, the more you get out.
The good news is that affiliate marketing is actually easy to get into thanks to programs like Commission Academy which show you exactly how you can get started, so I would suggest you avoid Fast Fortune Club & simply join Commission Academy instead.
Whatever you decide to do though I just sincerely hope that my honest review of Fast Fortune Club here has given you a good insight into what to expect & helped you to decide if it's really right for you or not. If you still happen to have any questions or comments then, of course, feel free to leave them below. 🙂
A Better Alternative
The sad truth is that unfortunately most of the programs promising to help you make money online are scams. I can say that confidently after exposing over 500+ of them here on this blog.
But the good news is that even though most of them are indeed scams, there are actually some very good programs in amongst them - some programs that can truly help you to earn money.
And out of all of the legit programs I've seen, the one I would recommend the most to anybody looking to get started online is Commission Academy. In my own opinion, that's the best place to start.
At Commission Academy, you'll be provided with everything you need (including the training & tools) to begin earning real money by promoting products or services for companies like Amazon online.
The best part is that there's literally no limit on the amount you can earn with it & the process is pretty simple which means that it's absolutely perfect for people that don't have much experience.
Some wealthy affiliates even earn as much as 5-figures per month... Or more!

I mean don't get me wrong, that kind of money won't just fall into your lap without doing any work... But the harder you're willing to work at it, the more you stand to earn with it.
So if you're looking to get started but don't know which route you should go down or which program you should join (and don't want to waste money on bogus things that don't actually work), then I'd highly recommend checking out Commission Academy first. You can learn more about it here.