Grant Cardone University is a comprehensive online sales training program that promises to teach individuals the skills and strategies they need to succeed in their professional lives.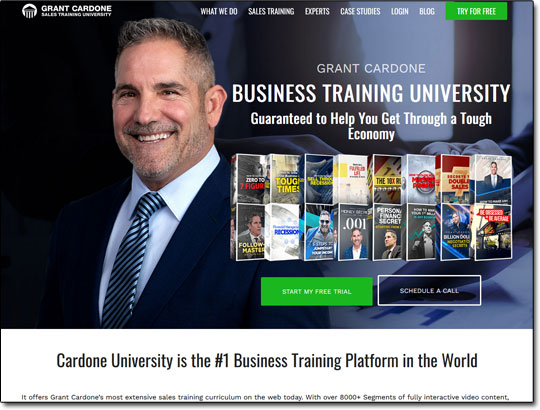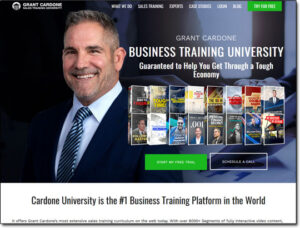 However, before investing in any online course, it is important to weigh the pros and cons. The purpose of this review is to take an in-depth look at Grant Cardone University and determine whether or not it is worth the investment and hype in 2023.
We understand that making an investment in a course like Grant Cardone University is not a decision to be taken lightly, and this review aims to provide you with all of the information you need to make an informed decision.
So, without further ado, let's dive into the world of Grant Cardone University and see if it is worth the investment.
What Is Cardone University?
Grant Cardone Sales Training University, also known as Cardone University, is an online platform designed to help individuals develop and enhance their sales skills.
This online course offers a range of lessons, training videos, and resources related to sales, marketing, and business growth strategies. It is designed to help individuals and business owners learn how to increase their sales performance and improve their profitability.
The program provides a wealth of information on sales techniques and strategies, including tips on closing deals, handling objections, and building client relationships.
The program is designed to be accessible and flexible, with various packages to cater to different needs and budgets. The platform claims to have over 800 video courses taught by professionals like Grant Cardone and his team.
The courses cover everything from prospecting and lead generation to closing techniques and customer retention.
One of the most compelling aspects of Cardone Sales Training University is the experience of its founder, Grant Cardone. He brings his expertise and real-world experience to the courses, making them practical and effective.
Who Is Grant Cardone?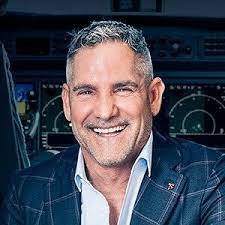 Grant Cardone is a world-renowned sales expert, speaker, and author who specializes in helping people grow their businesses by teaching them effective sales techniques.
Cardone has achieved remarkable success in his field, with more than 35 years of experience working in sales and marketing.
He is the founder of the Grant Cardone Sales Training University, one of the most comprehensive and effective sales training programs available.
One of the key features of the Grant Cardone Sales Training University is its emphasis on real-world experience. Cardone himself has racked up an impressive track record of sales success, having sold millions of dollars worth of products and services.
He draws heavily on his own experience to teach others the skills and strategies he has used to build his own success.
What Do You Get In Cardone University?
When it comes to course content, Cardone Sales Training University is comprehensive and well-structured. The program is organized into modules that cover different topics, starting with the basics and progressing to advanced techniques.
The course materials are also regularly updated, ensuring that they remain relevant and up-to-date with the latest industry trends and best practices.
The course is divided into a number of modules. These modules are listed below:
Selling Basics
The Sales Process
Understanding the Buyer
Theory of Closing
Closing Strategies
Prospecting
Incoming Calls
Follow-Up
100 Ways to Stay Motivated
Internet Lead Response
Top Traits of Great Salespeople
Personal Finance
Handling Objections
Cold Calling
Live Events
The Sales Process
The Sales Process module, on the other hand, is a set of 73 courses that takes a more in-depth look at each stage of the sales process. This section also offers various modules on having the right attitudes, greetings, fact-finding, effective sales presentations, and more. It is an essential module for any sales professional looking to hone their skills and improve their success rate.
Understanding the Buyer
Understanding the Buyer, the third module, consists of 29 courses that are designed to help sales professionals understand the psychology of buyers. These courses enable sales professionals to recognize and address the specific needs and desires of their buyers, which can significantly improve their sales performance.
Theory of Closing
The Theory of Closing module comprises 42 courses and focuses solely on the art of closing a sale. This module teaches sales professionals various techniques and strategies for overcoming objections, building rapport, and ultimately persuading customers to buy.
Closing Strategies
The Closing Strategies module, on the other hand, is a more intensive set of courses consisting of 105 courses. This module expands on the techniques taught in the Theory of Closing module, providing sales professionals with a comprehensive set of strategies for closing deals.
Prospecting
Prospecting, the sixth module, comprises 30 courses that teach sales professionals the foundational principles of prospecting, which includes finding new customers.
Incoming Calls
Incoming Calls, the seventh module, is a set of 22 courses that cover best practices for handling incoming sales calls. These courses help sales professionals effectively manage customer inquiries and convert leads into sales.
Follow-Up
The Follow-Up module consists of a staggering 132 courses designed to help sales professionals build long-term relationships with their customers. These courses cover everything from the importance of effective communication to the benefits of proactive follow-up.
100 Ways to Stay Motivated
The 100 Ways to Stay Motivated module is a set of 101 courses that are designed to help sales professionals stay motivated throughout their careers. It covers topics such as mindset, goal setting, and money management, among others.
This module helps individuals to remain motivated through various challenges and setbacks that may arise in their sales journey. Successful sales professional like Grant Cardone recognizes that motivation plays a crucial role in sales success.
This is why the motivational tips offered in this module are essential for any individual in a sales career.
Internet Lead Response
Internet Lead Response which comprises 23 courses focuses on strategies to respond effectively to internet leads to increase sales.
With the ever-increasing use of technology and the internet, businesses can reach a broader audience. However, converting these leads into actual sales requires skill and determination.
This module provides sales representatives with the strategies required to convert internet leads into sales.
The Top Traits of Great Salespeople
The Top Traits of Great Salespeople includes 65 courses that focus on the key traits required for success in sales.
These traits are critical components of a successful sales process, and the module helps individuals identify and develop these qualities.
Personal Finance
It is essential for sales representatives to manage their finances so that they can remain financially stable, allowing them to focus on their sales career.
Personal Finance comprising 21 courses, helps sales professionals manage their finances efficiently.
Grant Cardone emphasizes how important it is for salespersons to have a good understanding of their financial standing. This is because financial stress can easily affect motivation and productivity.
Handling Objections
Lastly, "Handling Objections," the largest module of all which has over 300 courses, is designed to provide users with a comprehensive understanding of different approaches to handling objections.
How Much Does Grant Cardone's Sales Training University Cost?
One of the most important factors to consider before signing up for the Grant Cardone Sales Training University is the cost.
The cost of the program varies depending on the level of membership, as Cardone University offers several pricing plans to cater to different needs and budgets.
Cardone uses a variety of techniques to market his work, and there is no single price for Grant Cardone's Sales Training University.
While most would only have a single access price point, Cardone offers various university courses at various prices. Therefore, the cost of a Cardone University membership may change depending on the courses you take.
However, you should expect to pay around $35,000 to purchase the Grant Cardone University course, which covers all of the Cardone University modules.
Nevertheless, if you can't pay the lump sum, the $97 per month subscription is by far the most financially sensible way to access the courses.
Let's now breakdown that $35,000 into the following list:
Cardone University's Base Cost
Cardone University: $4,997
Cardone University + Expert Programs: $12,995
Cardone University (Lifetime Access): $24,997
Cardone University (Monthly Subscription): $97/month
Cardone University's Certifications
Business Builder Certification: $997
7-Figure Sales Principles Certification: $997
10x Financial Freedom Certification: $997
Phone Sales Mastery Certification: $997
Advanced Sales Negotiation Certification: $997
Total: $4,985
Cardone University's Individual Courses
Sales Fundamentals: $197
Buyer Psychology: $197
Perfect Sales System: $247
Master the Close: $297
Advanced Closing & Negotiating Strategies: $297
Incoming Call Mastery: $197
Professional Prospecting Strategies: $197
Advanced Follow-Up Strategies: $297
Mastering the Cold Call: $79
100 Ways to Stay Motivated: $197
64 Top Traits of Great Entrepreneurs: $197
Internet Lead Response Strategies: $197
Personal Finance & Wealth Creation: $197
Handling Objections: $247
Total: $2,958
Cardone's Industry Expert Courses
Dave Anderson Leadership Academy: $997.00
Personality Assessment Academy by Dr. Tony Alexander: $997.00
The Hiring Academy by David Jensen: $997.00
Product Sales Mastery by Victor Antonio: $997.00
Social Selling Mastery by Jamie Shanks: $997.00
Daymond on Demand by Daymond John: $997.00
Monster Producer Academy by Coach Michael Burt: $997.00
Star Power by Hank Norman: $1,495.00
Total: $8,474
The cost of Grant Cardone Sales Training University varies depending on which package you choose, but the comprehensive course is around $35,000.
Regardless of the membership level, the Grant Cardone Sales Training University is an investment in your future. The program is designed to help you develop the skills and mindset necessary to succeed in sales.
The program is also tailored to meet the needs of different individuals and businesses, which makes it a flexible and customizable option. However, Grant Cardone University is not for everyone, and not everyone can afford it, but for those who see the value and are committed to their success, it may be worth the investment.
The knowledge and training offered in the course can be invaluable, but it's important to weigh the benefits against the cost and determine if it's the right investment for your career.
Ultimately, the choice is yours, and whatever decision you make, remember to stay focused on your goals and never stop learning.
Who Is Grant Cardone University For?
Grant Cardone Sales Training University is geared towards individuals who are looking for a comprehensive and effective way to improve their sales skills and grow their business, that is, anyone who wants to improve their sales skills, earn more money, and take their business to the next level.
From newbies to experienced sales professionals, anyone can benefit from the comprehensive training that this platform offers, be they artists, automotive salespeople, doctors, or phone salespeople.
The platform offers a flexible, diverse, and practical approach to sales training backed by the expertise of one of the most successful sales experts of our time.
New sales reps who are eager to learn and grow can find ample resources and coaching tips to help them build a strong foundation for their sales career. They can learn the basics of selling and master the art of persuasion to become the top performers in their companies.
The platform covers everything from prospecting and cold calling to closing deals and building relationships with clients. Sales professionals can take the course as a refresher or to brush up their skills and stay at the top of their game.
Experienced sales reps who already have a solid understanding of the sales process can also benefit from Grant Cardone University. They can fine-tune their existing skills and learn advanced techniques to maximize their sales potential.
The platform offers specialized courses on high-ticket sales and closing, negotiation, and objection handling. Besides, sales managers can use the platform to train their teams, track their progress, and improve their productivity.
Business owners and entrepreneurs can also significantly benefit from Grant Cardone University. The courses offer valuable insights into the sales process, marketing strategies, and business development.
They can learn how to scale their businesses, create effective advertising campaigns, and increase revenue.
You Might Also Like:
Cardone University: Pros and Cons
While there is no doubt about the authority and success that Grant Cardone has achieved, it's important to look at the pros and cons of his Sales Training University. Let's start with the pros.
Pros
The Sales Training University uses short video segments, which helps with easy retention of knowledge. Along with being educational, the videos are extremely motivational, helping people maintain their interest and focus throughout the course.
Perhaps the biggest pro is the university's proven track record of success. Those who have gone through the course point to its effectiveness in helping sales professionals improve their skills and close more deals.
One of the main advantages of Grant Cardone University is its flexibility. The platform is suitable for both beginners and experienced sales professionals, as it offers courses ranging from basic to advanced levels.
This allows users to tailor their learning experience according to their individual needs and goals, whether they are just starting out in sales or looking to take their skills to the next level.
Another advantage of Grant Cardone University is its variety of content. This includes courses on prospecting, selling techniques, negotiation, closing deals, financial management, and motivation.
The courses are delivered in a variety of formats, including video lessons, webinars, and interactive quizzes, making it easy for users to learn at their own pace and in a way that suits their learning style.
A unique feature of Grant Cardone University is its focus on practical application. The courses are designed to not only provide theoretical knowledge but also to help users apply what they have learned in real-world situations. This is achieved through role-playing exercises, case studies, and other interactive activities that simulate actual sales scenarios.
Another great feature of this course is that it is regularly updated with new content and additions. In addition to these features, Grant Cardone University also offers weekly mastermind groups, allowing people to connect with others and discuss their progress.
Through the supportive community of like-minded individuals, users can connect with other students and sales professionals, share their experiences, and get feedback and support on their sales journey.
The course is easy to navigate, making it simple to find what you are looking for. With a massive amount of content on various topics, the university provides full access with support throughout.
Cons
Despite its many advantages, the Sales Training University has some cons too. One of the most significant downsides is the cost.
The course may not be affordable for everyone, and while some may argue that the value provided far outweighs the cost, affordability may be an issue for some.
Additionally, Grant's methods are extremely effective, but they are also aggressive. While this technique works for some personalities, people who aren't comfortable being aggressive in their sales approach may find the course unsuitable.
To sum it up, the Sales Training University by Grant Cardone offers several advantages to those who aspire to be sales professionals or want to improve their sales skills. It has great features that make learning and retention of knowledge easy, along with a track record of success, regular updates, and mastermind groups.
However, those who cannot afford the course or are not comfortable with aggressive sales tactics may find it difficult to benefit from it.
It's always best to weigh the pros and cons before investing your time and money in any training.
Final Thoughts
Grant Cardone Sales Training University, or simply "Cardone University," has been around for many years and has earned a reputation as one of the best sales training programs in the world.
The program is designed to teach both beginners and seasoned sales professionals how to sell more effectively, and it has helped countless people achieve their sales goals over the years.
Despite its success, however, there have been some doubts raised in recent years about whether Cardone University is still worth the hype. Some critics argue that the program is outdated and doesn't keep up with the latest trends in sales and marketing, while others believe that the high cost of the program may not be worth it for some businesses.
However, after assessing various factors, we believe that Cardone University is still worth the hype. Firstly, the program offers a comprehensive and well-structured curriculum that covers all aspects of the sales process, including prospecting, qualifying, presenting, closing, following up, and more. The materials are also presented in a clear and concise manner, making it easy for students to understand and apply them in real-life situations.
Secondly, Grant Cardone, the founder of the program, is a well-respected and successful sales expert with more than 30 years of experience in the industry. He has authored numerous best-selling books on sales and marketing, and he regularly shares his knowledge and expertise through public speaking engagements and online courses.
Thirdly, the program offers a range of tools and resources that can help sales professionals succeed. From online forums and webinars to one-on-one coaching and training sessions, Cardone University offers ample opportunities for students to learn and grow.
Lastly, while the program may seem expensive, it offers a significant return on investment for those who apply what they learn. The techniques and strategies taught in the program have been proven to increase sales and revenue for countless businesses, making it a sound investment for any sales team or professional looking to improve their performance.
In the end, despite some criticisms, Grant Cardone Sales Training University remains one of the best sales training programs available on the market. With a comprehensive curriculum, expert instruction from Grant Cardone, and a range of tools and resources to support students, the program offers a significant return on investment to those who apply what they learn.
If you're looking to improve your sales skills and take your career to the next level, Cardone University is definitely worth considering.
A Better Alternative
The sad truth is that unfortunately most of the programs promising to help you make money online are scams. I can say that confidently after exposing over 500+ of them here on this blog.
But the good news is that even though most of them are indeed scams, there are actually some very good programs in amongst them - some programs that can truly help you to earn money.
And out of all of the legit programs I've seen, the one I would recommend the most to anybody looking to get started online is Commission Academy. In my own opinion, that's the best place to start.
At Commission Academy, you'll be provided with everything you need (including the training & tools) to begin earning real money by promoting products or services for companies like Amazon online.
The best part is that there's literally no limit on the amount you can earn with it & the process is pretty simple which means that it's absolutely perfect for people that don't have much experience.
Some wealthy affiliates even earn as much as 5-figures per month... Or more!

I mean don't get me wrong, that kind of money won't just fall into your lap without doing any work... But the harder you're willing to work at it, the more you stand to earn with it.
So if you're looking to get started but don't know which route you should go down or which program you should join (and don't want to waste money on bogus things that don't actually work), then I'd highly recommend checking out Commission Academy first. You can learn more about it here.