Have you been scanning the internet for reliable work from home opportunities or freelance gigs?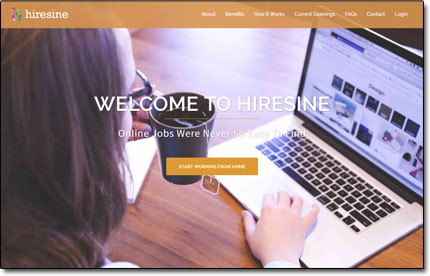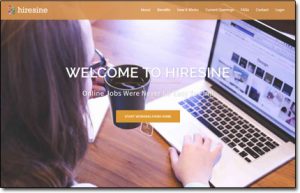 If you have then you'll likely have stumbled upon a website called Hiresine which promises to provide you with legitimate online jobs.
This website claims to be a reliable freelance marketplace. If you have already visited this website in search of work, you must know what kind of a first impression it makes. And if you are still to check it out, our Hiresine review here will make you think twice.
We decided to check out this website because the demand for freelance gigs is growing by the day. More and more people are in search for work from home opportunities.
Is Hiresine legit? You'll soon find out a our Hiresine review which tell you exactly what the site is all about, how it works and if you can actually find legitimate work there.
What Is Hiresine?   |   How Does Hiresine Work?   |   Fake Reviews   |   Is Hiresine a Scam?   |   A Better Alternative
What Exactly Is Hiresine?
Hiresine is a website that claims to be a freelance marketplace. It claims that you can find all sorts of work from gigs here which are legitimate and well-paying. Well, we decided to check it out and a view of the home page was enough to raise an eyebrow.
The home page sells you a whole story about how this website is a wonderful place for people who are in search of home-based work. You are promised a lot of job opportunities and legitimate ones.

What else does the website have to offer? Ads and more ads and even more ads. Yup, you got that right. Huge banner ads are lining the whole website and none of these ads have anything to do with Hiresine.
All of the advertisements found on Hiresine take you through to entirely different websites & this means that Hiresine has no control of who is advertising there because they're being displayed using a third party network. This is very suspicious.
Let's take a closer look into how it works to see what's going on…
How Does Hiresine Work?
It's characteristic of all these marketplaces that you must sign and become a member to find the gigs. So, we started looking for the sign-up option or the application form as it is. Guess what we found? More ads! Yay, so many of them in one place… bizarre!
Every single time we clicked on something we were redirected to a different website. It happened because we had clicked on an ad instead of a button on the host website. That explained everything.
The website doesn't really provide users with any job opportunities. It only serves the owners' pockets. This website simply uses the affiliate marketing business model. There are a lot of ads running on this website in large banners. And they are full of buttons. When you think you have finally found the application form, you have just clicked on another for which the website owner would earn some cents or whatever the pay-per-click rate is!
What's Next After You Finally Sign Up?
It took us more than five minutes to find the sign-up application on the Hiresine website. It required your name, email address and phone number to work. Do you know what we found after we had signed up? Nope, there were no jobs listed in the members' area. Instead, we found more ads!
What Makes Hiresine Even More Dubious…
We decided to look around a bit more. There were a few customer reviews listed on the website. We checked them out and found them all good ones with high ratings. It made no sense for a website that doesn't even have a visible sign-up option to have such positive reviews.
We did some research and found out that all those reviews were fake as expected. We found that some of the photos used were stock images that can easily be found online using the Google reverse image search tool as shown below:


Oh, and we weren't able to trace out the owner of this website either. There couldn't have been a bigger red flag than that.
Which brings me onto…
My Verdict – Is Hiresine a Scam?
There is literally nothing that can make one believe otherwise. It is a scam for sure. In preparation for putting together our detailed Hiresine review, we spent quite some time investigating it. We couldn't find anything on the website other than ads nor were we able to find its owner. There is nothing more questionable than an unnamed or hidden owner of a website that claims to be an online freelance marketplace.
What's worse is that it was very easy to assess if the testimonials were fake or not & they all came back as fake. It's a scam and it isn't recommended for anyone to even check it out.
The whole thing has just been designed to make its creators wealthy at your expense… It's all just a trick to get you to click on advertisements so that the people behind it will earn some commissions, and some of the websites being advertised look very suspicious too – potentially scams.
Instead, if you really want to earn good money online I would suggest that you stick with one of the proven alternatives from my top picks page here.
I'll also point out that in my opinion there is a much better way to earn online than participating in freelancing or gigs & that is something called affiliate marketing. I've actually done both things so I can say that with confidence.
The reason I say it's better is because with freelancing you are constantly trading your time directly for money. If you wish to earn you must work, there is no opportunity to earn a passive income… However, with affiliate marketing, there is indeed the possibility to build a passive income.
This not only means you can eventually work less hours but it also means that you can scale your income up higher than you would be able to if you were just freelancing. It's just my 2 cents to share it but if it's of any interest to you then you can learn more about it over at Commission Academy.
Whatever you decide to do though I just hope that my review of Hiresine here has given you a good insight into the website & what's really going on. If you happen to have any further questions to comments then don't hesitate to leave them below. 🙂
A Better Alternative
The sad truth is that unfortunately most of the programs promising to help you make money online are scams. I can say that confidently after exposing over 500+ of them here on this blog.
But the good news is that even though most of them are indeed scams, there are actually some very good programs in amongst them - some programs that can truly help you to earn money.
And out of all of the legit programs I've seen, the one I would recommend the most to anybody looking to get started online is Commission Academy. In my own opinion, that's the best place to start.
At Commission Academy, you'll be provided with everything you need (including the training & tools) to begin earning real money by promoting products or services for companies like Amazon online.
The best part is that there's literally no limit on the amount you can earn with it & the process is pretty simple which means that it's absolutely perfect for people that don't have much experience.
Some wealthy affiliates even earn as much as 5-figures per month... Or more!

I mean don't get me wrong, that kind of money won't just fall into your lap without doing any work... But the harder you're willing to work at it, the more you stand to earn with it.
So if you're looking to get started but don't know which route you should go down or which program you should join (and don't want to waste money on bogus things that don't actually work), then I'd highly recommend checking out Commission Academy first. You can learn more about it here.