HoneyGain is a new app that has gained a heck of a lot of attention in a short space of time due to the fact that it claims you can literally just download it, install it & then begin earning money completely on autopilot without having to do anything extra…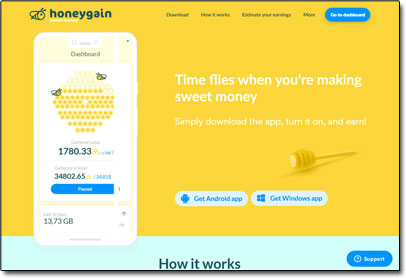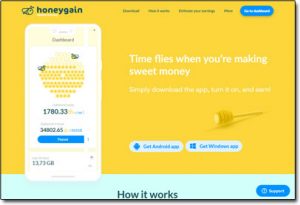 But could it really be so easy? And could it really actually be true? Or is HoneyGain a scam that you should avoid instead?
Well, I'm glad that you decided to do your due diligence & came here first before installing it because in this detailed HoneyGain review I'm going to be uncovering the reasons why I would NEVER install this app…
What Is HoneyGain?   |   How Does HoneyGain Work?   |   My Concerns   |   Update (More Concerns Surface)   |   Is HoneyGain a Scam?   |   A Better Alternative
What Exactly Is HoneyGain?
HoneyGain portrays itself as a "passive income app" & leads you towards believing that you can simply download it, install it & then begin earning money without actually having to do anything.

The app allegedly runs in the background on your device & you're told that HoneyGain's "data scientists" use the app to leverage your unused internet data… And they claim it's this data that they'll be paying you for.
But is that legit? Could you really sell off your unused data like that?
Well yes, and no, I mean it's technically possible but there are some HUGE concerns I have with the whole thing & I have to point out that even if you really could earn money doing this I still personally definitely wouldn't join HoneyGain & I'll explain why below…
How Does HoneyGain Work?
HoneyGain claims to use your "unused net data" & it's this that they're promising to pay you for… So the idea is that you install the app, they use your data & they then pay you accordingly in return.
But what exactly do they mean by "unused net data"?
Well, let's, for example, say that your internet connection is 10mb/s – this means that you could potentially download 10mb's worth of data every second… However typical internet tasks will use much less than that.
So HoneyGain is said to use the remaining bit that you don't use, and they claim that their "data scientists" will be using it who allegedly enable other businesses to run intelligence, market, and business research.
But I have to admit here this all sounds extremely sketchy…
And guess what? Surprise surprise "is HoneyGain safe?" is the first question within their FAQ because no doubt they too know how sketchy the whole operation sounds… Now, of course, they've answered "yes" within their FAQ… But is it really safe?
In my opinion, no, it is not – because you're giving an anonymous company (which looks to be based out of Russia) access to your data (and god knows what else).
Yep, that's right – HoneyGain fail to give ANY details away as to who's actually behind the whole thing. No office address, no company information, nothing – so by installing the app you'd essentially be giving an anonymous firm full access to your data.
That's never a good idea, regardless of how much money you're being offered!
Which brings me onto…
You Might Also Like:
My Concerns Regarding HoneyGain
Well, firstly there's the fact that like I just mentioned in the previous section of this review HoneyGain fail to give away ANY details whatsoever with regards to who is actually behind the whole thing.
Who is using your data? You have absolutely no idea. They are very vague when it comes to mentioning what they're actually doing with your data which is a huge red-flag… And their website has multiple instances of broken English which doesn't come across as very professional.
I decided to check out their Privacy Policy but still, that is very vague too. It doesn't really mention anything about these so-called "data scientists" or what they'll actually be doing with your network. They could be using it for ANYTHING.
They're essentially piggybacking off your connection so they could be downloading any material and it would appear as if you yourself are downloading it… So there's potential for this "app" to actually land you in some trouble.
And from what I can see, the HoneyGain operation seems to be based out of Russia.
But let's for a moment just pretend you don't care about your personal data or getting into trouble… Could you really make a good income from HoneyGain?
The counter on their website certainly suggests you can. It suggests that if you leave HoneyGain running for 24hrs per day then you can allegedly make $50 per month, and they claim they'll also pay you 10% of what the people you refer earn too.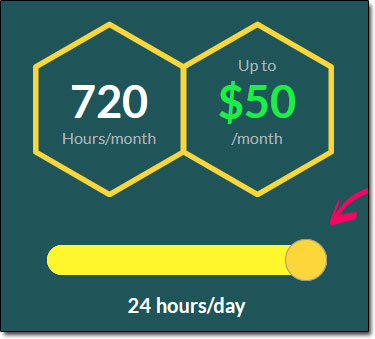 So let's say you ran it yourself for 24hrs & you referred 10 friends that also did the same, HoneyGain is claiming that you'll be able to earn an additional $100 per month by doing absolutely nothing other than run the app.
That's a VERY bold claim in my opinion, so I decided to do some further research into it…
One source claimed that he left the app running for 4 hours & only earned $0.04, which would equate to a mere total of $1.20 per month… And with a withdrawal limit of $20 that would see you having to run the app for 24 hours per day for 17 months before being able to request a payout.
Another source claimed that he had managed to earn $40 but didn't specify the time-frame nor if he'd actually received a payment or not.
Either way though, paying or non-paying I just personally don't believe it's worth the risk.
Update 25/09/2019 – More Concerns Surface
I literally only published this HoneyGain review 2 days ago but already more concerns have surfaced. Coincidently I logged into a website which I frequent at & I noticed somebody from the HoneyGain team promoting HoneyGain via a spam post.
I've included a snippet of the spam post below which claims to have been published by Kaiden Holmes, and to the right, you'll see the photo that "Kaiden" has uploaded to his profile:

Now not only do I get extremely suspicious when a company resorts to spamming websites to promote their services, but I get even more suspicious when the staff members appear to use fake images of themselves.
That became evident when I looked up Kaiden's LinkedIn profile as shown below: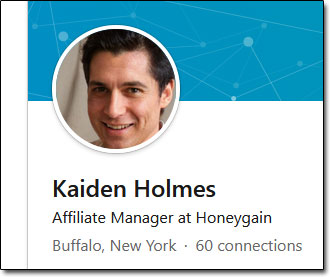 2 completely different people…
One thing that did remain consistent though was just how vague they are whenever they talk about what they're actually doing with the users' connections, because here's a snippet from "Kaiden's" spam post:

Despite him claiming to appreciate that you'll have concerns over how the data is being used he still then fails to specify exactly how it will be used. Market and research purposes could be ANYTHING. This app should be giving you absolute clarity & because of the fact it's not, I am very, very worried as to what it's really doing with the people's connections that are using it.
Which brings me onto…
My Verdict – Is HoneyGain a Scam?
Well look, "scam or not" I can't really comment on because I'll admit that I didn't install the app, there's simply NO way I would ever install an app that keeps itself so secretive & has access to all of my data/connection.
From what I've read people do seem to have been paid from it, however, as reported in the previous section of this review the payments seem to be MUCH lower than what is advertised on the homepage for their site.
Regardless though, paying or not there is just simply no way that I can recommend this thing to you because as far as I'm concerned it's just way too dangerous & I'm extremely concerned as to why they're so vague about what they're doing with your data.
Instead, if you want to make extra money online I suggest you just stick with one of my picks which are all proven, tested & legitimate. Or alternatively, you can read more about the way I personally make money online here.
But whatever you decide to do I just hope that my review of HoneyGain here has given you a good insight into how the app works & the hidden dangers that may be present. Please do feel free to share your thoughts or questions below in the comments if you have any. 🙂
A Better Alternative
The sad truth is that unfortunately most of the programs promising to help you make money online are scams. I can say that confidently after exposing over 500+ of them here on this blog.
But the good news is that even though most of them are indeed scams, there are actually some very good programs in amongst them - some programs that can truly help you to earn money.
And out of all of the legit programs I've seen, the one I would recommend the most to anybody looking to get started online is Commission Academy. In my own opinion, that's the best place to start.
At Commission Academy, you'll be provided with everything you need (including the training & tools) to begin earning real money by promoting products or services for companies like Amazon online.
The best part is that there's literally no limit on the amount you can earn with it & the process is pretty simple which means that it's absolutely perfect for people that don't have much experience.
Some wealthy affiliates even earn as much as 5-figures per month... Or more!

I mean don't get me wrong, that kind of money won't just fall into your lap without doing any work... But the harder you're willing to work at it, the more you stand to earn with it.
So if you're looking to get started but don't know which route you should go down or which program you should join (and don't want to waste money on bogus things that don't actually work), then I'd highly recommend checking out Commission Academy first. You can learn more about it here.