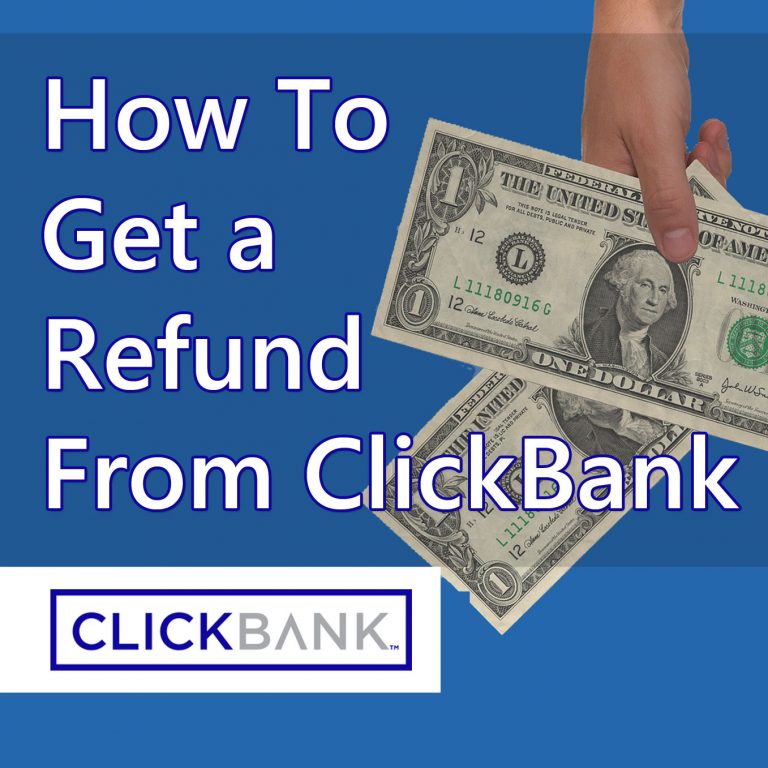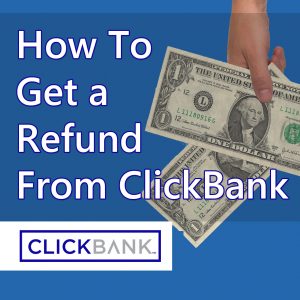 Wondering how to get a refund from ClickBank? Well, with many ClickBank products seeing an average refund rate of over 35%, it's safe to say that you're likely not the only one.
Every single day I get lots of new people coming to me asking how they can get a ClickBank refund after they've purchased products & found themselves disappointed with what they received.
So, if you've found yourself in the same boat, then in an effort to help make things easy for you & to help you get your money back from a ClickBank purchase I've taken the time out to put this step-by-step guide together.
This free step-by-step guide will help determine if you're actually eligible for a refund, and if you are, it'll also help you to actually get a refund from ClickBank (in the shortest time possible).
Are You Eligible For a Refund?   |   The Costs You Might Not Get Refunded   |   How To Get a ClickBank Refund   |   Is ClickBank a Scam?
Are You Eligible For a ClickBank Refund?
The first step in obtaining a ClickBank refund is to find out if you're actually eligible to receive a refund in the first place because if you're not, then this process could just be a waste of time.
Thankfully, finding out if you're eligible for a refund is pretty easy.
The first thing you need to do is make sure that the payment was actually processed by ClickBank & the easiest way to do that is to check the transaction on your bank statement.
A ClickBank transaction will display as "CLKBANK*COM".
Once you've confirmed the transaction is indeed a ClickBank transaction, the next step is to get the date of the transaction because typically, most ClickBank products only have a refund period of 60 (sixty) days.
If 60 days have passed since the date of the transaction then you won't be able to claim for a refund via ClickBank, however, you may still have a chance by contacting the vendor directly (more on that in a moment).
Once you've gotten the transaction date & made sure that it was made within the past 60 days, you can head to the ClickBank customer service website & look up your order.
To look up your order you simply need to enter two identifiers from your purchase which can be either your order number, the last four digits of your payment method, or zip code.
After doing that, you'll be presented with a new screen showing the details of your order, and if the "refund request option" is displayed then good news, it means you're eligible for a refund.
Woohoo!
If, however, the button isn't displayed or if your purchase was made outside of the past 60 days, then there is still one last small hope of obtaining a refund & that is by contacting the vendor directly.
You see, ClickBank isn't actually the creator of the products – it's essentially just a marketplace that lists products for sure & acts as the middleman dealing with payments.
The products themselves are actually created by individuals or businesses, known as "vendors", and in some (albeit rare) situations, the vendors may provide you with a refund even if the 60-day ClickBank refund window has passed.
Now, whilst the chance of receiving a refund from a vendor is pretty slim, it's worth reaching out all the same, and ClickBank should still be able to help you obtain the contact details for the vendor if you cannot manage to locate them yourself (or if you're having trouble getting in touch).
The Costs You Might Not Get Refunded
One important point to note about ClickBank products is that typically, the refund guarantee only actually applies to the initial product purchase, known as the "frontend purchase".
More often than not, any additional costs (known as upsells) are not refundable.
But unfortunately, this isn't made very clear & as a result, many shady vendors make their initial purchase price very low but then force you through a string of multiple upsells.
They make their upsells seem very desirable & because they already have your card details on file from the initial purchase they make them easy to buy, using 1-click purchase buttons.
Many buyers purchase the upsells without hesitation as they believe that they are backed by the same 60-day money-back guarantee, but as mentioned, in most cases they're not.
This means that even though you may have spent hundreds of dollars on a product, you may actually only get a very small percentage of that refunded back to you under the guarantee.
So that is certainly is something to be mindful of when requesting a refund, and also when making future ClickBank purchases.
How To Get a ClickBank Refund
The good news is that because ClickBank receives so many refund requests, they've actually made the process of getting a refund relatively easy… And you can even get your money back from ClickBank in just 1 day.
To get a refund, the first thing you need to do is visit the ClickBank customer service website, which is separate from their main website.
You then need to click "Look Up Your Order" and enter 2 bits of information to locate your order which can be either your order number, the last four digits of payment method, or your zip code.
After entering those details & submitting the form, a confirmation email will be sent to the email that you used when you placed the order (meaning you'll need access to that email account in order to progress with the refund request).
Once you've located the email & followed the link inside of it, you'll be taken to the order details page on which you'll need to select the "Refund Request" button & choose a reason for the refund from the dropdown menu that appears.
Finally, click the "Send" button & your refund should be processed within one business day.
In the rare instance that you made a purchase where a physical product was provided to you & a return is required, then the refund process will be extended to 19 days.
You'll be instructed how to return the item(s) after submitting the ClickBank refund request.
You Might Also Like:
Is ClickBank a Scam?
Whilst there are indeed some perfectly legitimate (and great) products on ClickBank, it's safe to say that overall ClickBank seems to have gained a reputation for being a marketplace of low-quality, "scammy" products.
The legitimate products, as far as I'm concerned, are few & far between.
But that does not make ClickBank itself a scam – in fact, ClickBank itself is a perfectly legitimate & honest company. From what I've seen, they stand true to their promise of issuing fast refunds & that's great to see.
You see, as mentioned a little further up in this post, ClickBank doesn't actually produce the products listed within its marketplace. They're created by third-party vendors.
ClickBank itself is essentially just a middleman that handles the payments. It's a marketplace for digital products.
Sadly, however, the downside to ClickBank is that there is very little screening of the products that they allow into their marketplace, resulting in a lot of low-quality products & quite frankly, a lot of scams.
I mean, I understand it – the ClickBank marketplace is HUGE and screening the products would indeed be a mammoth undertaking… But to be honest, I think it's become a necessity.
They really need to work on it, at least.
But as I say, there are some perfectly legitimate products listed inside of ClickBank so I wouldn't advise steering away from purchasing from ClickBank entirely, I would just advise that you do extra due-diligence if ever you do find yourself considering purchasing something from ClickBank.
Anyway, whether you end up purchasing from ClickBank again in the future or not, hopefully, my guide to getting a refund from ClickBank here has helped you to get your money back from your previous purchase(s) at least.
And if you have any further questions or comments then, of course, don't hesitate to leave them below.