In this review, I'm going to be taking a closer look at an online opportunity named the Infinity Profit System to find out once & for all if it really works, if it's sustainable and most importantly if it's worth your time & money.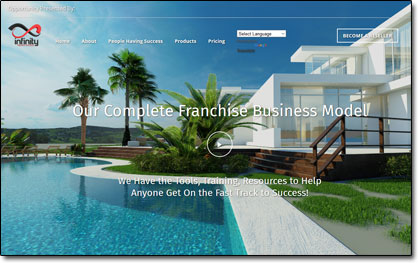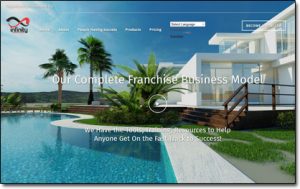 So if you've been looking at getting started with the Infinity Profit System but you're a little undecided as to whether or not it's right for you then you can rest assured that you've landed in exactly the right place to find out.
It's also worth mentioning before I get started that I'm not affiliated with the Infinity Profit System – so you can relax knowing that you'll be getting the truth from a third party, as opposed to an affiliate who's only interested in getting you to join so that they can earn themselves a commission for referring you.
What Is The Infinity Profit System?   |   How It Works   |   The Big Problem   |   How Much Money Can You Make?   |   Should You Join?   |   A Better Alternative
What Is The Infinity Profit System?
The Infinity Profit System is a company that's been launched by a guy named Dale Payne-Sizer & it's based out Pennsylvania, US. Dale has been behind the launch of several other digital "money-making" opportunities over the past few years & these have all been MLM (network marketing) style companies.
Whilst there's been quite a few people who have made money through Dale's previous opportunities – they typically tend to be unsustainable, and they tend to be the types of companies where only the people who get in first seem to be making the money… If you catch my drift.
Dale has a very strong following on social media & so it's quite easy for him to launch these types of opportunities as he has created a big hype around "getting in first", so often when one of his opportunities launches it fills up very quickly, becomes saturated & then slowly dies off until it silently disappears.
In my personal opinion, whilst other people have & can generally make money with Dale's systems – I feel like they are ultimately designed to make HIM money. So as opposed to creating a product with a focus on the value that it provides to the customers, I feel that his systems are launched with a focus on how much it can put in his pocket. I may be wrong – but that's just how I feel.
Anyway, so that's a bit of background on the CEO… But what about the Infinity Profit System itself?
The Infinity Profit System is what's being called a "digital franchise business" – and I've seen a LOT of these types of things launch recently (such as Digital Altitude and MOBE). The idea is that you're supposed to be able to sign up, follow the training, send people to the done-for-you sales pages & make money…
Unfortunately, it's not quite as straight forward as it seems & rather than make money, a lot of the people (in fact most of the people) that join these types of opportunities actually end up massively out of pocket.
And when I say massively – I mean massively… I've seen people part with over $50,000 to these types of things without seeing any sort of return whatsoever.
How The Infinity Profit System Works
The Infinity Profit System claims to be an educational company & they offer 2 different training products.
Firstly they offer a personal branding e-course & access to a blogging platform which costs $25 per month.
Secondly, they offer an automation course which teaches you how to automate tasks within your business & access to an email marketing platform for $100 per month.

Now here's the deal – if you pay an extra $10 per month you will be able to resell the products to other people as an affiliate & earn commissions on the sales… BUT in order to earn those commissions, you must have an active subscription to the products you are reselling.
So if you want to earn commissions by reselling the $25 per month product, you'd need to have an active $25 per month subscription yourself & the same goes with the $100 product. This is what's known in the industry as a "pay to play" program.
The Big Problem…
There's 1 huge problem with these so-called "pay to play" programs & that's the fact that often the majority of the people who are buying the products these companies are selling are buying them to simply re-sell them onto other people.
When this happens the opportunity becomes very close to becoming a "scheme", since there is no real product involved… Well, there is technically, but nobody is buying the product for the sake of actually having the product, if that makes sense?
Basically, this type of thing is VERY risky if you want to stay on the right side of the law! That's because the products could essentially be viewed as just a "cover-up" for a money-making scheme.
But let's assume you're not bothered about the law…
How Much Money Can You Make?
The Infinity Profit System tells you that you'll make 100% commissions on your sales, and whilst this is "kind of" true… It isn't really.
Basically, yes you WILL get 100% commissions on your sales, but not all of your sales. You'll pass up the commissions on your 2nd & 4th sales to the person that recruited you – and then these sales become locked to those people so even if they then go on to make sales themselves you still won't get their pass ups, the person that recruited you will.
I appreciate that sounds confusing & well, that's because it is… It's not a very straight forward compensation plan at all & I personally don't like pass ups… I mean, after all, you did the work to get the sale so why should the commission be paid to somebody else instead of you?
I know what you're thinking… "but I'll get the sales passed up to me from the people below me"… and yes it would be nice if life worked that way but in typical MLM fashion I think you'll know that it won't. Chances are people will buy into the opportunity in the hope of making money but never actually make a single sale at all.
This just leaves you working your butt off passing up sales making other people money rather than yourself.
Doesn't sound too good, does it? Couple that compensation plan with the fact that you actually must own the products to resell them & it becomes a very risky opportunity in terms of legality… I suspect that's why Dale's systems (the CEO of Infinity Profit System) don't last very long before they disappear.
You Might Also Like:
Should You Join? My Final Verdict
I started this review off asking the question whether or not this was just another unsustainable digital MLM company & I believe the answer to be yes it is. In my opinion Dale (the CEO) has set this company up with the sole intention of making himself a quick buck.
Yes, the products do contain some value, but I definitely believe the majority of the people buying the products will be buying them purely to resell onto others as part of the money-making opportunity (which makes the opportunity very borderline legit).
And yes, there is the potential to make money – but again it's one of those types of systems where, in reality, only the people who get in first (and have a big marketing budget or are marketing experts) are going to be the ones making any money. The people coming into the program as the hype starts to die down are going to struggle to even recoup their initial investments IMO.
Couple all that with the dodgy compensation plan which will see you passing up your sales and I think I can safely say I won't be recommending this opportunity. It's clear to me that this is more of a money-making "scheme" than anything else… And by the looks of it if you're thinking of getting in at the top it looks like you've already missed out.
So my final verdict = give it a miss!
But of course, if you happen to have any additional questions or comments about the Infinity Profit System scam then be sure to leave them below & as always I'll do my best to respond to you as quickly as I can.
A Better Alternative
The sad truth is that unfortunately most of the programs promising to help you make money online are scams. I can say that confidently after exposing over 500+ of them here on this blog.
But the good news is that even though most of them are indeed scams, there are actually some very good programs in amongst them - some programs that can truly help you to earn money.
And out of all of the legit programs I've seen, the one I would recommend the most to anybody looking to get started online is Commission Academy. In my own opinion, that's the best place to start.
At Commission Academy, you'll be provided with everything you need (including the training & tools) to begin earning real money by promoting products or services for companies like Amazon online.
The best part is that there's literally no limit on the amount you can earn with it & the process is pretty simple which means that it's absolutely perfect for people that don't have much experience.
Some wealthy affiliates even earn as much as 5-figures per month... Or more!

I mean don't get me wrong, that kind of money won't just fall into your lap without doing any work... But the harder you're willing to work at it, the more you stand to earn with it.
So if you're looking to get started but don't know which route you should go down or which program you should join (and don't want to waste money on bogus things that don't actually work), then I'd highly recommend checking out Commission Academy first. You can learn more about it here.