The Instant Passive System is a brand new system that has been created by an online marketer named Anthony Rousek & it has just launched on the WarriorPlus network for people to get access to.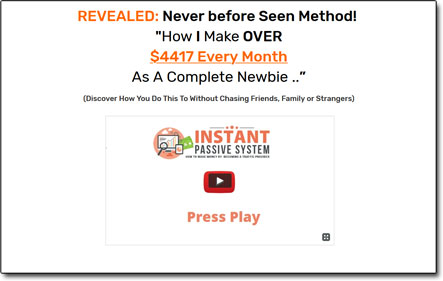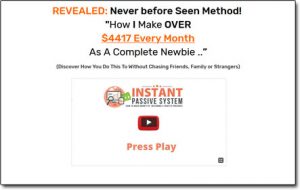 The system promises to provide its users with an easy way to generate a completely passive income of $4,417 per month even if they've never previously made so much as a single penny online before in the past.
The problem though is that in order to get access to it you have to firstly hand over some of your own hard-earned cash which is a common trait associated with get-rich-quick scams.
So you're probably wondering what's the deal with the Instant Passive System?
Is it actually legit & can it really enable you to earn as much as $4,417 passively per month like it promises or is it just another get-rich-quick scam to avoid?
Well, the good news is that you've landed in exactly the right place to find out as I myself have personally taken a closer look into this new system & in this honest Instant Passive System review, I'll be uncovering you need to know.
What Is The Instant Passive System?   |   How Does It Work?   |   The Problems   |   The Hidden Costs   |   Is The Instant Passive System a Scam?   |   A Better Alternative
What Exactly Is The Instant Passive System?
As the name suggests, the "Instant Passive System" is a system that can supposedly provide you with an instant source of passive income… But I can tell you right from the off that's an extremely bold claim.
I mean think about it, if there was really a system that could provide you with an "instant passive income" of $4,417 like the Instant Passive System claims it can then everybody in the world would be using it… And they're not.
You see the truth is that yes, you can indeed make good money online however whilst the internet is great it is not magical & it'll never see you earning lots of money for doing little to no work… That's just a pipe dream.
Instead, if you really want to make good money online you must be prepared to put in the work to make it happen. There's no such thing as a "free lunch" and any programs promising to make you rich with little to no work are just trying to trick you.
They're basically what's known as get-rich-quick scams.
The good news though is that if you are prepared to put in the work then there are legitimate places like Commission Academy that'll show you exactly how you can get started.
But back onto the Instant Passive System, if we disregard the overly bold claims as just "marketing hype", is there any substance at all behind the method?
I mean sure, we've established that you're not really going to be able to make an instant passive income with it, – but you can make any money at all with it or is the Instant Passive System just a scam?
Well, let's take a closer look into how it all works to find out…
How Does The Instant Passive System Work?
In short, the Instant Passive System is geared around teaching people how they can set up their own "traffic selling" business online… And it's technically legit, but there are some BIG problems which will mean you likely won't find yourself actually making any money with it.
First though before I touch on that I'll explain a little more about the concept in case you have no idea what a "traffic selling" business actually is.
So basically there is something every online business needs in order to make money & that's traffic… But what is traffic? Well, essentially it's just the name given to the people that visit websites.
Without people visiting your websites & seeing your offers, you can't make any money as an online business owner… So traffic truly is the lifeblood of any online business – and naturally, therefore, traffic is in high demand. Every online business owner wants more of it.
So the idea with the Instant Passive System is that Anthony Rousek (the system's founder) will teach you how to generate traffic & will then teach you how to sell it to online business owners for a profit.
Specifically, he'll teach you how to generate traffic using something called Google Adwords, which is where you essentially pay money to have your links featured within the Google search results.
Here's an example of an Adwords ad listing in the Google results:

So here's a quick rundown of how it works (in theory):
You charge online business owners an amount per visitor (e.g. $1 per visitor)
You pay Google Adwords to have your links featured in the Google search results
You send the people that click on your links to the business owners websites (providing them the visitors)
You make a profit from what you spend vs what you get paid
But Here Are The Problems…
Firstly, PPC through Google Adwords is a VERY expensive game which means 2 things… It'll mean that you'll need a huge budget to start out (I'm talking thousands upon thousands of dollars) & it'll mean that the traffic you're selling will also be expensive, making it hard to sell.
Plus PPC through Adwords is also a pretty darn risky game too because there are so many factors which can affect the cost & quality of your clicks. This means that making a profit isn't quite as straight forward as the Instant Passive System makes it seem.
And not only is it not as straight forward, but it's certainly FAR from passive because PPC campaigns will need constant monitoring to make sure that you're getting the best possible clicks for the lowest possible price.
So basically whilst the Instant Passive System makes everything out to be really easy, in reality, it's not & the truth is that you'll probably find yourself to be much more likely to end up losing money than you will be to find yourself making it.
Instead, the only person that'll really be profiting will be Anthony Rousek & he'll be doing that by tricking you (and others) into signing up for his course…
I mean think about it, if his method really worked as well as he claimed then why has he decided to sell it? Why doesn't he just keep on using it to earn himself money instead? And if he just wants to do it to help other people then why doesn't he give it away for free?
Clearly his method doesn't work quite as well as he claims & he's really just making his money off the back of selling it onto others (who'll then just find out the hard way that it doesn't really work as promised).
You Might Also Like:
You're led to believe that the Instant Passive System is just a mere $1 to get started with, then $7 after the first 2 days… However, that's not really quite true. There's actually a lot more costs involved.
The additional costs of course, as is typical with WarriorPlus products all come in the form of upsells – and whilst the upsells are said to be "optional" you're heavily pressured into purchasing them & led to believe that you won't find success unless you do.
And those additional upsells are as follows:
Affiliate Blueprint – $27
Google PPC Success Kit – $47
Done For You Service – $97
Coaching – $197
So, all in all, that means the "full" Instant Passive System will cost you around a whopping $376, which I think you'll agree is a heck of a lot more than the initially advertised fee of just $1 + $7 after 2 days.
The only good news here is that as it's sold through WarriorPlus you should be able to get your money back if you happen to contact WarriorPlus directly with your request as I believe they usually offer a 30-day refund policy.

But anyway I think I've said enough about the Instant Passive System which brings me onto…
My Verdict – Is The Instant Passive System a Scam?
Well, it's not a "scam" as such since you do actually get access to some relatively good training on Google Adwords inside of the program which has been put together by Anthony Rousek (as shown below):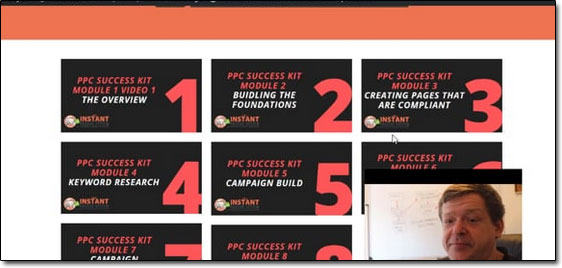 However, the problem is that in my opinion, the whole thing is just way too misleading & so for that reason even though it's not technically a scam I'm still not going to be recommending it to you.
As far as I'm concerned there's just no way you'll actually find yourself making money with it, and especially not if you're completely new… You'll likely just find yourself spending money (and potentially lots of it) instead of actually making it.
Plus the promises of it being "instant" and "passive" are completely misleading too. There's NO way you'll make instant money with the Instant Passive System & there's certainly no way it'll provide you with a passive income – it'll actually take a lot of work.
Instead, if you're new and you really want to make good money online & are willing to put in the work that's required to make it happen then I would urge you to check out something like affiliate marketing instead.
Affiliate marketing is, in my opinion, the best way to earn good money online & it's actually the same way that I personally earn most of my own money online… Plus the other benefit is that the amount you can earn with it is totally uncapped. The harder you work, the more you can earn.
Anyway if that interests you & you'd like to learn more about it or get started with it then I'd recommend you check out Wealthy Affiliate before you go.
And you can also check out all of these other great ways to earn online too.
But whatever you decide to do I just sincerely hope that my honest review of the Instant Passive System here has given you a good insight into what you can expect from it & I hope it's helped you to save some money.
If you still happen to have any further questions or comments though then, of course, don't hesitate to leave them below & as always I'll respond as quickly as I can. 🙂
A Better Alternative
The sad truth is that unfortunately most of the programs promising to help you make money online are scams. I can say that confidently after exposing over 500+ of them here on this blog.
But the good news is that even though most of them are indeed scams, there are actually some very good programs in amongst them - some programs that can truly help you to earn money.
And out of all of the legit programs I've seen, the one I would recommend the most to anybody looking to get started online is Commission Academy. In my own opinion, that's the best place to start.
At Commission Academy, you'll be provided with everything you need (including the training & tools) to begin earning real money by promoting products or services for companies like Amazon online.
The best part is that there's literally no limit on the amount you can earn with it & the process is pretty simple which means that it's absolutely perfect for people that don't have much experience.
Some wealthy affiliates even earn as much as 5-figures per month... Or more!


I mean don't get me wrong, that kind of money won't just fall into your lap without doing any work... But the harder you're willing to work at it, the more you stand to earn with it.
So if you're looking to get started but don't know which route you should go down or which program you should join (and don't want to waste money on bogus things that don't actually work), then I'd highly recommend checking out Commission Academy first. You can learn more about it here.