Is Lucktastic a scam? That's what several of my blog readers have been asking me lately so I've decided to personally take a look into Lucktastic to find out once & for all what it's all about & whether or not it's legit.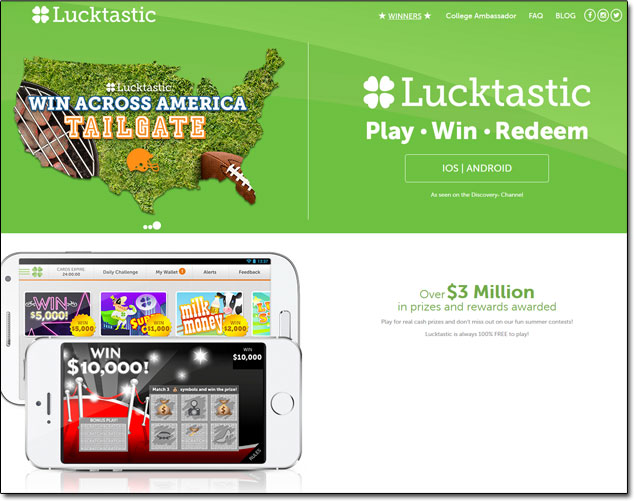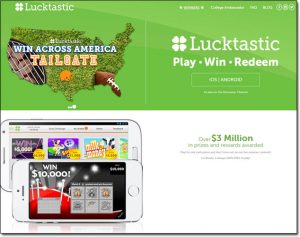 And just in case you've landed here by accident & have no idea what Lucktastic is, it's basically a free-to-join scratch-card app for Androids & iPhones that pays out (or should I say "supposedly" pays out) it's members in real cash prizes.
So once again – a free-to-join app that lets you scratch a scratch-card each day & have the chance of winning real cash prizes of between $1 to $100 (and also $5,000/$10,000 but there's a bit of a catch for those as I'll explain further on).
Sceptical? I don't blame you! Luckily though if you've been thinking about joining then you've landed in the right place though because in this honest Lucktastic review I'm going to be uncovering everything you need to know about the company & figuring out if there's actually any truth behind the Lucktastic scam rumours.
What Is Lucktastic?   |   Is Lucktastic a Scam?   |   The $5,000 & $10,000 Draws   |   Final Verdict – Is It Worth It?   |   A Better Alternative
What Is Lucktastic?
So as I touched on above Lucktastic is basically an online gaming app for Android/iPhones whereby each day you can sign in & scratch off a scratch-card with the opportunity to win real money, but the difference here with Lucktastic is that unlike any other traditional gambling site it's completely free.
Well technically you actually win tokens which can later be redeemed for real money or rewards but hey I'm sure you catch my drift.
So this obviously leaves most people wondering where the money comes from – because if everybody is playing for free then how the heck can they afford to pay people out when they win?
Well, that's where there's a bit of an issue which I'll talk more about in a second but first let me tell you where the money is supposed to come from…
Firstly there's a bit of a catch & that's the fact that in order to use the Lucktastic app you must reside in the US because their revenue is actually generated through advertising rather than gaming fees.
So whereas with a traditional gaming site you'd be asked to deposit money to play, instead, at Lucktastic you're asked to view an advert before you can proceed to the scratch-card – when you do, they then get paid by the advertiser & that money is used to fund your gaming.
…supposedly.
This also means that the more tokens you put into play the more adverts you'll have to view before you can scratch the card since Lucktastic will need to drum up more revenue to afford the potential payout.
Is Lucktastic a Scam?
There's been a lot of rumours going around online that Lucktastic is a scam with several people claiming that they've been playing regularly for months on end (some have even claimed to have played it for years) with absolutely nothing to show for it.
Below you can see a few of these comments that I've screenshot from elsewhere on the web:

In among the negative reviews, there are a few good ones, but the majority of which all claim to have either won $1.25 or a suspiciously large amount. Some people have suggested that Lucktastic give winnings of $1.25 to their new members purely to get them hooked on playing – whether that's true or not I don't know but it's certainly coincidental how so many people seem to have won this same exact amount.
To Be Honest, I'm Leaning Towards Legit, But…
Firstly I know exactly what you're thinking – with so many negative reviews how can I possibly lean towards saying that Lucktastic is legit but hear me out…
Lucktastic is owned by a company named Jump Ramp Games which is based out of New York & let me tell you that when it comes to this sort of thing in the US they're pretty darn strict on regulations – so considering the fact that Lucktastic has been advertised on places like the Discovery Channel, for example, I think that if there was anything untoward going on they'd have probably been in hot bother by now…
I think the real issue isn't the fact that Lucktastic is a scam, but that they generate such low revenue from the advertising that the prizes are just so few & far between which is why there isn't a lot of success stories.
You see with me being an online marketer I can tell you a thing or two about online advertising & I know that in general advertisements pay very little. Advertisements that force you to view them pay even less… So if you were to compare them to a real gaming company who charge a fee to play I feel Lucktastic would be bringing in a lot less revenue overall…
And when you couple that with the fact that they're still paying out handsome prizes of up to $100 (and even thousands in the bigger draws) I think the probability of hitting a winning card is just pretty much next to none – hence why people aren't seeing winnings despite playing for such long periods of time.
So basically what I'm trying to say is whilst it might not necessarily be a scam, it probably kinda sucks… Unless you get stupidly lucky & hit the jackpot…
The $5,000 & $10,000 Draws
Since Lucktastic's revenue comes solely from advertising they really try & encourage daily play. One way they do that is by running 2 additional draws which give you the opportunity to win $5,000 & $10,000 amounts.
Basically to become eligible to scratch a card off in these draws you must have consecutively daily played for at least 5 days. Playing in the smaller draws every day for 5 days straight will get you the opportunity to scratch a $5k card and similarly 10 days straight will get you the opportunity to scratch a $10k card.
How often these are actually claimed I have no idea but I'd imagine very, very, very, very rarely… Especially considering its hard work to even find anybody that's claimed to have won more than $1.25?
You Might Also Like:
Final Verdict – Is Lucktastic Worth It?
Well, firstly I want to point out that I don't think Lucktastic is a scam, however at the same time I don't really think it's worth your time. Don't get me wrong it's completely free so if you do happen to live in the US feel free to download it & give it a try as there's nothing to lose but personally I wouldn't expect too much from it as the earning potential seems quite poor.
It's easy to get caught up on the idea of winning the big $5k or $10k jackpots but I think that's very unlikely, a more realistic expectation would be that you might be able to grab yourself a $5 gift card each month. The only issue with this is that in reality, that's pretty much on par with the amount you could earn from paid surveys & at least with those you know you're going to get money in return for your time rather than trying to win it, so potentially they could be a better option.
Then again if you're not too bothered about the money & are just looking for a way to have fun on your phone with the possibility of winning some cash at the same time (and potentially large amounts at that) then Lucktastic could be a good app for you to try out. Whilst the overall earning potential may be poor unless you really do have luck on your side there's no denying that it's exciting having that possibility of being able to win amounts of over $100+ without having to pay anything.
A Better Alternative
The sad truth is that unfortunately most of the programs promising to help you make money online are scams. I can say that confidently after exposing over 500+ of them here on this blog.
But the good news is that even though most of them are indeed scams, there are actually some very good programs in amongst them - some programs that can truly help you to earn money.
And out of all of the legit programs I've seen, the one I would recommend the most to anybody looking to get started online is Commission Academy. In my own opinion, that's the best place to start.
At Commission Academy, you'll be provided with everything you need (including the training & tools) to begin earning real money by promoting products or services for companies like Amazon online.
The best part is that there's literally no limit on the amount you can earn with it & the process is pretty simple which means that it's absolutely perfect for people that don't have much experience.
Some wealthy affiliates even earn as much as 5-figures per month... Or more!

I mean don't get me wrong, that kind of money won't just fall into your lap without doing any work... But the harder you're willing to work at it, the more you stand to earn with it.
So if you're looking to get started but don't know which route you should go down or which program you should join (and don't want to waste money on bogus things that don't actually work), then I'd highly recommend checking out Commission Academy first. You can learn more about it here.