A newly launched website named the Kryptonex Research Group has surfaced & it's promising to provide its visitors with access to an extremely lucrative investment in a new Swedish cryptocurrency named Kryptonex which can allegedly see them becoming guaranteed future millionaires…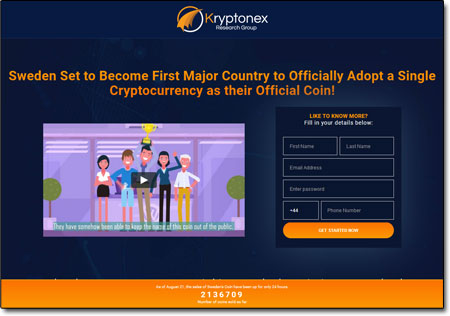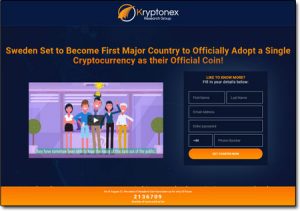 The website leads you to believe that the coin are currently being sold for under 1 Euro each & that in a mere months time they will be set to rise to a whopping value of 5,000 Euro per coin thus giving you the ability to 5,000x your investment.
But is it really true? Is the Kryptonex Research Group legit & will this new Swedish cryptocurrency really skyrocket in value like they claim? Or is the whole thing just a cunning scam to part you with your cash?
Well I'm glad that you decided to do your due diligence & came here to this Kryptonex Research Group review prior to investing because from the off I can tell you that it is NOT what it seems, in fact the whole Kryptonex coin thing is actually just a made up story as you'll soon see below…
What Is Kryptonex Research Group?   |   How Does Kryptonex Research Group Work?   |   Is Kryptonex Research Group a Scam?   |   A Better Alternative
What Is Kryptonex Research Group?
The Kryptonex Research Group is a newly launched website that ultimately in a roundabout way promises you that you'll be able to make a fortune in a short period of time by involving a new Swedish cryptocurrency named Kryptonex.
They even go as far as to claim that the Kryptonex coin will be the official coin of Sweden & that as a result it's certain to rise in value…

But have you ever heard about Kryptonex before?
You'll have likely heard about Bitcoin, but probably not Kryptonex… And the reason you likely haven't heard of Kryptonex despite it allegedly being so profitable to invest in & allegedly being the official cryptocurrency of Sweden is because it's actually made up.
Yep, Kryptonex is not real… It's just a made up name for a non-existent cryptocurrency.
And therefore as you can likely imagine the Kryptonex Research Group or Kyprontexlabs as they call themselves is not real either. As you'll soon see below the whole thing is actually just a cunning ploy to part you with your cash…
How Does Kryptonex Research Group Work?
The idea in theory is both simple & convincing. Kryptonex Research Group have discovered a coin that they predict will almost certainly skyrocket in value & they're giving you the heads up to invest in it.
They claim that right now the coin costs less than 1 Euro & that in just a mere months time it will be set to skyrocket to over 5,000 Euro per coin…
Naturally you'd likely want to rush to get in, and to get the coins to avoid missing out… After all you probably missed the Bitcoin one right? So you likely won't want to miss another… And that's exactly what the Kryptonex Research Group scammers are preying on.
The whole thing is actually just a phony website that's been setup to part you with your cash by tricking you into depositing with an unregulated binary options broker that the creator of the Kryptonex Research Group is affiliated with.
You see they lead you towards believing that the whole thing is risk-free, but that's not the case.
They want you to think that you can simply deposit with the broker, invest in the coins & that if it doesn't work out you can just sell them back off & recoup most (if not all) of your initial investment… But that's far from the truth.
Instead when you make a deposit with the broker you're not buying coins at all (because Kryptonex doesn't even exist). You're just putting $250+ into an account with an unregulated binary options broker, which you'll then be forced to trade.
And binary options is basically rigged so that you'll lose all of it.
I have never, ever, in all my years online seen anybody manage to make sustainable profits with binary options. And those that have "allegedly" made profits have then simply been blocked from making a withdrawal.
It's so bad that even Forbes warned about the dangers of binary options as shown below: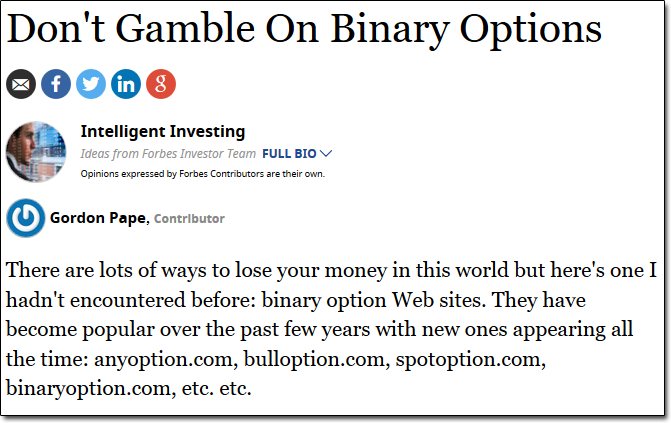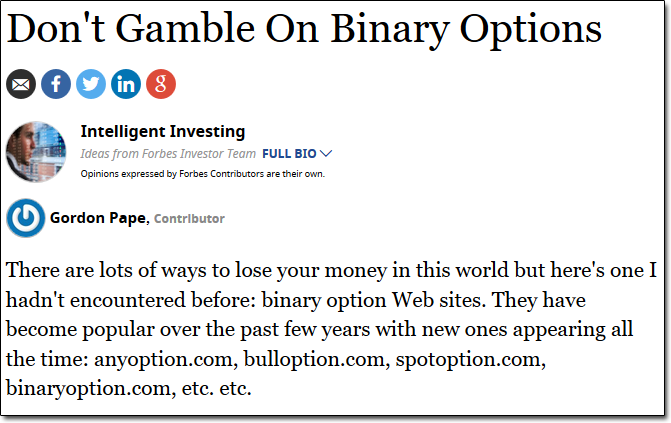 But yeah, basically the Kryptonex Research Group website is all just a ploy to trick you into depositing with the broker so that the creator of it can earn at your expense as he gets paid a commission when you deposit.
It's all just a bunch of lies to make you think you'll make money so that the creator can earn money by tricking you into depositing instead. Not a single word that's said on the Kryptonex Research Group website is true.
And one of the easiest ways to see for certain that it's phony is to take a look at the counter on the very bottom of the Kryptonex Research Group website – the counter that shows how many coins have allegedly been invested in.
Initially upon landing on the website it says that 2130562 coins have been invested in & as you spend time on the webpage the counter rapidly increases as more & more people are allegedly investing (encouraging you to make a rash decision).
However if you refresh the webpage you will see that the counter once again reverts back to its initial starting point of 2130562 & that's because it's a phony. Nobody is really investing in the coins at all.


Which brings me onto…
Is Kryptonex Research Group a Scam?
Yes absolutely, there's no doubt about it. The Kryptonex cryptocurrency coin doesn't even exist & the whole thing is just a blatant ploy that's been put together to get you to deposit with an unregulated broker so that the creator can earn a commission at your expense.
You will NOT make any money as a result of investing via the Kryptonex Research Group website, instead you will just lose your money as it'll end up tied up with an unregulated broker who'll likely refuse to let you get it back.
Unfortunately though the creator of the Kryptonex scam has done a good job at putting together a convincing website & the ploy is a clever one in that it plays on the fact that people will not want to miss out. In fact it wouldn't surprise me if some people even go ahead & still invest after reading this review purely due to the fear of "potentially missing out".
Just let me reassure you one more time though, you will not miss out because Kryptonex is 100% not real.
And regardless, investing in any cryptocurrency is extremely risky. In my opinion there are many better legitimate & proven ways to make good money online which you can learn more about on my top picks page here.
One of the best methods I've personally come across (and the same method I use to generate most of my income online) is something called affiliate marketing which is where you promote products/services in return for commissions.
The great thing about affiliate marketing is that your earnings are totally uncapped & thanks to platforms like Commission Academy it's easy to get started with so I'd definitely highly recommend checking it out if you're serious about making good money online.
But whatever you decide to do I just hope that my review of the Kryptonex Research Group here has given you a good insight into how it all really works & hopefully you can now see that it's not really legit. Feel free to leave any comments or questions below. 🙂
A Better Alternative
The sad truth is that unfortunately most of the programs promising to help you make money online are scams. I can say that confidently after exposing over 500+ of them here on this blog.
But the good news is that even though most of them are indeed scams, there are actually some very good programs in amongst them - some programs that can truly help you to earn money.
And out of all of the legit programs I've seen, the one I would recommend the most to anybody looking to get started online is Commission Academy. In my own opinion, that's the best place to start.
At Commission Academy, you'll be provided with everything you need (including the training & tools) to begin earning real money by promoting products or services for companies like Amazon online.
The best part is that there's literally no limit on the amount you can earn with it & the process is pretty simple which means that it's absolutely perfect for people that don't have much experience.
Some wealthy affiliates even earn as much as 5-figures per month... Or more!

I mean don't get me wrong, that kind of money won't just fall into your lap without doing any work... But the harder you're willing to work at it, the more you stand to earn with it.
So if you're looking to get started but don't know which route you should go down or which program you should join (and don't want to waste money on bogus things that don't actually work), then I'd highly recommend checking out Commission Academy first. You can learn more about it here.