Level Rewards has been getting talked about a LOT lately online & many of the people promoting it claim that it's the answer to making easy money from the comfort of your own home… But just what is Level Rewards? And how does it all work?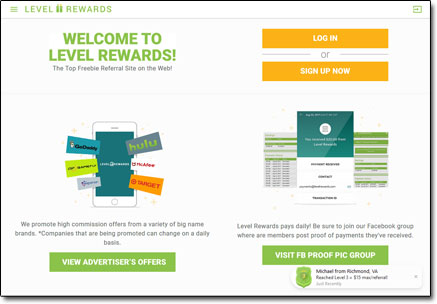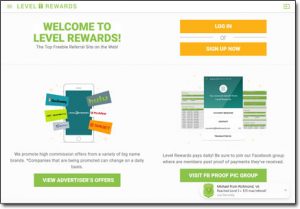 The official website states that it's allegedly the "top freebie referral site on the web" – but if it's truly free then how are people making money with it? And with that being said, is it actually legit or is Level Rewards a scam that'll just end up costing you instead?
Well thankfully you've landed in the right place to find out the answers to all of those questions as I've personally taken a closer look into it & in this honest Level Rewards review I'll be uncovering the REAL truth that they don't want you to know, as well as outlining whether or not the whole thing's really worth your time at all. So keep on reading to find out everything you need to know!
What Is Level Rewards?   |   How Does Level Rewards Work?   |   Is Level Rewards a Pyramid Scheme?   |   Why You Probably Won't Make Money   |   Is Level Rewards a Scam?   |   A Better Alternative
What Is Level Rewards?
In short Level Rewards is a big referral program that's geared around something called incentivized offers (which I'll explain more about in a moment). So the idea is that somebody gets you to sign up, then you earn by getting others to sign up…
This means that the whole thing is literally about recruiting as other than doing that there isn't actually any other way you can earn money with the platform.
And whilst Level Rewards repeatedly stresses that it's not a pyramid scheme – it certainly comes close & in my opinion it "kind of" is… But they manage to get around it on a bit of a technicality.
Again I'll explain more on that in a moment when I dig deeper into how it works, but here's the basic concept for now:
Somebody gets you to join Level Rewards – likely by telling you how great it supposedly is
You get inside & realize that you have to get to "Level 1" to earn
To get to Level 1 you have to earn points by completing "free" offers/trials (many of which require a bank/credit card)
Then once you've reached Level 1 you're told you can promote it & earn by getting others to do the same
However there's a bit of a catch here in that there are actually 5 levels inside of Level Rewards & you can only earn commissions from the ones that you're personally levelled up to yourself.
So for each member you refer you get paid $5 for each level that they complete… So if they complete all 5 levels then you earn $25 (providing you too are on level 5 yourself)… But if you're not on level 5 yourself, and let's say you're just on level 1, then you'd only earn $5 from them… Even though they completed all 5 levels.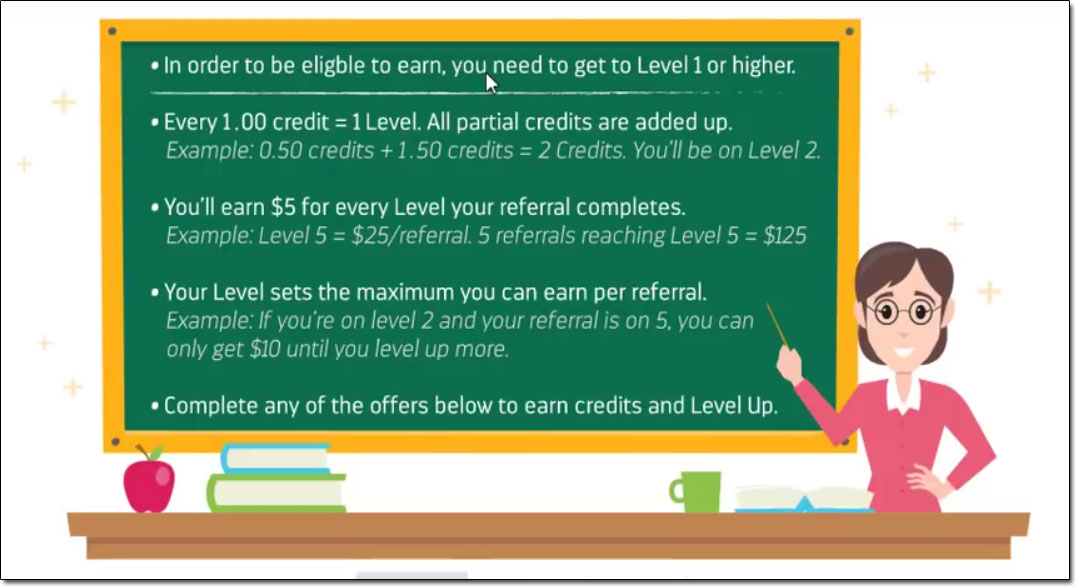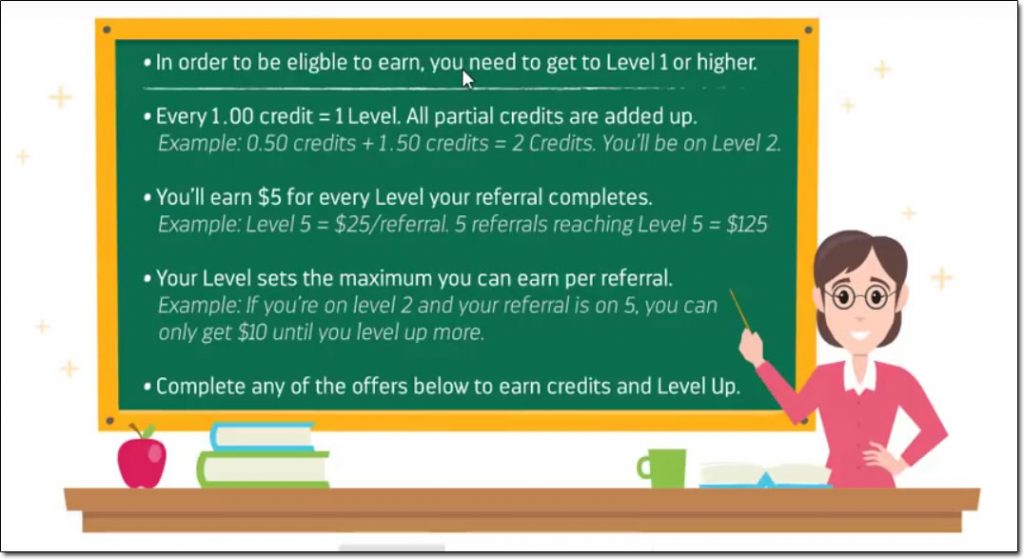 Therefore you're almost forced to complete a whole bunch of offers in order to get to level 5 to avoid missing out on any of these commissions & as you'll see in a moment when I delve deeper into how it works that's how it could end up actually costing you big time!
How Does Level Rewards Work?
So first things first, no doubt if you've come across Level Rewards you've come across it via someone that's been pretty persistent in trying to get you to join up, specifically via their referral link… And the reason for that is because that's how everyone's really making money from the whole thing.
But anyway, as you've likely already been told signing up for an account with Level Rewards itself is actually free…
This has probably made you pretty sceptical about it though because how can they afford to be paying out commissions to their members if everything's supposed to be free like they claim?
Well the TRUTH is that everything is not free – in fact Level Rewards could end up costing you a lot of money.
The reason for that is because Level Rewards generate its money from advertisers – specifically through something called incentivized offers. So these advertisers pay Level Rewards for getting people to sign up to their websites, apps & offers.
And the way Level Rewards get you to sign up to these things is by awarding you credits for them which you need if you wish to level up in the program (which you MUST do if you want to be able to earn anything).
Without completing the offers you can't earn anything yourself so basically you're forced to complete at least Level 1 – and then you're massively pushed into completing the remaining 4 levels too.
That could see you completing hundreds of offers – and most offers require a bank card or credit card for completion which you guessed it, will result in you being charged if you forget to cancel the trial.
And guess how easy it is to make sure you've cancelled hundreds of trials? Not very! Especially since you're required to keep the trial active for at least between 70% and 90% of the trial period in order to get credited for completing the offer.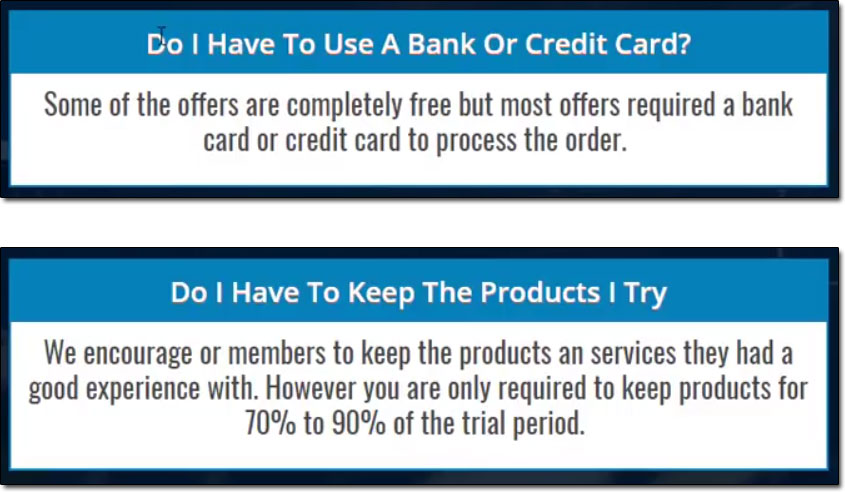 So yeah… It might "technically" be free if you manage to cancel everything but it's clear that the way they're making their money is by hoping that people will forget or struggle to cancel resulting in them being billed.
Is Level Rewards a Pyramid Scheme?
If you've found yourself asking this question then good on you, it's a very valid question when something seems to have a primary focus about signing up & then getting others to do exactly the same…
After all the last thing you would ever want to do is find yourself part of a pyramid scheme…
And when you come across comments like the ones shown below (screen-shotted from the Level Rewards Facebook group) it could be quite easy to think that Level Rewards is just a pyramid scheme: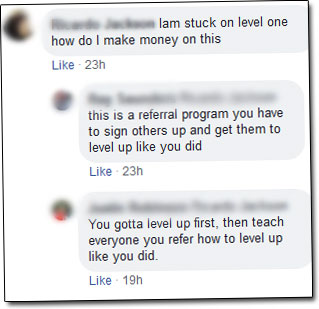 But Level Rewards repeatedly stresses that it's NOT a pyramid scheme & so do the people promoting it… But how can that be true? A focus on recruiting is what makes something a pyramid scheme right?
Well yes – but only when there's money involved which is being passed from member to member… And this is where Level Rewards kinds of gets away with it on a sort of "technicality".
You see Level Rewards isn't taking money from any of the members – at least not directly. It's getting paid money from the advertisers (who are potentially getting paid from the members that forget to cancel their trials) – and then this is the money that's getting paid to members.
So the money is coming from advertisers, not the members… However the advertisers are obviously hoping to earn from the members as ultimately that's the reason they're paying Level Rewards in the first place.
Therefore in short it's NOT a pyramid scheme, but it does certainly come close & it's easy to see how there could be a lot of confusion surrounding this which is why I decided to take a moment to clear it up.
You Might Also Like:
Why You Probably Won't Make Money…
The truth is that whilst Level Rewards is made to seem easy the average Joe who's not an online marketing expert probably won't really make much money with it. The reason for that is because it all comes down to promoting it…
If you don't know how to effectively promote it online then you'll struggle to get people to sign up – and not every person that signs up will actually complete the offers which means in reality you'll need quite a lot of people in order to earn any sort of substantial amount of commissions.
I mean sure you might be able to make an extra $5 or $10 from this by getting a few friends or family members to sign up but that'll probably be all you'll see for it… And there are many easier ways to make that kind of money online.
And also if you do feel confident in being able to promote it, then I have to point out that there are plenty of other things you could promote instead that would pay you much more handsome commissions.
For example you could just sign up to some affiliate networks & find products that pay $100+ per new member… That's the same way I make my own money online & if you're interested in learning more about affiliate marketing instead (which pays way better) then be sure to check out Wealthy Affiliate as it's there that you can get started for free.
Anyway with that being said I think it's time for…
Is Level Rewards a Scam?
Well no, it's not really a scam in any way – but ultimately whilst it claims to be "free" you could quite easily see yourself getting caught out by some of the trials & finding yourself getting billed from a whole bunch of different places…
Plus on top of that it's not actually very easy to make money with Level Rewards because to make any sort of decent income with it you'd need to get a whole bunch of people to sign up & unless you're an expert at online marketing that likely won't be such an easy task.
So therefore overall whilst you can potentially make money with Level Rewards I am not going to be recommending it to you because I personally believe that for most people the risk of getting billed far outweighs the possibility of making money… Meaning it'll likely ending up costing you money as opposed to actually helping you make it.
And like I also mentioned a little earlier in this Level Rewards review there are actually many better places that you can use to make good money online which you can check out on this page right here.
Or alternatively you could check out the method I personally use to make money right here (which in my opinion is the best).
But whatever you end up deciding to do I just sincerely hope that my review of Level Rewards here has given you a good insight into how it really works & hopefully you can now see why it might not be so great as it seems on the surface. If you do still happen to have any further questions or comments though then don't hesitate to leave them below & as always I'll do my best to get back to you as soon as I can.
A Better Alternative
The sad truth is that unfortunately most of the programs promising to help you make money online are scams. I can say that confidently after exposing over 500+ of them here on this blog.
But the good news is that even though most of them are indeed scams, there are actually some very good programs in amongst them - some programs that can truly help you to earn money.
And out of all of the legit programs I've seen, the one I would recommend the most to anybody looking to get started online is Commission Academy. In my own opinion, that's the best place to start.
At Commission Academy, you'll be provided with everything you need (including the training & tools) to begin earning real money by promoting products or services for companies like Amazon online.
The best part is that there's literally no limit on the amount you can earn with it & the process is pretty simple which means that it's absolutely perfect for people that don't have much experience.
Some wealthy affiliates even earn as much as 5-figures per month... Or more!

I mean don't get me wrong, that kind of money won't just fall into your lap without doing any work... But the harder you're willing to work at it, the more you stand to earn with it.
So if you're looking to get started but don't know which route you should go down or which program you should join (and don't want to waste money on bogus things that don't actually work), then I'd highly recommend checking out Commission Academy first. You can learn more about it here.