Well, firstly I'd like to say that the award for the money-making system with the weirdest name I've come across so far certainly goes to the Martin Make Money Profit System, which is a system claiming it can show it's members how an Architect built a recurring online income of $2.5k in 1 week.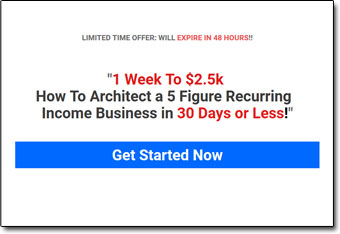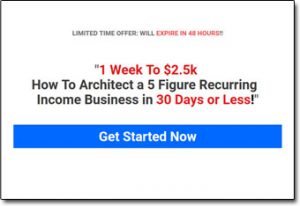 However upon landing on the website of the Martin Make Money Profit System I was immediately sceptical as it almost identically resembles a system I recently came across named The Rexa Mega Earning System (another weirdly titled system) which turned out to be a complete scam.
So are we looking at yet another scam here with Martin's system? That's exactly what I intend to find out in this review where I'll be taking a closer look at the system to find out exactly what it's all about.
What Is The Martin Make Money Profit System?   |   How It Really Works   |   The Bottom Line   |   A Better Alternative
What Is The Martin Make Money Profit System?
Well, firstly it's a mouthful I know that for sure – but the Martin Make Money Profit System claims to be something that can show you the secret to generating recurring profits of $2.5k online in just 1 week.
A bold claim indeed!
However aside from that claim, there isn't a great deal else to be found on the website, in fact, it's actually pretty blank. One thing there is though is a big "Get Started" button which once clicked prompts you for your name & email address.
Naturally, you're probably quite hesitant to give your name & email away to such a peculiar website, so for that reason, I gave them mine instead to see what was on the other side…
It Doesn't Get Much More Exciting…
After entering my name & email address as per my initial suspicion it became apparently clear that this system is identical to the Rexa Mega Earning System which I've just recently reviewed here.
Whilst this system is not technically a scam, it is not something that will make you money either. It's simply been designed by the creator to make himself (or herself) as much money as possible at your expense.
So after entering your email address you're told that "the goodies have been sent to your inbox" and that while you wait you can check out a number of free bonuses, but just like with the other system these bonuses are not really bonuses.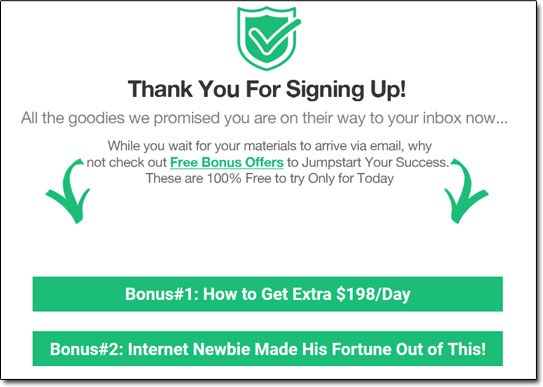 They're basically just various other similar make-money systems & they're not free at all. If you decide to click on any of them & end up signing up the creator of the Martin Make Money Profit System will earn a commission at your expense for referring you.
How It All Really Works…
As I mentioned above this system has been designed with the intention of making it's creator wealthy, not you. He (or she) has created this website in an effort to collect as many email addresses as possible so that he/she can make lot's of money by spamming people with promotional emails selling things.
So if you enter your email address into the Martin Make Money Profit System then the chances are in the coming days or weeks your inbox will begin getting filled with spam make-money type emails.
Usually, there will be an unsubscribe link somewhere in the email which I'd recommend you use to get your email off the list, but sometimes dishonest marketers don't honour these requests or simply don't even include them.
But it doesn't end there because as I also mentioned above there is a "thank-you" page which contains several so-called bonuses which are just blatant attempts to squeeze even more money out of you by trying to get you to buy into even more different things that the creator is affiliated with.
You Might Also Like:
The Bottom Line
It's clear to me that this system isn't genuine & the offers you're being sent to are actually completely random so for those reasons I won't be recommending this system to you, in fact, I'll actually be advising you stay away from it.
Whilst it is possible to make money online these types of systems give the whole thing a bad reputation because they make people feel like everything is a scam when in actual fact it's not. If you're still looking for a legitimate way to make money online then this is the place I recommend you get started.
Through the website, I've just recommended you'll learn about something called affiliate marketing which is a genuine way to make money online. Through affiliate marketing, you'll be able to earn commissions by promoting products for third-party companies (like Amazon) & it's a really good way to make money – you can potentially take it full-time as I have too.
So hopefully this review gave you a good insight into how the Martin Make Money Profit System actually works & hopefully you can see why I've decided to advise you steer clear of it. If you have any additional comments or questions feel free to leave them below.
A Better Alternative
The sad truth is that unfortunately most of the programs promising to help you make money online are scams. I can say that confidently after exposing over 500+ of them here on this blog.
But the good news is that even though most of them are indeed scams, there are actually some very good programs in amongst them - some programs that can truly help you to earn money.
And out of all of the legit programs I've seen, the one I would recommend the most to anybody looking to get started online is Commission Academy. In my own opinion, that's the best place to start.
At Commission Academy, you'll be provided with everything you need (including the training & tools) to begin earning real money by promoting products or services for companies like Amazon online.
The best part is that there's literally no limit on the amount you can earn with it & the process is pretty simple which means that it's absolutely perfect for people that don't have much experience.
Some wealthy affiliates even earn as much as 5-figures per month... Or more!


I mean don't get me wrong, that kind of money won't just fall into your lap without doing any work... But the harder you're willing to work at it, the more you stand to earn with it.
So if you're looking to get started but don't know which route you should go down or which program you should join (and don't want to waste money on bogus things that don't actually work), then I'd highly recommend checking out Commission Academy first. You can learn more about it here.