Somehow I just happened to land on the website of the Rexa Mega Earning System, which claimed it could show me the same 3 simple methods that a former food cashier now uses to make $1580-$2000 per week online.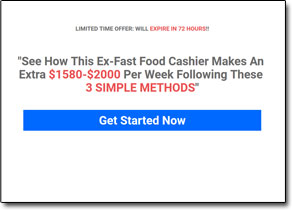 Other than that it didn't really say much else – in fact, the website was actually kinda blank so I got curious as to what it was all about & entered my email address to find out.
Now I'm putting together this review of the Rexa Mega Earning System to show you exactly what I discovered, so if like me you've also come across this system then rest assured you're in the right place to find out everything you need to know about it (without having to enter your email).
What Is The Rexa Mega Earning System?   |   What Happens After Submitting Your Email?   |   The Truth   |   The Bottom Line   |   A Better Alternative
What Is The Rexa Mega Earning System?
The Rexa Mega Earning System isn't like any of the other systems I've reviewed before, in fact, it's actually quite a peculiar little website. It's basically just a blank page with a short story about a food cashier who supposedly learned how to make $1580-$2000 per week online by following "3 simple methods", along with a button for you to get started.
The website does leave you quite curious though so naturally you'd probably hit the get started button to see what it's all about, but when you do you'll find you're asked for your name & email address… 2 things you might not want to give away to such a random website.
From here it became clear to me what this page is – in the online marketing world this is what's known as a capture page & it's a page that's been put together with the sole intention of getting your contact details so that the creator can send you promotions.
Some capture pages are legit & the creators will use your contact details responsibly by sending you only the information you requested, but others like this one will leave your inbox bombarded with spam.
What Happens After Submitting Your Email?
After entering your email address you're taken to another page which once against doesn't really contain anything exciting. You're simply presented with a message that says "the goodies are on their way to your inbox" (the report about the food cashier I assume) and below that you're presented with a bunch of so-called bonuses.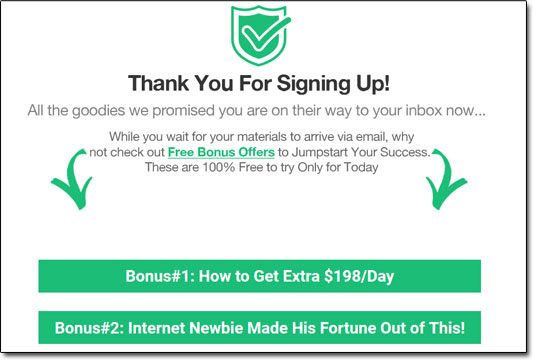 But don't be fooled, these bonuses aren't really bonuses – they're just various other affiliate marketing offers & they actually cost money. The creator of this system has just listed them there to squeeze as much money out of you as possible by hoping that you might click on one of them & buy into it.
These so-called "bonuses" are actually entirely random, and if you visit the page later in the day you will most likely see that these same links take you to different pages. At first, that left me confused but then I figured out what's going on.
Here's What's Really Happening…
Realistically this system has been designed to make nobody money but it's creator, and no doubt it's probably actually making the creator quite a lot of money – but that will be all at your expense.
Basically, the creator of this system has launched it purely with the intention of collecting as many email addresses as possible, because by collecting email addresses he or she can make money (and lot's of it) by sending promotional emails out to people selling things for commissions.
Then he (or she) has come up with the idea of making even more money by selling advertising slots on the "thank you" page of the website, so for the creator, it's an absolute win-win situation…
If you decide to actually buy into the system then that's when you'll realize that the product is basically just the opportunity for you to get a copy of the Rexa Mega Earning System website for yourself.
The problem with this is that the creator of the actual system is making good money from it because he is an expert email marketer & he knows exactly what products to promote to make money. If he was to hand you a copy of the system you would struggle to make any money whatsoever because unlike the creator the chances are that you are probably not a marketing expert.
Basically, you cannot make money with just a website alone, you need to know how to market & promote it so whilst the creator can give you a copy of his profitable website he cannot actually give you a copy of the profits.
You Might Also Like:
The Bottom Line
It's clear to me that this system has been built purely with the intention of making the creator rich & the person behind it doesn't really care as to whether or not you make money as a result of buying into it – for that reason, I won't be recommending you join this system.
There's been a lot of Rexa Mega Earning System scam rumours circulating the internet & in my opinion, they are kind of true. Whilst the system may not be an outright scam in the sense that it unwillingly parts you with your cash, in my opinion, you're given a lot of false claims & if you do happen to buy into something as a result of going through this system the chances are you will be disappointed.
In my opinion, if you're looking for a legitimate way to build an income online then you should follow a system that has a solid reputation for helping people find success like this this one here which is actually my number 1 recommendation for anybody looking to get started.
So unless you are looking to part yourself with your cash I would avoid the Rexa Mega Earning System as sadly it has a clear motive which is just to make the creator rich at your expense.
A Better Alternative
The sad truth is that unfortunately most of the programs promising to help you make money online are scams. I can say that confidently after exposing over 500+ of them here on this blog.
But the good news is that even though most of them are indeed scams, there are actually some very good programs in amongst them - some programs that can truly help you to earn money.
And out of all of the legit programs I've seen, the one I would recommend the most to anybody looking to get started online is Commission Academy. In my own opinion, that's the best place to start.
At Commission Academy, you'll be provided with everything you need (including the training & tools) to begin earning real money by promoting products or services for companies like Amazon online.
The best part is that there's literally no limit on the amount you can earn with it & the process is pretty simple which means that it's absolutely perfect for people that don't have much experience.
Some wealthy affiliates even earn as much as 5-figures per month... Or more!

I mean don't get me wrong, that kind of money won't just fall into your lap without doing any work... But the harder you're willing to work at it, the more you stand to earn with it.
So if you're looking to get started but don't know which route you should go down or which program you should join (and don't want to waste money on bogus things that don't actually work), then I'd highly recommend checking out Commission Academy first. You can learn more about it here.