Melaleuca claims to be the worlds largest online wellness shopping club & the company gives people the opportunity to earn extra money by reselling the products themselves.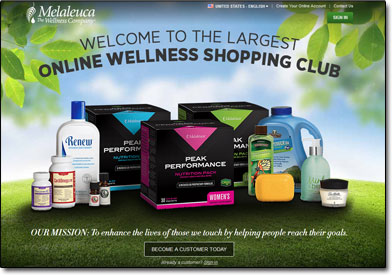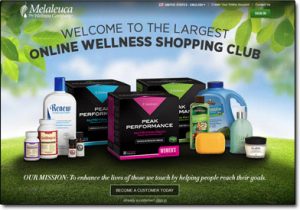 But is it actually legit? Or is Melaleuca a scam MLM that's merely set to part you with your hard-earned cash?
That's exactly what I'm going to be getting to the bottom of right here in this review and alongside that, I'm going to uncover what the company's all about, how the opportunity works & whether or not you can actually make any money with it.
Plus there seems to have been a lot of arguments about whether or not Melaleuca is an MLM – we've got distributors claiming it isn't (shock) and outsiders claiming that is, so I aim to settle that once & for all too.
What Is Melaleuca?   |   The Business Opportunity   |   How Do You Make Money With Melaleuca?   |   Is The Opportunity Worthwhile?   |   Is Melaleuca a Scam?   |   A Better Alternative
What Is Melaleuca?
Melaleuca, as I briefly touched on above is an online "wellness shopping club". They basically sell a whole bunch of products all which one way or another relate back to promoting general health & well-being.
Products include things like vitamins, meal replacements, skincare & beauty… etc. They also even include household things like cleaners, disinfectants & laundry detergent… So a wide variety to say the least.
However the immediate problem I noticed about Melaleuca is that you can't just browse through their website & buy something, instead, you have to become what they call a "Melaleuca Preferred Member" & you can't do this without contacting the person who referred you to the site.

But in my instance nobody referred me to the site – I just stumbled across it via an online search & so I was told to call their helpline for more information instead. I didn't do this since I don't genuinely want to purchase anything, but I guess that must kinda suck as a real customer?
And what's even more worrying is that in my opinion, this makes it seem like Melaleuca are putting a shift onto the attached business opportunity rather than the actual retails sales of the product themselves (which if they were, would be very bad news).
Which brings me onto my next point…
The Melaleuca Business Opportunity
Alongside selling (or supposedly selling) wellness-related products Melaleuca also give people the opportunity to earn extra money from home by signing up as a distributor & reselling their products for profit.
Now the immediate issue when it comes to the business opportunity is that they seem to keep it very secretive indeed – and the information that they did provide on their website (such as the income disclaimer) seemed to overly confusing.
I don't know about you but I like things laid out to me in simple terms, ie what will I be doing? how much can I earn? and what's the average most of the other people who join this business opportunity earn?
All I could gather from the 2016 income stats report was that the majority of the people that joined the business opportunity earned on average around $2,047 per year working 50 hours on the business – whilst only around 1% of those that joined were making a yearly average that would be enough to live off.
So whilst the business opportunity may provide you with a little extra cash, the first thing I'd like to say before I get into the specifics of it is that it's very unlikely that it's going to turn into anything full-time for you.
How Do You Make Money With Melaleuca?
To earn money through the Melaleuca business opportunity you first need to sign up as what they call a "Marketing Executive" & to do this you'll again need to get in touch with the member that referred you, just like you would do if you wanted to buy any of the products.
Through the Melaleuca compensation plan, you'll be able to earn commissions from both customers that were personally referred by you & customers that were referred by the Marketing Executives that you referred.
This, therefore, means that Melaleuca IS an MLM, as they're paying out commissions on multiple levels through their compensation plan. This, by definition, is exactly what multi-level-marketing is (hence the name) & you can see from the screenshot below that this is clearly stated within their compensation plan document: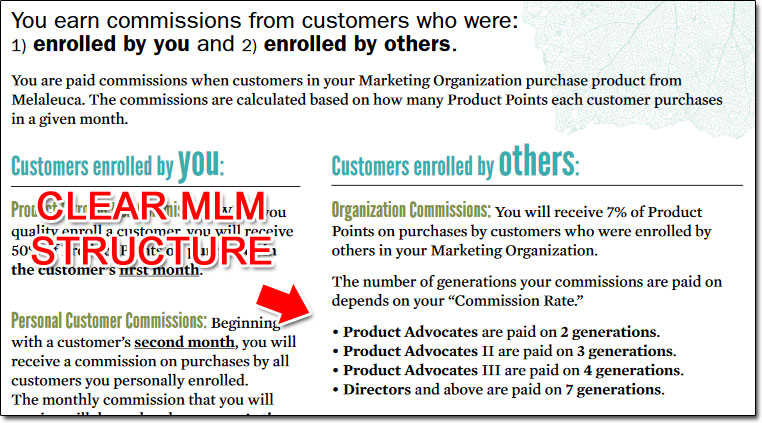 One thing I would like to add is that overall their compensation plan is extremely complex, and when I say extremely I really mean it. I've looked at hundreds of different MLM companies over the years & I've never seen such a lengthy, drawn-out compensation plan.
Whilst I would like to decipher the compensation plan & walk you through it I feel that due to its complexity I would definitely end up giving you some wrong information by accident, therefore if you wish to find out more about it I suggest you view it for yourself here.
The one thing I will add though is that as far as I could see (don't quote me) there is no cost in getting involved with the Melaleuca business opportunity which is very rare as usually network marketing companies require you to personally purchase products to sell in order to get started.
As far as I'm aware if you become part of the Melaleuca business opportunity then everything is handled through the website (without you having to personally order product) so you would simply hand over your referral code & your customers would be able to purchase things via your unique ID with you being credited for the sales.
Is It a Worthwhile Opportunity?
That's a very good question because disappointingly it seems that Melaleuca doesn't really want to give away a great deal about the opportunity, or even any of the products they sell, to be honest.
I mean I don't know about you but if I'm considering getting involved in a business opportunity then I certainly want to know what products I'm going to be able to promote, and the price of those products so I can see how they compare against general market value.
Melaleuca doesn't give you any of that information at all! Instead, they keep it completely hidden away unless you've been referred by another member which is something that I really don't like, and something that kind of makes me feel almost sceptical about the whole thing.
I mean if you've built a whole company up on products that you believe in & products that can help people improve their well-being then why on earth would you make them difficult to purchase? It just doesn't add up.
Whilst I don't really like MLM companies in general (because I hate the whole recruiting thing & lack of success), I dislike MLM companies that hide away from retail sales & put more of a focus on the business opportunity even more… Which it seems to me that this is exactly what Melaleuca is doing.
Plus from what I understand it seems that Melaleuca kind of run their opportunity like an affiliate program whereby you send your customers through the website to complete their purchases, so essentially if that's the case you may as well just forget about Melaleuca altogether & become… well an affiliate.
At least as an affiliate, you have the benefit of being able to promote products from ANY company that runs an affiliate program (like Amazon etc) rather than being a "Melaleuca Marketing Executive" & being solely restricted to promoting products sold by Melaleuca.
And affiliate marketing is something that in my opinion you'll be able to find much more success with, especially if you get started at Commission Academy which is a company that gives you literally everything you need to get started (for free).
You Might Also Like:
Is Melaleuca a Scam?
To be honest, I wouldn't go as far as to say Melaleuca is a scam, it's clearly a legitimate business opportunity that you could potentially make money from, but in my opinion, some of the practices are rather questionable.
And regarding the Melaleuca pyramid scheme rumours, well I do feel they put a stronger focus on the business opportunity side of things rather than the actual retail sales but the company has been going since 1985 so I think if it was actually a pyramid scheme then it would have been long gone by now.
But on the MLM front, there's no denying that Melaleuca is definitely an MLM… I just really don't understand why the company & their distributors are so strongly trying to deny it – it doesn't make sense.
Multi-level-marketing is exactly what it says on the tin, it's where you market a product/business opportunity & receive the ability to be compensated on multiple levels – as you are with Melaleuca. Their compensation blatantly states that you can earn commissions on multiple levels & there is just no arguing with the facts, it is what it is.
Anyway, as I said above I do believe Melaleuca is a legitimate program & I do believe you can make money as a distributor. I also like the fact that it seems to be free to get started as that's unusual for this type of business, but ultimately I won't be recommending it to you because of the questionable practices that I've just discussed above.
A Better Alternative
The sad truth is that unfortunately most of the programs promising to help you make money online are scams. I can say that confidently after exposing over 500+ of them here on this blog.
But the good news is that even though most of them are indeed scams, there are actually some very good programs in amongst them - some programs that can truly help you to earn money.
And out of all of the legit programs I've seen, the one I would recommend the most to anybody looking to get started online is Commission Academy. In my own opinion, that's the best place to start.
At Commission Academy, you'll be provided with everything you need (including the training & tools) to begin earning real money by promoting products or services for companies like Amazon online.
The best part is that there's literally no limit on the amount you can earn with it & the process is pretty simple which means that it's absolutely perfect for people that don't have much experience.
Some wealthy affiliates even earn as much as 5-figures per month... Or more!


I mean don't get me wrong, that kind of money won't just fall into your lap without doing any work... But the harder you're willing to work at it, the more you stand to earn with it.
So if you're looking to get started but don't know which route you should go down or which program you should join (and don't want to waste money on bogus things that don't actually work), then I'd highly recommend checking out Commission Academy first. You can learn more about it here.