Dawud Islam, the guy behind the Monkey Mailers program claims that Monkey Mailers can provide you with the "shortcut" to making money online FAST whilst you work on building your email list.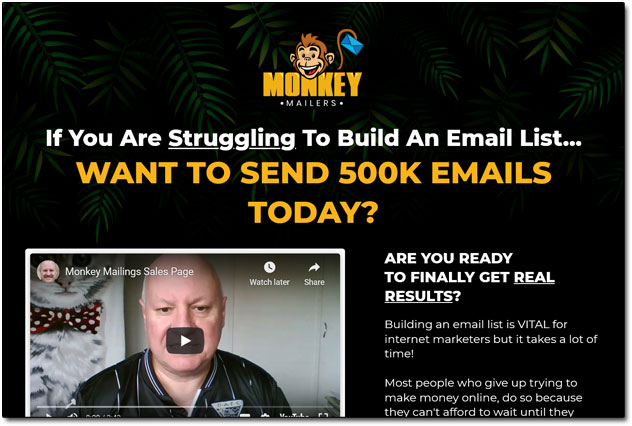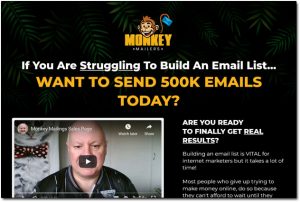 He admits that it's not possible to build an email list fast, but he states that he's found a way that you can send emails to over 500K people in a single day to begin generating profits.
All you need to do, of course, is hand over some of your own cash first in order to get access to the "secret".
And if you're new to online marketing (or have been struggling to get results) then it could certainly sound like a tempting offer, but in this Monkey Mailers review, I'm going to be uncovering why it's nothing but BS.
The only people who'll really be making money from Monkey Mailers will be Dawud Islam himself & his partner Paul Snelleksz. You'll see why in just a moment.
What Is Monkey Mailers?   |   How Does Monkey Mailers Work?   |  What Are The Costs?   |   The Big Problem   |   Is Monkey Mailers a Scam?   |   A Better Alternative
What Is Monkey Mailers?
Monkey Mailers is a program that has been put together by 2 guys named Dawud Islam & Paul Snelleksz, and it essentially promises to provide you with access to a way to begin making money online FAST.
However, unlike other email list programs, the Monkey Mailers program doesn't claim to help you build a list. Instead, it focuses on helping you to immediately send emails to the masses, even without a list.
Dawud Islam claims that he has discovered a "secret" method for sending mass emails to tens of thousands of people every single day, and more importantly, people that have actually opted in to receive your emails.
On top of that, he even claims that you can do it all completely free of charge.
Sounds good, right?
But in order to actually get access to Dawud's so-called "secret", you have to firstly hand over at least $14.95 of your own hard-earned cash & this is where things begin to get a little shady.
The whole "I have a great method to make money, you just need to pay me to access it" normally spells out SCAM.
But is Monkey Mailers a scam? Well, not quite – but as you'll see in the next section of this Monkey Mailers review as I explain how it all works, it doesn't really work as promised either.
How Does Monkey Mailers Work?
In short, Monkey Mailers doesn't really provide you with access to anything special. Instead, you just get access to 6 very basic training videos which are laid out as follows:
Welcome Video
Overview
Introduction
Your 15 Secret Sites
Resources
Conclusion
And the only videos that you'll really be interested are numbers 4 & 5.
In those videos, you'll discover the so-called "secret" method for being able to send emails to so many people, and that so-called "secret" is to simply join email swapping sites.
These are basically sites on which you agree to read emails from other people & earn credits for each of the ones that you read. Then, you can use your credits to send emails to others who have agreed to do the same.
But the problem here is probably pretty obvious right away.
The problem is that all of the people that are receiving the emails are people exactly like yourself. They're all sellers, not buyers, and they're not really interested in the emails that they're receiving.
They're only reading them so that they can earn credits to send their emails out to others in the hope of making some money just like you… But nobody is actually spending money.
And in reality, nobody is actually paying any attention to the emails either.
So it may technically be true that you can send tens of thousands of emails per day by using the Monkey Mailers method, but even so, you still won't find yourself generating any sales.
And what's more, most of the sites aren't even free like Dawud claims they are.
They're free up until a certain point, but they have limits & once you've exceeded them then you'll need to pay in order to continue sending emails… And of course, Dawud is affiliated with them meaning that when you do pay, he'll earn commissions at your expense.
Not cool.
Plus, Dawud doesn't even use this method himself… So it blatantly doesn't work.
If it really worked as he claims, then ask yourself, why would he waste time creating & publishing reviews to YouTube each day in order to generate traffic as shown below?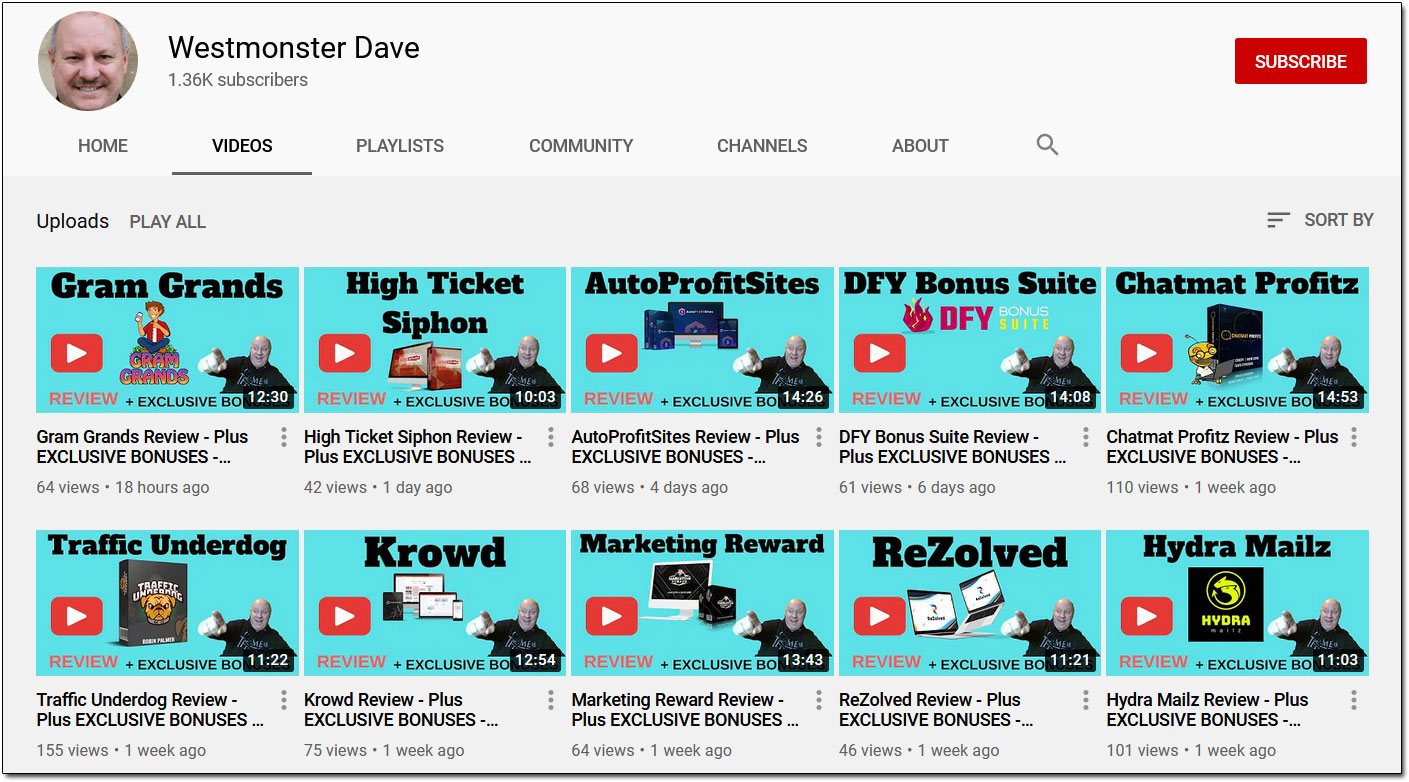 He wouldn't. 🙂
What Are The Costs?
The initial fee to get started with Monkey Mailers is $14.95, which admittedly isn't too bad… And you're even promised a money-back guarantee on this initial fee, too.
However, upon handing over the $14.95 to "try it out" you're then immediately present with a string of several upsells, each costing more & more money.
And these additional upsells are NOT covered by the money-back guarantee, which in my opinion is a bit of a trick to catch you out. It certainly isn't made very clear at all.
You Might Also Like:
The Big Problem
The big problem with Monkey Mailers is the one that we just touched on in the section above, the fact that the people you're targeting with your emails are sellers, not buyers.
And not only are they sellers, but they're also sellers that have absolutely no interest in your emails in the first place. They're literally only opening them so that they can earn credits in order to be able to send some emails for themselves.
This means that yes, you may well be able to send tens of thousands of emails per day – but nobody that you send them to will actually end up purchasing anything you're promoting.
You see, if it was so easy then everybody would be doing it… And they're not. In fact, as mentioned further up in this Monkey Mailers review, even the creators of this program are not using the method (which hands-down proves it doesn't work).
But on top of that, there are also some other problems too… One of which is the fact that the sites that you're recommended via the Monkey Mailers aren't entirely free as you're led to believe.
I mean sure, you can sign up to some of them & use them as a free member, but they have limits. Once you've passed your limits you'll need to start spending money in order to keep sending.
Not good.
You may as well as just put that money towards something useful (such as a targeted paid advertising campaign) and actually generate some worthwhile traffic instead of the junk traffic that you'll get from the email swapping sites.
Is Monkey Mailers a Scam?
It's not a scam, but at the same time, it's something that I really wouldn't advise spending your money on because as far as I'm concerned it's nothing more than a waste of money.
The training inside of the program is very minimal & feels rushed, and the method itself is totally flawed.
In my opinion, it's nothing more than yet another gimmicky system that's targeted at all of the people who are looking to skip the work & essentially get rich without doing anything.
Sadly, however, it's simply not possible to do that (and never will be)… But unfortunately, there will always be people like Dawud Islam & Paul Snelleksz who seek to take advantage of those that try.
The truth is that in order to make good money online you must be prepared to put in some work to make it happen, there are absolutely no two ways about it.
The good news, however, is that if you are indeed willing to put in the work to make it happen then there are plenty of legitimate places where you can get started, such as Commission Academy.
You can also check out my own beginners guide to getting started right here.
But whatever you decide to do I just sincerely hope that my honest review of Monkey Mailers here has given you a good insight into how it really works & what you can expect.
Of course, if you happen to have any further questions then don't hesitate to leave them below. 🙂
A Better Alternative
The sad truth is that unfortunately most of the programs promising to help you make money online are scams. I can say that confidently after exposing over 500+ of them here on this blog.
But the good news is that even though most of them are indeed scams, there are actually some very good programs in amongst them - some programs that can truly help you to earn money.
And out of all of the legit programs I've seen, the one I would recommend the most to anybody looking to get started online is Commission Academy. In my own opinion, that's the best place to start.
At Commission Academy, you'll be provided with everything you need (including the training & tools) to begin earning real money by promoting products or services for companies like Amazon online.
The best part is that there's literally no limit on the amount you can earn with it & the process is pretty simple which means that it's absolutely perfect for people that don't have much experience.
Some wealthy affiliates even earn as much as 5-figures per month... Or more!


I mean don't get me wrong, that kind of money won't just fall into your lap without doing any work... But the harder you're willing to work at it, the more you stand to earn with it.
So if you're looking to get started but don't know which route you should go down or which program you should join (and don't want to waste money on bogus things that don't actually work), then I'd highly recommend checking out Commission Academy first. You can learn more about it here.