Does My Freelance Paycheck really hold the secret to earning over $1,000 per month? You might have heard about this website featuring Laura Pennington's secret to earning thousands working as a freelancer.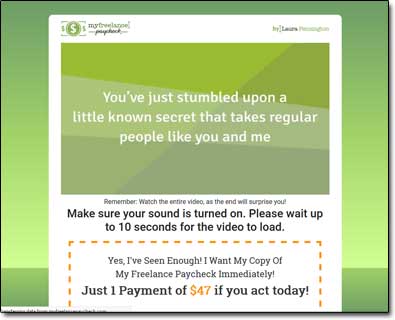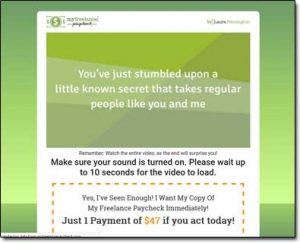 Earning money from home is perhaps the most popular ambition and there are many legitimate platforms which can actually help you make a significant income. In this My Freelance Paychecks review, I will reveal the secret behind Laura's claims to assist you in earning thousands per month by doing simple freelancing jobs.
If you are a freelancer or want to become a freelancer then you must have been looking for some legitimate platforms to increase your monthly income… But is My Freelance Paycheck a scam or not? Keep reading to know everything in detail before finalizing your decision about joining.
What Is My Freelance Paycheck?   |   How Does My Freelance Paycheck Work?   |   Is My Freelance Paycheck a Scam?   |   A Better Alternative
What Is My Freelance Paycheck?
My Freelance Paycheck is a simple website featuring a professional layout. At a glance, the website's design presents the look of a legit system. As soon as you open the website you'll see the presentation video featuring Laura who talks about some freelancers earning over $1,000 a month with the help of her "secret" program.
One thing I like about this video is that Laura clearly rejects the possibility of paid surveys or data entry tasks. She is actually talking about some typing mechanism which lets you earn for anything you type. The problem here is, who in the world pays somebody for typing just anything. I mean, there are various popular freelancing market places and I have never come across an employer who offers this type of job. If Laura's claims are true, why don't these people just join the most legitimate platforms and hire the experts?
Freelance writing is something else that Laura touches on. Content writers have to regard instructions, expression, tone, and other factors. I have seen employers spending hours when recruiting content writers because they want to make sure that the applicant possesses the required skill-set. The question is, why is there no qualification test for the applicants to this program?
What I Like About My Freelance Paycheck…
Laura doesn't build castles in the air. The amount she is talking about is actually realistic i.e. $1k to $3k a month. I personally know over 10 freelance content writers who hit over $1,000 a month working on Fiverr, Freelancer, and Upwork. But what does Laura really offer? Content writing jobs mainly include blog and article writing. There are academic writers as well who mainly assist the students to compose their assignments.
What I have found is that Laura is actually selling some tutorials, training programs, or lectures on how to become a freelance writer. Now we need to know if her program really carries value.
How Does My Freelance Paycheck Work?
Laura sells a training program through My Freelance Paycheck. What you actually get is an eBook along with an audiobook. The book is a comprehensive guide on freelance writing. It does cover various important and effective tips, tools, and topics.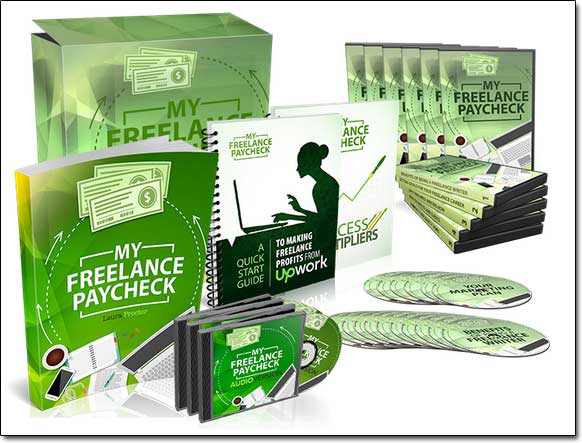 The content of Laura's eBook guide you about adding value to whatever you write. It talks about the importance of reliable research. It also contains tips on organizing the content. Apart from writing, Laura has also included chapters about a writer's attitude towards freelancing. She guides you about time management and scheduling. This book is a real asset for beginners. Though, in my opinion, it isn't something worthy for the experienced freelancers because they either already know these things, or they are comfortable with their own techniques.
There Is No Secret!
Having a bird's eye view of this 156-page eBook qualifies me to give a realistic opinion. This book contains no secret whatsoever. The whole book is actually a rewritten or redeveloped version of various chunks from other books. The information, guides, tips, and tutorials are already available online for free. In my opinion there is no need to pay anything for something that has been reproduced from free sources… You're merely paying for the privilege of having it all "tidied up" & put together in one place, that's all.
Laura actually tries to convince the viewers that freelance writing is something new or unknown to this world. The reality is otherwise. There are millions of content writers across the globe making handsome or at least sufficient online income. There are millions of websites on the internet, each filled with blogs and articles. Most of the content on these websites has been produced by freelancer content writers.
A Piece of Advice…
I'll suggest you simply join any legitimate freelance marketplace. Study the platform, get in touch with the existing members, seek guidance, start taking small and easy projects, and slowly build your profile. This is the tried and tested method to get started as a freelancer. It takes a couple of years to settle and turn things in your favour but it does return much more in the long run.
Is My Freelance Paycheck a Scam?
My Freelance Paycheck is not a scam but on the other hand, in my opinion it isn't really worth anything. You'll pay $47 for something which is nothing but reproduction.
There is no secret in this eBook so don't purchase it in the hope of accessing one. I'll simply suggest you first download some free freelancing eBooks. Then visit some freelancing marketplaces and register because most of them are completely free to join. Don't attempt joining multiple platforms at a time. Select just one or two and learn to concentrate. Go through the site, study how things work on a particular website & learn that way – there really isn't any need to pay for courses promising "secrets" because there simply are no secrets in the freelancing game.
I'll admit though that Laura's income claims are pretty fair. Freelancing isn't easy, but if you concentrate, work hard & have pretty good writing skills, you'll definitely hit the $1,000/month mark in a year or two… BUT whilst that might initially seem fantastic, you could potentially be working upwards of 12+ hours per day to generate such an income as a freelancer… So really it might not be as great as it seems on the surface.
In my opinion, rather than writing content & selling it to other people as a freelancer (which is what Laura's training teaches), you should go through a free program like Commission Academy & actually learn how to make money from the content yourself.
The reason I say that is because what you have to realize is that the people who will be buying content from you are clearly making more money from it – so if you learn how to make money from it yourself you will be able to maximize your income. Commission Academy is the perfect place to do just that – and alongside the training they also provide you with all of the tools you need to make money from your content too.
So ultimately despite me concluding that Laura's My Freelance Paycheck program is legit, I won't be personally recommending it because I believe there are ultimately better ways to make money as I mentioned above.
Hopefully though this review gave you a good insight into her program & helped you decide whether or not you feel like it's really suited to you. If you do happen to have any further questions about it though or some extra comments then don't hesitate to leave them below.
A Better Alternative
The sad truth is that unfortunately most of the programs promising to help you make money online are scams. I can say that confidently after exposing over 500+ of them here on this blog.
But the good news is that even though most of them are indeed scams, there are actually some very good programs in amongst them - some programs that can truly help you to earn money.
And out of all of the legit programs I've seen, the one I would recommend the most to anybody looking to get started online is Commission Academy. In my own opinion, that's the best place to start.
At Commission Academy, you'll be provided with everything you need (including the training & tools) to begin earning real money by promoting products or services for companies like Amazon online.
The best part is that there's literally no limit on the amount you can earn with it & the process is pretty simple which means that it's absolutely perfect for people that don't have much experience.
Some wealthy affiliates even earn as much as 5-figures per month... Or more!

I mean don't get me wrong, that kind of money won't just fall into your lap without doing any work... But the harder you're willing to work at it, the more you stand to earn with it.
So if you're looking to get started but don't know which route you should go down or which program you should join (and don't want to waste money on bogus things that don't actually work), then I'd highly recommend checking out Commission Academy first. You can learn more about it here.