The My Residual Profit email processing business claims to be an easy online opportunity that could see you earning thousands per week from the comfort of your home even without any prior experience.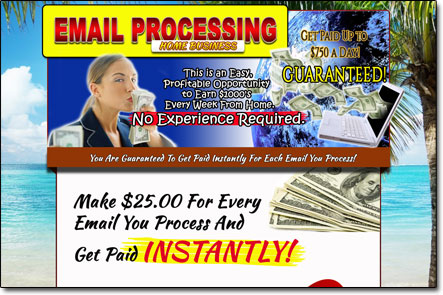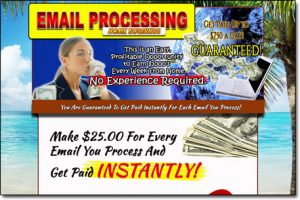 But is it legit? Or is My Residual Profit a scam that's simply out to part you with your hard-earned cash? And if it is legit then can you really make the insane amounts of money they claim you can on their website?
Those are the exact things I'll be revealed right here in this My Residual Profit review, along with what it's all about, how it all works & whether or not it's worth it's advertised price of $25.
What Is My Residual Profit?   |   How Does My Residual Profit Work?   |   What You'll Be Doing   |   The Problem   |   Is My Residual Profit a Scam?   |   A Better Alternative
What Is My Residual Profit?
As I briefly touched on above the My Residual Profit system claims to be some sort of email processing opportunity, through which you're led to believe that you can make lot's of money by simply processing emails.
Whilst there are some legitimate email processing jobs available online, generally, they are rare & those that are available are extremely low paying.
Therefore the thing that stands out about this particular opportunity is the fact that it claims you can earn up to $750 per day & that you are guaranteed to get paid instantly after every single email you process.
The video featured on the website explicitly states that there is no selling involved, that it's not an MLM, that you'll earn $25 per email processed & that there's no limit on the amount you can earn.
However quite worryingly the video also used an unrelated news story about making money online which has been known to be a common trait of a scam. Similar systems that I've seen launch in the past like TubeLoom attempt to make out like the systems themselves have been featured in the news but in reality, they're just showing an unrelated clip about making money online in general.
This is done in an attempt to trick you as if you believe it's been featured on the news then it will no doubt build your trust in the system & make you believe that it could in fact be a legitimate opportunity.
How Does My Residual Profit Work?
Whilst you're led to believe that you'll be paid $25 for every email that you process, unfortunately, that's quite the case. In reality, My Residual Profit is nothing more than a well-disguised cash gifting program.
Basically, to get started with the My Residual Profit opportunity you'll first be required to buy into the program for $25 which is payable through either PayPal or Bitcoin & this will get you access into the member's area.
Then inside the member's area, you'll be told that before you can start doing anything you need to connect your PayPal account as the payments made will be getting sent directly to your account (but there's a big problem with this which I'll mention in a mo).
And after that, you'll find out that what you are basically doing is getting other people to sign up to the program via your unique affiliate link, not email processing like you were led to believe.
So the $25 commissions that you will be earning will be coming from other members buying into the system expecting to be signing up to some sort of email processing job just like you were.
Here's What You'll Be Doing…
Inside the My Residual Profit members area, you'll be provided with 16 different pre-written advertisements & you'll be told to post these in as many places as you can such as Craigslist, Facebook, Backpage etc…
Then the idea is that people will begin replying to the adverts inquiring about the work from home opportunity (which is what the ads are promoting). These are the "emails" your meant to process.
From here it will be your job to reply back to them & get them to buy into the My Residual Profit program just like you did, and you will then earn $25 for each new member that actually signs up.
You Might Also Like:
The Problem
Firstly the method you're being shown to promote the program is essentially spamming, which will mean you'll very quickly find your classified ad website accounts & social media accounts shut down.
So the marketing method is not sustainable, nor is it effective – but on top of that, you're also being told to link your PayPal account to the program so that commissions can be sent directly to you…
This is where things get worse, because not only will your classified ad website accounts & social media accounts get shut down, but your PayPal account will too as this is massively against their TOS.
Essentially what you're participating in is a pyramid scheme & as you can imagine PayPal certainly don't like this, so it won't take long before they find out what you're doing & close it down.
Is My Residual Profit a Scam?
In my opinion yes, this system is most definitely a scam. It's clear to me that there is no "email processing" & that you'll instead just be promoting the exact same system you bought into yourself.
It's a classic cash gifting scheme which is trying to disguise itself as an email processing program but it will only result in you losing money & your PayPal, social media & classified ad accounts.
My advice to you would be to keep hold of your $25 because there's certainly no way that you're going to make any money through the My Residual Profit system, it's just a complete hyped-up con.
So overall as you can probably guess this system will be getting a massive thumbs down from me & I certainly won't be recommending it to you as there's absolutely no way that it's a genuine opportunity.
A Better Alternative
The sad truth is that unfortunately most of the programs promising to help you make money online are scams. I can say that confidently after exposing over 500+ of them here on this blog.
But the good news is that even though most of them are indeed scams, there are actually some very good programs in amongst them - some programs that can truly help you to earn money.
And out of all of the legit programs I've seen, the one I would recommend the most to anybody looking to get started online is Commission Academy. In my own opinion, that's the best place to start.
At Commission Academy, you'll be provided with everything you need (including the training & tools) to begin earning real money by promoting products or services for companies like Amazon online.
The best part is that there's literally no limit on the amount you can earn with it & the process is pretty simple which means that it's absolutely perfect for people that don't have much experience.
Some wealthy affiliates even earn as much as 5-figures per month... Or more!

I mean don't get me wrong, that kind of money won't just fall into your lap without doing any work... But the harder you're willing to work at it, the more you stand to earn with it.
So if you're looking to get started but don't know which route you should go down or which program you should join (and don't want to waste money on bogus things that don't actually work), then I'd highly recommend checking out Commission Academy first. You can learn more about it here.