In this review, I'm going to be taking a look at a new program that's just launched named TubeLoom which claims it can help you make up to $594 per day from YouTube without ever having to get in front of the camera.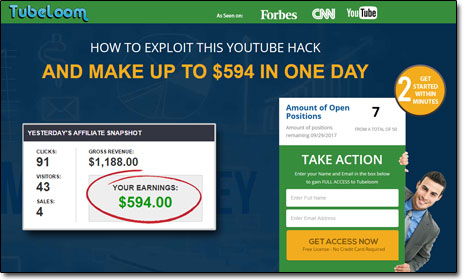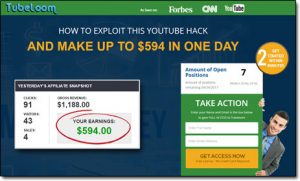 According to their website with just a few minutes work & a 2-minute video you can start making hundreds of dollars in commissions by using their "secret" method which has supposedly even been featured on several news sites.
But is it legit – or is TubeLoom a scam that's simply set out to somehow part you with your hard-earned cash? And if it is legit then can you really make good money with it as they promise?
Those are exactly the things I'm going to be uncovering right here in this TubeLoom review where I'll be taking a closer look at it to find out exactly what it's all about – meaning if you've been thinking about trying it out then you can rest assured that you've landed in the right place to find out everything you need to know about it before you do.
What Is TubeLoom?   |   How Does TubeLoom Work?   |   Is TubeLoom a Scam?   |   A Better Alternative
What Is TubeLoom?
As I touched on above TubeLoom is a program that claims to enable you to be able to exploit some sort of "YouTube hack" (their words, not mine) that will see you generating up to $594 per day with very little work.
The few things that immediately stood out about TubeLoom was that it was supposedly free, the fact that it didn't require you to even get on camera & the fact that it had even apparently been featured in several news publications including Forbes & CNN.

However, after spending nearly 30 minutes scouring through both Forbes & CNN I was unable to find anything about TubeLoom at all which suggests that these claims may be fake.
The worrying thing is that the first website it brought up was one that claimed TubeLoom was nothing but a flat-out marketing scam as you can see below: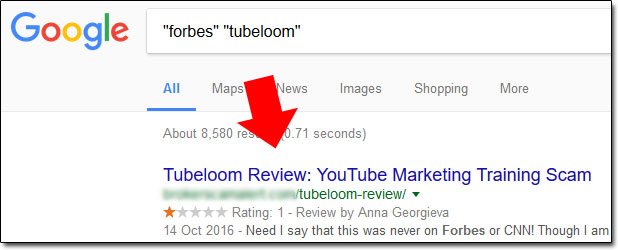 Certainly not a promising start I think you'll agree!
And to be honest this whole "featured in the news" thing is a common trait of a scam – I've seen it several times before on systems like Paid Social Media Jobs which use it in an attempt to make you think they must be legitimate.
How Does TubeLoom Work?
The website itself doesn't go into a great deal of explaining how TubeLoom actually works, instead, it seems to focus on merely hyping you up about the potential opportunity to making a large, easy income online (another common trait of a scam).
To find out more you're forced to enter your email & when you do you're taken to a video which yet again contains hyping you up. The video does go into a little more detail than the initial homepage but still, no real method is given away – you're just sold into some training which costs $39.95.
So ultimately they're preying on your curiosity in the hope that you'll kinda think "what the heck" and hit purchase without really knowing how it all works – but thankfully I did the digging & can reveal what it's about…
Basically, TubeLoom claims that these days most people don't use search engines like Google or Bing to find what they're looking for & that instead they go to YouTube – which is kind of true.
Believe or not YouTube is actually classed as the search largest search engine in the world, with surprise surprise Google being number 1. So yes, clearly quite a lot of people go to YouTube to look for things.
However this is nothing "revolutionary", it's been this way for quite a while. That's why you've probably heard about video marketers who make full-time incomes by regularly publishing videos on YouTube.
Video marketers post their videos – people looking for things come across their videos & the marketers make money from anybody that clicks on the adverts around their videos or buys any products that they recommend.
It's quite simple & lot's of people have been making money like this for quite a while. You can also do the same with Google & the other search engines too – just with those, you don't need to create videos (and if you like you can learn more about how you can do that here).
But Here's The Deal…
Yes you can make money from publishing videos on YouTube there's no doubt about that – but it is certainly not easy and there is no "hack" that will enable you to generate over $300 per day with just a couple of minutes work.
I can imagine that claims like these would make the real video-marketers very frustrated because they will know that in reality, you need to work very hard to make money from YouTube.
You see it's like anything – whilst the internet is a fantastic tool, unfortunately, it's not magical & you can't use it to start making money without really doing anything. If you could then everybody would be doing it.
The internet can certainly help you make a lot of money but it's not going to come without work. Eventually, it could become passive (like any business) but there's no way that's going to happen from day 1.
You Might Also Like:
Is TubeLoom a Scam?
In my opinion yes, TubeLoom is a scam – it's clearly preying on people who are new to online marketing & don't really know how it all works, giving them hyped-up claims to part them with their cash.
Whilst you do get some training in return for your cash I feel that ultimately you're going to be left disappointed because the website has set an expectation that you can simply start making money straight away which isn't true.
Instead, you'll be required to go through the training, create & upload videos – only to find that method doesn't really generate you as much money as it makes out (if it generates you anything at all).
And on top of that, the cost doesn't stop at $39.95 as there are several upsells after the initial buy-in. Once you've paid the $39.95 you'll then be asked to purchase 3 "extras" which are said to be requirements to find true success with the program for $67, $47 & $47 – adding up to a whopping $200.95 before you've even started with the program.
Don't get me wrong you can make money through YouTube as I mentioned above but I just feel that you're being completely mis-sold through TubeLoom. If the website was more honest & transparent about what you were actually getting then I may have been willing to recommend it but as it is it's clear to me that it's been designed to make the creator wealthy, not you – therefore I'll be recommending that you steer clear of it.
A Better Alternative
The sad truth is that unfortunately most of the programs promising to help you make money online are scams. I can say that confidently after exposing over 500+ of them here on this blog.
But the good news is that even though most of them are indeed scams, there are actually some very good programs in amongst them - some programs that can truly help you to earn money.
And out of all of the legit programs I've seen, the one I would recommend the most to anybody looking to get started online is Commission Academy. In my own opinion, that's the best place to start.
At Commission Academy, you'll be provided with everything you need (including the training & tools) to begin earning real money by promoting products or services for companies like Amazon online.
The best part is that there's literally no limit on the amount you can earn with it & the process is pretty simple which means that it's absolutely perfect for people that don't have much experience.
Some wealthy affiliates even earn as much as 5-figures per month... Or more!

I mean don't get me wrong, that kind of money won't just fall into your lap without doing any work... But the harder you're willing to work at it, the more you stand to earn with it.
So if you're looking to get started but don't know which route you should go down or which program you should join (and don't want to waste money on bogus things that don't actually work), then I'd highly recommend checking out Commission Academy first. You can learn more about it here.