In this review, I'll be taking a closer look at a website named Paid Social Media Jobs (found at paidsocialmediajobs.com) which claims it can help you earn money online if you're interested in becoming a social media manager & updating the social media accounts for various small businesses.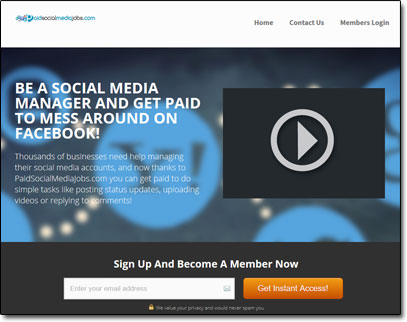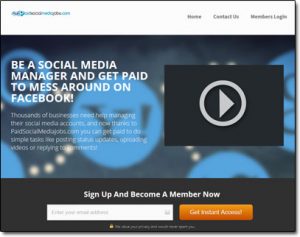 Their actual words are that you can "get paid to mess around on Facebook" which in my opinion doesn't sound entirely professional. Because of that, and the fact that they actually charge a fee for you to get access to these "jobs" there's been a lot of Paid Social Media Jobs scam rumours circulating the web.
So if you've been considering joining Paid Social Media Jobs but you're also worried that it might be a scam then you can rest assured that you've landed in exactly the right place to find out everything you need to know before you sign up.
In this Paid Social Media Jobs review, I'm going to uncovering what it's all about, how it works, if it's legit & whether you really can make any money as a result of buying into this program.
What Is Paid Social Media Jobs?   |   How Does Paid Social Media Jobs Work?   |   Is Paid Social Media Jobs a Scam?   |   A Better Alternative
What Is Paid Social Media Jobs?
Paid Social Media Jobs claims to be a middleman that connects employers looking for people to manage their social media accounts with people who are looking to earn extra money & willing to manage those said accounts.
They claim that you don't need any previous experience, and that providing you have a bit of spare time & a fair understanding of the Twitter, Facebook & YouTube platforms you can sign up & begin earning money almost right away.
The homepage doesn't go into great detail as to what you'll actually be doing, who you'll be doing it for or how much you'll be earning – but after entering your email address you're taken to another page where you're given Annie Jones story (who is supposedly the founder of the website) where everything is explained… Kinda.
Annie states that inside the Paid Social Media Jobs members area there are literally hundreds of jobs & that you could get your first assignment within just 24 hours of signing up. She also claims that just by replying to some comments & scheduling some posts for the day you could see yourself earning in excess of $700 per week through this particular website.
However, the rest of the content found on this page is nonsense that's clearly just been put together to hype you up about the idea of becoming a paid social media manager & working from home (or wherever you can get an internet connection).
It certainly sounds great in theory – but is it actually legit?
Unfortunately, It's Not Quite As It Seems…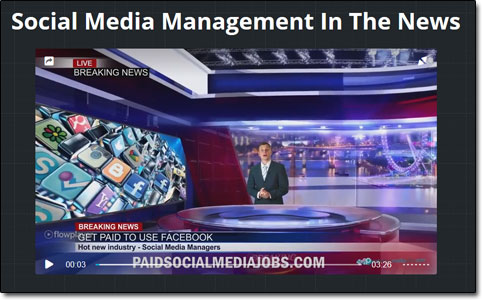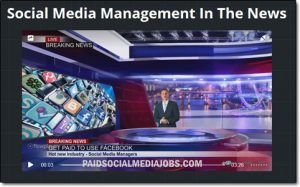 As I continued to scroll through what's blatantly a sales page I noticed a video clip from Fox News & that was a major red flag for me. You see I've reviewed literally hundreds of different money-making programs & systems on this blog and I've noticed that the ones I've found to be scams quite often try & make it seem like some sort of news website has endorsed their system (like Your Home Biz for example).
It looks like that's also what's happening here with the Paid Social Media Jobs website because they've cut a clip & make it look like Fox News is actually endorsing this program, but they're not – they're merely talking about social media management in general.
Don't get me wrong as Fox News reported, there are definitely businesses looking to hire people to manage their social media accounts & there is certainly money to be made by doing it, but the question here is can the Paid Social Media Jobs website really help you out or is it just a waste of $27?
Here's How It Really Works…
The further I got down the sales page the more suspicious I became as the Paid Social Media Jobs website claimed that they were throwing in all kinds of bonuses with your purchase & there were hyped-up income calculators which claimed you could earn ridiculous amounts like $26,000 per year just for doing 5 small tasks a day.
Not to mention the fact that they were charging you to gain access to these jobs – I mean what's that all about? As I mentioned above I've reviewed hundreds (if not thousands) of money-making programs/systems over the years and I've never seen a legitimate job site that charges you to get access to the jobs.
I mean sure, there are some training programs that charge a fee which is fair enough because they're providing training, but why on earth should you have to pay to get access to a job? It just doesn't make sense…
It's Because There Aren't Any Jobs!
All along you're led to believe that after handing over the money & signing up to Paid Social Media Jobs you'll be provided with immediate access to a directory of jobs where you can just start working & making money but sadly that's not the case.
In fact, there are no jobs at all and the website completely missells you into something totally different.
Basically, after you hit the purchase button & get inside the Paid Social Media Jobs members area what you'll realize is that you've actually bought some training on how you can become a self-employed social media manager, NOT access to some kind of jobs directory.
Don't get me wrong, there is a bit inside of the member's area where you can post what YOU are willing to do for X amount of money but there are no employers looking to hire people to actually do it… That job board is completely empty!
And whilst you can potentially make money by following their training, in my opinion, it's pretty vague & isn't worth paying $27 for as they're basically stating the obvious.
Basically, you're told that you should first create a professional resume about being a social media manager, then send it out to small businesses, organize a contract between the two of you & then request payment to your bank account.
It does, of course, go into things in a little more detail than that but it's nothing that you can't find around the web for free & it's nothing but probably don't already know.
You Might Also Like:
Is Paid Social Media Jobs a Scam?
I wouldn't say it's a flat out scam because you are getting something for your money, but in my opinion, there is no real value provided through this program & I suspect that if you do happen to buy into it you would find yourself disappointed.
Whilst you can make money by managing social media accounts for small businesses it is nowhere near as easy as the Paid Social Media Jobs website makes out & it's certainly not as lucrative unless you are literally working around the clock or have a team of staff working for you & are running it like a proper business.
In my opinion, they fail to deliver on all their promises & for that reason I couldn't possibly recommend this website to you as being a good opportunity. The jobs board inside the member's area is also totally useless as it's just overwhelmed with people looking for work, not people providing employment.
If I was you I'd dodge this program because it's really not worth the money, it's just a joke. If you're looking to build a legitimate income online then rather than looking for paid social media jobs I'd recommend you try out Wealthy Affiliate as the free training there will show you a better way to get started.
A Better Alternative
The sad truth is that unfortunately most of the programs promising to help you make money online are scams. I can say that confidently after exposing over 500+ of them here on this blog.
But the good news is that even though most of them are indeed scams, there are actually some very good programs in amongst them - some programs that can truly help you to earn money.
And out of all of the legit programs I've seen, the one I would recommend the most to anybody looking to get started online is Commission Academy. In my own opinion, that's the best place to start.
At Commission Academy, you'll be provided with everything you need (including the training & tools) to begin earning real money by promoting products or services for companies like Amazon online.
The best part is that there's literally no limit on the amount you can earn with it & the process is pretty simple which means that it's absolutely perfect for people that don't have much experience.
Some wealthy affiliates even earn as much as 5-figures per month... Or more!

I mean don't get me wrong, that kind of money won't just fall into your lap without doing any work... But the harder you're willing to work at it, the more you stand to earn with it.
So if you're looking to get started but don't know which route you should go down or which program you should join (and don't want to waste money on bogus things that don't actually work), then I'd highly recommend checking out Commission Academy first. You can learn more about it here.