Firstly I want to make it clear that I'm not talking about my own secret income formula – I'm talking about the brand new system that's just launched named "My Secret Income Formula" which claims it can enable you to earn upwards of $179 per day, even whilst you sleep.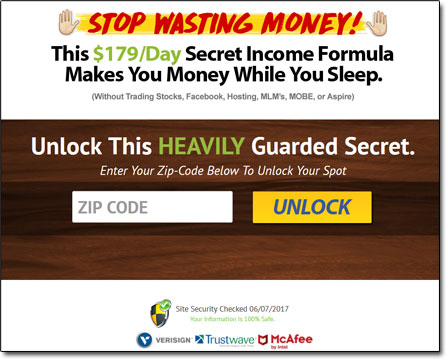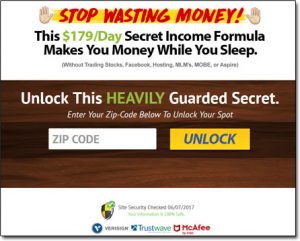 Obviously, those are some pretty bold claims & that's the reason I decided to take a closer look at this system to find out what it's all about. If you follow the blog you'll be aware that I regularly take a look into online money-making opportunities to separate the good from the bad & so today it's the turn of the MSIF (My Secret Income Formula) system.
Basically, if you've come across this system & you're looking to find out if you can really make money with it then you've landed in the place as I'm going to be uncovering everything you need to know about it right here in this review.
What Is My Secret Income Formula?   |   How It Really Works   |   Can You Make Money With It?   |   My Final Verdict   |   A Better Alternative
What Is My Secret Income Formula?
Again this isn't MY personal secret income formula, it's a system named "My Secret Income Formula" lol – just making that clear in case you skipped straight to this bit.
The website for the system itself doesn't reveal a great deal, in fact, it actually refers to the formula as being a heavily guarded secret – but as you'll find out in just a moment it's not quite as heavily guarded as it's made out to be.
What the website does tell us though is a few things that it's NOT – it claims that the secret formula doesn't involve:
Trading Stocks
Using Facebook
Web Hosting
Multi-Level Marketing
And it also claims that it's not related to two other popular programs named MOBE or Aspire.
So what the heck is it??
Well thankfully as mentioned above the secret isn't quite so heavily guarded after all because immediately upon entering your email address it's revealed – basically, this system is nothing but another doorway into an opportunity named the Super Affiliate Network.
However, I wouldn't recommend entering your email address.
And here's why…
Basically, it looks like the "My Secret Income Formula" system has been created by an affiliate of the Super Affiliate Network. Being that the creator is an affiliate of the SAN (Super Affiliate Network) this means that they earn commissions for each new member that they get to sign up.
Obviously, it takes quite a bit of work to promote the system on your own & get people to sign up so this particular affiliate has done something pretty clever…
He's created his own "system" (which is actually just a sales funnel) named "My Secret Income Formula".
He's listed his MSIF "system" on various affiliate networks and is paying people to promote it for him (he's paying them $1 for each person they get to submit their email for more info).
How My Secret Income Formula Really Works
The creator of the MSIF system is basically buying peoples emails for $1 – so if you entered your email address into the website of this system then chances are he paid whoever referred you there $1 when you submitted it.
The reason he's (or she's) paying $1 for each email is because he or she is super confident that he/she can make more money back from you by promoting various different products (including Super Affiliate Network) to your email inbox.
So basically after submitting your email into the My Secret Income Formula website you can probably expect to start receiving a ton of spam since the creator of the system will be desperate to earn his/her money back (and then some).
If you're lucky you might just be able to unsubscribe from the emails but generally, these marketers are quite clever & still have several ways they can reach out to you. You could potentially be receiving spam for years to come even if you use the unsubscribe function as they often begin sending mail from various different emails etc.
Basically, these guys are generally pretty clever & one way or another they'll get their money back from you.
Can You Make Money With It?
Okay so yeah the email thing is a little bit sneaky but putting the email spam aside you're probably wondering whether or not you can actually make any money from this system. I mean do the $179 per day income claims hold true? Can we make any money at all from this system?
Well first things first "My Secret Income Formula" is not a stand-alone system – it's just a sales funnel that's been put together to get you to buy into an opportunity named the Super Affiliate Network.
The unfortunate thing is that the Super Affiliate Network product actually contains some awesome training, and could potentially teach you how to make money online – but it's been ruined by the hyped-up claims presented on the MSIF sales page.
Super Affiliate Network teaches you how to make money through affiliate marketing, and whilst it's certainly possible it isn't going to happen overnight. In fact, it could potentially take months before you see a single commission. In my opinion affiliate marketing is the best way to build an income online but the bottom line is that it isn't easy, it takes lots of hard work & dedication.
I feel that the MSIF system hypes it up way too much & deceives you – it basically sells you something that you're not getting. I mean all the way through the "MSIF" website you're promised a $179 per day secret so I think you'd be disappointed when you find out that you get nothing but training which even if you take action on could take weeks before you earn any commissions.
You Might Also Like:
My Final Verdict
On its own the Super Affiliate Network is actually fairly good – I mean it's a little on the pricey side & you can get similar training for free – but it does pack fairly quality training so I don't think you'd be too disappointed if you made the purchase.
However, the My Secret Income Formula system which is just a sales funnel to get you to buy into the SAN system is, in my opinion, bad news.
Firstly I think that it's misleading the way that it promotes the Super Affiliate Network system & secondly I don't like the fact that they're purchasing email addresses as no doubt anybody who enters their email address into the MSIF system is going to be subjected to lots and lots of spam.
So whilst I'd possibly recommend SAN as a stand-alone (though I believe are better alternatives at the moment) I certainly won't be recommending the MSIF system. In fact, I'll actually be recommending that you avoid it & certainly don't give them your email address.
And I'll leave things on that note as I feel that I've given a fair conclusion based on the facts, but if of course, you have any further comments or questions then don't hesitate to leave them below & I'll do my best to get back to you as quickly as possible. In the meantime take it easy & I'd like to say that you're awesome for stopping by!
A Better Alternative
The sad truth is that unfortunately most of the programs promising to help you make money online are scams. I can say that confidently after exposing over 500+ of them here on this blog.
But the good news is that even though most of them are indeed scams, there are actually some very good programs in amongst them - some programs that can truly help you to earn money.
And out of all of the legit programs I've seen, the one I would recommend the most to anybody looking to get started online is Commission Academy. In my own opinion, that's the best place to start.
At Commission Academy, you'll be provided with everything you need (including the training & tools) to begin earning real money by promoting products or services for companies like Amazon online.
The best part is that there's literally no limit on the amount you can earn with it & the process is pretty simple which means that it's absolutely perfect for people that don't have much experience.
Some wealthy affiliates even earn as much as 5-figures per month... Or more!

I mean don't get me wrong, that kind of money won't just fall into your lap without doing any work... But the harder you're willing to work at it, the more you stand to earn with it.
So if you're looking to get started but don't know which route you should go down or which program you should join (and don't want to waste money on bogus things that don't actually work), then I'd highly recommend checking out Commission Academy first. You can learn more about it here.