National Institute for Cannabis Investors has appeared on the scene as a potentially profitable investment opportunity in the booming cannabis industry. The news service apparently aims towards helping people make the right investments in pot stocks at the right time.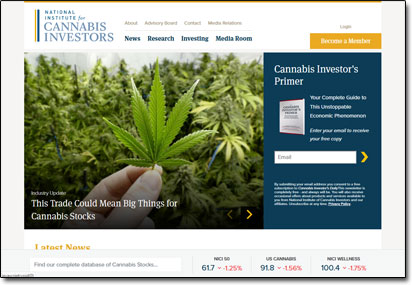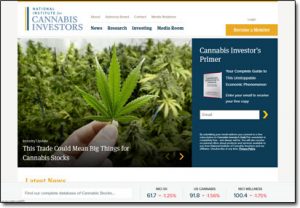 The American Cannabis Summit is where we heard about the National Institute for Cannabis Investors for the first time. Mike Ward, Danny Brody, and John Boehner were the presenters and these are really credible names associated with the press and cannabis industry.
In this honest National Institute for Cannabis Investors review, we are going to see if this really is a legitimate investment opportunity.
What Is National Institute For Cannabis Investors?   |   How Does It Work?   |   Is National Institute For Cannabis Investors a Scam?   |   A Better Alternative
What Is National Institute For Cannabis Investors?
First of all, it is important to see the reason behind the popularity of the pot stocks. The industry is expanding mainly because of the legal approval in an ever-increasing number of states.
The National Institute for Cannabis Investors subscription plans are available at $39/year and $129/year and they basically claim to be geared towards helping you make good investments to generate profits off the new legalisation rulings.
The NICI investors' news was introduced back in September 2019 by Mike Ward – a reliable publisher associated with Money Morning and Money Map Press. The purpose here is to serve his subscribers with the most reliable investment opportunities in the industry.
They call it the best tool for anyone looking to achieve financial freedom via investing in the cannabis industry.
Here are some of the claims taken from their website:

There is no doubt that the individuals running this program are highly credible and they know what they are doing and talking about. They have an insight into the industry's tendencies and changes… But it doesn't mean that everyone could become a millionaire only because the NICI presenters are learned and qualified.
Basically, you need to educate yourself by learning as much about the industry as you can. In short, it does take a lot to extract a significant amount of profit. And don't forget the risk factor because the investment is all about dealing with the potential risks and making the right choices. Nobody could predict with 100% accuracy every time. There is always a significant margin of error.
But can the National Institute For Cannabis Investors help us lower that risk? Or should we stick with a saver method like affiliate marketing instead? Let's take a closer look into the inner workings to find out…
How Does National Institute For Cannabis Investors Work?
National Institute for Cannabis Investors serves you with four different publications.
Free Newsletter via Email – Cannabis Profit Daily
$39/$79/$129 a year – Cannabis Investors Membership
$1,950/year – IPO Insider
$4,950/year – Venture Syndicate
The free newsletter comes to you daily via email. It contains industry-related news and marketing trends. The membership qualifies you for receiving monthly reports featuring extensive research and detailed analysis.
It helps you with tips and indications which you need to make the right investments in an anticipation of generating a quick profit. There comes a list of promising stocks, prices, and percentage profit.
Realistically though, in my opinion the free newsletter is primarily geared towards encouraging you to spend money on the other publications… And whilst that's not a "bad thing", you should basically expect that you'll ultimately be pushed towards spending money.
We like the NICI member's area because it contains a sufficient amount of reliable information. There are some promising tools you could definitely use to make better investment decisions.
Then comes the IPO insider for $1,950/year. When a company is ready to go public, it presents the best opportunity for the investors. The IPO Insider gives you an insight into the company to let you know if it is the right company to invest in.
The $4,950/year Venture Syndicate guides you to become a private investor. It educates you how to make the most of investing in private companies. You get from 4 to 6 private deals every year and these deals have the potential of gaining from 1000% to 100,000%. This is what they tell you but it really is something we couldn't digest.
In my opinion, it was all good up until the last publication, the Venture Syndicate. I mean sure – the NICI does certainly provide helpful information that could indeed help you towards making better cannabis investment decisions, but to claim an ROI of 1000% to 100,000% is just ridiculously bold in my opinion.
I think whilst "possible", most people spending the $4,950/year on that program won't really see such results. In fact, as I mentioned earlier because it surrounds investing (which involves risk) they could actually end up LOSING money instead… That should not be forgotten.
Which brings me onto…
Is National Institute For Cannabis Investors a Scam?
We can easily conclude our National Institute for Cannabis Investors review by stating that this is a highly legitimate offer. The industry experts are running this program and the company is real.
If you are interested in investing in the cannabis industry then we recommend you start with the basic membership at $39/year. Analyse your performance and then decide about the next step.
After all, the higher tier is for the experienced investors and for that you need to first test your knowledge, see how the results are coming, and whether or not the expert's advice is worth trusting. Overall, National Institute for Cannabis Investors is a reliable opportunity and there doesn't seem anything malicious when it comes to what they're offering.
The only downside I will say is the hyped-up marketing used to promote their $4,950 per year Venture Syndicate program. They boast that you can expect returns of 1000% to 100,000% but in my opinion for most that will be highly unlikely.
And as I also mentioned earlier in this review you must always remember that the National Institute for Cannabis Investors doesn't provide a clear-cut way to make guaranteed profits. It's entirely possible that you might simply lose money & never make a penny because investing always carries risks.
That's why I typically recommend these safer alternatives for making money (some of which still have extremely high earning potential).
And I'll point out here that one of my all-time favourite methods for earning money online is something called affiliate marketing. The reason I like it so much is because the amount you can earn is totally uncapped & you can get started with it without spending a lot of money.
If you'd like to check out affiliate marketing then be sure to check out Commission Academy.
But whatever you decide to do I just sincerely hope that you found my review of the National Institute for Cannabis Investors useful & I hope it has given you a good insight into what you can expect. Feel free to leave any comments or questions below. 🙂
A Better Alternative
The sad truth is that unfortunately most of the programs promising to help you make money online are scams. I can say that confidently after exposing over 500+ of them here on this blog.
But the good news is that even though most of them are indeed scams, there are actually some very good programs in amongst them - some programs that can truly help you to earn money.
And out of all of the legit programs I've seen, the one I would recommend the most to anybody looking to get started online is Commission Academy. In my own opinion, that's the best place to start.
At Commission Academy, you'll be provided with everything you need (including the training & tools) to begin earning real money by promoting products or services for companies like Amazon online.
The best part is that there's literally no limit on the amount you can earn with it & the process is pretty simple which means that it's absolutely perfect for people that don't have much experience.
Some wealthy affiliates even earn as much as 5-figures per month... Or more!


I mean don't get me wrong, that kind of money won't just fall into your lap without doing any work... But the harder you're willing to work at it, the more you stand to earn with it.
So if you're looking to get started but don't know which route you should go down or which program you should join (and don't want to waste money on bogus things that don't actually work), then I'd highly recommend checking out Commission Academy first. You can learn more about it here.