If there's one thing we're definitely not short of in this world it's health & wellness network marketing opportunities. You just can't seem to move for people pitching different nutritional products & herbal remedies on social media claiming that their company is the next best thing since sliced bread.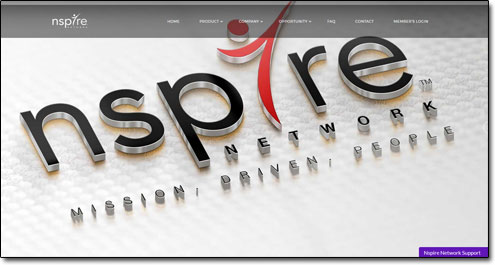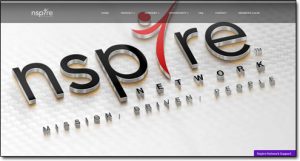 One particular company that I've noticed has been getting a lot of exposure lately is a company named Nspire Network, and it's actually a relatively new company since it only "fully" launched just over a few short months ago.
So what's Nspire Network bringing to the table? Is it a company whose products are finally going to actually provide some value? And is it a company that's finally going to enable the distributors to actually make some money for a change?
Those are all the sorts of things I'm going to be uncovering right here in this Nspire Network review as I aim to literally dig out everything you need to know so that you can figure out whether or not you should actually get involved with this company.
What Is Nspire Network?   |   What Are The Products?   |   My Thoughts on The Products   |   The Business Opportunity   |   My Final Verdict   |   A Better Alternative
What Is Nspire Network?
Nspire Network is a company that sells various health & wellness related products but alongside that, they offer an "income opportunity" through which you can sign up as a distributor to earn extra money by reselling the products themselves.
They are actually a network marketing company which means that on top of being able to earn money through your own efforts you also get the opportunity to earn money from the efforts of those that you recruit into the scheme (providing they go on to make sales). Picture it like a pyramid…
Of course, I'm not saying that Nspire Network is a pyramid scheme… I'm just saying that the way you earn commissions from your sales & the sales of others, kind of forms a pyramid shape, if you catch my drift.
The company was launched by a guy named Spencer Iverson earlier this year & the amazing thing about Spencer is that he managed to take Nspire Network from zero to over 5 million dollars in sales in just the first few weeks.
Pretty crazy right?
But that's because Spencer was already a big name within the network marketing industry & had a large following so when he launched Nspire Network he was able to get a whole bunch of top leaders from other companies (and his previous company "Worthy of Millions Institute") to join him & promote his new venture.
It clearly paid off! And whilst things may have slowed down a little the company is still growing at a very substantial rate.
What Are the Products?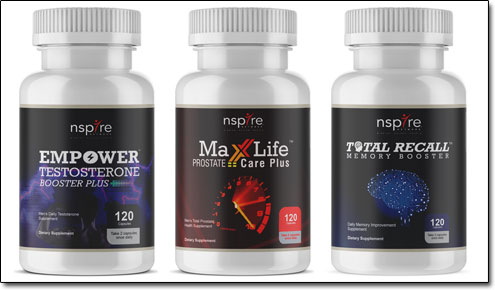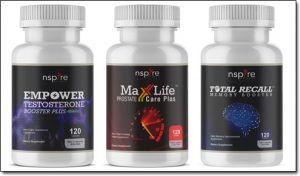 As with all network marketing companies, the products are the lifeblood of the business, if the product sucks then nothing else matters – you're either not going to make any money at all or the money you do start making ain't gonna last very long.
The products offered out by Nspire Network are actually quite different to those that are offered out by your traditional health & wellness MLM's (you know, the usual green tea stuff & detoxifying herbs that we're all forever getting hounded with on social media).
Nspire Network's primary products are sanitary napkins for women & they offer a variety of different types. Alongside those, though they offer some quite "random" products, such as memory booster supplements, testosterone booster supplements & even some supplements to improve things in the bedroom.
However, the one important thing to note is that none of the products offered out by Nspire Network have been evaluated by the Food and Drug Administration.
Nspire Network also doesn't make any retail sales of the products themselves so if you want to purchase anything produced by Nspire Network you'll have to first find yourself a distributor who you can purchase through.
My Thoughts On The Products
There are certainly large markets for the products offered out by Nspire Network but this is a both a good & a bad thing because in selling these types of products you're going to be up against a HUGE amount of competition.
Couple that with the fact that none of the products have been evaluated by the Food and Drug Administration so their claims may as well be taken with a pinch of salt & I personally think you'd have a hard time shifting any of this stuff…
Which means if you were to make money with Nspire Network I think you'd have to go down the route of purely selling the benefits of the opportunity onto other people which if you know anything about network marketing you'll know is not good.
The other big issue is that the type of things sold by Nspire Network are the types of things people wish to buy in private – meaning people are generally not going to ask you for this kind of stuff & by pushing it onto people you could potentially embarrass them.
From a distributors point of view, it's a risky product line, to say the least, unless you are very experienced with network marketing & have a solid idea of a target market that you can promote to.
The Nspire Network Business Opportunity
To become a Nspire Network distributor you'll need to first pay a fee of $35 to obtain your "annual distributors license", then on top of that you'll need to order to some product to sell.
It's not actually mandatory that you purchase a product to begin promoting the company, but of course, it will be inevitable that you'll have to purchase some product at some point to supply your customers demands (if you manage to get any customers, that is).
The different distributor packages are as follows:
Builder – $99 or more
Achiever – $299 or more
Premium – $499 or more
Elite – $999 or more
As you are with any network marketing company you're encouraged by Nspire Network to purchase as high a quantity as you possibly can because the more you order the more money you'll save making for larger profit margins.
In order to be eligible to earn commissions through the scheme, you must personally sell between 25 PV to 100 PV each month, and once you do that you'll be eligible to earn 40% commissions on retail sales of the products.
If you manage to recruit people who then also decide to go on to join the opportunity themselves then you'll be able to earn a bonus when they purchase their distributor package & this bonus could be anywhere between $25 and $125 depending on the pack they choose to get started with.
On top of all that you then get the opportunity to earn from the efforts of your downline through a uni-level compensation plan. The commission amount you will earn from your downline depends on your rank but could be anywhere between 10% & 25%.
So in traditional network marketing style, you have a crazily over-complicated compensation plan. So frustrating!
You Might Also Like:
Should You Join Nspire Network? My Final Verdict
I'm not going to recommending you join Nspire Network & there are a few reasons I've come to that conclusion – the first one being that I absolutely hands-down hate network marketing companies as only a very small percentage of the people that join them ever manage to find any sort of success with them.
But the other reason is that I feel that the products offered by Nspire Network would be very hard to sell due to their nature, especially in any sorts of quantities that would make you good amounts of money from the opportunity.
And finally, in my opinion, the startup cost is just way too high – I mean even if you only purchase the minimum package you're looking at paying out $124 before you get started, and then if you don't manage to make sales you'll have to buy even more product each month to maintain an active distributor…
Nspire Network could potentially see you thousands of dollars down before you even get the ball rolling & make any sales.
For those reasons I just couldn't recommend this company to you especially not when there are so many alternative (and in my opinion better) ways to make extra money such as affiliate marketing for example.
Affiliate marketing is how I've personally been generating a full-time income online for the past 5+ years and it's something that I'd recommend to anybody because it's actually so easy to get started with… and you can actually get yourself rolling for free, none of this BS where you're required to pay out money for "product" like you are with network marketing companies.
It's worth checking out anyway, and if you find affiliate marketing isn't for you I've also put together a list of a whole bunch of other opportunities here.
A Better Alternative
The sad truth is that unfortunately most of the programs promising to help you make money online are scams. I can say that confidently after exposing over 500+ of them here on this blog.
But the good news is that even though most of them are indeed scams, there are actually some very good programs in amongst them - some programs that can truly help you to earn money.
And out of all of the legit programs I've seen, the one I would recommend the most to anybody looking to get started online is Commission Academy. In my own opinion, that's the best place to start.
At Commission Academy, you'll be provided with everything you need (including the training & tools) to begin earning real money by promoting products or services for companies like Amazon online.
The best part is that there's literally no limit on the amount you can earn with it & the process is pretty simple which means that it's absolutely perfect for people that don't have much experience.
Some wealthy affiliates even earn as much as 5-figures per month... Or more!


I mean don't get me wrong, that kind of money won't just fall into your lap without doing any work... But the harder you're willing to work at it, the more you stand to earn with it.
So if you're looking to get started but don't know which route you should go down or which program you should join (and don't want to waste money on bogus things that don't actually work), then I'd highly recommend checking out Commission Academy first. You can learn more about it here.