We all need to conserve energy and consume it efficiently and there are ways in which we can gain some monetary benefits for doing so.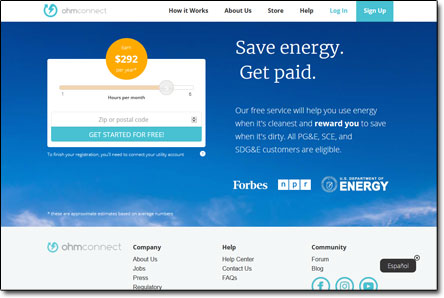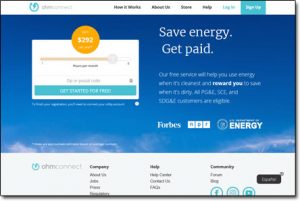 That's what the relatively new energy company OhmConnect promises it can offer. They claim that they'll pay you for saving energy – but can their claims be trusted?
You might have read about the stay-at-home mum who was allegedly able to make $1,700 through OhmConnect in a year. The internet went buzzing and everyone around California wanted to know what the real deal was.
Well, we decided to find out for ourselves and put together an honest & unbiased OhmConnect review for all of you which is based off the back of our findings.
We have tried to answer every question that you may possibly have about this venture. Our OhmConnect review explains what this pay-to-save program is all about, how it works, how much money you can make and most importantly if it's a scam or a legitimate way to earn some passive income.
What Is OhmConnect?   |   Who Can Join?   |   How Does It Work?   |   What Are OhmHours?   |   How Much Can You Earn?   |   Is OhmConnect a Scam?   |   A Better Alternative
What Exactly Is OhmConnect?
OhmConnect is a California based company that incentivises people to save energy to protect the environment. The incentive is certainly monetary. This company has been functional since 2013 so its relatively new in the grand scheme of things but it does already have quite a lot of customers.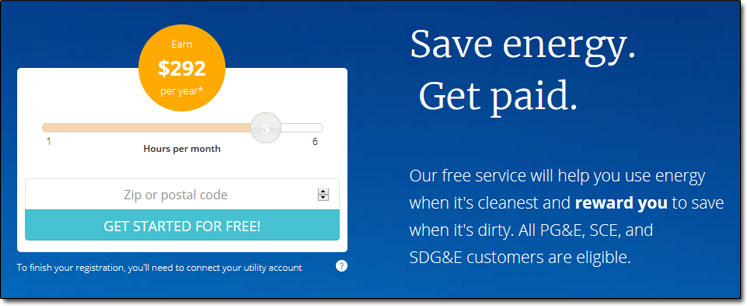 There are smart metering projects underway in many areas. People can save energy by reducing their power consumption and earn money for it. Their electricity vendor would pay them the claimed money which equals the prevalent per-unit price. You can earn money but it's a hassle. It's a whole process and you have to engage with your supplier and what not.
OhmConnect basically does the hard work for you. It acts as a middleman, does all the paperwork and takes the claimed payments from the vendor and pays you a share from that money. That's what OhmConnect would do for you.
They also offer you the ability to purchase those smart switches and gadgets which can help you comply with OhmHours. More on that later in this OhmConnect review, but firstly & importantly…
Who Can Join OhmConnect?
The scope of this company in terms of eligibility of participants is quite limited at this point. However, it is expected to increase in the future. Following households can participate:
Located in California, having PG&E (Pacific Gas & Electric), SDG&E (San Diego Gas & Electric) or SCE (Southern California Edison).
Located in Texas having Smart Meter Texas.
Located in Ontario using Toronto Hydro.
Residents of these areas who are affiliated with other electricity suppliers can also join this program. However, they won't be able to claim any cash. Instead, they can win tokens which can then be used to win prizes in draws. These prizes can include smart thermostats or other energy-related things like that.
Now let's take a closer look into how it all works to figure out what sort of realistic income you may be able to achieve if you meet the eligibility criteria to use OhmConnect…
How Does OhmConnect Work?
To participate in OhmConnect's get-paid-to-save-energy program, you have to first sign up with them. It is a free-for-all-to-join program for everyone, so you don't need to worry about any kind of initial cost.
Once you have signed up with them, you will be notified via an email or SMS of your registration. You will get access to your account where all the updates and notices are provided. You can use your dashboard to check on the amount of energy consumed in normal use, energy saved, points won or lost and your earnings amounts.
What you must know is that while you can win points to save energy and consume less than normal, you can also lose points for using more. All the points you win are converted to real money value and you can claim the money.
All About OhmHours…
OhmConnect works by identifying OhmHours. These are the hours for which you would be monitored for saving energy and get paid. It is a good idea to check your overall usage, but you will only be paid for saving during the OhmHours. You will be notified 24 hours in advance to ensure maximum compliance.
There are different types of OhmHours too. There are regular OhmHours for which you would get paid for saving energy. Then there are Prize OhmHours for which you don't get paid directly but get to participate in a draw. You can win prizes in these draws which could include things like gift cards or smart gadgets.
The third kind is the Mega OhmHours which are generally offered during the peak consumption months only. You will be offered some sort of bonus for participating in the mega OhmHours. It is generally mentioned in the notification as to how much of the bonus can you earn.
They Help You Automate the Process
Observing 100% compliance with the OhmHours can be difficult if you are managing the power manually. OhmConnect lets you purchase smart switches which can automatically down the power at the specified OhmHour. One switch would cost you around $35.00.
The inconvenience with automation is that the power goes down automatically. If you are in the middle of some important work, have guests over or something else happens, you could potentially run into issues. But a notification is given 24 hours in advance so it shouldn't really be a problem.
You Might Also Like:
How Much Can You Earn Realistically?
To be fair, you shouldn't expect to find yourself earning $1,000 a year participating in OhmConnect like the stay-at-home mum claimed to be making that I mentioned at the start of this review. Only outliers can make as much money.
Your profit potential would be greatly affected by your normal usage. If you are out all day on a regular basis, you won't really save that much power… But in the same breath of course if you typically use a lot of energy, then your savings will be greater.
I believe a realistic estimate would stand at $100 to $300 a year or so.
And that brings me onto…
My Verdict – Is OhmConnect a Scam?
Whilst carrying out research on the company for this OhmConnect review we found that people do have complaints. Some complain about too many participants in the prize draws while others don't think that prize hours are a good option…
But overall it's safe to say that OhmConnect is not a scam for sure. We would recommend it to anyone who is eligible and wants to have a go. It's free to sign up and healthy for the environment after all which is something that we're very passionate about.
The only real downsides I can personally see at the moment is the fact that the eligibility criteria to participate in OhmConnect is very limited & also as I mentioned in the previous section of this review the automated power shut-off devices could cause issues.
It's certainly a good idea though there's no doubt about that as it's providing a monetary incentive to help the environment… What could be better than that? Doing good for the environment AND earning money…
But as I previously sad it's not really going to see you earning anything overly substantial & so instead if you would like to see some other ways you could boost your earnings then, by all means, feel free to check out my top picks here.
You can also read about the way I personally make money online by clicking here too.
But whatever you decide to do I just hope that my review of OhmConnect here has given you a good insight into how it all works & hopefully it will have helped you decide if it will really be beneficial for you or not.
If you still happen to have any further questions or comments though then, of course, don't hesitate to leave them below. 🙂
A Better Alternative
The sad truth is that unfortunately most of the programs promising to help you make money online are scams. I can say that confidently after exposing over 500+ of them here on this blog.
But the good news is that even though most of them are indeed scams, there are actually some very good programs in amongst them - some programs that can truly help you to earn money.
And out of all of the legit programs I've seen, the one I would recommend the most to anybody looking to get started online is Commission Academy. In my own opinion, that's the best place to start.
At Commission Academy, you'll be provided with everything you need (including the training & tools) to begin earning real money by promoting products or services for companies like Amazon online.
The best part is that there's literally no limit on the amount you can earn with it & the process is pretty simple which means that it's absolutely perfect for people that don't have much experience.
Some wealthy affiliates even earn as much as 5-figures per month... Or more!


I mean don't get me wrong, that kind of money won't just fall into your lap without doing any work... But the harder you're willing to work at it, the more you stand to earn with it.
So if you're looking to get started but don't know which route you should go down or which program you should join (and don't want to waste money on bogus things that don't actually work), then I'd highly recommend checking out Commission Academy first. You can learn more about it here.