One Minute Free Traffic is a newly launched program that's geared towards struggling affiliate marketers as it claims to provide the answer for generating easy, free traffic which you can supposedly turn into sales.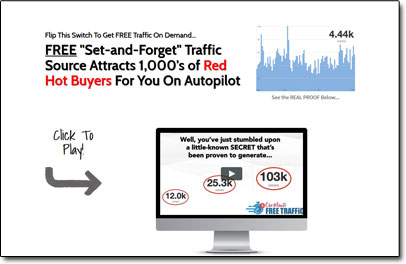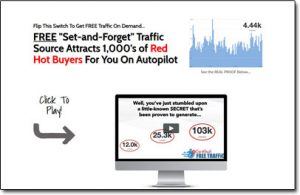 The creators of the program Matt & John Rhodes claim that you can just "set and forget" the traffic & scale it up to any level you want.
But is it actually legit? Or is One Minute Free traffic a scam that you should just avoid?
Well, I can tell you right from the off that it's technically legit & the traffic does kinda work however there's also a big problem which is exactly what I'll be uncovering right here in this One Minute Free Traffic review…
What Is One Minute Free Traffic?   |   How Does One Minute Free Traffic Work?   |   A Rundown of The Process   |   Is One Minute Free Traffic a Scam?   |   A Better Alternative
What Exactly Is One Minute Free Traffic?
One Minute Free Traffic is a newly launched program & like the name suggests it basically promises to provide you with a way to easily get lots of traffic in a really short space of time, regardless of your experience.
Most importantly though the program claims that the traffic isn't just any old traffic, instead you'll allegedly be getting a traffic source that will allegedly attract thousands of red-hot buyers for you all on complete autopilot.
Matt & John Rhodes (who call themselves The Rhodes Brothers) literally state on their sales page that you can "flip a switch and get traffic on demand" as shown in the screenshot I've taken below:

But in reality, that's NOT how it works, and it's almost a shame that they've decided to market this program with such over-hyped claims because the honest truth is that there's actually some substance to it.
The method itself does indeed work (a little bit)… It's just not as easy as they make it out to be & also the way they tell you to do it will run you into some big problems which will likely see you struggling to make it work.
You'll see what I mean when I explain in finer detail exactly how the method all works below…
How Does One Minute Free Traffic Work?
Well, what you've probably noticed already is that the One Minute Free Traffic website doesn't go into any sort of detail as to how it actually works… Instead, it just says how it doesn't work…
You're told it doesn't require a website, nor an email list… That there's no black-hat methods involved & no social media accounts required…

So what DOES it involve?
Well, in short, the whole thing is actually pretty basic & it actually just involves you basically responding to questions via the Quora platform in the hope of being able to generate traffic to your affiliate links from there.

And knowing that you'll probably now understand why I said at the start of this review that it was really over-hyped.
Because I'll admit that yes, Quora can actually be pretty good for generating traffic… But it's certainly not as clear-cut as the guys behind the One Minute Free Traffic program lead you towards believing.
And you certainly won't be generating traffic in just "one minute" either… At least not for long.
You see the issue with it is that whilst Quora is actually a pretty good place for getting traffic, it's also moderated which means if you're seen to be just promoting affiliate links then your account will quickly be terminated.
Plus when they say that you don't need a website, you will – because in order to stand any chance of stopping your Quora account getting banned you'll need to be seen to be sharing value, not just affiliate links.
This means you'll need to set up a website or start a blog & share valuable content that assists with your Quora answers… And even then if you were literally posting a link to your site in every answer you'd still get banned.
In short, the Quora moderation team aren't stupid & if you're just posting answers in order to earn affiliate commissions then they'll quickly see through it & terminate your account.
Heck, it's happened to me in the past.
Then on top of all that you also have to understand that on Quora only the most helpful answers actually get displayed… All the rest of them actually get hidden away & can only be seen by logged-in users that choose to expand them.
Here's an example of that:

This means that unless your answer gets voted most helpful by the Quora community you'll be unlikely to get any traffic whatsoever.
So if you think you'll be able to just post quick-fire answers & generate traffic like The Rhodes Brothers lead you towards believing, think again. You'll need to thorough research & compile proper answers for each question.
But I'll admit that yes if you do you'll definitely be able to generate traffic… So the One Minute Free Traffic program isn't "all bad". It's just a shame that they decided to really over-hype their method.
However, as you can probably see now that you've read this review there's not much point in actually purchasing the One Minute Free Traffic program because literally all they do is tell you to post affiliate links in answers to questions on Quora.
Oh, and in order to supposedly speed up the process, they also share a speech-to-text tool with you but in all honesty that's more of a gimmick than anything else.
They just claim that by talking as opposed to typing you'll be able to answer questions more quickly and it's true you might, but certainly not much quicker & there are also many of those tools freely available online anyway.
In short though here's a rundown of the process:
You sign up to Quora
Search for questions related to your niche (or products you're promoting)
Answer them using the voice-to-text tool
Add affiliate links to products found on ClickBank
Get traffic from Quora & generate affiliate sales
That's how it's supposed to work at least… But like I mentioned previously, in that form it simply WON'T work… You'll just discover that your Quora account will get banned for violating their terms.
Instead, if you really want to stand any chance of getting it to work then you'll need to start a blog instead, create quality content & then share that content on Quora will the affiliate links posted on your blog.
That way when you post your answers on Quora it'll look like you're sharing valuable information that may actually help with the question rather than just promoting affiliate links to try to earn some money.
Which brings me onto…
My Verdict – Is One Minute Free Traffic a Scam?
As far as I'm concerned the program is not a scam, but in my opinion, it's really overhyped & misleading… And frankly, I just don't see any need to spend money on the program because the method itself is pretty simple.
There's no "secrets" or anything else to be found inside of the program… It literally (in short) just states that you should sign up to Quora & share ClickBank affiliate links within the answers that you post.
And yes it may get you traffic, but doing it that way won't get you traffic for long because your account will just end up getting banned – guaranteed.
So instead if you really want to generate traffic from Quora I would advise that you just start a blog for free & share content from your blog at Quora instead, then promote the affiliate links from your blog.
Or alternatively, you could just learn better ways to get traffic in general over at Commission Academy.
But whatever you decide to do I just hope that my review of One Minute Free Traffic here has given you a good insight into what you can expect from the program & I hope you can now see why it's not really as great as it seems.
If you still happen to have any questions or comments though then, of course, don't hesitate to leave them below. 🙂
A Better Alternative
The sad truth is that unfortunately most of the programs promising to help you make money online are scams. I can say that confidently after exposing over 500+ of them here on this blog.
But the good news is that even though most of them are indeed scams, there are actually some very good programs in amongst them - some programs that can truly help you to earn money.
And out of all of the legit programs I've seen, the one I would recommend the most to anybody looking to get started online is Commission Academy. In my own opinion, that's the best place to start.
At Commission Academy, you'll be provided with everything you need (including the training & tools) to begin earning real money by promoting products or services for companies like Amazon online.
The best part is that there's literally no limit on the amount you can earn with it & the process is pretty simple which means that it's absolutely perfect for people that don't have much experience.
Some wealthy affiliates even earn as much as 5-figures per month... Or more!


I mean don't get me wrong, that kind of money won't just fall into your lap without doing any work... But the harder you're willing to work at it, the more you stand to earn with it.
So if you're looking to get started but don't know which route you should go down or which program you should join (and don't want to waste money on bogus things that don't actually work), then I'd highly recommend checking out Commission Academy first. You can learn more about it here.