Has somebody tried to get you to join the OPM Wealth system? They've probably told you that it provides some sort of fantastic new way to earn online by using other peoples money instead of your own, am I right?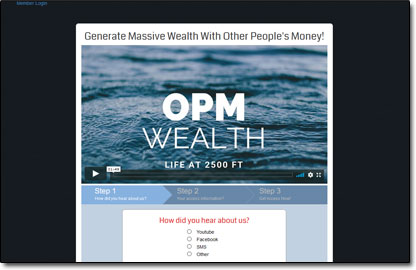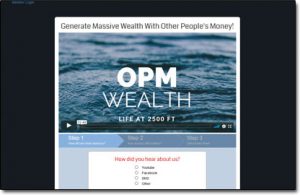 And now you're wondering if it's actually legit or just another to scam to avoid?
Well, it's a good job that you decided to do your due diligence before joining & came here to my OPM Wealth review first because I can immediately tell you right from the off that the whole thing is NOT as great as it seems.
In fact despite OPM Wealth claiming that it'll enable you to generate massive wealth the truth is that it'll probably just result in you actually losing money, not making it…
What Is OPM Wealth?   |   How Does OPM Wealth Work?   |   The Products   |   Is OPM Wealth a Scam?   |   A Better Alternative
What Exactly Is OPM Wealth?
So just yesterday I happened to receive an email in one of my inboxes promoting something called OPM Wealth & of course being the owner of a website like this one you're reading right now I just had to check it out.
Upon clicking the link I was taken to a page containing nothing other than a broad headline reading "Generate Massive Wealth With Other People's Money!", a video from a guy I'd never seen before & a box to enter my contact information…

Clearly to find out more I had to play the video, so I did… And in it, the guy talked about how most people are stuck in the rat-race & he claimed that he had a way that an enable people to break free.
One thing he didn't do is explain anything about his "method" and instead, this is where he prompted you to enter your contact information to find out more…
But do you really want to give your contact details to some random guy to "find out more"? Probably not – which is why I decided to put together this OPM Wealth review to save you the hassle (and protect you from the spam).
I entered my own details, found out exactly how it really works & I can safely say that it's nowhere near as great it seems (surprise). In fact, the chances are that if you join you'll just LOSE money, not earn it – as you'll soon see for yourself below…
How Does OPM Wealth Work?
Basically OPM Wealth is a brand new money-making system that claims it can enable you to actually leverage other people's money in order to make money for yourself – which of course sounds pretty interesting.
Who wouldn't want to make money using other people's money?
However, in reality, it's nowhere near as great as it seems because when they say "other people's money" what they really mean is that they want you to take out a loan to invest in their program.
And then guess how you're supposed to make money?
You're supposed to make money by then promoting the system to others & getting them to take out a loan & invest just like you did… So basically, in short, the whole thing is just a pyramid scheme.
Something that looks pretty much like this: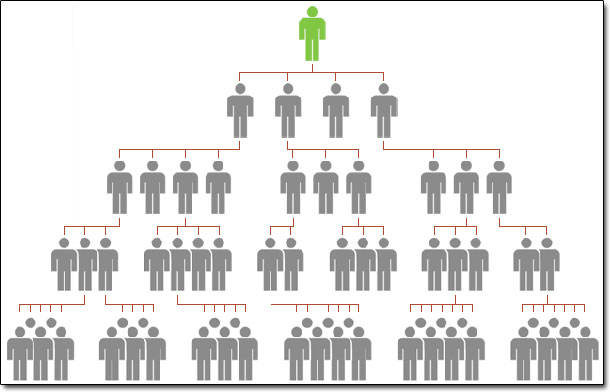 I mean sure, the people behind OPM Wealth have indeed tried to disguise the scheme by claiming that there are actual products inside of the platform but it's quite clear there's no focus on the products, instead the sole focus is on recruiting & making money.
Which means that despite their attempts to cover it up, it's still a pyramid scheme all the same… And as you probably already know, most people who join these schemes LOSE money, not make it.
That's because the reality these schemes are set to only truly benefit those at the top – and the person (or people) at the top earn their income from the people who invest lower down (also known as you or me).
But just in case you're still interested in it for whatever reason, here's what happens when you enter your details & join (which of course I don't recommend doing if you haven't done so already):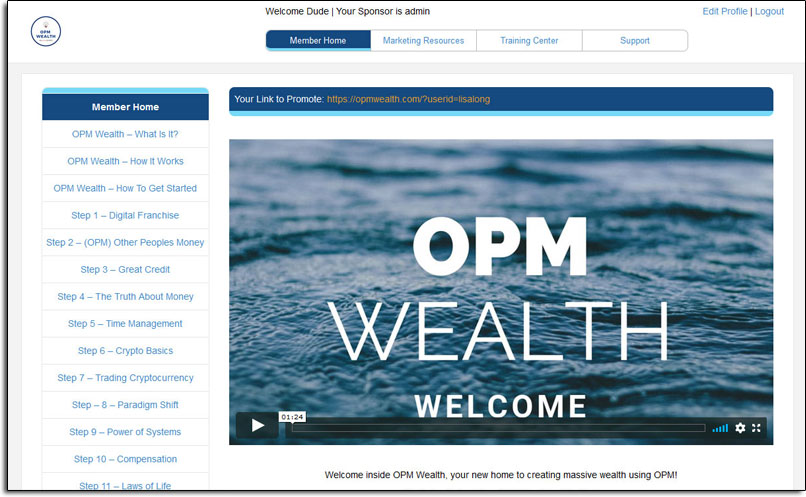 You're taken to a page which looks like the one above & basically you're told to go through a series of steps.
There are 17 steps in total & each step contains a video – however, as a new member, you can't even access so much as the first step. Instead, you can only view the "What Is It?", "How It Works" and "How To Get Started" videos.
But those videos are basically just further sales pitches & then in order to actually begin on step 1 you're told that you need to "call your coach" as shown in the screenshot below:

The problem here though is that your so-called "coach" isn't really a coach at all. It's actually just a salesperson who's being paid commissions to get people to take out a loan & invest in the program.
They know that if they said, "call our sales team" you probably wouldn't, so to try & seem a bit friendlier to actually get you on the sales call they claim that you'll be calling a "coach" which simply isn't true.
Then once you're on the call you'll be faced with high-pressure sales tactics to get you to not only spend money but to take out loans & spend money that you don't actually have.
They claim you'll be "leveraging other people's money" but in reality, they're just putting you into debt… And of course, they'll claim that you'll easily earn it all back but that's simply not true either.
As shown in the screenshot below the whole thing is simply about promoting the system to others:

You need to share your link then get others to sign up & invest just you did to stand any chance of earning anything back… And if you can't do that then you won't make any money.
The people behind OPM Wealth will, of course, make it all seem very easy but I can tell you that even as an experienced marketer you would have trouble getting people to sign up to OPM Wealth simply because it looks so much like a scam.
Most people will click on the page, then click away…
And even if you are an experienced marketer you probably still wouldn't want to get involved with OPM Wealth because as mentioned earlier the whole thing is a pyramid scheme, which is illegal.
If you sign up (as a newbie or experienced marketer) then you are participating in an illegal scheme… Not good!
Which brings me nicely onto the so-called "products" which they attempt to cover up the scheme with…
You Might Also Like:
The Products Inside of OPM Wealth
OPM Wealth, like most other schemes, attempts to hide the fact that it's solely based around recruiting by forcing members to invest in certain products… So you might be wondering, what exactly are these products?
Well here's where things get pretty random…
You see OPM Wealth is allegedly a system geared around making money & cryptocurrency, so you'd expect all of the products to be geared around that too right? But nope, they're not.
In fact, it seems like the creators of OPM Wealth have put the products in as a complete after-thought. They must have said, "oh damn, we need some products to actually try to make this thing look legit"…
The reason I say that is because there are five products, and only the first one discusses anything about making money. Heck, the second product in the line talks about fat burning & working out at the gym… Then the next product talks about mindset.
And they also claim to give out a physical product with each digital product pack too but these are just as random. You're told you'll get a trendy backpack, wireless chargers or wireless headphones etc…
What do they have to do with making money from other people's money or cryptocurrency? I've no idea…
Which brings me onto…
My Verdict – Is OPM Wealth a Scam?
OPM Wealth is a clear-cut recruitment scheme in which members are encouraged to take out loans, invest money & then recruit others to get them to do the same so that they can then earn at their expense.
Yes, they "technically" have products however it's quite clear there is no emphasis on the products whatsoever. They are a blatant afterthought & the sole emphasis is merely on recruiting others.
The harsh truth is that most people who join OPM Wealth will just lose money whilst the owners & the select few people at the top of the scheme earn at their expense.
Plus to make things worse OPM Wealth only allows payments in cryptocurrency which means that there is next to no chance of you getting any of your money back if you decide it's not for you.
So with all that in mind, it's safe to say that I won't be recommending OPM Wealth & instead, I'll be advising that you steer clear of it because if you join you'll just end up losing cash (and potentially lots of it).
Instead, if you want to make money online legitimately I suggest you stick with a proven method from my top picks page here.
Or alternatively, you could learn more about the same method I personally use to make most of my own money online which is something called affiliate marketing. That's one of my all-time top recommendations.
Affiliate marketing basically involves you promoting products or services online (such as products from Amazon) in return for commissions & you can get started with it for free over at Wealthy Affiliate.
But whatever you decide to do I just sincerely hope that my honest review of OPM Wealth here has given you a good insight into how it all really works & I hope it's helped you to save some cash.
If you have any further questions or comments then, of course, don't hesitate to leave them below. 🙂
A Better Alternative
The sad truth is that unfortunately most of the programs promising to help you make money online are scams. I can say that confidently after exposing over 500+ of them here on this blog.
But the good news is that even though most of them are indeed scams, there are actually some very good programs in amongst them - some programs that can truly help you to earn money.
And out of all of the legit programs I've seen, the one I would recommend the most to anybody looking to get started online is Commission Academy. In my own opinion, that's the best place to start.
At Commission Academy, you'll be provided with everything you need (including the training & tools) to begin earning real money by promoting products or services for companies like Amazon online.
The best part is that there's literally no limit on the amount you can earn with it & the process is pretty simple which means that it's absolutely perfect for people that don't have much experience.
Some wealthy affiliates even earn as much as 5-figures per month... Or more!


I mean don't get me wrong, that kind of money won't just fall into your lap without doing any work... But the harder you're willing to work at it, the more you stand to earn with it.
So if you're looking to get started but don't know which route you should go down or which program you should join (and don't want to waste money on bogus things that don't actually work), then I'd highly recommend checking out Commission Academy first. You can learn more about it here.