Affiliate marketing is one of the hottest business models today & it's being used by hundreds of thousands of people to make money online.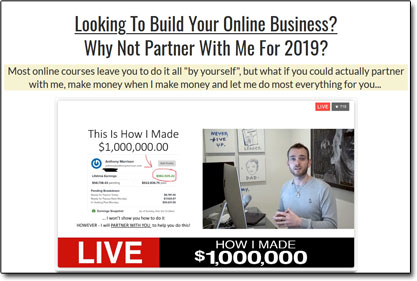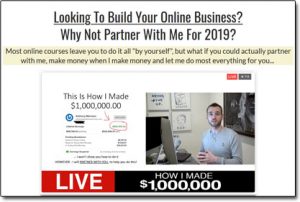 It's also a business model that is being moulded into many different and innovative money-making ideas – one of the latest of which is the Partner With Anthony program.
Anthony Morrison is back with another deal and a lot of people are talking about it. We even found unsolicited emails promoting this program sitting in our inbox & so we decided to look into it and put together an honest Partner With Anthony review.
We've found out exactly what the Partner With Anthony program is, how it works, what it's scope is and whether it's legitimate or not. Our detailed Partner With Anthony review will be covering all of that and more.
What Is Partner With Anthony?   |   How Does Partner With Anthony Work?   |   What I Don't Like   |   Is Partner With Anthony a Scam?   |   A Better Alternative
What Exactly Is Partner With Anthony?
Partner With Anthony is an affiliate marketing program that claims to allegedly teach users about this lucrative business model. It's the latest venture by Anthony Morrison who has done similar gigs about "making easy money online" sort of stuff in the past (such as Success With Anthony)…
He is now back with a whole new program.
The promotional video for his program promises you that you will make money when Anthony does and that you can partner with him for success. It's a kind of pitch that would easily attract the newbies trying to bank some money on the internet…
Here is a screenshot of the actual claim made on his website:

But we had our doubts, especially since Anthony will supposedly be doing most of it for us as claimed by the video. Why would he want to make other people money & charge them to access it? Why doesn't he just earn the money for himself instead?
The truth is that Partner With Anthony (PWA) is basically a training program. It will teach its members about the affiliate marketing business model. It would take around two weeks to complete the training during which you will not only learn from PWA but sell it too.
Yup, you'll be making referrals & trying to encourage people to purchase this program through affiliate marketing, and that's primarily what the Partner With Anthony program is all about… It's about signing up to Partner With Anthony, learning how to promote things online but then simply promoting the Partner With Anthony program to others.
The training does indeed touch on promoting other things, such as promoting products from sites like Amazon… However, it's quite clear that in reality the whole thing is just geared towards reselling Partner With Anthony.
And, another thing that you must know about this program is that it is not free. You have to pay to get paid, that's right!
Other programs like Commission Academy, in my opinion, are better in this regard because they give you lots of training so that you can literally decide what you want to promote. Using the Wealthy Affiliate training you'll learn how to promote any products from any website that has an affiliate program.
But we won't disregard Partner With Anthony just yet, instead, we'll take a closer look into how it all works to see if there's actually good money to be made & if Anthony Morrison really does the work for you as he claims…
How Does Partner With Anthony Work?
PWA teaches you affiliate marketing and will push you towards promoting the Partner With Anthony program itself to others through affiliate marketing too. How? It's rather simple, let me explain…
It takes $7.00 to enrol in this program. Once you have paid and purchased the program, you get directed to Anthony's education website where you will find the course.
The course contains about 12 modules with a lot of videos in each. These modules begin with the basics and then move forward towards more technical affiliate marketing. The catch is that once you complete one module, the next module becomes available after 24 hours only!
And you will need to buy a lot of tools to make it all work out while you promote PWA as a part of your training. Every single software tool and additional training modules will cost you more money.
For each successful referral, you earn money. You will also earn money if your referrals end up purchasing software tools etc. Some of these tools require monthly payments to keep running so you may earn some commissions each time your referral renews their subscription.
To promote Partner With Anthony you'll be actively encouraged to "build a list" and collect email leads. Email leads are collected by creating a capture page using ClickFunnels.
PWA will provide you with some "done for you funnels" to aid. That's probably what they mean by doing it all for you. You would continue emailing invites to people periodically. You need to understand internet marketing to get through with this. It won't only take a lot of time but a lot of hard work too.
The downside here though is that this isn't really Anthony "doing the work for you"… He has basically just provided you with some simple templates… You are still going to have to work hard if you want to stand any chance of making money.
You Might Also Like:
What I Don't Like About PWA…
Well, the only thing to like about this whole program is that it lets you learn and earn simultaneously. That's just it. Other than that, we don't like anything about it. It comes off as a well-curated marketing pitch for Anthony himself and nothing else.
The initial fee is warranted, we get it. But recurring expenses are way too high. You will incur unnecessary costs purchasing software tools etc. And you will only learn how to promote Partner With Anthony. The program won't help you learn using affiliate marketing in different niches and for different products. In other words, you would be stuck with one product, although it would pay…
The program says Partner With Anthony but you would never partner with him. How can you partner with him when all you get from him are recorded videos? You won't ever get to work with him. That's just against the whole marketing pitch itself!
In my opinion, the Wealthy Affiliate training program would be a much better option to join because at least through that program you get all of the tools you need included & you also get in-depth training on how to promote ANY products in any niche.
But anyway I think I've said enough, it's time for…
My Verdict – Is Partner With Anthony a Scam?
The Partner With Anthony program isn't a scam… It is a genuine program run by a well-known marketer. You will learn and (potentially) earn too. It's totally legitimate.
However, in the same breath, we would like to conclude our Partner With Anthony review by saying that we would never recommend this program as a potential means of earning money. It's too demanding and in our opinion simply not worth it.
The Partner With Anthony program will require you to sign up to lots of third party software or services which will cost you lots of money & some of these services are billed monthly… It's not cheap & there is no guarantee that you will ever earn any of that money back.
Plus on top of that it doesn't really teach you how to produce any products, it just focuses on teaching you how you can promote the Partner With Anthony program itself onto others which is something I don't really like.
In my opinion, if you really want to get going with affiliate marketing you would be better off with a program like Wealthy Affiliate which provides you with all of the tools as part of the program & also provides you with the training that will help you promote any products/services in any niche.
I'll also point out that whilst I do believe affiliate marketing to be one of the best ways to earn money online there are indeed other legitimate ways you can make good money too which you can see here.
But whatever you decide to do I just hope that my Partner With Anthony review here has given you a good insight into what you can expect from the program & whether or not it will really help you. If you still happen to have any further questions or comments though then don't hesitate to leave them below. 🙂
A Better Alternative
The sad truth is that unfortunately most of the programs promising to help you make money online are scams. I can say that confidently after exposing over 500+ of them here on this blog.
But the good news is that even though most of them are indeed scams, there are actually some very good programs in amongst them - some programs that can truly help you to earn money.
And out of all of the legit programs I've seen, the one I would recommend the most to anybody looking to get started online is Commission Academy. In my own opinion, that's the best place to start.
At Commission Academy, you'll be provided with everything you need (including the training & tools) to begin earning real money by promoting products or services for companies like Amazon online.
The best part is that there's literally no limit on the amount you can earn with it & the process is pretty simple which means that it's absolutely perfect for people that don't have much experience.
Some wealthy affiliates even earn as much as 5-figures per month... Or more!

I mean don't get me wrong, that kind of money won't just fall into your lap without doing any work... But the harder you're willing to work at it, the more you stand to earn with it.
So if you're looking to get started but don't know which route you should go down or which program you should join (and don't want to waste money on bogus things that don't actually work), then I'd highly recommend checking out Commission Academy first. You can learn more about it here.