Success With Anthony is a program that's been put together by a guy named Anthony Morrison & it claims to provide you with a way to generate huge amounts of money online really quickly.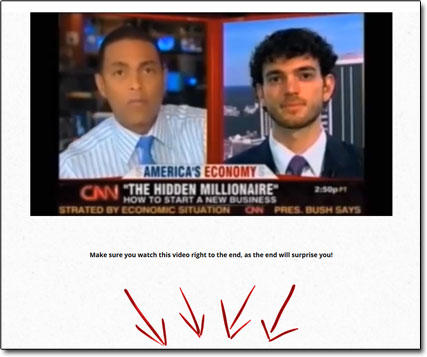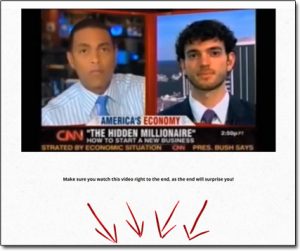 On the sales page for this program, you're shown several income claims with many alleged members claiming that they've made over $100k in a month & many more from people who claim to be making life-changing amounts of money…
But is the program actually legit or is Success With Anthony a scam that'll just leave you with less cash & a feeling of disappointment?
Thankfully you've landed in exactly the right place to find out because I've taken a closer look into this program & in this review, I'm going to be uncovering everything you need to know, including how it all works & whether or not you can really make money with it.
What Is Success With Anthony?   |   How Does Success With Anthony Work?   |   Can You Make Money With It?   |   Is Success With Anthony a Scam?   |   A Better Alternative
What Is Success With Anthony?
Success With Anthony is a training program that's been put together by a guy named Anthony Morrison – and it's allegedly been designed to help you make lot's of money really quickly.
Now the first thing I can confirm is that Anthony Morrison is indeed a real person because I actually reviewed another program that he'd put together not so long ago named Fan Page Domination.
And initially, this seems like a good sign, because most of the time the scams often use actors and hide the real creators for obvious reasons… However, things quickly take a turn in the opposite direction when the video starts playing.
Honestly, the video just screams get-rich-quick scam & the only thing that kept me on the page was knowing that Anthony is actually a real guy… I have no idea why he's made the video as he has, but I was curious to see what it was all about & whether any of the claims hold true…
Though if I'm being honest I was extremely doubtful about the whole thing because his claims we're really bold – he says he met up with 3 regular people & that thanks to his system they all started making $161.58 in their very first hour.
He then claims to catch up with then again a couple of days later & by this point they've allegedly made over $2,000 each…
As far as I'm concerned those claims are just insane… I've been working online for a long time & I've never known of any methods that could see a totally inexperienced person generate those kinds of results in such a short period of time.
As I say the only kinds of things that usually spout off bold claims like that are get-rich-quick scams, which is why I was super sceptical about the whole program after watching his sales video.
Anyway needless to say as well as suspicious it all got me very curious so I decided to check it out to see what it was all about & how it actually worked… I'm not gonna lie, what I found was pretty disappointing.
How Does Success With Anthony Work?
Anthony Morrison the guy behind this program makes some extremely bold claims in the sales video & since he doesn't give a great deal away about his program it kinda leads you into thinking that he must have some sort of "secret method"…
The truth is he doesn't, and that essentially the Success With Anthony program is just an affiliate marketing course… A very basic one at that.
Though Anthony does put a fancy spin on it to make it sound better – he says you'll learn how to build a "Profit Cycle Funnel", which ultimately is just a website that's going to be used for affiliate marketing… Nothing really special about it.
And this is where I'll just take a second to point out that in case you don't already know, affiliate marketing as a method in itself is indeed legit. It's basically where you connect people with third party products & get paid commissions in return… It's a pretty simple business model overall but since it's a real business it does take work to make good money with it.
To date, the best place I've found to learn about affiliate marketing is a place called Commission Academy.
But just like the Success With Anthony program, there are hundreds if not thousands of programs that claim they can teach you ways to make money through affiliate marketing – some though are complete garbage, and some cost the earth.
A good example in terms of costing the earth would be the AWOL Academy program which could set you back tens of thousands of dollars!
And despite the Success With Anthony program claiming to cost only $67 (or $98 if paid over the 2-pay option), this is yet another program that costs the earth as with all upsells included you'll be looking at a good few thousand here too.
So before I go into detail on exactly what you'll get inside, if you don't have few thousand to spare then right from the off this is definitely not going to be the program for you (I'd suggest checking out Commission Academy instead which is free).
Anyway, let's take a look at his "Profit Cycle Funnel" and see if you can actually make money with this thing…
You Might Also Like:
Can You Make Money With Success With Anthony?
Okay so as I mentioned above the concept here with the Success With Anthony program is that you are going to learn affiliate marketing which is basically where you promote third party products & earn commissions for doing so.
The process looks like this: you get people to click your affiliate links & if they make a purchase you get paid.
It's a simple way to make money, but obviously in reality the process is not so easy. There are few important things you need, for example, you need the right people clicking on your links – people who are actually interested in the products/services being sold & you also need to create quality promotional pages to get people to click the links in the first place.
But anyway, Success With Anthony claims it can help you with it… So can it?
Well, basically all the Success With Anthony program does is teach you how to create a 2-page "funnel". You'll have a page where you'll ask for people to enter their email addresses, and a page containing a thank-you message when they do (with some affiliate links on as well).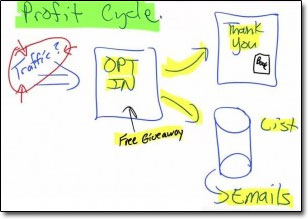 So this is the basic idea:
You create your "Profit Cycle Funnel"
You send traffic to the opt-in page (the page asking for the email)
When people submit their email you send them to a thank-you page & try to convince them to buy something
If they don't buy anything you follow up with them via email & continue trying to convince them
I will point out that whilst if you're new to affiliate marketing this might sound like a totally awesome way to make money, ultimately it's super basic stuff & unless you've already got a good source of traffic you're going to be unlikely to make any money with it.
If you don't already have traffic then this is taught through the Success With Anthony program as well, but he pushes you down the route of buying solo ads and these are known for being rubbish… If you go down this route as Anthony suggests the likelihood is you'll lose money rather than make it.
The only decent thing is the fact that Anthony gives away one of his own funnels via the program which he claims is proven, however in order to get access to this on top of buying the Success With Anthony program you also have to purchase a membership to ClickFunnels which will cost an additional $97/mo on top.
Does his "proven" funnel really convert? Maybe, maybe not – but even if it does it is unlikely to convert for long since every single member inside of the Success With Anthony program will be promoting the exact same funnel.
Is Success With Anthony a Scam?
Well despite the promotional video for this program looking very similar to that promoting a typical get-rich-quick scam, I can surprisingly say that the Success With Anthony program is actually not a scam… However, it's also not a program I'll be recommending either.
Whilst it does provide some legitimate training in return for your money the reason I'm not recommending it is simply because in my opinion, it costs too much, only touches on the very basics & overall I don't think it will really help you.
As far as I'm concerned the Success With Anthony program will probably see you spending more money than you'll ever make in return due to the fact that it teaches you to start out with paid traffic methods rather than free ones. It doesn't matter if you are a newbie or the biggest guru in the world when you first make a funnel it is never going to be profitable right from the off, it'll always require tweaking & therefore initially you'll be burning through a ton of cash if you're just throwing paid traffic (like solo ads) at it.
If you are experienced then you could probably figure out why it's not profitable, but as a newbie, you'd struggle & the Success With Anthony program doesn't really help you with that side of things. In my opinion, I'd recommend a program like Commission Academy instead where you learn the free methods first – that way you can get things profitable without having to spend a ton of cash beforehand.
Anyway, that's my opinion on the whole thing – it's a legitimate program but far from the best I've ever seen and as a result, I won't be recommending it. If you do happen to have any further questions or comments don't hesitate to leave them below.
A Better Alternative
The sad truth is that unfortunately most of the programs promising to help you make money online are scams. I can say that confidently after exposing over 500+ of them here on this blog.
But the good news is that even though most of them are indeed scams, there are actually some very good programs in amongst them - some programs that can truly help you to earn money.
And out of all of the legit programs I've seen, the one I would recommend the most to anybody looking to get started online is Commission Academy. In my own opinion, that's the best place to start.
At Commission Academy, you'll be provided with everything you need (including the training & tools) to begin earning real money by promoting products or services for companies like Amazon online.
The best part is that there's literally no limit on the amount you can earn with it & the process is pretty simple which means that it's absolutely perfect for people that don't have much experience.
Some wealthy affiliates even earn as much as 5-figures per month... Or more!


I mean don't get me wrong, that kind of money won't just fall into your lap without doing any work... But the harder you're willing to work at it, the more you stand to earn with it.
So if you're looking to get started but don't know which route you should go down or which program you should join (and don't want to waste money on bogus things that don't actually work), then I'd highly recommend checking out Commission Academy first. You can learn more about it here.