In this review, I'll be taking a closer look at a newly launched product named Fan Page Domination which claims it can help you generate thousands of dollars per month online by creating profitable Facebook fan pages.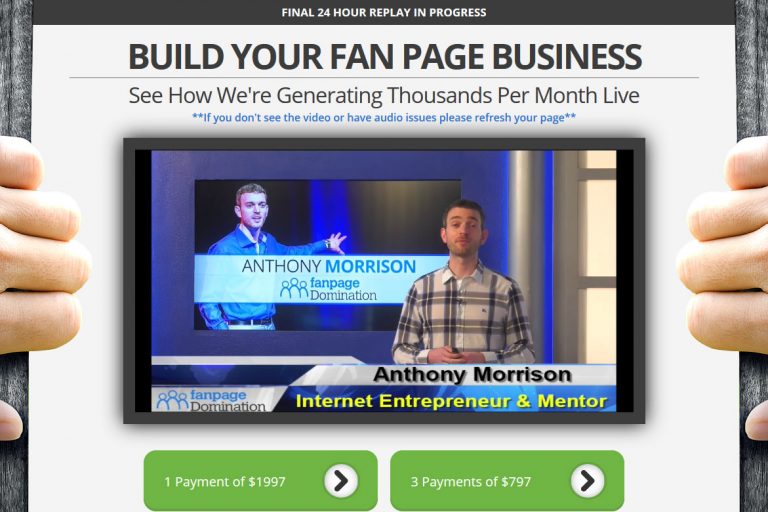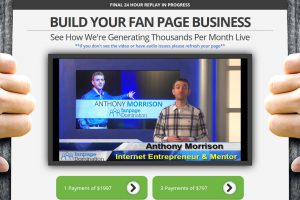 Apparently after following the training that's been put together by Anthony Morrison inside you'll be able to set up your own fan page & start making money almost immediately, but is it actually legit?
Or is Fan Page Domination a scam?
Well, you've landed in the right place to find out because, in this review, I'll be uncovering everything you need to know.
What Is Fan Page Domination?   |   How Does It Work?   |   The Bad Points   |   Is Fan Page Domination a Scam?   |   A Better Alternative
What Is Fan Page Domination?
As I briefly touched on above Fan Page Domination is a training program that claims to be able to help you make money from Facebook fan pages & it's been put together by a guy named Anthony Morrison.
Anthony Morrison is indeed a real person & I can personally confirm that he has actually had a lot of success through Facebook marketing so when it comes to teaching others he certainly knows what he's talking about.
Being in the internet marketing industry myself I've followed him over the years and I've seen some of the things he's been able to achieve through social media so it's safe to say he's the real deal.
The reason I want to make that clear is that I see a lot of scams launch & they're presented by people who claim to be gurus but in reality are nothing more than actors (like we saw with the Internet Wealth Biz system for example).
How Does Fan Page Domination Work?
Basically, throughout Fan Page Domination you're taught step-by-step how to find good niches that can make money on Facebook, how you can setup your own fan page for that niche & how you can use "viral" techniques to massively increase your organic reach on the platform enabling you to generate money without having to spend a fortune on ads.
You'll also then learn how you can build an email list from the people who are engaging with your fan page & then how you can use that email list to make money by promoting third party products (affiliate marketing).
Here's how the course is structured:
Phase 1 – Getting Set Up
Phase 2 – Build & Grow
Phase 3 – Scale & Launch
Phase 4 – Monetize & Profit
Unlike many of the other social media marketing training programs that merely just scratch the surface, Anthony Morrison really has gone all out on his program & it does contain a LOT of valuable information.
Some of the methods that he teaches through the course have apparently generated him over 50,000+ subscribers onto his email list in just 30 days – which I can actually believe because if you can create viral content on social media you can very quickly reach a massive audience.
One thing that he teaches which is something that you might have seen people implementing on social media is how to run successful contests – this is a technique I've seen many people using and it works really well.
For example, on your fan page, you could offer a giveaway & instruct people to like, comment & share the post to qualify for an entry. Generally, when people do this it reaches a fairly decent audience but generally no more than a couple of hundred or thousand at most, however through Fan Page Domination you'll learn some tricks that you can use with this method to literally almost guarantee that the post goes viral.
On top of that as a member of the program, you get access to a private Facebook group where you can discuss techniques with other members & you also get access to live workshops where the top students discuss what's working for them & you'll have the opportunity to ask them any questions you might have.
Anthony Morrison himself also hosts a live weekly training session as part of the program in which he shares the latest email marketing & traffic-getting techniques that you can apply to your business.
Overall it's safe to say it's jam-packed with value.
The Bad Points…
Whilst the program is actually really good I feel that the sales page promoting it is pretty hyped up & you're almost led to believe that you can begin money immediately after you sign up…

I mean don't get me wrong you can definitely go on to make money as a result of following Anthony's Fan Page Domination training but it's very unlikely that it's going to happen right off the bat.
There is a LOT of content inside the course & whilst that's a good thing, essentially it will be a case of learning & implementing step-by-step so yes you can make money but you should expect to build up an income over time as you educate yourself rather than just expecting to jump in hit a button & get rich quick.
Regardless though I don't think you will find yourself disappointed & there is actually a concierge package which will help you get started quicker as through this a member of Anthony's team will actually help you find a niche & personally set up your first fan page for you… That's a pretty cool bonus in my opinion.
The other downside is that even though Anthony's training is good, Facebook regularly updates their algorithms & when you're first starting out you'll find that there is some trial & error involved to boost your reach without ending up getting your Facebook account disabled.
The live weekly sessions will help you with that as the members regularly discuss what is working & what it isn't, but just know that you will regularly have to keep on top of the training to keep up with the latest methods.
You Might Also Like:
Is Fan Page Domination a Scam?
No, it's definitely not a scam – Anthony Morrison's Fan Page Domination product is actually a pretty awesome training program, to be honest & it could help you make a lot of money from social media.
Whilst the training provided in his program is designed to teach you how to start a business from scratch I think even if you were already a small business owner you would find his training very useful as it would massively help you boost your organic reach without having to spend a fortune on ads.
And that brings me onto my next point – it's a breath of fresh air seeing a course being released that is actually dedicated to teaching you how to reach people on Facebook organically (ie without spending a ton of cash on ads).
Most courses I see these days are heavily geared towards paid Facebook advertising & whilst it can certainly be a great way to generate traffic sadly it's something that's out of reach for many small startup business owners as it can often require a massive initial outlay, especially since there's generally an awful lot of trial & error involved.
Through the Fan Page Domination program Anthony is literally teaching you methods that can be used to reach people for free – and whilst the program itself is pretty expensive (in my opinion) it does provide a lot of value & I think it would inevitably make for a good investment.
So for those reasons, I'll be giving Anthony's Fan Page Domination program a big thumbs up – and whilst it won't be taking the #1 spot as my top recommended program I certainly wouldn't advise against buying it if learning how to profit through Facebook is something you're really interested in.
A Better Alternative
The sad truth is that unfortunately most of the programs promising to help you make money online are scams. I can say that confidently after exposing over 500+ of them here on this blog.
But the good news is that even though most of them are indeed scams, there are actually some very good programs in amongst them - some programs that can truly help you to earn money.
And out of all of the legit programs I've seen, the one I would recommend the most to anybody looking to get started online is Commission Academy. In my own opinion, that's the best place to start.
At Commission Academy, you'll be provided with everything you need (including the training & tools) to begin earning real money by promoting products or services for companies like Amazon online.
The best part is that there's literally no limit on the amount you can earn with it & the process is pretty simple which means that it's absolutely perfect for people that don't have much experience.
Some wealthy affiliates even earn as much as 5-figures per month... Or more!

I mean don't get me wrong, that kind of money won't just fall into your lap without doing any work... But the harder you're willing to work at it, the more you stand to earn with it.
So if you're looking to get started but don't know which route you should go down or which program you should join (and don't want to waste money on bogus things that don't actually work), then I'd highly recommend checking out Commission Academy first. You can learn more about it here.