Picoworkers is a website that claims to provide online work for anybody looking to earn money and a place for employers to get small tasks done by easily hiring people from all across the globe…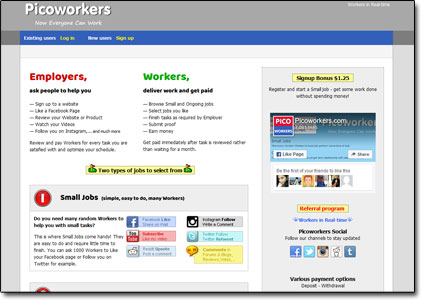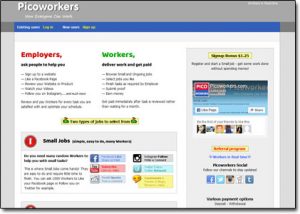 But is Picoworkers legit? And can you really earn good money through their site or will it just see you wasting your time?
Thankfully you've landed in the right place to find out because I've done the digging & in this Picoworkers review I'm going to be uncovering everything you need to know including how it all works & whether or not you can really make good money with it.
What Is Picoworkers?   |   How Does Picoworkers Work?   |   The Pros & Cons   |   My Verdict   |   A Better Alternative
What Is Picoworkers?
Picoworkers is what's commonly referred to as a micro-tasks site, this is basically a place where employers can request small jobs to be done & people looking to make money can sign up & complete them.
There are many of these sites around with another popular one being Microworkers – you might have already heard of it. Anyway the problem is a lot of these sites can turn out to be scams so you always to have to be careful when you are looking into joining them.
From the off I can confidently say that the Picoworkers site is legit so that's good news, but there are a few reasons why you might not want to join which I'll reveal in this review so don't rush into signing up until you have finished reading this page.
How Does Picoworkers Work?
One of the good things about Picoworkers is that they actually keep the process very simple. You sign up, create a profile & then choose whether you want to hire people to complete tasks (as an employer) or whether you want to complete tasks yourself (as a worker).
The signup process is very straight forward & you can get quick access to the site but be aware that you will need to prove your identity to them before you can get paid, so you'll need some form of ID (and a way to photocopy it).
But anyway, once you have your account created you can begin creating jobs or completing tasks.
The type of jobs inside Picoworkers vary, but typically consist of things like:
Signing up to websites
Liking things on Facebook or other social media sites
Following people on Twitter/Instagram etc
Leaving comments on YouTube
Basically they consist of anything that can be done quickly and easily – hence their name inside the site "small jobs". However alongside the small jobs board they also have a different section call "ongoing jobs".
The ongoing jobs board is a place where employers can request for somebody to help them with a task that is going to take a little longer than normal. They are still generally easy tasks, but just tasks that are drawn out over a period of time where the employer might want the same worker to help them rather than switching workers around all the time & re-explaining the job.
A good example of an ongoing job would be some sort of data entry job where the employer needs someone to edit the names of 1,000 photos or something. He or she might request to hire you for a week or 2 in order to see the task right through.
Whilst the majority of the jobs on the Picoworkers site don't pay good money, I have seen a few on the ongoing jobs board that pay fairly well – however the downside is that generally these higher-paying jobs require some sort of skill.
For example currently there is a Customer Service Rep position available which pays $15 per task, equating to $450/month overall. This is a VERY high paying task for these types of sites, however the employer has specified he wants somebody specifically living in America with previous experience.

Typically you will only earn around $0.10 per task, so as you can see that particular job I just mentioned above really is extraordinary & as you can imagine the competition for it will be immense.
Which brings me onto…
The Pros & Cons of Picoworkers
Picoworkers is indeed a legitimate site & you can potentially earn more money through this site than you could through doing something else like paid surveys, but there are a few downsides with it too.
I figured I'd list the pros & cons side by side to help you figure out if it's right for you…
Starting with the PROS:
Sign up is fast & easy
The jobs are simple & shouldn't take up too much time
There's a lot of jobs & the opportunity to get hired for small ongoing work
Earnings are paid instantly after the employer has reviewed the job
Location doesn't matter providing you can use one of the payment options
Now onto the CONS:
You are likely not going to be earning much at all per task
There is a lot of competition for the tasks, it's hard to start out with no previous employer reviews
If an employer gives you a bad review you might not get paid & it damages your ability to get future work
You need to send in ID to get paid
My Verdict – Is Picoworkers a Good Way To Make Money?
Well, I don't actually think this site is too bad. It provides people with an easy way to make some extreme money regardless of where they live providing they can accept the payment options provided.
The good news though is that they have quite a few payment options which include Skrill, Payza, paysafecard, PayPal, Amazon gift cards, cheques & even Bitcoin.
However the obvious downside is that the tasks generally pay very little, so you are not really going to be rewarded well for your time. In my opinion there are many better ways to earn money online that overall will see you getting more money.
But overall I do quite like the Picoworkers site, so if it's something you are interested in there is no harm in checking out. The only issue is that it can be quite hard to get started on there when you are new because there's a lot of competition & employers are not often willing to trust new members with no feedback.
For many people this can be too frustrating & as a result they end up leaving the site before they even get started. If you do manage to get picked though & get some feedback then it should be easier getting jobs through the site in future (providing it's good feedback of course).
Anyway, hopefully this review provided you with the insight you were looking for & helped you decide if Picoworkers is right for you. Feel free to leave any additional comments or questions below.
A Better Alternative
The sad truth is that unfortunately most of the programs promising to help you make money online are scams. I can say that confidently after exposing over 500+ of them here on this blog.
But the good news is that even though most of them are indeed scams, there are actually some very good programs in amongst them - some programs that can truly help you to earn money.
And out of all of the legit programs I've seen, the one I would recommend the most to anybody looking to get started online is Commission Academy. In my own opinion, that's the best place to start.
At Commission Academy, you'll be provided with everything you need (including the training & tools) to begin earning real money by promoting products or services for companies like Amazon online.
The best part is that there's literally no limit on the amount you can earn with it & the process is pretty simple which means that it's absolutely perfect for people that don't have much experience.
Some wealthy affiliates even earn as much as 5-figures per month... Or more!


I mean don't get me wrong, that kind of money won't just fall into your lap without doing any work... But the harder you're willing to work at it, the more you stand to earn with it.
So if you're looking to get started but don't know which route you should go down or which program you should join (and don't want to waste money on bogus things that don't actually work), then I'd highly recommend checking out Commission Academy first. You can learn more about it here.