Profit Builder 2.0 has just launched & it claims to be the ultimate landing page creator for WordPress so I've decided to put it to the test to find out if it really is the best, because as you probably know when it comes to WordPress landing page creators there is a LOT of competition.
In this review, I'll be explaining what Profit Builder 2.0 actually is, how it works, what it can do & if it's actually set to rival the likes of the Thrive Themes Landing Page Builder.
So basically if you've come across the Profit Builder 2.0 plugin you can rest assured that you've definitely landed in the right place to find out everything you need to know about it.
What Is Profit Builder 2.0?   |   Profit Builder's Features   |   My Final Verdict
What Is The Profit Builder 2.0 Plugin?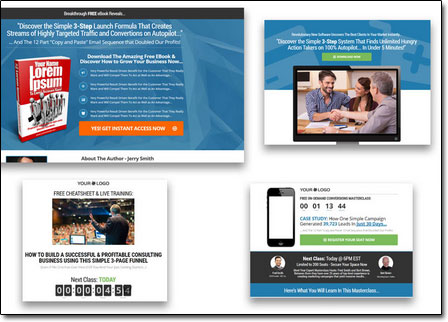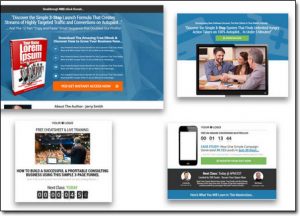 Profit Builder is a product that basically enables you to create landing pages directly inside of WordPress, cutting out the need to host them externally using a service like LeadPages or Online Sales Pro.
There are several benefits of hosting your landing pages inside of your WordPress installation but generally, the main one is usually cost-saving.
External services (such as LeadPages) often charge rather high fees as they are physically hosting the pages for you & handling your traffic. If you have a WordPress installation then you clearly already have hosting so you're essentially by using an external service you're paying for something you don't really need.
Most (but not all) of the WP landing page plugins are offered at just a one-time fee which generally works out much cheaper than an external service. Profit Builder is one of those offered at a one-time fee.
The landing pages that you can create within Profit Builder are designed to help you increase the conversions of your WordPress website. Whether you want to convert more visitors into email subscribers, webinar viewers or simply buyers then Profit Builder provides a solution.
It comes with over 100+ themes built-in & has a powerful drag & drop editor then lets you easily customize the pages to suit your specific needs. It also integrates directly with most payment processors, membership systems & email marketing services too which gives you flexibility in its application.
So essentially on top of creating landing pages, you can also use Profit Builder to directly sell products too.
And as if those features weren't already enough you can also use Profit Builder to create full-blown professional sales funnels, which for the more advanced marketer is an excellent feature indeed.
It's certainly safe to say that Profit Builder is literally packed with features, so maybe…. just maybe… it really is going to live up to it's title of the ultimate WordPress landing page creator.
Let's find out by taking a deeper look into each of its features, and then, of course, it's pricing…
Profit Builder 2.0's Features
It's safe to say that in terms of the sheer amount of features Profit Builder 2.0 certainly excels above the majority of other similar competing WordPress plugins.
Here are some of the core features of Profit Builder 2.0 (click on them for a more detailed description):
If you're already aware of the features & want to skip straight past them that's cool, just click here.
Drag & Drop Builder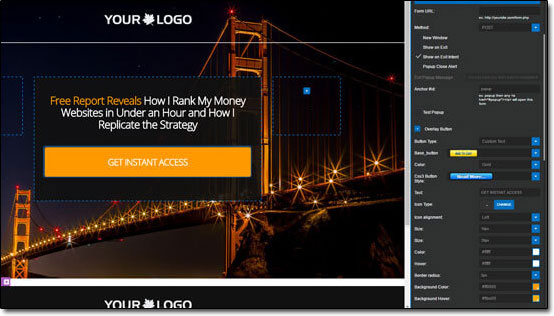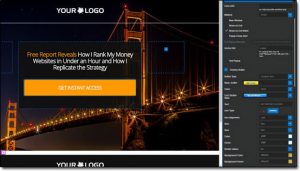 Out of all of the landing page builders I've personally used (which consists of Leadpages, OSP & Thrive Themes) the Profit Builder editor is definitely the most powerful.  Admittedly Thrives Themes comes a close second but the huge benefit that Profit Builder has over the likes of LeadPages/OSP is that it physically lets you drag objects & re-position them.
Many other landing page builders claim to be "builders" but in reality, they merely provide you with nothing more than an editable template. Sure, if you only want to change the text & images then that's fine, but if you want to be able to fully customize the page then with most other landing page builders you simply won't be able to do it. Profit Builder goes the extra mile and gives you the functionality required for that "next level" customization.
Whilst you can add custom code to the pages created within Profit Builder you can similarly create fully functional pages without touching any code whatsoever, meaning even if you have no technical experience you will still be able to use Profit Builder to create powerful landing/eCommerce pages.
SmartCart eCommerce System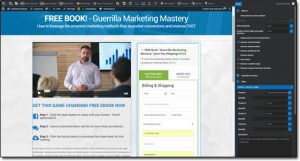 If you sell products online whether they be physical or digital then the SmartCart eCommerce System inside of Profit Builder is something that could dramatically increase your sales.
Basically, Profit Builder integrates directly with many of the popular payment processors & gives you the ability to create not just product purchase pages but full-blown eCommerce stores inside of Profit Builder itself.
This is a feature that's powerful enough to potentially rival Shopify & by going down the route of using Profit Builder to sell your products you would be able to ditch those monthly recurring fees.
Profit Builder also packs in other features to increase sales such as order bumps.
Sales Funnel Creator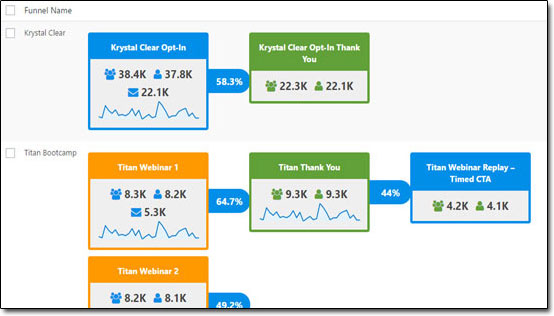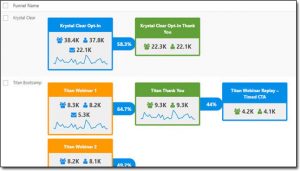 With social media marketing becoming ever increasingly popular lot's of people are beginning to realise the power of a well thought out sales funnel & how easy it can be to generate an income even without a "proper" website.
Profit Builder lets you create complete standalone sales funnels & unlike other landing page builders where you're left to tie everything together yourself Profit Builder gives you an overview of your funnel & easily enables you to connect everything together.
On top of that, it even lets you see how each specific part of your funnel is performing & makes it easy for you to switch things up so that you can optimize your funnels to squeeze every last lead & sale out of them.
Conversion Tracking & A/B Split-Testing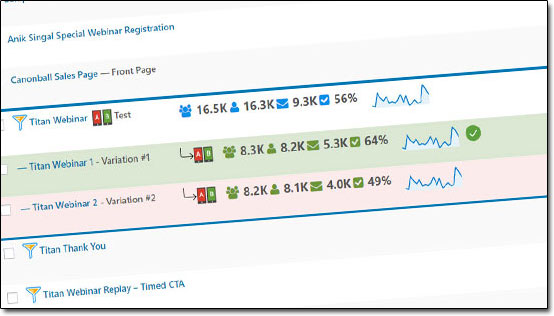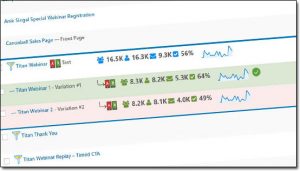 When it comes to marketing testing & tracking is everything, yet despite this many landing page builders seem to implement conversion tracking as if it were an afterthought. Profit Builder on the other hand certainly hasn't as it's clear that they've built their product around testing & tracking which is the way it should be done.
You can monitor your stats in real-time & activate A/B split tests to determine which pages are performing best. As mentioned above the sales funnel also shows you detailed statistics for each part of the funnel, not just the end result. This means that unlike with some other builders were you're left to guess which parts of your funnel aren't performing well, with Profit Builder you can quickly & easily locate the problem areas.
Easy Integration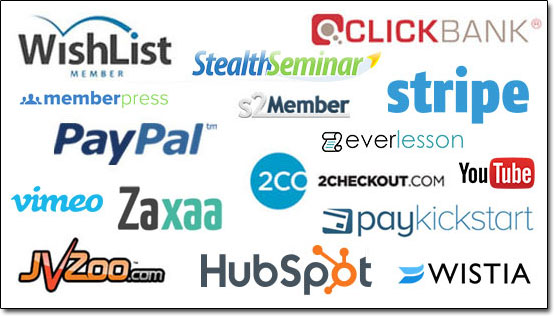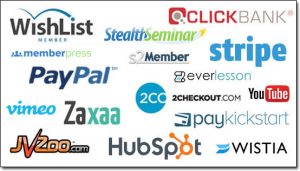 Profit Builder supports easy "1-click" integration for near enough every product or service that you could ever want to connect to your landing pages/sales funnels.
Unlike most other builders that merely connect with email marketing service providers, the Profit Builder product connects with payment processors, membership systems, CRMS & eCommerce systems.
Plus if you're an advanced user you can even configure your own custom code meaning that you can literally configure Profit Builder to work with pretty much whatever the heck you want.
Mobile-First Responsive Layouts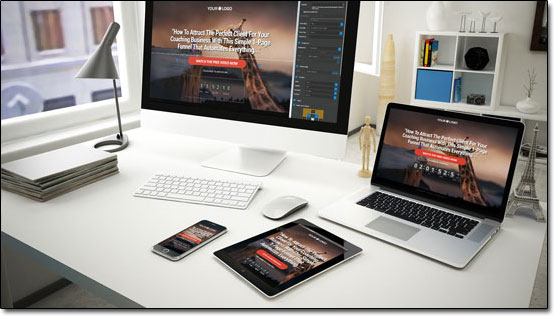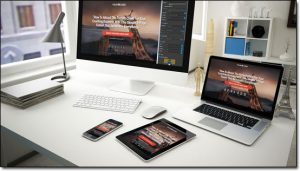 One of the biggest problems that I've personally faced when using landing page builders is trying to get the pages to look good on both mobile AND desktop devices. Whilst I can live with a page being a little bit ugly on a desktop, on a mobile device it's simply not an option. You're given such a small space to try & grab the users attention that you simply have to get your page looking perfect.
If it's not perfect on a mobile device & if there's any scrolling needed whatsoever before the user gets the full picture then the chances are they're just going to click away. A mobile landing page really does need to be perfected in order to get truly effective conversions, there's no doubt about it.
This is where Profit Builder differs from most other landing page builders because the Profit Builder layouts have actually been designed on a mobile device first, and then scaled up to desktop devices.
So whilst with other landing page builders you can get pretty much any landing page to look good on a mobile device with the help of a bit of coding, Profit Builder's pages come essentially "mobile-great" out of the box.
Built-In Speed Optimization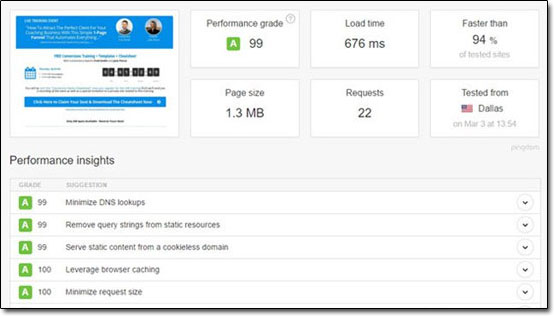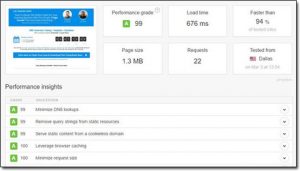 When it comes to conversions one thing many marketers overlook is the speed at which their landing pages actually load. They'll spend hours & hours tweaking font sizes, font colours & images but never once step back to think that it might be the speed of the page which is affecting their conversions – and more than likely, it is.
I recently spent a full day (yes a full day) optimizing the speed of just ONE of my landing pages, and that's because on average mobile landing pages that are just 1 second faster experience up to 27% increase in conversion rate.
Speed is very important, and as internet speeds get even quicker it's only getting more & more important by the day. However, with that being said most other WordPress landing page plugins will not be optimized for speed out of the box, as generally, they use WordPress' core functionality which means they rely on the other plugins you've installed on your blog to increase speed (such as caching, deferred scripts etc).
If you haven't personally optimized the speed of your blog then you'll find that many other landing page builders will be slow out of the box (in terms of landing page speeds). The Profit Builder plugin, however, has been built with speed in mind, so unlike other builders, it is not solely reliant on the plugins you've already got installed on your blog meaning the pages will be quick at loading even on a completely default WordPress installation.
You Might Also Like:
My Final Verdict
It's clear that Profit Builder 2.0 is absolutely jam-packed with features & I'm confident in saying that there's definitely at least one feature in there that would come as a benefit to literally every single online marketer.
However, there is one drawback & that's the price. Now don't get me wrong, Profit Builder is not expensive – I feel the price is well justified by the number of features that this product provides & I also feel that since Profit Builder is offered at a one-time fee that in the long run, it could potentially help you to save a substantial amount of money.
But what I'm getting at is that if you only plan on using a portion of the features that Profit Builder has to offer then there are potentially cheaper alternatives out there… It's completely dependent upon your planned use.
As an example, if you only want to create landing pages on 1 website (and don't want to collect emails or sell products) then you could use the Thrive Content Builder plugin which at the time of writing this review would set you back $67. If you decided you did want to collect leads, you could also purchase the Thrive Leads plugin which would set you back another $67 adding up to $134 in total.
Therefore if you only run the one website and you only want to create landing pages or collect email subscribers then the Thrive plugin would be a cheaper solution. It's also worth mentioning that you would get A/B split-testing with Thrive whereas you wouldn't get it with Profit Builder unless you purchased the Pro package for $497.
However, if you're a more advanced marketer looking to create sales funnels or run a website that sells products then Profit Builder 2.0 is hands down a solid investment. There's no denying that it's a really high-quality product & that it's worth every cent.
If Profit Builder had included A/B split-testing in the cheaper Basic package then despite it being more expensive I would have probably ended up recommending Profit Builder over Thrive, but because Thrive gives you that A/B testing I would say that's the better option if you just own the one website and are looking for the cheapest landing page solution.
So yes, that's my personal opinion –  if you do happen to purchase Profit Builder 2.0 I'm sure you'll find it to be a truly amazing product & I have no doubt that it will send your conversions skyrocketing.
And if you are interested in increasing conversions then you might also be interested in checking out this post where I put LeadPages head to head with OptinMonster to find out which was best.