Pure Profit Pro is a relatively new money-making opportunity that claims it can enable you to "set yourself free" & leads you into believing that through it you'll be able to easily generate $250, $500 & $1,000 commissions online…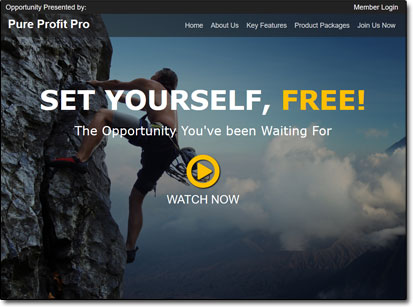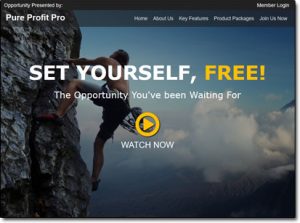 But at a glance, it looks pretty suspicious & sounds an awful lot like some sort of Ponzi scheme… So what's the deal, is it actually legit & can you make money with it or is Pure Profit Pro a scam that'll just part you with your cash instead?
Thankfully you've landed in the right place to find out because I've taken a closer look into it & in this review, I'll be uncovering everything you need to know including how it all really works… So without further ado let's dive right in & see what it's all about.
What Is Pure Profit Pro?   |   How Does Pure Profit Pro Work?   |   What Are The Products?   |   Is Pure Profit Pro a Scam?   |   A Better Alternative
What Is Pure Profit Pro?
As I briefly touched on above Pure Profit Pro is a relatively new money-making opportunity & it claims it can help you to set yourself free financially. You're led to believe that you can simply sign up, follow some steps & start making money almost right away…
To quote the website directly it has apparently been "specially designed to help the average person get up and running (and making money) quickly, easily and without frustration"… Which sounds good in theory, but does it hold out in practice?
The simple answer to that question is no, not really.
You see despite claiming to be a "business opportunity" the reality is that Pure Profit Pro is more of a money-making scheme than anything. That's because it basically involves you paying money to sign up then suckering others into doing the same so that you can earn at their expense.
I mean yes there is the potential to make money, and there is "technically" products… But come on, it's clear to see what's really going on here… The site isn't about the products at all… It's entirely about the commissions.
That's why as shown below in the products section of their website they don't tell you what the products actually are – they just tell you the prices: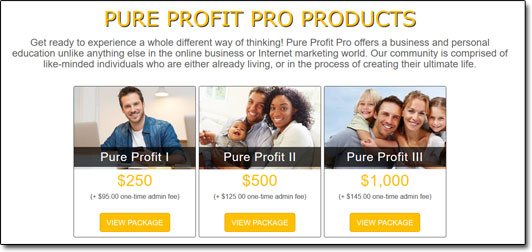 When you're looking into a business opportunity & find you have to dig deep to get information on their products you can almost always assume that there's something dodgy going on & that you're probably more likely looking at a Ponzi scheme than a biz-opp.
And no matter how good they "appear" to be, Ponzi schemes will pretty much always result in you losing money since in reality they're designed to make the creator wealthy & the creator only – all at your expense.
But anyway let me show you how it all works & you'll soon see what's really going on here with Pure Profit Pro (and why you likely won't want to join after all)…
How Does Pure Profit Pro Work?
In order to join Pure Profit Pro the first thing you'll need to do is get somebody who's already in the company to refer you – this is because as I mentioned above the whole thing's all about recruiting.
Once you've found a referrer you'll then need to enter their username on the website & after doing that you'll be given the option to chose a "product package" which you'll need to purchase to join.
The "product" packages are as follows:
Pure Profit I – $250 ($95 admin fee)
Pure Profit II – $500 ($125 admin fee)
Pure Profit III – $1,000 ($145 admin fee)
Then once you buy in the money you pay for the "product" package goes directly to the person that referred you (your sponsor) and the admin fee gets passed straight up to the creator of the system.
From there you'll be redirected to the members area & this is where you'll find out that the whole thing is simply about recruiting others & getting them to invest just like you did so that you can earn commissions at their expense.
But there's a catch…
The catch is that you can only earn commissions up to the level you are personally enrolled. So for example if you only purchased the "Pure Profit I" package, then you will only be able to earn $250 commissions even if you refer a member who signs up for the $1,000 "Pure Profit III" package.
AND you'll also pass up your first sale to your sponsor – so no matter which level the first person you refer buys in at you won't earn a penny… The person who referred you will get all the cash for that sale instead.
Admittedly if you're good at recruiting (and getting others to recruit) then this 1-up style compensation plan will work in your favour in the long run… But if you're not so good at recruiting it'll obviously be disappointing to see your first sale getting passed up to somebody else considering you put in all the work for it.
Pure Profit Pro – The Products
Okay okay, yes – technically Pure Profit Pro do have products. Each of the Pure Profit packages do come with "stuff" that you could class as a product but it's clear that the emphasis is not on retail sales, it's on recruiting.
Anyway here's what each of the packages includes:
Pure Profit I – basic email list building training, basic internet marketing training, basic Facebook traffic training.
Pure Profit II – mindset training, basic sales techniques training.
Pure Profit III – more internet marketing & mindset training along with business training & general training like how to configure WordPress.
I'll admit here that in Pure Profit III you do actually get quite a lot of training – however I still stand by what I say on the products because it's clear that the website does not sell you on the value of the products, it sells you on the opportunity attached to them.
It's also worth pointing out that in my opinion the Pure Profit III package isn't very well structured – it's as if all the products have just been "thrown in", so you're getting more of a bundle as opposed to a step-by-step course.
The reason I'm pointing is this out is because it could end up leaving you suffering from information overload & feeling confused rather than actually helping you produce results from your business.
You Might Also Like:
Is Pure Profit Pro a Scam?
Well it's not a scam since you do get something in return for your money as promised, however it's clear to me that the whole thing is geared towards the money making opportunity & in my opinion because of that I feel it closely resembles a Ponzi scheme.
The truth is that if you join up to Pure Profit Pro you will likely end up spending more money than you ever manage to make back because the whole thing is based around recruiting & unless you can get other people to invest just like you did then you won't be able to earn a penny.
So overall I won't be recommending it to you because I feel like it involves way too much risk (especially considering the high cost) and as far as I'm concerned there are much better ways to make money online instead.
If you want to find out more about the program I personally use to generate my own income online then you should check out my Wealthy Affiliate review – that's one of my top recommended legit programs & you can actually get started with it for free.
But anyway hopefully this review gave you a good insight into how the Pure Profit Pro system works & if you do happen to have any further questions or comments about it then don't hesitate to leave them below.
A Better Alternative
The sad truth is that unfortunately most of the programs promising to help you make money online are scams. I can say that confidently after exposing over 500+ of them here on this blog.
But the good news is that even though most of them are indeed scams, there are actually some very good programs in amongst them - some programs that can truly help you to earn money.
And out of all of the legit programs I've seen, the one I would recommend the most to anybody looking to get started online is Commission Academy. In my own opinion, that's the best place to start.
At Commission Academy, you'll be provided with everything you need (including the training & tools) to begin earning real money by promoting products or services for companies like Amazon online.
The best part is that there's literally no limit on the amount you can earn with it & the process is pretty simple which means that it's absolutely perfect for people that don't have much experience.
Some wealthy affiliates even earn as much as 5-figures per month... Or more!

I mean don't get me wrong, that kind of money won't just fall into your lap without doing any work... But the harder you're willing to work at it, the more you stand to earn with it.
So if you're looking to get started but don't know which route you should go down or which program you should join (and don't want to waste money on bogus things that don't actually work), then I'd highly recommend checking out Commission Academy first. You can learn more about it here.