Rent Digital Assets is an online course created by Joshua T. Osborne that claims to help users enter the lead generation market and make money online by renting websites to local business owners.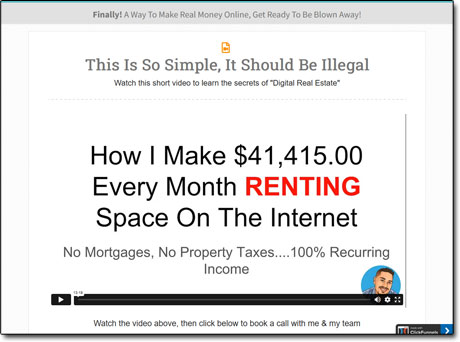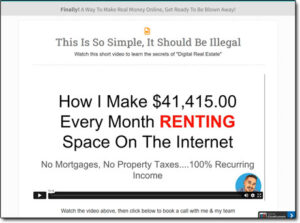 But there is one major concern…
Is Rent Digital Assets actually legit?
Or is it just another scam that you should avoid?
Well, the good news is that you've landed in the right place to find out because everything you need to know about it will be covered in this review & no stone will be left unturned.
So without further ado, let's dive right in.
What Is Rent Digital Assets?
In the online training program Rent Digital Assets, students can learn how to create and rent local lead-generation websites, carry out local SEO, gather leads, and sell these digital assets to local business owners in order to make money online.
The course was made by Joshua T. Osborne, a well-known and skilled internet marketer who has over 5 years of experience in the field of lead generation.
And it's safe to straight from the off that the training program has potential because Joshua explains how to monetize the websites you create through affiliate marketing, sell them or flip them for a profit, rent out ad space to businesses, and make money without having to sell anything.
Plus, students are taught how they can convince business owners in their area that they can help them make more money by using the strategy in this business model, and then they can "rent" the websites to these business owners for a monthly profit.
Of course, however, this model requires users to give something of value before they get paid, which can lead to stronger relationships and longer-term gains.
We'll take a closer look into the method in just a second but first, we'll delve into the background of Rent Digital Assets' founder to see if his business experience makes him qualified to run this course.
Who Is Joshua T. Osborne?
Joshua T. Osborne is a well-known internet marketer who started Rent Digital Assets. He has worked in the field for many years.
Interestingly, he founded the Rent Digital Assets platform after serving two years in prison. He claimed he had a life-altering epiphany after meeting a mentor there.
Not long after that, he started his own moving company, which eventually became one of Colorado's largest.
He was financially successful, but he spent all his time running his business and had no spare time for anything else.
That's when Joshua T. Osborne made up his mind to invest in the digital real estate market. He bought a lot of these domains over time and rented them out to entrepreneurs.
But it's one thing to have the knowledge and skills, and it's quite another to be able to teach others how to use those skills to reach their own goals.
In other words, as we delve deeper into this review, we'll find out if Joshua T. Osborne is able to deliver on his claims.
How Does Rent Digital Assets Work?
Here is how the Rent Digital Assets process works:
You create a website for generating local leads in a given country or location to attract customers in that region.
Get it ranked on search engines to get people to visit it.
You convert them into leads that your prospecting clients may use, and then you find clients who will pay you to rent those leads.
A more detailed example of how to carry out this process is to first sign up for a website and host it on a platform like WordPress. Then, once you're set up and have everything up and running, you're ready to rent this website to local business owners.
The business owner must be located in the same location as you, and you can also set your own rental terms to help simplify the renting process.
How Much Does Rent Digital Assets Cost?
Unfortunately, there is no information provided about the price of this course. However, similar classes and programs typically cost four figures.
It's a little worrying that the cost isn't made clear upfront, as this usually means there will be a combination of both high-cost & pressure-selling when you enquire.
It is also important to remember that there will be additional ongoing expenses for things like creating the website and generating leads, advertising, etc. So, make sure to keep that in mind while venturing into this business.
What's Inside Rent Digital Assets?
As mentioned, the goal of this course, "Rent Digital Assets," is to show students how to make their own digital assets and rent them out.
In order to help students make the best decision possible, the Rent Digital Assets course delves into a number of various facets of business models.
Additionally, students will have complete access to the program's own closed Facebook community, which is packed with individuals that share common interests.
Here is a brief summary of some of the things that are talked about in Rent Digital Assets:
Mindset
It's worth emphasizing that the right frame of mind is crucial to the success of any business, as it is one of the most important factors in becoming a successful entrepreneur.
This course will teach students the basics of developing a positive mental attitude, which is important for making and renting out successful digital assets.
Students will learn how to set goals and how to make sure those goals fit in with their professional goals as a whole.
They'll also find out about the importance of having a clear vision for their business.
Creating A Lead Generation Website
In this module, Joshua T. Osborne will show how to make a website that generates leads from scratch.
Students will learn how to create user-friendly, stylish, high-quality lead generation websites here, which they can then lease to nearby businesses.
Among the lessons to be learned are how to design and build a website, as well as how to get a domain name and hosting package.
Students won't require any special knowledge or code to develop these websites, but they will learn fundamental design principles to make their websites look more polished.
Search Engine Optimization
Students will study how SEO functions in this session, along with how to optimize their pages for search engines like Google.
In order to produce leads, students must set up their website such that it appears on Google's search results page for a variety of search phrases.
Search engine optimization is important for website accessibility because Google's search results page needs to be set up to reflect different keywords from your website.
This is one of the greatest strategies to draw leads to your business in order to help potential clients find what they need.
Google Maps Pack
A significant element of local SEO is Google Maps Pack, which makes it possible for websites to rank for particular keywords across different GEO regions.
Since the main goal of the business is to make a website that brings in local leads, it is important to optimize your website for Google Maps so that your target market can find you when they do an internet search.
By leveraging the Google Maps Pack, students can show Google that their website is the most pertinent to a user's search.
They will consequently be highly ranked and start to produce more leads.
Paid Ads Training
One of the fastest ways to reach a specific audience is to use ads to get leads. Here, students will learn about both free and paid ways to use search engine optimization to reach more leads and get more potential clients.
In a shorter amount of time, you can accomplish the same or similar results, and the process can move along more quickly. However, if you've never done it before, it can be expensive and unsafe.
This session aims to provide information on how to use online advertising platforms like Facebook and Google to quickly expand your customer base and increase revenue.
Sales Strategies & Client Retention
This unit will teach you how to effectively pitch your product or service to potential clients, get them interested in what you have to offer, and then turn them into paying clients and business partners.
If you want to make money renting out digital assets, you'll need to be able to sell your expertise and knowledge to clients.
Marketing your service to local business owners is just as important as getting and keeping your site at the top of the search engine results page.
With the help of sales strategies and client retention, you can more effectively communicate your value to local businesses and keep them as clients for the long haul.
You Might Also Like:
Is Rent Digital Assets a Scam?
No, Rent Digital Assets is real and legitimate. Rent Digital Assets doesn't claim to be a get-rich-quick scheme. What it does promise is a legitimate way to make money by renting a page on a local business website.
They show users a legitimate and effective way to make a semi-passive income online by getting leads for local businesses, and it's a genuine program developed by a respected professional in the field.
The opportunity to make money by renting out a page on a website might sound exciting, but you have to approach it as a business. And that means getting to know your market, finding the right clients, and delivering high-quality services or products.
You can learn the ins and outs of the business model and, more importantly, how to get started by participating in the training. Nevertheless, there are many other effective ways to launch a successful online business.
Keep reading, though, because we've got an even better and more exciting online opportunity that's perfect for newcomers waiting for you at the end of this review.
Rent Digital Assets Pros and Cons
Pros
Rent Digital Assets is a legitimate business model that may be learned via a training course.
The rank and rent strategy is a viable option to earn a substantial income online while also benefiting local businesses.
In his field, Joshua T. Osborne is widely recognized as a successful businessman.
The students' exclusive Facebook group is a great resource.
Cons
The initial investment is high when compared to other forms of digital entrepreneurship, such as affiliate marketing, as there are better options for newcomers looking to make money online.
There is little clarity about the cost of the course.
There was no mention of a refund policy that we could find.
Sites need time to be built and ranked properly.
Final Thoughts
Rent Digital Assets is a legitimate online course that teaches you how to rent out websites to local businesses. Overall, there's a lot of potential in this training program.
Joshua Osborne has over 5 years of experience making money online, and his training course shows that he knows what he's talking about when it comes to profiting on the internet.
This is an excellent training course for getting into digital real estate investing through websites and a great way to make money by renting out your own website.
The strategies explained can be applied to other niches, and it's really up to your imagination to try them in different markets.
But keep in mind that you won't get rich overnight. It will take time and patience to build up your rental portfolio. But the more you rent, the quicker you can build your income.
If you're looking to rent digital assets online, there's potential here. Overall, this course is definitely worth it. Well, depending on the price, that is.
But if you're looking for something without a hefty pricetag that can yield the same if not even better results, then I've got good news for you…
A Better Alternative
The sad truth is that unfortunately most of the programs promising to help you make money online are scams. I can say that confidently after exposing over 500+ of them here on this blog.
But the good news is that even though most of them are indeed scams, there are actually some very good programs in amongst them - some programs that can truly help you to earn money.
And out of all of the legit programs I've seen, the one I would recommend the most to anybody looking to get started online is Commission Academy. In my own opinion, that's the best place to start.
At Commission Academy, you'll be provided with everything you need (including the training & tools) to begin earning real money by promoting products or services for companies like Amazon online.
The best part is that there's literally no limit on the amount you can earn with it & the process is pretty simple which means that it's absolutely perfect for people that don't have much experience.
Some wealthy affiliates even earn as much as 5-figures per month... Or more!

I mean don't get me wrong, that kind of money won't just fall into your lap without doing any work... But the harder you're willing to work at it, the more you stand to earn with it.
So if you're looking to get started but don't know which route you should go down or which program you should join (and don't want to waste money on bogus things that don't actually work), then I'd highly recommend checking out Commission Academy first. You can learn more about it here.